KGTO-TV/36, Fayetteville AR
by K.M. Richards
It may surprise the residents of Fayetteville to hear this, but the station originally known as KGTO-TV is still on the air today. That will be explained in due course, but first a little history.
Noark Investment Co. received the construction permit for KGTO-TV April 19, 1968, and went on the air a little under ten months later, on February 8, 1969. Originally a "non-interconnected" NBC affiliate (more on that in a moment), channel 36 signed on at 9:00am weekdays and at either noon or 1:00pm weekends, meaning that Today and Saturday morning cartoons went unseen on the station. That was partially remedied about a year later (May 1970) when they began signing on at 7:00am weekdays; there is no evidence that they ever carried the Saturday morning schedule.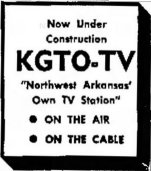 It should have been obvious from the start that Noark was terribly underfunded. Even if the late weekend sign-ons were overlooked by most viewers, they never ran any print advertising, other than the one at right which appeared several times in the Northwest Arkansas Times near the end of 1968; aside from mentions in the sports pages of their softball team's games against other businesses in Fayetteville, the call letters seemed to only appear in ads for local cable company Trans-Video and for the Billy Graham organization when it bought time to air their Crusades.
It seems, from perusing the Times' archives, that most of the area was using Trans-Video for their viewing, because it wasn't until KGTO-TV invoked the FCC's network non-duplication rule at the beginning of 1971 that anyone noticed certain deficiencies in their video and audio quality. Even though the newspaper accurately reported that channel 36 had the right to have the other NBC station on the cable system, KOAM-TV/7 Pittsburg, replaced by their signal during network programming, the matter angered some residents enough to write letters to the editor complaining (making it obvious the locals weren't tuning to KGTO-TV -- either on or off the cable -- for their NBC viewing) of the substitution; one, Anton H. Erickson, said it violated his "right to monitor whatever station I choose" while decrying the inferior quality of channel 36's "color and sound". A second letter writer, Kenneth D. Bailey, suggested that "only the local commercials" pre-empt the distant stations, in the misguided belief that KGTO-TV personnel controlled the switching at Trans-Vision.

And what about that signal quality? One would presume the cable company would have made an effort to receive the best possible signal at their head-end, but the problem was that KGTO-TV was, as noted at the outset, a non-interconnected affiliate, meaning there was no AT&T microwave video link carrying network programming to channel 36's control room. The NBC feed was picked up off-the-air from KYTV/3 Springfield MO, some 146 miles to the northeast, and the signal was likely less than perfect when received in Fayetteville. NBC itself seemed to disown KGTO-TV, never including it the list of affiliates that appeared in the annual Broadcasting Yearbook.
For reasons that were never recorded for posterity, KGTO-TV abruptly changed affiliations to CBS in the fall of 1972, although it continued to carry a few NBC programs, such as Ironside and Concentration. Again, channel 36 was hampered by the necessity of receiving its network programming off-the-air, from affiliate KUHI/16 Joplin MO, with KOTV/6 Tulsa OK as a backup source.
KGTO-TV showed further signs of distress when on January 19, 1973 it carried the CBS daytime lineup for the last time; the following Monday, weekday operations began at 5:30pm and so remained for the rest of the year, although weekend sign-ons were earlier to accommodate network sports coverage. Finally, on December 23 of that year, channel 36 signed off for the last time, having already requested FCC approval to do so two weeks earlier.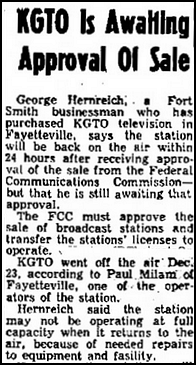 Announcement of Hernreich
acquiring KGTO-TV.
"But wait!" I hear you ask. "You said the station was still operating today!" And indeed it is, if you consider that Noark kept the license and sought a new owner for KGTO-TV, which it found in the person of George T. Hernreich, who had recently completed construction of KFPW-TV/40 in Fort Smith and intended to use the Fayetteville station as a full-time satellite repeater.
There was only one problem: Hernreich was under investigation at the time by the FCC because of the same legal entanglement that had eventually done in WJJY/14 Jacksonville IL ... the bribing of ABC-TV employees in order to get favorable terms of affiliation. While the application to transfer KGTO-TV was filed on May 25, 1973 it wasn't until April 30, 1975 that it was approved ... and was then held in abeyance while the Commission decided whether or not to renew the license for Hernreich's KAIT-TV/8 Jonesboro (the station for which he had been seeking increased compensation as an ABC affiliate). KFPW-TV's license (it had been operating under "program test authority" for four years by then) was finally approved July 9, 1975.
It wasn't until November 26, 1976 that the FCC rescinded KAIT-TV's license (Hernreich appealed the decision and won in May 1979, selling the station five years later), clearing the acquisition of KGTO-TV. Having waited so long to get the license he acted relatively quickly once he had it, filing almost immediately for a call letter change to KTVP, which was granted in February of the following year, and simultaneously filed to change transmitter sites with higher power (granted in March). He also requested a move to channel 29 in April, claiming it would "permit quick restoration of service and save approximately $100,000 of available capital" (perhaps he had a channel 29 transmitter and antenna in a warehouse somewhere at the time ... who knows). The allocation change was approved June 24, 1977 with the CP following three weeks later, and the new KTVP/29 signed on for the first time December 5 of that year.
KFPW-TV and KTVP switched from CBS to ABC in the fall of 1978 -- an affiliation the pair has kept ever since -- and Hernreich merged the stations into Sigma Broadcasting in 1985, becoming its chairman and CEO two years later. The call letters changed to KHBS on channel 40 (in 1983) and KHOG-TV on channel 29 (in 1987) and both were purchased by Argyle Broadcasting in 1996, one year before merging with Hearst Television.
So today's KHOG-TV is -- on a legal technicality -- the same station that began life as KGTO-TV a half-century ago. And it is still simulcasting KFPW-TV, as it has for more than 40 years.
---
Thanks to Steve Richards (no relation) for his assistance in determining the source of KGTO-TV's network feeds, and for making the post at RadioDiscussions that was the genesis of this article.
---
EXTERNAL LINKS