KPOL/40, Tucson AZ
by Eric Stein
In the early eighties, Arizona was in the midst of a population boom and the city of Tucson was one of the benefactors of that growth. With a population of over 330,000 people (a 25 percent increase in ten years), some thought the time was right for a second independent station to serve the area using one of the two commercial UHF channels added in the streamlined allocations table approved in 1965 (Tucson's first "indie" KZAZ/11 had signed on the air February 1, 1967 but was actually licensed to nearby Nogales). Among those vying to sign on channel 18 (changed from channel 34 in the 1966 table revision) was the city's Roman Catholic Diocese, having filed just after New Year's Day 1981. Possibly as a result of the fact that the Diocese was also applying for non-commercial channel 27 (moved to Tucson from Phoenix) with a promise to vacate the channel 18 application if granted, on April 13 Chicago-based charter bus operator Julius "Jay" Polan applied for the other commercial allocation, channel 40, along with other Tucson-based investors.
Much to everyone's surprise, the Diocese received -- and then vacated -- the channel 27 grant instead and signed on channel 18 for the first time December 31, 1984 as KDTU. Branded as "The Family Channel" with a lineup of older movies, off-network comedies and dramas (Broadcasting reported their schedule as including That Girl, Ben Casey, Andy Griffith, Mary Tyler Moore, The New Dick Van Dyke Show, I Love Lucy, Eight is Enough and Bob Newhart), as well as a few older children's programs, it was not to be alone on the UHF dial for long. Five days later, having missed previously announced start dates of November 7 and November 25 due to delays in getting electric service to their facility, KPOL/40 made its debut, with a number of movies and -- again, as reported by Broadcasting, which made a special note of the two stations' proximity in starting dates -- first-run cartoons (Thundercats, Inspector Gadget and Heathcliff, as examples), weekly first-run programs (Star Search, Solid Gold, Elvira's Movie Macabre, Tales From The Darkside) and off-network reruns (Voyagers, Switch, Movin' On).
(A side note: KPOL displaced translator K40AC, which had been rebroadcasting Spanish International Network's Phoenix station KTVW/33 since the beginning of the decade; it vacated channel 40 at 6:00 the evening of November 7 and resumed on channel 52 at noon three days later. FCC rules at the time allowed translators to use allocated channels in a community until a full-power station's start was imminent.)
While KDTU played it safe with its programming -- a reflection of its ownership -- KPOL did not shy away from controversy. The first month it was on the air, it made minor waves with the first of what General Manager David Reaban described to the Arizona Daily Star as "controversial things that the other stations wouldn't touch with a ten-foot pole" by airing The Deer Hunter uncut in prime time. Reaban said "no other station in town would do something like this ... we're here, and we will." The airing resulted in about 45 local viewers turning up at the station's offices on Jack Rabbit Ave. in a protest over KPOL's not censoring the four-letter words in the movie -- the organizer called it "profanity" -- which inadvertently gave channel 40 free publicity when the protest was covered on KVOA-TV/4's 6:00pm newscast the next evening, then later on the 10:00pm newscasts of the other two network-affiliated stations (KGUN-TV/9 and KOLD-TV/13) after Reaban took the self-described "show biz" step of calling them to advise of the protest. He was reported as being "delighted" at the outcome.
On the other hand, the Diocese overspent, apparently thinking they would make a big splash from the start: They hired over 40 employees just for station operations, opened a $3 million studio facility and expected to produce many local shows, including a daily talk show. Polan ran leaner, relying on mainly low-cost cash or barter programming, and counterprogramming his VHF competitors with such tactics as scheduling music videos opposite their 10:00pm newscasts. Meanwhile, channel 11 (by then known as KMSB, having been sold while the Diocese and Polan were putting their plans together for channels 18 and 40, and renamed after new owners Mountain States Broadcasting) found itself having to bid higher for the latest syndicated programming because of the new competition, driving up costs to nearly the level of their friends 90 miles to the north in Phoenix. (As an example, the Daily Star reported that movies that once cost $250 per title now carried a price tag of between $1500 to $4000.) The overall effect was that the traditional network affiliates often became the only ones that could afford to pay for off-network plays of big hits like Cheers, at $5200 per episode.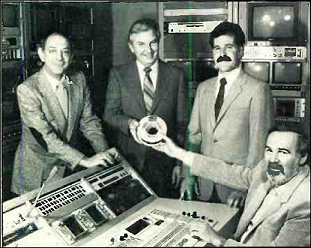 High hopes inside the KPOL control room shortly before launch:
General sales manager Frank Idaspe, general manager David
Reaban, station manager David Polan and owner Jay Polan.
KPOL's programming strategy was dealt a blow in mid-June when CBS Records made what became a controversial decision to begin charging local broadcasters a monthly fee of "up to $2000" to air that label's music videos. (It also affected KGUN, which was airing Midnight Music Videos on weekends, but not MTV, having signed an "exclusive contract" with CBS to ensure access to those clips.) Reaban declined to comment before reviewing the decision, but by month's end TV/40 Videos had been replaced by CNN Headline News.
At the end of October, KPOL announced an agreement to carry 20 telecasts of the NBA's Phoenix Suns away games from KNXV-TV/15, although Daily Star sports columnist Greg Hansen had said a year earlier that channel 40 was set to carry them (apparently the January sign-on prevented airing any games from the 1984-85 season). Unfortunately, the affiliation helped only a little, as the team proceeded to have their third-worst season in history, landing outside the playoffs for the first time in eight years. The Suns telecasts moved to channel 18 the following season, by which time Reaban had exited "due to personal reasons."
Overbidding for programming may have hampered KMSB's ability to turn a profit, but they had been filling some daytime hours with programming from the Financial News Network since 1981 (one of only four VHF stations in the country ever to do so, and the only of those four that carried any part of the weekday stock market coverage block), and were established enough to win the affiliation of the Fox Broadcasting Company, which started to program Sunday nights in 1986. KDTU was able to find an audience for some of its shows, but KPOL seemed always to be stuck in first gear, unable to afford the best programming and settling for shows that hadn't been seen on TV in ages like the forgettable 1976 Judd Hirsch crime drama Delvecchio (which had only lasted one season in the first place). In the meantime, Jay's son David, an injury lawyer by trade who had moved from Chicago only a few months before channel 40's debut to be the station manager, took on a greater role in operations, having by that time bowed out of a six-way battle for channel 15 in Las Vegas.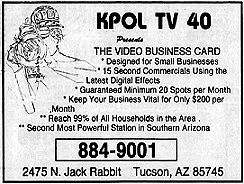 By that time, increased competition had dropped advertising rates for Tucson's three independent stations precipitously. The Daily Star estimated that a 30-second spot was selling for as low as $25 even on KMSB, and KPOL was selling a package of twenty 15 second "video business cards" for $200 (see ad at left). Channel 40 scheduled reruns of Kojak and Bonanza against the network-affiliated stations' newscasts, plus a Lou Grant rerun and nightly movie in prime time, but further attempts to improve the schedule by affiliating with the Los Angeles Dodgers' network were thwarted when Major League Baseball commissioner Peter Ueberroth ruled that all of Arizona was outside that team's assigned geographic area; channel 40 settled for carrying 51 games of the San Diego Padres' 1987 season. (Even today, the southern portion of the state -- which includes Phoenix and Tucson -- is "shared" between the Padres and the Arizona Diamondbacks.) KPOL even cleared the ill-fated syndicated Satellite Bingo in the fall of 1987, a far cry from David Reaban's 1985 statement that channel 40 would never be "just another TV station that puts on game shows."
Startup costs and mounting debt from the now higher priced programming acquisitions took its toll first on channel 18, with the Daily Star reporting in its October 13, 1988 edition that the Diocese had "money woes" from operating the station and was laying off all but 40 diocesan employees (who were taking a 10% pay cut in exchange for continued employment). Those layoffs, combined with those eliminated in earlier cutbacks in 1986 and 1987, totalled 38 positions, enough to be able to balance the books in terms of KDTU's revenue vs. operating expenses ... the problem, according to the article, was that the Diocese was still laboring under the initial start-up expenses and interest on that debt. Reportedly, they had been considering selling the station since early 1986 and had quietly put it on the market concurrent with the previous round of layoffs, but had apparently received no offers. Even McKinnon Broadcasters of Corpus Christi TX declined to exercise a "right of first refusal" option to purchase channel 18 they had been given in exchange for dropping out of the comparative hearings in 1983. The financial bind affected more than just the television station; the Diocese now had no funds for low-interest loans to parishes and missions for building expansion.
By comparison, the only reported difficulty KPOL suffered that year was three days off the air in mid-June when a power surge caused the transmitter to shut down, also destroying the surge protection system and making it risky to operate until replacement parts could be located.
It was only two weeks after the last belt tightening that the Diocese announced that KDTU would go off the air on November 1, 1988. While that could have been an ironic "saving grace" for the two remaining indies -- channel 11's sales manager Frank Tuoti said they were "ready to throw a party" because they expected to get a share of channel 18's ad revenue -- the celebrations were short-lived, as the Diocese instead sold the station to Clear Channel Communications for $8.5 million, which did not completely erase the reported $13.9 million deficit from the nearly four years of operation but which included the assumption of $4 million in programming contracts, and stayed on the air (with financial help from the new owners) until the official ownership change took place February 1, 1989 along with a change in call letters to KTTU-TV. Clear Channel proceeded to install a new schedule of programming, adding Arsenio Hall, Mama's Family and other first-run syndicated offerings, a 7:00pm newscast and themed prime-time movie weeks to the held over I Love Lucy reruns (they renegotiated all of the programming contracts) and Phoenix Suns basketball games. Clear Channel president Tom Sullivan told the Daily Star two days after taking over that viewers would expect to see "movies with more violence and sexual overtones" than the Diocese had been willing to program; as if to prove the point, channel 18 aired the 1980 thriller Dressed To Kill in prime-time less than six months later, on May 14. No viewer protests materialized, as had been the case when KPOL had aired The Deer Hunter in 1985.
By then it was becoming obvious that Tucson -- at that time the 81st largest market in the country -- could barely support three network-affiliated stations plus two independents, and with KTTU now on solid ground it was becoming obvious that as the third indie KPOL was the weakest station in the market. Further complicating matters, advertising revenues overall in the market were down by about 8% compared to the previous year. David Polan told the Daily Star he wanted to hold out until the station could break even, but that he no longer could predict how many more years of red ink he and his father would have to endure to get there.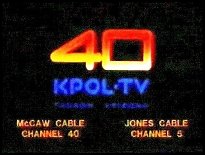 Polan had reason to worry, as channel 40's future was looking bleaker by the day. By October, the schedule consisted of college telecourses in the morning, a few barter cartoons, C-and D-grade movies and paid programs during the day, an hour of the syndicated music service Hit Video USA in the late afternoon, dramas and lower-end movies in prime time and late night, signing on at 7:00am and leaving the air at 12:30am every night. Their weekend lineup wasn't much better, featuring pro wrestling and low-budget outdoors and motorsports programs. Advertising was being sold as low as $10 per 30-second spot and viewership was so low that they no longer appeared in the Nielsen ratings, having cancelled their now-worthless subscription to same. KMSB's Tuoti, by then retired, told the Daily Star that their presence didn't "make one iota of difference," saying that "their pie can't be divided because KPOL had no real piece of the pie to begin with."
KPOL abruptly signed off permanently at the end of the October 17, 1989 broadcast day, citing ongoing financial difficulties. While David Polan wouldn't comment on the situation, business manager Wanda Langejans told the Daily Star that her boss wanted to "go down with as much dignity as possible." He filed a Chapter 7 (liquidation) bankruptcy the following February, listing a mere $35,000 in assets against debts of $2.65 million, most of which were associated with loans taken out to finance the original station construction.
---
POSTSCRIPTS:

KTTU-TV continued to operate as an independent station under a local marketing agreement with KMSB. It now carries MyNetworkTV programming in prime-time.
The bankruptcy trustee sold the KPOL permit in 1991 to Jay Zucker, 80% owner of low-power Spanish-language station K14HR, who put channel 40 back on the air with Telemundo network programming as KHRR July 1 of the following year; Zucker sold the station six years later and the subsequent owners resold it to the network in 2002.
The channel 27 non-commercial allocation went on the air July 22, 1988 as KUAS, the second station of the University of Arizona Tucson.
After a complicated series of moves over the intervening 15-year period, the descendant of channel 40's original translator occupant went on the air as KUVE-LP on channel 52 at the end of 1998 and moved to channel 38 three years later. As digital "class A" station KUVE-CD, it retransmits Univision's KUVE-DT/46, which the network acquired in 2003 and which operates as a satellite of KTVW.