KQTV/21, Fort Dodge IA
by Russ Johnson
Promo card announcing KQTV's scheduled sign-on date, with a model of
the station's studio and office building and transmitting tower.
In 1953, the TV boom across the country was in full swing. And after a couple of years with only two TV stations in Iowa, authorized prior to 1948's TV freeze, it was springtime for station construction around the state. TV would come for the first time to Cedar Rapids, Sioux City and Waterloo. In Des Moines, new VHF competitors to Iowa State College station WOI-TV in Ames were delayed while the courts were reviewing who would occupy channels 8 and 13.
And, in 1953 television would come to Fort Dodge. However, there were no VHF allocations available for Fort Dodge. That wouldn't stop Ed Breen, the majority owner of the city's radio station KVFD. He obtained a construction permit for UHF channel 21, built studios and a 650 foot tower, and on November 23, 1953 KQTV went on the air. For viewers in Fort Dodge, it provided a choice for the first time on their TV dials even if, as would have been common in those days, it was a choice between their TV tuner for WOI-TV on channel 5 and a UHF set-top converter for channel 21.
The history of KQTV (later KVFD-TV) has to be told alongside the story of its iconic founder. Edward J. Breen was born in 1899 to a prominent local family, whose roots in Fort Dodge went back to the 1850's. Breen's father grew up on a farm, received an eighth grade education, and as a young man began working in railroad construction and eventually became a wealthy railroad contractor. The elder Breen returned to Fort Dodge and went into banking.
Ed Breen grew up in a prosperous neighborhood. Across the street was the home of a noted U.S. Senator of the time, Jonathan Dolliver. Another home across the street was the residence of Fred Loomis, president of the Fort Dodge Creamery Company. Breen would marry his daughter, Elizabeth, in 1923. While Breen's father was a Republican, his uncle, Tom Breen, was a Democrat in the progressive tradition of William Jennings Bryan. Young Ed became a life-long Democrat.
Breen graduated from high school in Fort Dodge in 1916 and from the University of Wisconsin in 1921. . He returned home and took a job with the Fort Dodge Messenger. After his marriage to Elizabeth Loomis in 1923, the couple moved to California briefly while Ed tried his hand at real estate sales and other jobs. The Breens returned to Fort Dodge in 1924, where Ed soldstock for the Central Iowa Power and Light Company for several years. In 1926, Breen enrolled in the Drake University law school in Des Moines, where he was also active with the Des Moines Community Playhouse. In 1928, Breen received his law degree from Drake. One day that same year, he was stopped on the street by one of his friends, Bill Heinz, who was the station manager of WHO radio. Heinz asked Breen if he'd like to be an announcer.
"Bill, does it pay any money?"
Heinz said it did.
"Hell, yes, I'd like to be an announcer!"
So with that began Breen's career in broadcasting. Among his duties was to say: "This is radio station WHO. Who? Bankers Life, Des Moines, Iowa." Back then, Bankers Life (now The Principal) owned WHO, and Breen remembered being treated well there. He remembered being called in to the office of company president Gerald Nollen to receive a pass that would allow him free cab fare to and from the station. It was that style of treatment that would later pattern Breen's employee relations. In 1965 one of his employees said, "Ed Breen's got a heart as big as his Irish heritage ... I don't say this just because I work for him. He's a great guy. You can't find one better."
Breen would work for WHO until 1930, when Bankers Life sold the station to the Palmer family of Davenport. He then went into law practice with his brother, Maurice, in Fort Dodge. In 1932, Breen, running as a Democrat, was elected as county attorney. His involvement in politics continued when he was elected as president of the Young Democrats Clubs of Iowa. In 1936, he was elected to the Iowa Senate, which was a loud and raucous place in those days. But Breen more than held his own on the Senate floor, with a reporter calling him "the scrappiest Democrat in Iowa."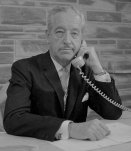 KQTV founder Ed Breen.
In 1939, after the end of the legislative session, Breen led a group of Fort Dodge residents to build its first radio station. There was just one minor problem. The investors couldn't decide on call letters for the new station. So, it was up to the Federal Radio Commission (as the Federal Communications Commission was known then) to assign them. Instead of assigning the next set of letters that were in the sequence, an FRC official went for the acronym of "Kome Visit Fort Dodge," KVFD. Breen would later say, "I don't know why they gave us those call letters ... we've never used KVFD to represent 'Kome Visit Fort Dodge.'" Nonetheless, with that moniker, KVFD came to Fort Dodge, starting operations on Christmas eve of 1939.
After unsuccessful campaigns for the Democratic nomination for Iowa governor in 1940 and for the U.S. House in 1942, Breen began to take a more active role in the operation of KVFD. During World War II, Breen returned to the airwaves, taking the place of announcers who went into the armed services. And, his station became more involved in community affairs, notably a 1949 push to finish the Fort Dodge airport and the promotion of the Fort Dodge Centennial in 1950. That spirit of community involvement would be amplified with the addition of KQTV.
According to the 1954 TV Factbook KQTV was a low-powered affair in the beginning, with an effective radiated power (ERP) of 18,000 watts, but the signal was helped out some with a tower that stood 650 feet above the flat terrain of northwestern Iowa. By the end of 1955, KQTV had boosted its power to 170,000 watts ERP. Between channel 21 and Des Moines' first TV station, KGTV/17 (which signed on November 14, just nine days ahead of KQTV), 1953 brought the end of public TV's monopoly of the central Iowa TV market. That was WOI-TV/5 of Ames, owned by Iowa State College (as Iowa State University was then known). WOI-TV was authorized before the TV freeze and went on the air in 1950. It was publicly owned, but operated with a commercial license. So, WOI-TV wasn't just educational, it was ABC, CBS, NBC and DuMont, too. By the mid-1950's, the central Iowa TV market had stabilized, with CBS going to KRNT-TV/8 and NBC going to WHO-TV/13, both based in Des Moines, and WOI-TV keeping ABC.
KQTV was a primary NBC affiliate from day one. It also had secondary affiliations with ABC, CBS and the DuMont network. As an NBC affiliate, KQTV would occupy a niche it would enjoy for many years. Fort Dodge in the mid-'50s would have received a strong ABC signal from WOI-TV in Ames, and a fringe CBS signal from KRNT-TV's downtown Des Moines transmitter. But, the NBC signal from WHO-TV's Mitchellville transmitter was too far to the southeast of Fort Dodge, thus ensuring a solid audience for Fort Dodge's home town station. KGTV didn't fare as well: All that was left for it was DuMont, which was a distant fourth in the ratings, so KGTV's owners didn't bother taking on DuMont, and channel 17 went dark April 5, 1955, becoming another victim of the UHF bust. No different than most TV stations of the time, KQTV had some lean early years. In a 1966 interview, Breen said that channel 21 had been "a horrible struggle. But, we're over the hump now and making money ... but what a battle it was. One major problem was that we were pioneers in the UHF field."
---
KQTV'S LOCAL PROGRAMMING
KQTV enjoyed a fairly stable line-up of personalities and local programs. No doubt it didn't hurt that its owner took such an active role in programming. But it also helped that KQTV's staff were loyal to Ed Breen, who likely patterned his employee relations style similar to what he experienced years before at the Bankers Life-owned WHO.
Above: Eve Rubenstein in her Kitchen.
Below: Uncle Dick's Funhouse.
Bottom: The set for Barndance with an
unidentified stage (ranch?) hand.

Eve's Kitchen: In 1953, Charles Rubenstein died unexpectedly, leaving Eve Rubenstein a widow. That same year she began her broadcasting career at KQTV and KVFD. Rubenstein hosted Eve's Kitchen, a Monday thru Friday cooking and interview program, for the entire time the television station was on the air. She received recognition in 1972 as having logged more hours in front of the camera than any other woman in the country at that time.
Uncle Dick's Funhouse: Dick Johnson started with KVFD radio in 1950, and began his on-camera career as soon as KQTV came along in 1953. He hosted the afternoon kids' program Uncle Dick's Funhouse as well as being a weathercaster and newscaster on channel 21 for many years. Johnson related how the kids'show came into being in a 2008 e-mail correspondence from his current residence in Great Falls, MT:
It's interesting how Uncle Dick's Funhouse came into being. At the time, KQTV was taking an "off-air" feed from WHO-TV in Des Moines. We got their NBC lineup of daytime, afternoon and evening programs with some local time for news, etc. WHO did some local programming between 4:00 and 5:00pm which required us to come up with local shows, and Eve Rubenstein filled that hour with her very popular Eve's Kitchen show. Then KQTV went back to the WHO feed for NBC News (Huntley/Brinkley) at 5:00pm. Then came the bomb! WHO decided to do their own local "kiddy" show at 5:00pm and run Huntley/Brinkley at 5:30, followed by their local news. Of course, we had nothing going at that hour and it was "scramble" time to find something to fill in. Ed (Breen) called me into his office and told me the news as soon as WHO informed us of their impending change. In his usual casual way, he said, "starting next Monday, you'll have the 5:00 to 5:30pm time slot (after Eve) to do a 'kiddy' show!" He said we could get a quick contract for some cartoons and old "one-reelers" featuring Charley Chase, Thelma Todd, Laurel and Hardy, ZaSu Pitts and other stars of that era. These, of course, were enjoyed as much (or more) by adults as the kids which was truly a stroke of genius by the old Master to keep his Eve's Kitchen audience and set up the Huntley/Brinkley slot. We built a set, ran some "promos" to have parents write in to schedule a birthday party on the show which Ed named Uncle Dick's Funhouse. We didn't even have videotape at that time so we had to do all the promotions with slides and old fashioned "opaque" cards. Fortunately, I had frittered away 'way too much time in my High School History and English classes "doodling" caricatures and similar pencil drawings, so Ed suggested I draw pictures for the kids and fill the time between commercials and film. But, as Bobby Burns said: "The best laid schemes o' Mice an' Men, gang aft agley." WHO-TV found that out shortly thereafter! They scheduled a rating period about six months into the schedule change and discovered they had totally lost our area for their local news and everything that followed until the 7:00pm slot! I can honestly say that we blew away all of the VHF stations in our area including Mason City, Ames, Austin MN, Sioux Falls, as well as Des Moines (WHO and KRNT) from 4:00 to 7:00 when we returned to our NBC net feed. UHF was still in its infancy in northwest Iowa at that time, but I understand that all stations are going UHF now that HDTV is mandated. Ed, wherever he is, will be proudly thumping his chest, saying, "I told you so!"
Romper Room: This staple of many a television station over the years originally aired on WHO-TV on weekday mornings at 9:00am, beginning in 1954. It was cancelled at the end of 1963, then resurfaced at KQTV the following September, first airing in the



TV Guide ad from the 1960s
for Romper Room.

morning and moving to 3:30pm later that month. It remained on the KQTV/KVFD-TV schedule for 5½ years -- literally until February 1970 -- and was replaced by a late-afternoon movie (Eve's Kitchen was relocated to 1:00pm; Uncle Dick's Funhouse was reduced to a 15-minute program titled Birthday Party at the beginning of 1968, then disappeared completely in 1970 as well). Janet Weiwel was "Miss Janet" on all of the incarnations of the program.

Conference Table and Calling Ed Breen: Conference Table, hosted by Breen, was an interview program that featured local and state-wide newsmakers. Guests, Democrats or otherwise, could expect Breen to ask tough, pointed questions. Calling Ed Breen was just that: Breen would take calls from viewers for a half-hour each week. He'd take calls from almost anyone. "We try to discourage the drunks and the ten-year-olds," citing his exceptions. The majority of the calls were usually about local issues. And, the majority of the local criticism about Breen's programs were focused on this show.

Barndance: The Barndance program was one of the longest running staples on channel 21. It was a live country music program that aired from 1953 into the 1970's, hosted for much of that time by Dee Coleman and Bobby Awe. While other local live music TV music shows around Iowa came and went, Barndance stayed the course. During much of the 1960's, it was the only locally produced hour of country music in the state. The program's last telecast aired April 15, 1972.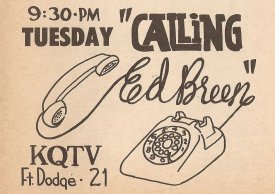 In addition, Breen was one of only a few broadcasters at that time who did editorials. Of this he said, "A lot of radio stations claim they don't have anyone trained to do editorials ... Editorializing is like being in the Legislature; you can't go into training to be a legislator. You just start grappling with problems." Granted, that was easy for Breen to say; he owned the station! But unlike most stations whose owners were detached from day-to-day operations, he was able to make channel 21 an integral part of its community. One unidentified Fort Dodge businessman put it this way in a 1965 article on Breen: "Ed Breen is the kind of guy this town, hell, any town needs. He gets things done, and he makes people think. You may agree with him or disagree with him, but he'll make you think." Then, there were others whose opinions of Breen were less charitable, or quotable, at least in a family newspaper. Indeed, that's how Breen wanted it. He'd admit he had "a feeling that one or two of my salesmen shudder every time the stations engage in another battle, but the programming staffs like to enter controversies. It means the stations are alive, not stagnating."
---
In 1966, the call letters of KQTV were changed to KVFD-TV to match that of the co-owned radio station, and in 1970, KVFD-TV moved to a 1200 foot tower near Bradgate, about 25 miles northwest of Fort Dodge. With that move came a boost in power to 414,000 watts ERP. The Bradgate tower provided reliable reception of NBC programming for the first time to a number of northwestern Iowa counties. In some of those areas, the upgraded KVFD-TV was only the second over-the-air station available to viewers.
Breen sold KVFD radio in 1972 to a company headed by Max Landes, while continuing his ownership of KVFD-TV. In 1974, Breen was one of the first two people inducted into the Iowa Broadcasters Hall of Fame, recognizing his long and active service through his stations. The seventies brought new challenges for KVFD-TV. First, the 2000 foot towers erected between Des Moines and Ames at Alleman, Iowa brought stronger signals of channels 5, 8, 11 and 13 to Fort Dodge. The advent of cable television brought subscribing viewers even more choice, further splitting the viewership and revenue pie. And, after the construction of the Bradgate tower, KVFD-TV began to suffer annual losses. Advertising revenues from the expanded channel 21 coverage area were less than expected. That meant the station had a tougher time meeting the expenses created by the addition of the Bradgate tower.
Iowa Public Broadcasting Network
announcement of KTIN/21 signing on.
Meanwhile, the Iowa Public Broadcasting Network (IPBN), as Iowa Public Television was known in the seventies, was in the middle of a multi-year project to bring public television to all areas of the state. IPBN was granted a construction permit for channel 46 at Fort Dodge. They were faced with building a new tower, which ideally would have been built in the same general area as KVFD's Bradgate tower to avoid excess overlap with IPBN's Des Moines and Mason City transmitters. So, KVFD-TV and IPBN crafted an agreement which was approved by the FCC in 1976. IPBN's channel 46 construction permit was changed to channel 21. In turn, IPBN bought KVFD's Bradgate tower, transmission line and channel 21 antenna and put KTIN on the air.
KVFD-TV opted for channel 50 instead of 46, as a used antenna and transmitting equipment to operate on channel 50 was available for considerably less than the cost of new equipment. Breen moved the station back to its original Fort Dodge tower, which would allow it to serve its base of local viewers and advertisers more efficiently. Crews from Stainless Tower, Inc. of Pennsylvania, who erected the tower back in 1953, worked during late 1976 and early 1977 installing the channel 50 antenna, transmission line, and tightening tower bolts and guy wires. The actual channel move over the air occured in March of 1977. By this time Breen, who was 78, had already put KVFD-TV up for sale. He said there was no one in the family ready to take it over.
Then ... May 4, 1977. The evening newscast was over, and KVFD-TV went to NBC primetime programming. First up at 7:00pm was The Life and Times of Grizzly Adams. More promising fare was scheduled at 8:00pm with a John Wayne film on NBC's Wednesday Night at the Movies. It wouldn't be seen. Instead, KVFD-TV would become part of one of the biggest stories of Fort Dodge history. The only occupant in the station at that hour was engineer Don Lewis, who was monitoring some rough weather conditions. At 7:15, a Webster County sheriff's deputy spotted a tornado several miles south of town. Tornado sirens were activated in Fort Dodge. Lewis was able to broadcast tornado warnings several times from channel 50, but at 7:30, there was only enough time for him to dive to safety under a steel table before the station took a direct hit. The station roof was

peeled off, resulting in considerable damage to the studio equipment. The 650 foot tower was still standing but had been struck about 200 feet up, receiving major structural damage. Tower experts remarked that they had never seen a tower take so much damage and still remain standing.
Still, the tower was unstable. There was no choice but to bring it down. Crews from Stainless Tower returned to Fort Dodge ten days after the tornado to dismantle the tower the company erected nearly twenty-five years earlier. Apparently, there was no excess tower space available in Fort Dodge. UHF transmitting antennas were rather heavy in the seventies, so it wasn't as simple as mounting one on the side of an existing AM or FM radio tower. They wouldn't have been up to the load. And Iowa Public Television's Bradgate tower probably couldn't have taken on an extra tenant, either. If it had, KVFD would have installed its channel 50 antenna there. And, Breen ruled out rebuilding the KVFD tower at its original site next to the studios. In 1953, it was at the southwest edge of Fort Dodge with no close neighbors. By 1977, the area had become too built up and Breen wanted to avoid building a tower in any congested location. He was greatly relieved that the damaged tower was brought down in a controlled fashion, rather than simply crashing down in an area that included classrooms and dormitories of Iowa Central Community College. Even with the controlled demolition, the tower struck the south portions of two KVFD-TV buildings, damaging some of the transmission equipment.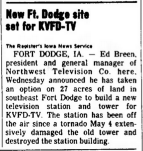 Des Moines Register article
(June 16, 1977) on Ed Breen
taking an option on a new
studio/transmitter location.
Breen died before the option
could be exercised.
In the year after the tornado, KVFD-TV received insurance settlements which covered about half of an estimated $500,000+ loss. The station's land was sold to Iowa Central Community College, while the station retained the right to operate a studio and offices on the site. Another location had been selected for a new tower on a farm 3½ miles southwest of Fort Dodge. Late in 1977, Breen was making plans to construct new buildings for the station, even while entertaining offers to sell the station. But, there would be a bigger fight in store for Ed Breen, as he was treated for cancer during the first part of 1978. He died later that year on June 15th at his beloved long-time home next to the Des Moines River.
So KVFD-TV would belong to history, just as with its iconic founder. The license for channel 50 was allowed to expire and the KVFD-TV call sign was deleted by the FCC in 1981. However, the channel 21 allocation occupied by KVFD for nearly its entire time on the airwaves continues to be used to this day by its de facto successor, Iowa Public Television's KTIN. Thus, Fort Dodge's channel 21 can lay claim to be one of the longest continually occupied UHF channels in the country.
In many ways, Ed Breen was ahead of his time. For example, he spoke out against the death penalty during his legislative days in the 1930's, almost thirty years before Iowa abolished the practice. He spoke out against the Vietnam War in 1965, beating Walter Cronkite to that conclusion by three years. And, of course, there was his pioneering effort in UHF television, which wasn't popular for decades.
One of Ed Breen's early employees at KQTV, Bob Brown, would later become a reporter for the Fort Dodge Messenger. In print, Brown remembered his former boss: "He was a dynamic worker and expected his staff to be the same. Nobody ever left the employ of his station without carrying respect for the boss, perhaps not in agreement, but respect nonetheless. In 1953 he went into television with little knowledge but lots of ambition, rolling up his sleeves, sorting things out and becoming the area's first TV news anchorman. When his station became a casualty in the May 1977 tornado it was one of the hardest days of his life, but he never gave up his hopes of rebuilding. Every city needs an Ed Breen, but few are fortunate to have one. There won't be another; the mold has been broken. Ed would like it that way."
---
EXTERNAL LINKS