KTVE/32, Longview TX
based on an article by Gordon Green
It is well-known that midway through the "freeze" on new television stations, in 1949, the FCC proposed to add UHF to the television allocation table in order to overcome the limitations on the number of stations that could be assigned using only VHF. This was the Commission's response to many households who lived a distance of a hundred miles or more from the already-operating stations in big cities, who had to erect tall towers on which they placed large and unwieldy antenna arrays. Even with such costly installations, these viewers in "far fringe" areas had to content themselves with a picture that was at best extremely grainy, and in poor weather the electronic snow more-or-less obscured the picture entirely.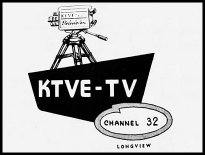 When the 1949 proposed table was released for comment, many applied in advance for the new UHF allocations, no doubt hoping the Commission was on the verge of ending the "freeze" in the near future. Among these was A. James Henry, owner of Henry's Appliance Store in Longview, Texas, who filed for the proposed channel 30 allocation in that community. When the final table was approved in 1952 he and his associates, as East Texas Television Company, re-applied for the revised channel 32 allocation in June, and they were awarded a construction permit on February 4 of the following year. They built a small building on Highway 26, midway between Longview and Kilgore, to house the broadcast studio, the business offices, and the transmitter. A transmission tower, rising 290 feet above the local terrain, was erected immediately behind the building, and Henry selected the call letters KTVE, signifying "television for East Texas." Channel 32 began operations on October 25, 1953, broadcasting with a power of 20 kW which was estimated to serve approximately 500,000 communities in the region including Longview, Kilgore, Tyler and Marshall. (It had intended to sign on September 20 but the final amplifier for the transmitter went missing in transit and had to be reordered.)
Above: The original cameraless KTVE film chain.
Commercial manager William Morrow is loading the projector.
Below: "Ranger Wes" Dean.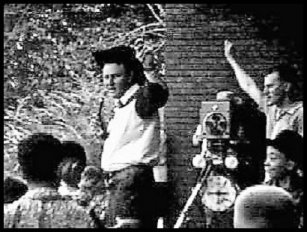 To say the least, KTVE was a spartan operation, with a single studio (including a permanent kitchen set constructed for the daily Holiday Kitchen cooking show) and a tiny control room backed up to the space which housed the transmitter and the sixteen-millimeter projector. They started with a single camera; when the station wanted to switch from live to film, the camera was swung around in the studio to thrust its lens into a specially-constructed hole in the wall, allowing it to pick up the image from the projector in the next room. At the conclusion of the film offering, cameraman Carl Lay would pull the camera back out of the hole and again focus it upon the talent in the studio.
Programming fell into three broad categories: Live, local shows included organist Lawrence "Sonny" Birdsong (whose family was prominent on the local music scene, and was KTVE's music director) playing a variety of types of music on Startime, though he performed with the dual handicaps of limited visual effects and only the single camera. Another musical show featured Tubby Wallace and the Honey-Drippers. Still another starred a very young Mike Post and His Post-Hole Diggers. Academic competition between local schools enlivened Mortarboard. The Longview Ministerial Alliance rotated duty amongst its member churches to provide the Sunday afternoon Religion This Week, remembered mainly for its use of a "stained glass window" gobo* that made it appear that the program originated from inside a jail. And Ranger Wes (Wesley R. Dean, who pulled double duty as the station's sports director) with his young assistant Ranger Breezy (Carl Lay's son Winder) presided over the weekday Ranger Round-Up.
[*-A gobo is a patterned stencil used to create "background looks" when projected on scenery, on walls or floors, or on a cyclorama. We didn't know that either.]
The second type of programming fare came from a slim library of ancient movies. At first these films were shown later in the evening on "Night Hawk's Theatre" but with a modest success in selling advertising to local merchants came an expansion of the broadcast schedule into the afternoon to include an early "Twilight Matinee" movie as well. The third category also came by way of the film projector ... syndication: Amos 'n Andy had just come off the CBS network's schedule that summer, and reruns of it proved to be one of Channel 32's best-received offerings. Local jeweler Leonard Sosland journeyed out Highway 26 to the studio to sponsor and host a program of syndicated film dramas. The U.S. Army's famous "freebie" The Big Picture and the religious programs The Christophers and This Is The Life also aired weekly. First-run syndicated series that made it to the Longview airwaves were Range Rider, The Files Of Jeffery Jones, City Detective, Abbott & Costello, Life With Elizabeth, Your Favorite Story, Jackson And Jill, Holiday In Paris, Hollywood Half Hour, Strange Detective and The Cases Of Eddie Drake (which Wikipedia and other sources claim aired on the DuMont network after being filmed but not aired by CBS, but which has never been proven beyond the episodes airing on DuMont-owned WABD-TV/5 in 1952). KTVE was probably more famous for the shows it planned to air, but didn't: Variety reported the purchase of local broadcast rights to the entire Guild Films inventory, but other than Liberace none ever made it to KTVE's broadcast schedule, and an ad run in the News-Journal on September 13, 1953 claimed affiliation with CBS and the all-film Paramount Television Network but none of the series from those sources appeared on channel 32.
While the mix of live and filmed programs had a certain local appeal, there were still major problems in attracting an audience. Despite the claims in promotional materials that KTVE's signal was "covering East Texas like the dew," the technical and power limitations of UHF broadcasting actually confined the coverage to a relatively small area. The usual issue of UHF converters and antennas came into play, and many of the local viewers were not interested in purchasing -- nor in learning how to operate -- the additional equipment. And the biggest blow was that viewers had become accustomed to the higher production values and featured performers of the network fare airing on the VHF stations from Dallas. For this reason, Henry sought a network affiliation, as did competitor KETX-TV/19 in nearby Tyler, which had received its CP only one week before KTVE and had beaten channel 32 to the air by close to three months. But (as had already been proven by the relatively few numbers of kinnied programs airing in Longview) the networks, noting the small audiences and the tiny broadcast coverage areas of the UHF stations, weren't interested ... and for the same reasons, neither were the large national advertisers. Although KTVE hired the well-known Forjoe and Co. agency to represent the station for national sales, most of the advertising remained local or regional.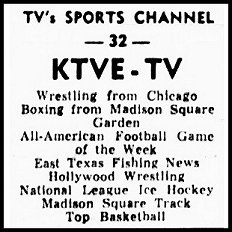 Ad promoting sports programming on channel 32.
Although this ran in the Longview News-Journal
fairly regularly, it was practically the only one KTVE
ran itself; other programs were advertised by their
local sponsors (as at left, above) instead.
It seemed that it would be only a matter of time until the networks realized that these local stations were building an audience, and it was presumed that with network affiliation would come national advertising accounts, first-rate programs, and still larger audiences. Unlike KTVE, KETX-TV managed to clear a few filmed network shows via kinescope -- such as You Bet Your Life, Milton Berle, The Life Of Riley, Ted Mack's Original Amateur Hour and Ford All-Star Theater from NBC, ABC's Talent Patrol ... and from DuMont, the popular Life Is Worth Living with Bishop Fulton J. Sheen and the Old American Barn Dance that had a limited run the previous summer -- but, as was often the case with early UHFs relatively few "kinnies" arrived in Longview as part of network advertiser buys. In at least one instance, KTVE tried to jump the gun: Without income from advertisers (positioned as a "service to the viewers") but quite illegally, channel 32 picked up three of the four afternoon games of baseball's World Series from a distant NBC-affiliated station. Said network was not amused, and neither was organized baseball, which preferred to sell its product, rather than have it picked out of the air for free. Needless to say, subsequent games in the Series did not appear on KTVE.
The 1952 allocation table contained a ticking time bomb of sorts, though: It included a new VHF allocation for channel 7 in Tyler, and one of the applicants was KGKB/1490 owner Lucille Ross Lansing, who filed in June 1952. She received a construction permit at the end of January 1954 after beating out a competing applicant (Tyler Broadcasting Co., owner of the other station in town, KTBB/600) and beginning operations as KLTV October 14 of that year. While an ad in Broadcasting one month before the inaugural broadcast claimed an effective radiated power of "100,000 watts" it signed on with only 20.4 kW visual ERP and 10.2 kW aural; however, that did not detract from the fact -- also heralded in the ad -- of KLTV being the only VHF station between Dallas and Shreveport, and the even more important fact that channel 7 was affiliated with all four networks (albeit via kinescope).
To viewers in the Longmont-Texas area, KLTV was a strong signal, requiring no converter, extra antenna, tall towers, or additional dials or knobs. Channel 7 cherry-picked popular network programming, such as Dragnet, I Love Lucy, Burns and Allen, Ed Sullivan's Toast of the Town, George Gobel, Private Secretary, December Bride, Colgate Comedy Hour, Bob Cummings, General Electric Theatre, Break the Bank, Your Hit Parade and People Are Funny. KETX-TV saw the handwriting on the wall (hard to miss while losing The Life Of Riley and You Bet Your Life to the newcomer) and went dark on October 23, a mere nine days after channel 7's sign-on.
Both of the U's had tried to prevent its new competitor from operating with the advantage of a VHF channel. KETX filed a petition in early 1953 to mark the channel 7 allocation as reserved educational and adding a second UHF channel for KLTV, arguing that both they and KETX would suffer irreparable harm if they had to compete with a stronger station on the VHF band. The FCC denied the petition in April because they had placed a one-year ban on petitions to amend the allocations table which had not yet expired; in July 1954 KTVE filed a similar petition, which was similarly denied in October. KETX's owner Jacob A. Newborn Jr. then tried a different tactic, filing a petition as he took channel 19 dark to move the channel 9 allocation to Tyler from Lufkin TX (some 85 miles to the south), where the permittee had surrendered their CP because they as well were unable to secure a network affiliation. The petition was denied in less than a month, the Commission instead re-authorizing the surrendered permit to operate as a satellite of KPRC-TV/2 Houston; the FCC eventually cancelled Newborn's CP at the beginning of 1956.
KTVE held on for a while, receiving an authorization in March 1955 to increase its ERP to 224 kW visual, 132 kW aural. They also purchased a dedicated Dage film chain, freeing up its (still lone) camera for studio work. But like KETX a year earlier, the handwriting was on the wall and channel 32 went dark on Christmas Day 1955, never to resume operation.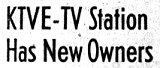 There was a report in the News-Journal in April 1956 that KTVE had been sold to oilfield tool magnate Hugh Udell Garrett, who announced that he and his partners would also seek a VHF allocation, but no record was found of an FCC filing to transfer ownership (possibly because Garrett made a point of telling the newspaper he had no intention of operating on UHF and therefore the sale only included the studio building and equipment). When the CP was cancelled six months later it was still in the name of A. James Henry, who had decided not to file for an extension: It was the 172nd cancelled UHF permit and the 52nd station to go dark since television began.
---
This article is based on a 1988 page (updated in 2014) that had originally appeared at the Chalk Hill Media site but was apparently removed sometime in 2019. It has been augmented by what additional information has become available from online newspaper archives, etc., since the original was written and we have also corrected some of the narrative, especially where Green came to erroneous conclusions. He had acknowledged Raymond Keese, Jack Haynes and Donnie Pitchford for some of the information and photos and we likewise acknowledge their original contributions.
---
POSTSCRIPT:

In December 1956 Garrett and his partners, as Gregg Television, petitioned for the reserved educational channel 2 in Denton -- some 100-plus miles to the north and west -- to be moved to Longview as a commercial allocation, replacing it in that community with channel 71. Unfortunately, that petition conflicted with one requesting that channel 2 remain in Denton as a commercial allocation and channel 17 be reserved for educational use there. The News-Journal, for whatever reason, opposed the Gregg petition and eventually (in June 1958) the FCC denied both petitions, saying that such an action would "frustrate" the efforts of educators to build an educational tv facility in Denton. Gregg filed a petition for reconsideration which was denied in May 1959, by which time KFJZ-TV/11 Fort Worth -- only about 20 miles away -- was petitioning for a channel swap with Denton for its own use (that was denied as well, in March 1960 and reaffirmed by denying the petition for reconsideration that October). Nothing further was heard from Hugh Udell Garrett; KFJZ-TV was sold in 1960 and the calls changed to KTVT.

The channel 32 allocation was replaced in the FCC's 1965 table revision by one for channel 14, which was applied for by the owners of KLUE/1280 that September. That was changed by the Commission to channel 16 the following year before the CP was issued, but the authorization was deleted in the 1968 purge and a subsequent unrelated CP issued in 1977 similarly expired, unbuilt. Longview finally again gained a full-power station when KLMG-TV/51 signed on September 9, 1984; it is today's KFXK-TV.