KVVV-TV/16, Galveston TX
by Jim Bell
with Jeff Thompson

KVVV-TV was licensed to Galveston, but it was physically located in a brand new building in a cow pasture just outside of Alvin on the road to Dickinson. (One of the owners of licensee TVue Associates also owned the real estate.) It went on the air March 18, 1968, mainly showing movies and syndicated reruns such as My Favorite Martian, Ozzie and Harriet, and Voyage To The Bottom Of The Sea. The first face and voice to be telecast were Jeff's.
On Sundays, the entire broadcast day was devoted to "the best in Spanish language programming from Mexico".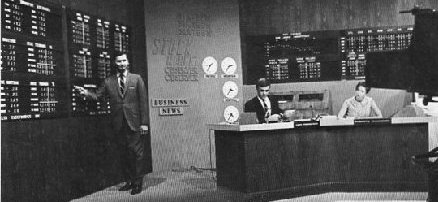 The KVVV Stock Market Observer set.
From left to right: Jeff Thompson, Jim Bell, and Roberta DeFrancesco.
But the big marquee attraction was a six-hour live running analysis of the stock market called The Stock Market Observer. It had a large set with computerized display boards providing constant monitoring of the action on Wall Street ... the Dow Jones 30, S&P 500, the Chicago Mercantile and the Board of Trade for livestock futures, and others. It was presented on a repeating segmented hourly wheel by a three-person on-air staff -- the two of us and Roberta (Hammond) DeFrancesco -- who kept viewers "almost" up to the minute on everything important in the markets, from opening to closing every business day, complete with the New York and American Stock Exchange tickers crawling across the bottom of the screen. I say it was "almost" up to the minute because the stock exchanges required a 15-minute delay in putting their tickers on the air.
[Editor's Note: In a telephone conversation, Roberta DeFrancesco remembered an innovation of the SMO set ... a pair of monitors built into the anchor desk, visible in the above photograph at the desk edges, showing the program feed. She said that design feature was a "life saver" to Jeff and herself, and that having live feedback of her work was ideal training. The monitors were especially useful when the cameramen had to "lock down" their cameras to go herd the pride of peacocks who occasionally escaped their pen, located on the same cow pasture as the KVVV-TV building.]
Screenshots of the Stock Market Observer from the KVVV media kit.
The Stock Market Observer was a great idea, far ahead of its time, and it had a lot of viewers in just about every company office in town, but the TV station sales staff had no idea how to sell it and get sponsors. (KVVV was mismanaged and doomed from the get-go because nobody knew how to sell its air time. Nobody. They were clueless.) SMO's creators had an identical show on KDTV/39 Dallas, based on the program of the same title which had been airing on WCIU-TV/26 Chicago since March 1967. The Chicago and Dallas versions were successful and making money, but at KVVV, it ultimately failed for lack of advertising. Channel 16 lost so much money it started laying people off in September and October. I (Jim) was in the first group to get pink slips; you know what they say ... last hired, first fired? It's true.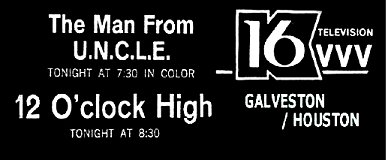 One popular program not dealing with financial news was the weekday airing of "No-No the Clown", who was really a guy named Ralph Ehntholt, one of the most sweet natured and thoughtful men I've ever known. Kids and everybody who knew him adored him.
When the SMO went off the air at the end of October, channel 16 continued its late-afternoon and evening schedule of "No-No", old movies, reruns (including The Real McCoys, 12 O'Clock High, Thunderbirds and The Man from U.N.C.L.E.), and roller derby for another ten months, until August 31, 1969 when the owners took it off the air for what was described in the Galveston Daily News by KVVV's president, Roy O. Beach, as "a 90-day financial reorganization". It never returned to the air and the studio building was left to rot out there in the cow pasture. However, TVue Associates apparently kept the license for a while before finally surrendering it; KVVV-TV continued to be listed in the Broadcasting Yearbook until 1971.
The KVVV transmitter and antenna were dismantled in 1970, but that equipment got a new lease on life two years later as it was used to put public television station KEDT/16 in Corpus Christi on the air on October 16, 1972. It reportedly was used for at least a couple of decades and may not have been replaced until after KEDT began digital transmissions on channel 23 in 2003.
---
POSTSCRIPTS:
Jeff Thompson moved to New York to anchor (along with Roberta DeFrancesco and SMO's Dallas host Jim Mitchell) a new version of Stock Market Observer on WOR-TV/9, sponsored by Dow Jones and the Wall Street Journal. Originally airing from 11:30am to 3:00pm when it began on February 10, 1969, it lost its first half-hour in September and an additional hour the following January. It remained on the air in the shortened time slot until it was cancelled on May 22, 1970. He then worked for WINS/1010 before joining the staff of NBC, where he worked on the network's ill-fated News and Information Service. Jeff moved to North Carolina in 2002, subsequently owning Thompson Communication Breakthroughs, which provided communications training for business executives.
Jim Bell went back to his first love, radio, and worked as a news reporter and anchor at commercial stations in Houston, Austin, and Fort Worth before joining the staff of Houston public radio station KUHF/88.7 in 1993. He retired from there in 2010.
As noted above, Roberta DeFrancesco co-anchored the New York version of SMO, then remained in New York working as a reporter and anchor at WCBS-TV/2. She later moved back to Texas, becoming the first investigative reporter for KPRC-TV/2 Houston, and later an anchor at WFAA-TV/8 Dallas-Fort Worth before returning to Houston to work at public television station KUHT/8. Along the way, she shifted from on-camera work to production and other "behind the scenes" activity and presently owns a free-lance production company in Houston.
Ralph Ehntholt continued to make his living as a professional special events clown around the Houston area. He passed away in 2001.
The Chicago version of Stock Market Observer remained on the air in Chicago, on a combination of WCIU-TV and WFBT-LD/23, until the end of 1999, then aired only on the LPTV station until 2003. The Dallas version lasted until March 30, 1973; KXTX/33 purchased KDTV and moved to channel 39 at the end of that year.
---
Portions of this article originally appeared in Jim Bell's posts on the Houston Architecture message board in 2006 and on RadioDiscussions in 2015. Edited, with additional research and information added, by K.M. Richards.
---
EXTERNAL LINKS

Photobucket album "Ruins of KVVV-TV 16"
YouTube video from Urban Exploration Resource of the decaying KVVV-TV building