KMPT/19 & KTVQ/25, Oklahoma City OK
a/k/a "A Tale Of Two Stations" (with apologies to the late Charles Dickens)



by K.M. Richards



This is an article which Clarke Ingram had wanted to write about Oklahoma City's channel 25. But in the course of early research, we discovered that the city's other early UHF was intertwined with its history, so, twists, turns and all ...

Our story begins on February 11, 1953 with the simultaneous issuance of construction permits for channel 19 to Byrne Ross, owner of KLPR/1140, and for channel 25 to Phil Jackson and Clarence Wilson, owners of KWCO/1560 in Chickasha, about 40 miles down what was then the segment of US-66 running from St. Louis to the Oklahoma-Texas border. Jackson told the Alva Review-Courier that they expected to have a test pattern on the air "within four to six months", while KLPR's chief engineer Jay Davis revealed that "the television corporation was formed by more than 50 Capitol Hill businessmen" and that it would be built on the first floor of the existing station building. Included in the "KLPR Television Corporation" were Fred M. Farha and Monty Wells, commercial manager and account executive at the radio station.

Channel 19 appeared in the 1953 Broadcasting-Telecasting Yearbook as KLPR-TV, and channel 25 as KTVQ. Both claimed affiliations with ABC and DuMont (at the time, WKY-TV/4 had been operating since June 1949 carrying programs from all four networks, and CBS was scheduled to move to KWTV/9 when it began operation later that year). But, since Ross did not own the television corporation 100%, the FCC balked at it using the same call letters as the radio station and channel 19 chose KMPT instead (the entry in the Yearbook having apparently been submitted before the official assignment on July 13, probably to meet a publishing deadline). This turned out to cause great confusion in newspaper coverage during its operation, as we will see.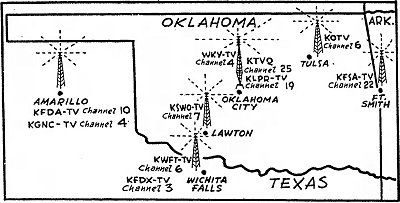 Map in the Daily Oklahoman's special section of November 1, 1953 showing all
operating stations within range of Oklahoma City plus "KLPR-TV" and KTVQ.
By mid-July 1953 the renovation of the first floor of the KLPR building had begun and the Stockyards City Brand reported that the new facilities would include a 50-foot square main studio, including "a rear door large enough to permit the entrance of an automobile", control room and projection room, film processing room and art department, with the front of the building to accommodate the station offices "with the reception room to have a planter visible from the street". Amazingly, this grandiose design was completed in time for KMPT to go on the air at 4:00pm on November 22, with the Seminole Producer reporting reception some 60 miles away even though channel 19 was operating with only about two-thirds of its authorized 200kw ERP. KTVQ (operating from a corner building in downtown OKC which included the signage "Television Theatre" on one side) beat them to the air by three weeks, signing on November 1 -- albeit also at reduced power for the first six weeks -- having affiliated with ABC literally one week previous. (Channel 19 made up for the delay by giving away prizes to viewers at 4:19pm on opening day, including no less than a 17-inch -- a huge screen size in the mid-1950s -- Sylvania television set, presumingly including a UHF tuner.)
Above: Channel 25's "Television Theatre".
Below: KTVQ's Dick Kirchner (and friend)
presenting the channel 25 schedule that
the Daily Oklahoman refused to print.

All was not well at KMPT, however: Ross resigned as general manager January 26, 1954 after an argument with his board of directors over the acceptance of alcoholic beverage and tobacco advertising (Ross wouldn't allow it ... the board did, also naming Farha as replacement GM). The affiliation with the DuMont network claimed in the original Yearbook entry was also officially announced at the same time, although newspaper ads for the network's programs had appeared in previous weeks, indicating it had been in place at sign-on.
The confusion over channel 19 being owned by "KLPR TV Corporation" but not by the radio station of the same name (plus being housed in the same building) resulted in the area newspapers sometimes identifying the station by its actual call letters, sometimes as "KLPR-TV", and often just by the channel number. This extended even to some local advertisers that, in promoting sponsored programming, used the wrong calls in their own ads. (The station itself did nothing to dissuade the use of the incorrect call letters, even keeping the KMPT calls off of the building façade.) Further, the major Oklahoma City newspaper, the Daily Oklahoman, refused to provide free television listings in their pages -- undoubtedly because WKY-TV was owned by the paper and ran huge ads each day with its own schedule and program promotion -- leaving both UHFs, and even KWTV, at a disadvantage in terms of viewers even being aware of their existence. KTVQ temporarily solved the problem (at least for those who were already watching channel 25) by adding a daily program at 3:30 each afternoon in which a puppet carried on a conversation with staff announcer Dick Kirchner while listings displayed in the background of the puppet theater.
Programming on the two stations -- presuming you knew what was on, when, and on which channel -- was in some ways typical of UHF at the time.



Ads for channel 19's syndicated offerings (post-departure of
Byrne Ross, hence the KMPT calls becoming more prominent).


KTVQ's schedule included Moods in Music (an innovative music series that utilized projection cards containing song lyrics that were superimposed on-screen, accompanied by a hat pin acting as a stand-in for the "bouncing ball" that had been used in similar singalongs in movie theaters), Sidewalk Cafe (an innovation of Production and Art Director Vlada Dimac ... a weekly half-hour variety series on a set styled after a European sidewalk cafe), and sporting events that included Oklahoma A&M Aggies basketball away games (which were presented on Saturday afternoons via edited film, accompanied by separate play-by-play description), local high school football games, and Monday and Tuesday night home games from the now-defunct Oklahoma City Indians minor league franchise. KMPT relied more on kinescopes from DuMont and some live pro football games from ABC, adding local programs that included a Sunday evening program hosted by Charlie Brill, recognized authority on the state's hunting, fishing and outdoor life; live tag team wrestling; a daily women's program; and daily 15-minute performances by local country band Sleepy Moore and the Trailhands, plus a one-hour "Television Jamboree" on Saturday evenings with same. The schedule was padded out with syndicated shows such as Terry and the Pirates and Colonel March of Scotland Yard and off-network reruns of NBC's My Hero and ABC's The Ruggles. And if you thought political advertising is overwhelming today, consider that Oklahoma gubernatorial candidate William Gill Jr. conducted a 25-hour "talkathon" for his campaign over KMPT beginning the evening of June 1, 1954 to boost his campaign (Gill told the Ponca City News the day before that doing the same thing earlier over a Tulsa station had been a big success).

Regardless of what station viewers thought they were watching (if indeed they were), things quickly unraveled after Ross' resignation. A $27,864 foreclosure suit brought by Aerial Tower Manufacturing Company, who erected channel 19's 925-foot tower, forced the KLPR-TV Corporation to file for reorganization in February and the station was placed in the hands of trustee Everett E. Cotter; in court filings duly reported in all of the region's newspapers, total liabilities were listed as $318,561 plus indebtedness in excess of $250,000, with assets of $532,443 ($495,074 of that in land and equipment). $197,685 was still owed on said equipment and it was said that veteran Texas broadcaster Gordon McLendon had been brought in to manage the station and had already made significant cuts in personnel. Ten days later, McLendon revealed that he had been meeting with the board of directors for three weeks but that the station was "too far gone" -- after only a couple of months in operation! -- for him to consider buying it. He also dismissed the reports of his having taken over management of KMPT. Somehow, channel 19 continued operation under receivership for close to another year, although it went off the air briefly around March 24 when wind gusts related to a nearby tornado toppled the microwave tower at the transmitter site. As the FCC went through the process of assigning the CP to Cotter, Byron J. Walters, presiding judge of the Municipal Court in Los Angeles County, was named to oversee operations remotely from California. If that seems odd, it should be acknowledged that Walters was at the time 45% owner of the partnership which was approved that same year to acquire KVVG/27 Tulare CA ... a deal which fell apart a mere six weeks after the FCC approved it.
Walters made an appearance before U.S. District Judge Stephen Chandler on February 3, 1955 in which he blamed KMPT's plight as being due to a failure to obtain sufficient advertising revenue. (As if that was surprising for an early UHF, especially one with only DuMont network affiliation and only a handful of its shows available to it.) Afterwards, the attorneys for the station's creditors presented an agreement for their repayment, Chandler issued an order for channel 19 to cease operations, and Cotter advised the FCC the next day that the station had done so. The construction permit was deleted on August 26 "for failure to prosecute" ... admittedly, an odd choice of language by the Commission given that the station was constructed and operated for a little over 16 months.
Channel 25, itself operating under a trusteeship since the end of 1954, limped along for most of the rest of 1955 before signing off on December 15 to comply with an odd court order mandating same unless the station moved to a VHF channel by that date. In what was described as a "last minute" attempt to comply, KTVQ requested temporary authorization to resume operations from the KMPT tower (finding it to be a better location than their own atop the 35-story First National Bank building) on channel 11 until the Oklahoma Educational TV Authority, which held the CP for that channel at Tulsa, was ready to begin operation (which was not expected until sometime in 1957). The FCC denied the request, and rejected the proposal a second time in May 1956, even though the educational permittee had withdrawn their original objections to it. The ABC affiliation moved on a secondary basis to KWTV, while continuing as the primary network for KGEO-TV/5 in nearby Enid as it had since that station signed on earlier that year, and acting station manager Troy Hoskins told Broadcasting that its cessation of operation would result in the loss of about 80% of ABC-TV programming to Oklahoma City viewers. The evening before signing off to conform with the court order, KTVQ cancelled its regular commercial schedule to air a special telethon carrying appeals to viewers, utilizing talent, interviews and other features to dramatize its "UHF problem" and asking viewers to express their comments.
With no other options available to it, KTVQ converted its receivership into a full bankruptcy and -- as we hinted at the outset of this article -- was acquired "with no monetary consideration" by the Oklahoma City School System (technically licensed to "Independent School District No. 89 of Oklahoma County"), which returned it to the air as educational KOKH-TV January 1, 1959 (using the same call letters as the FM station which they had operated since August of the previous year).
Meanwhile, Malco Theaters, which operated a chain of motion picture houses throughout the Midwest and was now aggressively making moves to get into the television business, applied for channel 19 in May 1957, receiving the CP just under a year later and choosing to reuse the KMPT calls. They had owned WEHT/25 Evansville IN for three years before selling it in 1956, also held CPs for WAMT/48 in Memphis TN and WTMV/54 in Utica NY, and had filed for channel 40 in Columbus OH, 65 in Kansas City MO and channel 68 in Davenport IA before withdrawing all three applications in 1958 due to the "uncertainties as to the overall future of UHF". They ultimately were proved correct in their concerns as all three CPs were caught up in the 1960 purge on unbuilt television CPs and deleted on November 22 of that year.
KGEO-TV began maintaining a studio in Oklahoma City in 1958, and -- by that time carrying the calls KOCO-TV -- moved all operations to OKC in March 1964 after the allocation was moved by the FCC, essentially cementing their ABC affiliation.
Schedule for KLPR-TV a few weeks after returning
to the air under new ownership and channel.
Beasley's nightly talk show moved to a more
prominent 9:30pm timeslot one month later.

Around the time that Malco was forcibly getting out of the television business, Lovelle Morris "Jack" Beasley acquired positive control of KLPR (the radio station) by purchasing stock from Monty Wells (remember him?). Beasley then set about reactivation of the television station by filing for channel 19 on November 19, 1962. This time, with clearer direct ownership, the KLPR-TV calls were allowed by the FCC, which also changed the allocation to channel 14 in July 1965 and Beasley went on the air May 31, 1966 with a schedule heavy on country-western themed programming, including not only local bands but reruns of the 1958 ABC series Tales of the Texas Rangers (which aired twice some evenings), The Westerners (which was the umbrella title in syndication for previous NBC series Black Saddle, Law of the Plainsmen and The Westerner, plus Johnny Ringo from CBS) and Frontier Circus, and syndicated series The Adventures of Wild Bill Hickok, The Cisco Kid, Hopalong Cassidy and Shotgun Slade. The schedule also included nightly newscasts by Johnny Bond (the radio station's news director) and reruns of the Loretta Young and George Burns-Gracie Allen series, for good measure. Beasley himself appeared nightly as the host of Oklahoma Tonight, a 90-minute program described as "real informal TV" and consisting of "spontaneous fun, good music (presumably C&W) and interesting guests". In August 1967, channel 14 was granted a one-year waiver of the FCC rules prohibiting disparate video and audio programming on a television station to transmit a stock market ticker accompanied by background music and a ticker tape sound effect from 9:45am to 2:45pm on weekdays. As innovative as that could have been, KLPR-TV was dark by year's end; although no mention was made of precisely when channel 14 went dark, the Daily Oklahoman last carried listings for it in its December 17 weekly television listings section.
Fast-forward a decade: By 1978, Oklahoma City Schools began to realize that the estimated $300,000 annual cost of operating KOKH-TV was money not well spent; studies indicated that teachers were not making much classroom use of the station's instructional programs (and those same teachers suggested the money would be better off enhancing their paychecks). The final blow came when the need arose to purchase a new transmitter and tower, requiring $350,000 in matching funds for a grant to do so. Spokesperson Pat Watson put it succinctly when interviewed by Broadcasting: "We're tired of spending money on the station." By year's end, John Blair and Co. -- which had an application pending at the time to acquire KSBW-TV/8 in Salinas CA and its partial satellite KSBY-TV/6, down the coast in San Luis Obispo -- won KOKH-TV in a closed bidding in which six entities participated; Blair's winning bid was $3.5 million. (One losing bidder, Trinity Broadcasting Network, was already in competition for KLPR-TV's old channel; they ultimately won the grant and put KTBO-TV on the air March 6, 1981.) As channel 25 had kept its commercial status all along, Blair had no trouble resuming operation on that basis October 1, 1979; after several years as a traditional independent (programming movies, classic sitcoms, and network shows pre-empted by the market's primary affiliates) it became an affiliate of the Fox network in 1991 and continues today under the same KOKH-TV calls and affiliation.
A third U, KGMC/34, went on the air October 28, 1979. It is today's KOCB and operates as a duopoly with KOKH-TV as a CW affiliate. It was followed almost exactly a year later (November 3, 1980) by KAUT-TV/43 and nearly a decade after that by KSBI/52, which began operation September 19, 1988. Later years saw the addition of full-power UHF stations KMNZ/62 (today's KOPX-TV, one of the Ion network's few non-O&O affiliates) in 1996, KQOK/30 (now Telemundo-affiliated KTUZ-TV) in 2000 and Daystar-owned KOCM/36, in 2003. As for the Vs, WKY-TV changed calls to KTVY in 1996 and to KFOR-TV in 1990. It operates as a duopoly with KAUT-TV. KWTV kept its call letters all along and is a duopoly with KSBI. The NBC, ABC, and CBS affiliations have continuously remained on channels 4, 5 and 9, respectively, in the intervening seven decades.
So as we said at the outset: The first two UHFs in Oklahoma City were somewhat intertwined from the start, from simultaneously receiving their construction permits in 1953, going on the air in the same month later that year, to almost combining their facilities to (at least temporarily) create a fourth VHF in the market and having a losing bidder for one ultimately putting the other's dark channel back on the air. As Frank Sinatra once sang in his song "Love And Marriage" (which KOKH-TV ended up airing regularly, as it became the theme song for Fox's Married ... With Children): "You can't have one without the other."