WBUF/17, Buffalo NY
by Bob Smith
WBUF was an experiment by the NBC Television Network to see if a UHF station could compete with one or more VHF stations. Back then, networks could not own more than five VHF stations, but could add a couple of UHFs to their portfolio of O&O stations, and this one was chosen to see if NBC could make it work using the best available equipment for its day.
Buffalo was initially -- like so many other markets during the "freeze" years -- served by a lone VHF station, WBEN-TV/4, with programming from all four networks. In December 1952 the FCC granted local businessmen Sherwin Grossman and Gary Cohen a construction permit for channel 17 Buffalo. (The two had previously been looking to start a UHF station in Jamestown, but a potential investor suggested aiming at the bigger "pot of gold" in Buffalo instead.)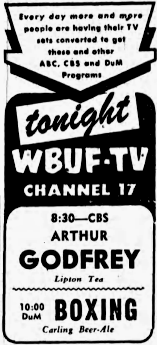 WBUF-TV newspaper ads
from 1954. A lot of CBS and
DuMont shows on what was
officially an ABC affiliate.


On August 17, 1953 channel 17 signed on with a bare-bones roster of two hours of programming (from 7:00 until 9:00pm), including CBS' nightly 15-minute newscast and Arthur Godfrey's Talent Scouts, although it was officially an ABC affiliate. Within days, the Buffalo Courier Express reported that more than 1000 UHF conversions had been made through the sale of "television-top receivers"

(converters). WBUF itself claimed an average of 200 inquires an hour from viewers asking about proper antenna installations. And, as shown at left, channel 17 did its best to promote "bringing UHF to Buffalo" with prominent store window displays.

By the beginning of 1954, WBUF was operating later in the evening (and sometimes in the afternoon) in order to pick up CBS, NBC, and DuMont shows that WBEN-TV had passed on.

There was a second construction permit issued in December 1952. It went to a group of local businessmen -- Charles Diebold, president of the Western Savings Bank; Joseph Davis, president of Davis Heating and Refrigerating; and attorney Vincent Gaughan -- as the Buffalo-Niagara Television Corp. on Channel 59. The sixth floor of the Hotel Lafayette soon would be transformed into the studios and transmitter of WBES-TV (the call letters stood for "the Best in Television").

WBES-TV's construction was impeded by construction and technical snafus and channel 59 didn't sign on until September 23, 1953. They had planned to use the hotel ballroom as its main studio, a ploy to augment the station's small penthouse location. Situated on those upper floors were the transmitter, projection, film and editing rooms, an engineering workshop, dressing rooms, management offices and reception area.

WBES took out a full-page newspaper ad proclaiming "Life Begins at 59." The station's maiden program was the National Community Chest's All-Star Red Feather Show, followed by the NBC Weekly News Review. Also on the schedule was Hopalong Cassidy, Times Square Playhouse and local news with longtime radio sports personality Roger Baker.

The sky collapsed on Channel 59 almost immediately. Poor advertising sales and mounting debt triggered a stockholder revolt. On December 18, 1953, less than three months after signing on, WBES went dark and returned its license to the FCC. WGR-TV/2 went on the air August 14, 1954 using the channel 59 tower ... and may have owned more of their facilities, according to the Buffalo Evening News, which reported just after New Year's Day 1954 that an agreement with WBES-TV to sell WGR "certain of its assets" expired when the comparative hearings continued past channel 59 going off the air. Channel 2 became the primary NBC affiliate for the market ... but that was not to last long, as Grossman was already negotiating with NBC to sell them channel 17.

WBUF went dark for two weeks in 1955 (February 23 until March 9), because NBC did not commit to the sale until the latter date; it very nearly went dark a second time, and only because the federal Court of Appeals on December 29 refused to stay the consummation of the sale -- approved in September -- was NBC allowed to take over operation before the "drop dead" date Grossman had given the Commission (which would have been a mere two days later). WGR-TV had become the market's ABC affiliate while the NBC purchase was pending FCC approval, with its NBC contract scheduled to expire August 31, 1956.

Under NBC ownership, WBUF operated from a new studio and transmitter complex at 2077 Elmwood Avenue on Buffalo's north side, using a state-of-the-art studio building and a 700 foot tall transmitter tower in back. The tall tower, combined with over a half-million watt signal, theoretically gave WBUF the second-best signal coverage in the market, better even than WGR-TV, which had a lower antenna.



WBUF-TV Master Control. From left to right, projectionist
Raoul Kundstadt, technical director Gordon Knaier,
and NBC New York's Robert Post.


Nevertheless, WBUF always ran a distant third in the market, severely underperforming the network's average share. The poor quality of the UHF converters and tuners of the day limited the station's actual reach (viewers in the eastern portion of the market who wanted to see NBC shows got a better picture from Rochester's WROC-TV/5; the rest probably thought they had been better off with even the partial carriage of the network on WBEN-TV pre-channel 2).

The lack of viewers occurred despite NBC's "Project 17" campaign, undertaken in 1956 to increase the number of Buffalo television sets capable of receiving WBUF; while it did increase the number of UHF-capable homes in the area from 105,000 to 178,000 in ten months -- a total of 53% of all television homes in the Buffalo area -- the station continued to take in less revenue than its operating expenses. (Project 17 included a local "Miss Channel 17" beauty contest, a Labor Day "safety spectacular", newspaper supplements, and the use of a 1921 American-La France fire engine that had been designated Honorary Engine Company 17 by the Buffalo fire commissioner.)

Meanwhile, the two VHF competitors in the Buffalo market were outperforming both WBUF and their counterparts elsewhere; reports in industry publications said that WGR-TV and WBEN-TV were literally the strongest performers for their networks of any three-station market in the country.

The coup de grace came late in 1957, when the FCC licensed a third VHF channel, WKBW-TV/7 (which had been pending since 1948, with as many as six competing applicants at one point). It had planned to operate as an independent, but before it could sign on NBC decided it could not justify the continued losses being racked up by WBUF. So NBC put Channel 17 up for sale, and finding no takers, took it dark October 1, 1958 just as WKBW-TV was about to sign on. The resulting shuffle, plus a major transmitter upgrade for WGR-TV to match the tall towers and high power of WBEN-TV and WKBW-TV, saw NBC programs moving back to channel 2, CBS staying on channel 4 and ABC linking with channel 7 ... affiliations that continue to this day.

And what happened to channel 17's showplace facility? The tower was used, first by WGR-TV as an auxiliary, later as a transmitter site for the city's public TV station (on which we'll say more in a moment) and now by WGRF-FM/96.9, the city's popular "97 Rock".

The studio building and its equipment was taken over by WBEN-TV, which continues to occupy it today along with WBEN radio. It had never been used to its full capacity by NBC during the WBUF days but has been by channel 4, for an ambitious schedule of local news and how-to shows continuously since moving into the building in 1960.

There is a channel 17 on the air today in Buffalo: the primary PBS affiliate, WNED-TV. NBC donated the license and some equipment (though not studio or transmitter space) to help it get started on the air in 1959. WNED-TV signed-on using the old WBUF tower and transmitter March 30, 1959, using a Special Temporary Authorization from the FCC, then after two months went dark for half a year to build its authorized facilities, resuming operation October 19, 1959. It has since boosted power and built a showplace studio/office facility for itself, through locally-raised funds.

[Bob Smith is a talk show host and engineer at non-commercial WXXI-AM/FM and WXXI-TV/21 in Rochester, New York. He is also a regular contributor to "The Boston Radio Interest Group" and has been a frequent writer to the Airwaves Journal.]

---
This article originally appeared in Peter Q. George's "UHF Morgue" at his former RadioDXer site and is republished here with his permission. Reformatting and editing by K.M. Richards, with additional material added as it has become available. Smith's original article only covered the period of operation under NBC; portions of an article at the former Buffalo Broadcasters website (since deleted) was condensed to add information on the station's earlier years and to include information on WBES-TV. Information on the "Project 17" campaign and the photo of WBUF Master Control were added from an article that originally appeared in the November-December 1956 issue of the NBC Chimes employee publication.