WCAN-TV/25, Milwaukee WI
by Dick Golembiewski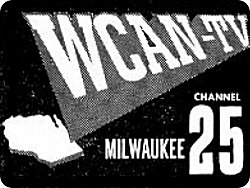 In 1952, the FCC lifted its "freeze" on new TV licenses. In the 1945 allocation table -- in effect at the time of the freeze in 1948 -- Milwaukee had channels 3, 6, 8, and 10, but the new table that accompanied the lifting of the freeze allocated channels 4, 10 and 12 instead. Channel 4 was assigned to WTMJ-TV, which had gone on the air in 1947 on channel 3, and the FCC designated channel 10 as "non-commercial educational". The Hearst Corporation had applied for that channel prior to the freeze and started a lengthy court battle over the FCC's educational channel assignments. In addition, it unsuccessfully petitioned (with some help from Wisconsin senator Joseph McCarthy) the FCC to reassign channel 6 to the area, apparently as a backup plan.
In addition to the educational assignments, the FCC also provided for an intermixture of new UHF stations with VHF in the same cities. Therein was a problem. UHF was not anywhere near as desirable as VHF. Most TV's already manufactured weren't capable of receiving a UHF signal. A converter (either an internal "strip" or and set-top box) was required. UHF was also more directional that VHF, meaning that set owners had to be more careful about pointing their antennas at the transmitter. (Congress did not require that all TV sets be capable of receiving a UHF signal until 1964!)
There were lots of applicants for channel 12 (the only available commercial VHF frequency), but few for the three available UHF licenses. Only Bartell Broadcasters (WOKY/920) and Cream City Broadcasting (WMIL/1290) had applied for UHF licenses. WCAN/1250 was owned by Midwest Broadcasting, headed by Lou Poller; Poller had originally applied for channel 12, but fearing long FCC hearings, amended his application to channel 25. Since there were three available UHF frequencies and only three applicants, the applications were unopposed. Bartell Broadcasting received a CP for channel 19, while Cream City received one for channel 31. Poller received one for WCAN-TV on channel 25 on February 4, 1953.
Poller began to construct facilities at 723 N. 3rd St. (where the radio station's studios were located). He also signed an affiliation agreement with CBS. The station's official debut was on September 7, 1953; actual broadcasting started at 11:25 the previous evening, when Hal Walker interviewed workers who were installing the transmitter on the tower in inclement weather. That tower was built atop the Schroeder Hotel in downtown Milwaukee.
WCAN-TV became a powerful force in Milwaukee TV. Because of the intermixture of UHF with VHF, Milwaukee residents bought many UHF converters and/or all-channel TV sets.
Poller was also a ceaseless promoter and continued to fight for an FCC assignment of channel 6 to Milwaukee. He and other owners formed the Ultra High Frequency Television Association in October of 1953, in order to lobby Congress. On December 31, 1953, the U.S. Circuit Court of Appeals in Washington denied WCAN-TV's motion for a temporary injunction restraining the FCC from allocating channel 6 to Whitefish Bay, and the Commission proceeded with plans to hold hearings on the applications from Hearst, Cream City, and Independent Television, Inc., who had also applied for the license.
During the FCC hearings for channel 12, the applicants had maneuvered with each other over their financial ability to operate a TV station while at the same time, WCAN-TV continued its objections to the assignment of channel 6 to Whitefish Bay. Poller's main argument was that Hearst intended to build new studios at N. 19th St. and Wisconsin Ave., with transmitter and tower located in the former town of Granville -- neither in the village of Whitefish Bay -- and also contended that CBS had in its contract with WISN Radio a clause which would give that station a CBS affiliation should it ever operate a television station in Milwaukee.
On March 9, 1954, Edward R. Murrow denounced Senator Joseph McCarthy on that famous episode of See It Now; WCAN-TV was the only Wisconsin CBS affiliate to carry the show. In May of that year, the U.S. Senate held hearings regarding UHF broadcasting and WCAN-TV president Lou Poller testified that all television broadcasting should be shifted to UHF. He went so far as to take out a two page ad in the May 28, 1954 issue of TV Guide, in which he put forward his thoughts on the subject, and announced that he was going to file an application to transfer WCAN-TV's programming to channel 12.
Three remaining applicants for channel 12 agreed to merge with the fourth -- Milwaukee Area Telecasting Corp. -- and its application was approved by the FCC June 11, 1954. (The merger agreement gave the other parties the option to purchase stock in the new corporation.) In doing so, the Commission turned down WCAN-TV's request to switch from channel 25 to channel 12. WOKY-TV/19 had gone on the air in the interim, on October 3, 1953, and some months later, a consultant, Thad Holt, approached owner Lee Bartell regarding taking out an option to purchase the station. Holt had been retained by CBS, though Bartell did not know that at the time. Lou Poller subsequently announced that he was going to build new facilities for WCAN-TV. He purchased an old warehouse facility at 5445 N. 27th St., which was converted for TV use.
However, things changed rapidly beginning in the summer of 1954.
That year, CBS, which had been planning on affiliating with the Whitefish Bay channel 6 station when it went on the air, had its news commentators attacked by Hearst columnists; as Hearst was the leading applicant for that allocation, CBS needed a backup plan, and began looking toward making WTVW/12 their Milwaukee affiliate. However, ABC beat them to it ... announcing in September that WTVW would be their affiliate, effective when they began commercial operation on October 27. This followed by one week the announcement by WOKY-TV that they were relinquishing the affiliation effective October 1, and WOKY-TV was then sold to CBS on October 22, 1954 with CBS exercising the six months' notice clause in their agreement with WCAN-TV to terminate their affilation. Lou Poller then agreed to sell his new facilities to CBS. The announcement of the sale was made on November 13, 1954, CBS took over the facilities in February 1955, and on the 27th of that month CBS network programming shifted to channel 19, with the WOKY-TV call letters changed to WXIX on that same day.
Poller received the former WOKY-TV facilities and kept the channel 25 CP so that he might continue broadcasting as an independent station, but he never did. Lou Poller later sued CBS, Bartell, and Holt, claiming CBS dissuaded Storer Broadcasting from negotiating for a $2 million purchase of WCAN-TV, that CBS assured him WCAN-TV would continue as the CBS Milwaukee affiliate (on the basis of that assurance Poller contracted to lease new quarters for WCAN-TV and bought new equipment), and that CBS' purchase of WOKY-TV caused him to go dark. CBS received a summary judgment against Poller in 1959, but that was overturned by the U.S. Supreme Court in 1962. (I don't know what happened thereafter. While Poller was entitled to a trial, it is likely that the matter was settled out-of-court. Poller subsequently retired to Florida.)
Although WCAN-TV was only on the air for approximately 18 months, the facilities Poller built were used for many, many years. The studios and offices at 5445 N. 27th Street became WXIX (which moved down one channel to 18 in August 1958 to resolve a harmonic interference problem with television receivers tuned to WISN-TV/12, causing the WCAN-TV CP to be reassigned to channel 24 and the unbuilt WFOX-TV CP to channel 30), and were then sold to Storer Broadcasting in 1959 for its WITI-TV/6 after CBS went dark on channel 18 on April 1 of that year and transferred the network affiliation to channel 6. Storer used those studios until 1978; the facilities then became the original home to WCGV-TV/24, until it was purchased by Sinclair, and operations consolidated with WVTV. (Channels 18 and 24 are now owned by the same company. WVTV can trace its lineage all the way back to WOKY-TV on channel 19, and as noted previously CBS used WOKY-TV's license and WCAN-TV's facilities.) The transmitter and tower were sold to Cream City Broadcasting in 1959, who returned WXIX to the air four months after CBS' shut down, as an independent station, and built a small (10' x 12') studio in the penthouse of the hotel. When the ownership was restructured and the calls changed to WUHF in 1963, it continued to use those facilities. Gaylord Broadcasting bought the station, and moved to its current location on N. 35th St., but continued to use the tower until it constructed its own. The facility then became the first home of WDJT-TV/58, later becoming the home of LPTV W08BY (now WMKE-CA/7). That station still broadcasts using the transmitter and tower atop the now-Hilton Hotel, but moved its studio facilities to South 27th St.
---
This article originally appeared in Peter Q. George's "UHF Morgue" at his former RadioDXer site and is republished here with his permission. Reformatting and editing by K.M. Richards, who also corrected the timeline of the sale to CBS, providing additional background information.
---
EXTERNAL LINKS