WCMC-TV/40, Wildwood NJ
by Shannon Huniwell
It's one of those long-ago memories that isn't really much of a memory at all. That is to say, I probably recall the 1976 visit to New Jersey's smallest TV station only because my Dad has mentioned it so many times over the years. "Hey, Shannon," he'll begin, "How about that time we toured little Channel 40 down on the Jersey shore?" Then, to let him know it's okay to tell the tale again, I'll respond, "You mean that tiny black and white station in Wildwood?" Next, as if being cued by some famous director, my father describes the saga's setting.
Our family always took a short vacation in late November. Dad liked to complain that doing time with the in-laws twice during the holiday season was more than any sane citizen should suffer, so he made a point to take Mom, my brother, and me out of town to some in style to some fancy inn. There we'd stay in-style for off-season rates, eat a nice restaurant-style Thanksgiving dinner, and see a few attractions. Mom would select one outing -- usually some Christmas play -- and Dad always picked a broadcast station for us to inspect. Of course, except for the NBC studios in New York, very few radio or TV facilities offered official tours. No matter, we just usually showed up in the lobby and, with his gift of gab, my father talked us past the secretary and into the inner workings of whatever AM, FM, or TV outlet seemed promising.
The WCMC building, around the time of the visit, at the corner of New Jersey and
Maple Aves. The building still exists and houses WCMC/1230 and WZXL/100.7.
On this particular trip in 1976, on the day after Thanksgiving, Mom and my brother quickly volunteered to wait in the car and read, as the old house emblazoned with the letters WCMC that Dad parked next to didn't appear to be beckoning any tourist trade. In fact, when we called out "hello" in the lobby, no one responded. After another shouted query, my father shrugged his shoulders in a way that seemed to say, "Well, if nobody's here to greet us, we'll just have to explore on our own." A few seconds later, we startled an engineer who was adjusting overhead lighting in WCMC-TV's modest studio. I guess the sight of a smiling man with his seven-year old in tow didn't appear to be much of a threat to the television technician, who went right back up a small ladder after accepting my Dad's gregarious handshake and reason for our visit.
"My daughter, Shannon, and I are real broadcasting buffs," he offered, "and we'd be honored to see your unique AM-FM-TV operation." The soft-spoken engineer indicated that it was pretty quiet at the station, "especially because of the holiday weekend." He pointed across the hall to the FM and TV transmitters chugging away behind a pane of glass. Though I can't be sure now, it seems to me that the television unit was an old -- even then -- RCA with ample tubes peering through the portholes in a black steel cabinet. When the tech was satisfied with the bright white illumination bathing several rows of risers, he mentioned that a local choir was slated to be telecast at WCMC-TV that evening. "They'll sing some Christmas carols," he noted, "and get folks in the mood for holiday shopping at the sponsors' stores. It's a popular show around here because local folks like to see people on TV that they know ... especially kids."
Finally, we peeked into the WCMC radio studio and saw a DJ reading a live commercial and starting one of the turntables. Dad brought up his customary exit request for a souvenir. The engineer apologized for not being quite sure where the station advertising rate cards and coverage maps were kept, but then he snapped his fingers as if having a better idea. A minute or so later, he handed me a 35mm slide he had pulled from a control room drawer, saying "Here's something for you to take to show and tell, missy."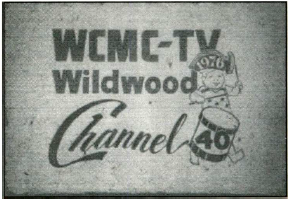 Holding it up to the fluorescent light fixture overhead, I made out the image of a colonial drummer boy marching near WCMC-TV's Channel 40 Wildwood, New Jersey, legal identification. The drummer's three-cornered hat said 1976. "Because the bicentennial year is almost gone," the engineer smiled, "we won't be needing this any more." Dad and I gave a sincere thank you, and he had me promise that I would let my classmates know about the finer points of WCMC-TV.
Wildwood, New Jersey, rests on what can be considered an island broken off from the Garden State's southern tail. As a relatively remote community, Wildwood was a wonderful place for a small radio station to be located in late 1951, when WCMC (which stood for Cape May County) began as a 100-watter on 1230 kilocycles. By mid-December 1959, this local AM service (having upped power to first 250 and then 1000 watts) was joined by an FM sister, WCMC-FM, a 3.5kW Class "B" facility at 100.7 on the dial.
The television side of the broadcast operation took to the air on UHF Channel 40 just a few weeks after 1966 got underway, after receiving its CP in March 1964. Its antenna was mounted at the 223-foot level of a tower next to the WCMC building. The 1969 Broadcasting Yearbook lists the WCMC-TV effective radiated power (ERP) at 14 kW visual and 2,500 watts sound. Helping get the picture to area viewers then were seven small cable TV systems with a total of 36,000 subscribers.
For years, the modest television property had the distinction of being New Jersey's only television network affiliate. That's because it ran NBC-TV fare that was simply received over the air from KYW-TV/3 in Philadelphia. Otherwise, stations licensed to Philly or New York City provided most all New Jersey residents with their network television programming. WCMC-TV was sold in 1981 to an Atlantic City area broadcaster who operated it as WAAT for three years, then moved the station to new transmitter and studio locales, beefed up the power, and renamed it WMGM-TV.
---
POSTSCRIPT: Although WCMC-TV could have been considered to be on the verge of failure for its first two decades of operation, that was largely due to it being an anomaly that even its network seemed to downplay. In its earliest years, it had no direct NBC feed and (as noted above) was only able to carry those programs which it could receive off-air from KYW-TV, having to fill in with local or syndicated programming whenever Philadelphia pre-empted a network program. Even as NBC was becoming a full-color network, channel 40's local shows originated in black-and-white for many years.
The station's real "failure" timeline began in 2014, when WMGM-TV was sold to LocusPoint Networks, a company which had been acquiring UHF stations that could be spun off as part of the FCC's 2016 spectrum auction of UHF television channels for repurposing as wireless telephone frequencies. Despite LocusPoint's public statements that they intended to continue operating channel 40 as a NBC-affiliated station, the network announced it would end same at the end of the year, coinciding with the expiration of the current affiliation agreement. New Year's Day 2015 found WMGM airing programming from the African-American oriented network Soul of the South, only to switch to the religious SonLife Network one year later. That affiliation lasted only a few months and channel 40's schedule mostly consisted of paid "infomercials" and religious programming from then until November 2017, with the exception of a nightly half-hour newscast produced by the regional SNJ Today cable network.
LocusPoint's business strategy backfired; when the spectrum auction ended, WMGM-TV had no bids for its spectrum. Of the ten UHF stations they acquired as a speculative investment, only two relinquished their spectrum as a result of the auction, and five of the remaining stations faced the additional expense of changing transmitting channels as part of the post-auction "repacking" of the UHF band. Among LocusPoint's holdings, only WMGM is a full-power station; it was sold in 2017 to Spanish-language broadcaster Univision -- which had already purchased LocusPoint's Orlando LPTV -- for $6 million, the same price it had paid in 2014. Five of the remaining seven are "class A" low-power stations running digital network programming, likely unattended; the sale of two -- in San Francisco and Milwaukee -- have already been transferred to new owners, and the two remaining "class A" stations are expected to be spun off individually. The two remaining LPTVs will likely be taken dark, as they are not guaranteed new channel assignments in the repack.
Univision officially took control of WMGM November 14, 2017 but did not change the primary channel programming to Spanish-language (it carries True Crime Network, with GetTV on channel 40.2 and a simulcast of WUVP/65 (its Philadelphia station) on the 40.3 subchannel.
---
(Shannon Huniwell was the nom de plume of Peter Hunn, who ghostwrote the "Shannon's Broadcast Classics" column in Popular Communications for eleven years. This article originally appeared in the April 2004 issue of that magazine. Hunn, who was an early fan of UHF television as a kid, can be reached at melodyfm@yahoo.com. Postscript written by K.M. Richards.)