WHFV/69, Fredericksburg VA
by Perry Michael Simon
(expanded by K.M. Richards)
October 8, 1973: An ad appears in the Fredericksburg, VA Free Lance-Star ...


69? What?

No, it wasn't anything rude or suggestive. (Well, maybe suggestive.) The ad heralded the launch of Fredericksburg's very own TV station, WHFV, channel 69, cable 11, at 6:00pm that day. It was an NBC affiliate, a redundancy considering that Fredericksburg, not far down I-95 from Washington DC, got a perfectly adequate signal over the air and on cable from NBC's own WRC-TV. No matter, Fredericksburg, a city just far enough away to be a small market of its own, had its own TV station.

The process of getting WHFV on the air was fairly straightforward, even if it isn't known what motivated Charles McDaniel and Jerry Leonard, the principals in Television Fredericksburg, Inc. to put it on the air. McDaniel and Leonard petitioned the FCC on May 21, 1971 to allocate channel 66 to their community. That proved technically unworkable, but channel 69 was allocated instead eleven months later, on April 19, 1972. They moved quickly after that, applying almost immediately and receiving a construction permit within six months and the call letters WHFV (which were said to stand for Historic Fredericksburg, Virginia) in November. It took less than a year to build and test channel 69, but delays in FCC certification -- required in those days -- prevented Cablevision of Fredericksburg from activating cable channel 11 until several days after the October sign-on (although it had been applied for in August).

Want to buy stock in your local television station?
Clip the coupon and mail it in!



Click for larger image of the WHCV coverage map, taken from
their original 1973 program schedule brochure.
There isn't much to be said regarding WHFV's actual on-air operation. They carried essentially the entire NBC schedule, with only one major exception -- World Football League games in the summer of 1974, pre-empting the network's pre-season NFL games -- and the rest of the schedule consisting largely of the then-ubiquitous syndicated country music programs and some relatively recent-vintage movies. Initially, the schedule also included reruns of The Dick Van Dyke Show, I Love Lucy, and Gomer Pyle USMC, but those were quickly replaced by an afternoon movie. Channel 69 also carried Phil Donahue's syndicated talk show for about a year, and ran the always-available free goverment and business publicity films (listed as "Modern Film") on weekend afternoons. And they did air at least one local newscast per day as an augment to NBC Nightly News. Other than Saturday morning network cartoons, the only programming aimed at kids was the local half-hour Children's World which followed Today on weekday mornings.
McDaniel and Leonard took the idea of a community television station to a new level by offering shares of stock in Television Fredericksburg to local residents. At right is their April 20, 1974 newspaper ad with a mail-in coupon to request information on the stock offering. They also included a mention of the ownership availability in their nightly sign-off announcement.
That stock offering, which was for shares of a corporation holding a minority ownership interest in channel 69, required an exemption from the stock registration requirements of Virginia's 1972 Securities Act by the state Corporation Commission; the original request stated the intent was "part of a community undertaking to attract and promote new businesses in the city." Sales were limited to residents of the Fredericksburg and majority ownership -- 9,000 of the outstanding 14,000 shares issued -- remained in the hands of McDaniel, Leonard, and three other investors ... station manager/CEO Keith Angstadt and his father Edward, and John Fenlon. (The Commission later questioned if the exemption was rendered unenforceable because stockholders apparently had no restriction prohibiting the subsequent sales of their shares to others living outside Fredericksburg, Stafford, Spotsylvania, Caroline or King George.)
The question of who owned that stock and what say they had in channel 69's operation came as the result of an offer made at the end of 1974 by television evangelist Chris Panos to purchase WHFV as the first in a proposed chain of stations owned by his Release the World For Christ ministry, based out of KVRL/26 in Houston. Panos' offer came as Television Fredericksburg's majority owners were facing a lawsuit brought by creditors National Bank of Fredericksburg, Bank of Virginia-Fredericksburg, Aquia Bank & Trust Co., Peoples Bank of Stafford, Bank of Virginia-Tidewater and United Virginia Leasing, who claimed they were owed an aggregate amount totalling over $800,000 (which did not include IRS tax liens in October and November for $36,000). The lawsuit was filed around the same time as an October 1974 financial statement showing a consistent operating loss and a past due amount on the finance charges for the station equipment.
In the midst of it all, WHFV's staff staged a one-day walkout on December 16, 1974. At the time, they reported to the National Labor Relations Board that they had not been paid for the preceding month, and that a meeting with management the day before left them with no assurances that funding borrowed by the majority owners would be used for back pay. Channel 69 stayed on the air that day, manned by Angstadt, program director Monty Smith and chief engineer Ray McInturff, but without its 7:00 and 11:00pm local newscasts.
WHFV's news studio, left unused on December 16, 1974.
Only a few months previous, negotiations with Virginia investor Charles Henry Smith, Jr. to purchase a controlling interest in Television Fredericksburg for $250,000 broke down, and the station had been advertised for sale in the Wall Street Journal since mid-September. At the time of the walkout, Smith was quoted in the Free Lance-Star as saying that while the station had potential it would take another two or three years before a profit could be realized. He also said the station "should never have gone on the air without money to carry them for a year."
The day after the walkout, Panos was revealed as the prospective new owner, on the heels of the rejection of an offer by the majority stockholders from two Richmond attorneys. Channel 69's employees returned to work after receiving paychecks for the previous two weeks, reportedly paid by McDaniel and Leonard personally. On December 26, the majority owners approved the offer by Panos (setting off the aforementioned investigation by the state Corporation Commission, which was not resolved until the following April 2 when it was determined that the controlling interest did not involve the stock sold to local residents). Angstadt resigned January 10, 1975 and was replaced as interim general manager by McInturff. The staff was down to ten employees from the pre-walkout total of 18 and Panos' weekly television program was added to the schedule.
On May 29, 1975, the station shut down. The article about the closing in the Free Lance-Star noted that the station had experienced "mounting bills and dwindling hopes." McInturff pulled the plug at 5:00pm that day -- 4:57:45, to be exact -- amid slim hopes that Release the World for Christ would take the station over (although he later said they had indicated to him that they weren't taking over after all). WHFV was $200,000 in the red at the end, having pushed all of its operations to one end of the building in an attempt to rent out the other end. And the staff said it hadn't been paid for their last three weeks of work. The end came with a filmed travelogue followed by a taped message from Smith.
Strangely enough, even though the paper had been told in advance of the shutdown, they published the program listings for channel 69 that evening ... programming that never aired. NBC Nightly News at 6:30, local news at 7, Country Place at 7:30, NBC's prime-time lineup (Sunshine, The Bob Crane Show, the network movie "Terror on the 40th Floor"), news at 11, and The Tonight Show after that.
Ultimately, the ownership transfer application was dismissed by the FCC on July 11 when questions about Panos' finances were unanswered, despite his attorney's public statements that they had responded to all of the Commission's inquiries. (The net worth of Release the World for Christ, Inc. was later revealed to be $346,000, mostly in gold Mexican pesos.) WHFV's attorney said that there was so little left they wouldn't file for bankruptcy, instead selling what they could "and paying off as much as we can." The biggest losers were McDaniel and Leonard, who had pledged personal assets as collateral to keep the station on the air; the remaining officers and directors became liable for past due federal income taxes.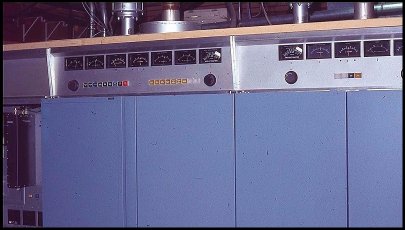 WHFV's transmitter, relocated to Pennsylvania to start up WFMZ-TV.
The channel 69 transmitter was sold to WFMZ-TV in Allentown PA, which went on the air November 25, 1976.
Channel 69 remained vacant, although an attempt of sorts to reactivate the frequency was made in 1984 when the Rappahannock Cablecast Co., owned by Thomas Seay and Dr. Michael Bass applied for a new CP on August 28. A competing application was filed by Fredericksburg Broadcasting Group, headed by Texas financier and investor Zeather Willis, in February of the following year. Willis and his investors had also applied that same month for UHFs in Jackson MI and Bellevue WA, and both the Fredericksburg and Bellevue applications were rejected by the FCC within two months. Undaunted, in July, Willis and his group applied for UHFs in Mobile AL, Miami FL and Fort Worth TX, and in Tulsa OK in December (the Miami application was also rejected within a month). Amidst this confusion, Willis somehow got his Fredericksburg application reinstated, which sent it into the comparative hearing process with Seay and Bass. The hearing ended with the two companies merging into Rappahannock Television Broadcasting, and Seay was reduced to a 25% ownership interest. The call letters WRBV calls were selected in November 1985 after channel 65 in Vineland NJ changed to WSJT. The following two years were filled with applications for CP modifications and extensions, ending only in March 1988 when the CP finally expired and an entity called Tiffany Broadcasting applied for a replacement. Seay countered with an application for involuntary transfer of control (the remaining 75%) saying he was "duped by charlatans" who wanted the license but had no intent of constructing the station. Eventually, the FCC found that an unauthorized transfer of control had taken place to Tiffany Broadcasting, and refused to reinstate the permit. Willis was never heard from again; Seay continued working as an independent video producer whose series Best of America by Horseback began in 2009 and continues to air on the satellite network RFD TV.
POSTSCRIPT: Charles McDaniel passed away June 1, 1982 and Jerry Wade Leonard on February 8, 2010. Cause of death was not released for either. Both were 76 years old at the time of their deaths.
---
(Perry Michael Simon is an editor at the radio industry news website AllAccess.com; this article is based on a post made to his blog that he deleted at the end of 2017. The article was retrieved from the Internet Archive Wayback Machine and then expanded with research using the archives of Broadcasting Magazine and the Free Lance-Star.)