WICC-TV/43, Bridgeport CT
by Bob Porrazzo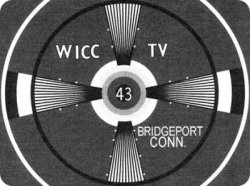 On April 1, 1953, a month after WKNB-TV/30 signed on as Connecticut's first UHF station, Bridgeport did likewise with WICC-TV on channel 43. (In fact, both received their construction permit on the same day ... July 11, 1952.) The station, owned by the popular radio station at AM 600 (the call letters stood for "Industrial Center of Connecticut", Bridgeport's nickname at the time), offered a mix of local programming as well as ABC and DuMont via AT&T "long lines" which had only been installed the weekend before channel 43 made its debut.
The driving force of this station that went nowhere was the late Bob Crane. Yes, the star of Hogan's Heroes was then a popular radio star on WICC and hosted a variety show on channel 43. WICC-TV also made broadcast history in hiring Dick Alexander, the first African-American announcer in the state of Connecticut.
Some of the stunts WICC-TV tried were ridiculous for their time. One of the station's stars, Morgan Kaolian (who continued as morning airborne traffic report for the radio station as "Captain Traffic" until 2007) tried using a robot. He sent the machine to New York to try and promote the station. The robot was arrested right on the spot. Another thing that went wrong for channel 43 was the fact that no one was watching. Why? UHF was practically new at the time. So, for about $100, a lot of money back then, one could buy an adapter to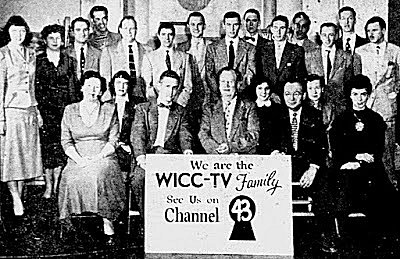 Group photo of the WICC-TV staff at the time channel 43 signed on. Bob Crane
is standing dead center in the back row; Morgan Kaolian is standing, third from left.

attach to the TV to pick up the UHF signals.

In the fall, the Hartford Courant reported the addition of college telecourses beginning October 12, produced by the University of Williamsport. WICC-TV signed on an hour earlier on weekdays, at 3:00pm, to air "Personal Adjustment in Family Living" conducted by the school's associate psychology professor Dr. Abraham E. Knepler and "Living With Literature" by assistant English professor Dr. Milton Millhauser. It did little to improve UHF conversion rates and there was no report that the experiment continued past the Fall 1953 semester.

The low conversion rate was especially disappointing to station president and general manager Philip Merryman, who had commissioned a survey of 500 area residents, conducted a few weeks before channel 43 was scheduled to begin broadcasting. With set ownership saturation ranging between 45% and 85% (70% in Bridgeport itself), 22% of set owners said they were "prepared to convert" to receive WICC-TV in advance, with another 26% saying they would convert once the station was on the air. Given the dismal viewership even seven-plus years later, Merryman must have felt the respondents had been less than honest.

Eventually, Crane tried a last ditch effort to get viewers -- by paying them! If anyone had been watching they would have seen Bob holding a crisp $100 bill right on camera. The first caller could phone the station and get the $100. Nobody called. On December 8, 1960, channel 43 went off the air; in 1966, most of WICC-TV's program library was destroyed in a fire, except for a film showing the last day of WICC-TV's programming. That was featured in a special produced by Connecticut Public Television called You're On The Air! The Early Years of Connecticut Television. The construction permit and license were finally surrendered in 1971.
---
This article originally appeared in Peter Q. George's "UHF Morgue" at his former RadioDXer site and is republished here with his permission. Reformatting and some historic details added by K.M. Richards.
---
EXTERNAL LINKS