WJAN/17, Canton OH
by Tim Lones
Television in Stark County, Ohio had sort of a sparse history until the mid-1960s. In the earliest days of commercial television, there were provisions for channel 1 as "community stations" ... lower powered stations that would serve small areas. Canton was listed for a channel 1 allocation in the 1945 "Table Showing Allocation of Television Channels to Metropolitan Districts in the United States" as it was called in the FCC rules.
In the 1952 table, both community stations and channel 1 were gone but UHF channels had been added; Canton was allocated channel 29 and Tri Cities Telecasting received a construction permit in March 1956 for WTLC on that channel. The 1958 Canton City directory showed WTLC being located at 324 Market Ave. N., but it never made it on the air, nor did WMAC-TV on channel 23 in Massillon. Both had their construction permits revoked by the FCC in 1960 for failure to build their authorized stations.
Fast-forward to the beginning of 1967: Channels 25 in Cleveland and 49 in Akron were the only UHFs on the air in the region and commercial Cleveland UHFs were still a year away. Channel 29 had become channel 17 in another update of the channel allocations table in 1965, a mere six weeks after Janson Industries, a stage curtain and equipment manufacturer, was issued the construction permit for what was now about to go on the air as WJAN.
January 2, 1967 ad for
Electronics Center promoting
UHF converters to receive
WJAN/17, which was to
sign on the next day.
The Canton Repository reported the day before the January 3 sign-on that "the 105kW station will be on the air from Monday through Friday from 4:30 to 10:00pm with ... a daily program schedule [that] includes three news programs, a feature movie at 8PM, and film series in the Western, Mystery and Comedy categories." John Baker, news director at WHBC/1480 (he had been there since 1949) was to anchor the daily newscasts at 5:30, 7:30 and 9:30. The chief engineer was reported as Harold Gorsuch, the former superintendent of electronic systems for Ohio State University.
The first full week of programming listed in the Canton Repository included all three of the "film series" categories: Westerns such as The Tall Man, Shotgun Slade, Kit Carson, Tales of Wells Fargo and Overland Trail occupied the 4:30 to 5:30 hour; comedies like The Ray Milland Show, Bachelor Father, Leave It To Beaver and Love That Bob aired at 6:00 followed by an hour of dramatic series such as Thriller, M Squad and Johnny Midnight. A movie filled the 8:00 to 9:30 timeslot. The average TV watcher then would have said: "All these old moldy shows? I'd rather watch 3, 5, or 8!" but these days, we would love to see a similar schedule on TV Land.
By October sign-on had been moved up to 3:30 with women's programming and "Alfred Alligator" hosting cartoons and sitcoms. John Baker's newscasts now occupied 15-minute slots at 6:00 and 11:00, plus a five-minute update at 7:30, and the filmed dramatic series now followed a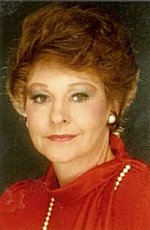 Early WJAN personality Sherry
Lee (photo from obituary notice
in the Canton Repository).

nightly 8:00pm movie (not the blockbuster hits ... mostly very old, and not good prints, either). Local model and actress Sherry Lee was hosting a weekly talk show, one of many on WJAN, and later WOAC/67 in Cleveland (Lee passed away February 4, 2013 at age 76 of complications from Parkinson's Disease). Everything was in black and white and WJAN wasn't on the air weekends.

Sunday programming, only from 8:30am to 1:30pm, was on the schedule by May 1968. It included Faith For Today, Hour of St. Francis, Insight and the 10:00am service from the Canton Baptist Temple. (The 7:00pm Baptist service would be carried live as well eventually; it was was the longest running local program on channel 17, lasting until TBN took over and cancelled all local programs. The service continued to air on low-power WIVM-LP/52 for many years afterwards before moving to WVPX/23 Cleveland, where it still airs for a half-hour on Sunday mornings.) Wrestling aired from noon until 1:30.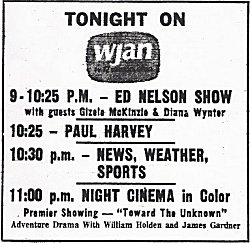 WJAN prime-time in 1969 included a nightly talk
show by Ed Nelson (Dr. Rossi on Peyton Place)
and a five-minute syndicated commentary
by ABC Radio's Paul Harvey.
Any Saturday programming in those early years was minimal, wrapped around a high school football or basketball game from Canton's Fawcett Stadium, Memorial Field House or Canton Civic Center. Eventually there was also some local programming such as the news feature Sidelight 17 and phone-in show Talkback.
As the 1970s arrived, channel 17 was building its broadcast day slowly and starting to do local color programming. In April 1970 Saturdays were filled with country music, a mix of local shows and syndicated programs such as Porter Wagoner and the Wilburn Brothers, and Sunday had additional religious programming -- including Bishop Mayle, who was remembered by a commenter on my blog as "a local Pentecostal evangelist, kind of a greasy guy with a mustache, a bit overweight, with a supply of light-up Virgin Mary portraits ... if you called in and pledged 'X' amount of money you could get one" -- plus an evening schedule that included Death Valley Days, The Untouchables, and a double feature movie. Weekdays now included both Alfred Alligator in the afternoon and Milton The Milkman at 10:30am (Milton would eventually move to afternoons), an early afternoon movie, a daily interview hour with WOIO/1060's Ronnee Furman and a 30-minute syndicated program hosted by Washington DC journalist Barbara Coleman. Evenings now featured a live agricultural news and interview program by WAKR/1590 Akron farm director Ben Werk, which originated at WAKR-TV/23 (Werk had made a name for himself in Canton radio before moving on to Akron), a replay of the Barbara Coleman program, more country music shows, and weekly half-hours spotlighting activities in nearby communities such as Orrville, Alliance and Minerva.
It was also in the 1970s that Jerry Edwards became a prominent WJAN personality, hosting a variety of programs. He went on to Liberty University's WRVL-FM/88.3 Lynchburg VA in 1980, ending up as station manager before retiring in January 2014 after 33 years there.
Jerry Lewis Telethon, 1972: Milton the Milkman and Jerry Edwards
(center) are joined by local radio personalities Max Heywood
and Tim Davidson (far left). No idea who the young lady was.
As the decade progressed, the Cool Ghoul (George Cavender) hosted Saturday Night Horror Flicks and WJAN was also the Akron-Canton affiliate for the Jerry Lewis Telethon until 1977. The quality of syndicated programming improved shows was improving as well, now including Dragnet, The Bold Ones, Adam-12, The Virginian, Hee Haw and Lawrence Welk, but by 1974 channel 17 had cut back the sign-on time to 2:00. A major programming acquisition was Jim Bakker's PTL Club in 1974, just as it was getting established nationally. PTL aired six nights a week, but was a harbinger of the future: Ultimately Janson Industries decided they couldn't make a go of WJAN and sold out to Bakker's Heritage Village Church in August 1977 for $2.5 million; WJAN became all religious at that point, carrying the PTL Network satellite feed 24/7.
Bakker had good reason to want a broadcast station, even though his network was beginning to receive cable television carriage by then. FCC rules regarding translators -- low wattage "stations" that did nothing more than retransmit full-power stations into areas without television service -- required that the programming originated at an actual station. Until WJAN began carrying PTL full-time, the satellite feed was not allowable as a translator source, but with channel 17 in Canton carrying it over the air, the FCC saw the feed as indistinguishable from WJAN's off-air feed and UHF translators started popping up in places like Muncie IN, Waterloo IA, and Eugene OR ... all "indirectly retransmitting WJAN Canton OH". One translator authorized in 1981 in Salem OR made no secret on its FCC application that its feed was via Satcom F1, transponder 2, the satellite home of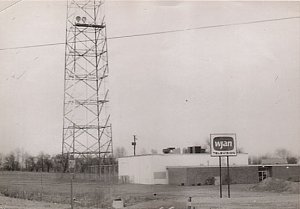 The WJAN studios, offices, and transmitter site at
6600 Atlantic Blvd. NE (Route 62) in Louisville.
The tower was finally dismantled in 2012.

PTL.

Things almost immediately started going wrong for Jim Bakker. In April 1979, the FCC began an investigation to determine if PTL had broadcast "false and misleading information in the solicitation of funds; the action followed the refusal of WJAN to make books and other records available to commission investigators checking out the allegations of wrongdoing. Despite what was described as an "onslaught of mail" from PTL viewers alleging that the FCC was aiming at the "removal of religious broadcasting" the investigation dragged on for years, ultimately causing the sale of WJAN to the David Livingstone Missionary Foundation of Oklahoma in December 1982 for the assumption of $1,346,250 in debt. The call letters were changed to WDLI and programming from the PTL network was replaced by that of Trinity Broadcasting Network; TBN purchased channel 17 outright in 1987.

WJAN was a prime example of a company (Janson Industries) getting into television woefully undercapitalized, making it no wonder that it was a struggle for them. The 1970 schedule indicated the most extensive programming the station ever had in terms of number of hours broadcast, but instead of expanding further they cut back. Who knows if channel 17 might have had a much better chance at success if it had been started by a real broadcast company?
---
This article originally appeared in three parts on the author's Cleveland Classic Media blog and was adapted to article form by K.M. Richards, who also contributed the information on WJAN's history post-Janson Industries and other details.