WJMY/20, Allen Park MI
by K.M. Richards
with Victor Edward Swanson
As the history of early UHF television was told before research was made easier by the Internet, many urban legends were created, all predominantly "proven" by the retelling of presumptive "facts" which could neither be verified or disproved. One such urban legend is that of WJMY, licensed to the Detroit suburb of Allen Park, which by practically every account told never operated with more than a station identification slide in close to twelve years of holding a construction permit.
That urban legend is wrong.
But to tell the story of what really happened, we must first briefly address the original channel 20 ... WPAG-TV, in Ann Arbor (about 25 miles to the west of downtown Detroit). The owners of WPAG/1050 had owned the radio station for less than a decade when the FCC began accepting applications for stations on the newly-allocated UHF channels, and they promptly applied, receiving their construction permit September 25, 1952 and beginning operation just over six months later on April 3, 1953.
WPAG-TV was a typically frugal UHF, operating only as much as the profits from the radio station could fund; their broadcast day began no earlier than 7:00pm for the first year or so, and ended somewhere in the vicinity of 10:00pm,



WPAG-TV schedule, two months
after originally signing on.

although they did also operate some afternoon hours to carry Detroit Tigers baseball, apparently as a backup to the team's official station, WJBK-TV/2. The schedule was filled with a mix of live local programs (including a weekly half-hour from U.S. Senator Homer Ferguson), DuMont network programming via kinescope (such as The Plainclothesman, Twenty Questions, Down You Go, and Life Begins at 80), first-run syndicated shows that had apparently been passed over by the Detroit stations (for example, The Files of Jeffrey Jones), and various old movies cut down to fit into one-hour slots, as was customary for television at the time; some edited prints were still airing on low-budget UHFs 20 years later.

Sadly, it appeared that even as the "official" primary DuMont affiliate for the market, WPAG lacked the standing to prevent some of the network's more desirable programs from airing on the Detroit VHFs that had carried them prior to 1953: Rocky King, Detective on WJBK-TV, for example. Even those few network shows running on channel 20 weren't protected airings ... for example, The Plainclothesman was simultaneously airing on ABC-owned WXYZ-TV/7. It seemed that DuMont felt that Ann Arbor viewers surely were watching the Detroit stations (about 30 miles distant) but Detroit viewers certainly weren't watching the low-power Ann Arbor UHF. (Even the Detroit Free Press carried nothing more than title-only listings in a separate once-weekly box, as shown to the left.)

This is not to say WPAG-TV didn't try to create its own local programming in an attempt to attract viewers ... or rather, the University of Michigan created local programming for them. Beginning with the occasional University program soon after channel 20's debut, by 1956 the evening hours of the Monday, Wednesday, and Friday schedule had been given over completely to "University Television". What few viewers there may have been saw such offerings as Dateline Ann Arbor, Story Time, 310 Weekly Of The Air, Sports Parade, and Studio Sampler, all produced by the UM speech department with apperances by students of other departments as needed. In later years, the University's airtime was cut back, until by the end of 1957 they were down to a single hour on Wednesdays.

WPAG also carried the oddball syndicated offering of one Roscoe Vernon Gaddis, who had started in television in 1944 over the experimental station in Syracuse NY, sponsored by a local sporting goods store. Known as "Gadabout Gaddis", he parlayed that television experience into various syndicated "fisherman" shows which aired at various times (and at odd hours) between 1950 and 1967. Gaddis was infamous for his fractured English, such as pointing out which fish was "gooder" than another.
WPAG-TV's Dave Prince, in 1965.
(From Detroit Free Press.)
In subsequent years, WPAG-TV added some ABC programs via film and kinescope, such as The Adventures of Ozzie and Harriet, Fury, and Sky King, continuing to fill odd gaps in the schedule with the ubiquitous government- and industry-produced "free films" such as Industry On Parade and the Army's The Big Picture as they had all along. They also added a five-minute local newscast on weeknights, which consisted of WPAG radio personality Dave Prince reading wire service copy; in an interview years later for the Detroit Free Press, Prince -- by then with WXYZ/1270 in that city -- was described as "very nearly the whole station" (in his words, "as the announcer, I would do the station break and introduction to the news from the control booth, then run like crazy into the studio and get behind a desk to solemnly read the news"). Channel 20 even managed a ten-fold increase in power, to 17,500 watts, in late 1955, but there were still few UHF viewers in the expanded 30- to 40-mile coverage radius around Ann Arbor.
By 1957, with the DuMont network having ceased operation and with four VHF stations for competition (three from Detroit and one from across the Canadian border in Windsor ON) just in their immediate coverage area, WPAG-TV knew it could not continue under the status quo and filed a petition for reallocation of channel 12 from Flint MI, some 50 miles to the north. The petition was denied in June, along with a similar petition from WKNX/57 in Saginaw, about 25 miles north of Flint (apparently neither considered the fact that WJR/760 Detroit had held a CP for the channel 12 allocation since May 1954 and was actively constructing the station; it went on the air as WJRT the following year). WPAG-TV filed a petition for reconsideration but it had not been acted upon by year's end and channel 20 went dark at the end of the December 31, 1957 broadcast day (the last thing they aired was an old Western movie, the title of which was, naturally, not listed in the Free Press and is therefore lost to the ages). The petition was ultimately denied April 4, 1958, at which point WPAG surrendered the channel 20 CP, and Broadcasting reported that the television station had lost $145,680 (the equivalent of $1.23 million in today's dollars) in its 4½ years of operation.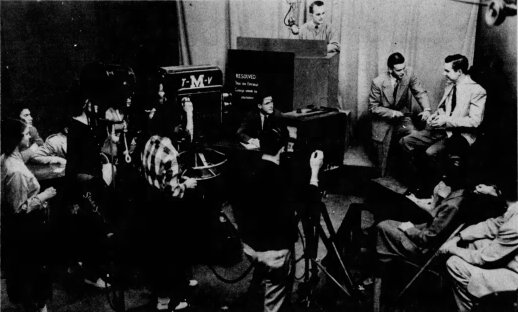 Court of Public Verdict, produced by the University of Michigan and aired on WPAG-TV in early 1954.
Enter the Rev. Dr. Robert M. Parr, who had founded the Gilead Baptist Church in Detroit at age 37 and a sister congregation in Allen Park thirteen years later, and decided after a dozen years of doing a television series called America Back to God for various Detroit stations to operate stations of his own. He filed not only for the channel 62 allocation in Allen Park on September 20, 1960 (which had been vacated by the holders of the CP for WBID-TV when granted channel 50 in the aftermath of the surrender by WJLB-TV of their CP on that channel in 1955) but also for an FM station at 98.3 the month before, on August 4, 1960. Both were to carry his initials in



No, that's not a typo ... the call letter change to
WJMY was filed at the same time as the channel
move petition, so the latter carried the original calls.

their call letters as WRMP-FM and WRMP-TV, except that one month after the FM permit was issued he made a deal to acquire the CP for a higher-powered station in Detroit proper on 98.7 and moved his initials there, surrendering the 98.3 CP (the Detroit station went on the air in late 1961 after another call letter change, to WBFG). Since FCC rules at the time disallowed common use of call letters between stations with different cities of license, channel 62's CP was renamed WJMY. No one ever disclosed what the new calls stood for.

The Rev. Dr. Parr then set about taking advantage of WPAG-TV's demise by filing a petition with the FCC to move channel 20 from Ann Arbor a few miles east to Allen Park and modifying his CP to operate on that channel; that was granted within a few months and Parr subsequently created Triangle Broadcasting Company in order to take on partners. The latter idea worked better than anyone expected, because on June 13, 1962, down to a 15% ownership stake in his own station, Parr filed with the FCC to transfer that remaining amount to another partner.

On October 7, 1962, WJMY began operation and the Detroit Free Press began including its programs in their weekly television magazine, this time integrated into the listings but in the same miniscule type reserved for all non-Detroit stations. Station manager Henry Vanden Bosch was quoted both in the Free Press and Broadcasting as saying channel 20 was only operating two hours nightly (7:00 to 9:00pm) with "travel and information films" (yes, those same freebies provided by the government and industry ... some viewers might have thought WPAG-TV had returned to life!) with such titles as We'll Take the High Road (a 1957 production by the American Road Builders Association on the Interstate Highway System), Tuna: From Catch to Can and on November 8, The Story of Television (which we cannot fathom viewers not switching away from Dr. Kildare on WWJ-TV/4 or Leave It to Beaver on WXYZ-TV to watch). This was augmented by a weekly broadcast of the 1953 series The Air Force Story (produced by that branch of the armed forces) and what appears to have been a production of the U.S. Navy (!) entitled America's Newsreel Album, consisting of old newsreel footage narrated by Dennis James. On Sundays, however, the evening schedule was abandoned in favor of a noon to 2:00pm block of "gospel films" and a mysterious "Dr. Philpot" (sic), whom we believe to be Dr. P.W. Philpott, reported by various sources to be preaching in the Detroit area at the time.

WJMY did manage a few notable broadcasts for anyone who might have been watching the fairly weak signal covering about a 20 mile radius from the transmitter on Southfield Highway. On November 29, 1962 they aired filmed coverage of "local boy made good" Tom Tresh's homecoming the previous Saturday (Tresh had just completed the first of what was to become an eight-season career with the New York Yankees as a left fielder and shortstop) and on March 16, 1963 aired Trial For Tara, a production of the Catholic Church about St. Patrick's victory over paganism in Ireland filmed five years earlier. One week later, the Navy requested -- and received -- an airing of



Theron Spurr, Dr. Parr's son-
in-law and closing act of
each WJMY broadcast day.

their film The John Glenn Story to commemorate the first anniversary of his space flight. And, about a month before its demise, channel 20 aired as part of its Sunday afternoon film block Moganga, a one-hour documentary about medical missionaries fighting disease in Africa, which had originally aired on NBC's March of Medicine in the 1956-1957 season. The documentary featured John Gauther, Ben Grauer, and Norman Rose and had received many accolades and awards from the educational community.

None of this mattered to viewers, who found little in the meager WJMY schedule to entice them to even make an attempt to tune in (not even the five-minute sermons by Dr. Parr's son-in-law Theron Spurr which aired right before sign-off each night). On June 10, 1963, just shy of 250 days of operation, WJMY went dark.

The Rev. Dr. Parr didn't last much longer than WJMY: He died January 22, 1964 at age 58, after a brief illness which had hospitalized him. Meanwhile, the search for a way to either put channel 20 back on the air or sell it to recover some of its losses was on. It didn't take long. Richard Eaton, whose United Broadcasting Company was having immediate success programming to a "Negro" audience in Washington DC on its WOOK-TV/14 (which had only been on the air for about a year itself at that point), saw the potential to do likewise in Detroit, as well as to capitalize on the large Polish, Italian and German population in that area, and bought the WJMY CP for $115,000 in July 1964. The first move Eaton made was quickly arranging to lease space on WKBD-TV/50's new Southfield tower, then under construction.




That infamous WJMY
station ID slide.

But because United ran into difficulties -- both legal and financial -- at WOOK, studio construction was delayed both in Detroit and at would-be future sister station WTLF/18 in Baltimore, although tests were made periodically of the new transmitting facilities, which resulted in the now-debunked urban legend of WJMY never having transmitted more than its station identification slide. Channel 20's "remain silent" authorization was renewed a staggering 25 times in the five years after its sign off.

WJMY proceeded to announce, then miss, target dates for resuming operation. The Free Press, at various times, quoted "no air date" (6/24/65), "this fall" (1/22/67), "late in 1968" (12/27/67), "maybe ... by September" (5/9/69) and "September 15 if the studio is ready" (8/29/69). It was two days before that last target date that the sale of the channel 20 CP to United Artists Broadcasting was announced. Their GM, John Serrao, when asked about a target, said only that "we will move fast" once FCC approval was given (it took three more months before the application for same was filed with the FCC). To no one's surprise, the sale never took place and the application was dismissed at UAB's request August 10, 1970.

The reason? While WJMY was missing target dates, a real estate developer named Aben Johnson Jr. put WXON/62 on the air September 15, 1968 as a typical UHF independent featuring old movies, Sea Hunt and Leave It To Beaver reruns, and the like. When the

United Artists sale was announced, Johnson filed a challenge in the form of requesting that channel 20's facilities be assigned to WXON instead, claiming that Eaton had not adequately pursued putting WJMY back on the air in the five years he had owned the CP. (This had the dual effect of worsening Eaton's problems at the FCC and causing UAB to back out of the deal.)

Once the sale to UAB was withdrawn, United entered into a deal with Johnson, which was filed December 4, 1970 but held in abeyance at the FCC until a decision was made as to whether or not United had indeed made an effort to rebuild the station's facilities and was entitled to recoup their expenses by selling the channel 20 CP. Once that was decided, the application was approved effective August 11, 1972; United received $413,832 from Johnson, who used it to move WXON from channel 62 on December 9, 1972 (for those following along, WXON thus became the third station on channel 20 in the Detroit area in two decades). It took him less than four months to accomplish the move, likely because he already had functioning studio facilities; the delay between the FCC ruling and the CP transfer was caused by the Land Mobile Communications Council, which filed in January 1971 to deny the application and reassign channel 20 to land-mobile, claiming the Commission had erred in determining that United had made a good faith effort to resume operation. When Johnson moved to the lower channel position, he ran ads hyping an "brand new lineup" consisting of My Friend Flicka, Batman, Ozzie & Harriet, The Rifleman, Land of the Giants, Burke's Law, and Peyton Place on weekdays, plus a science fiction movie and wrestling on Saturdays. For its part, the FCC finally granted the "license to cover" -- which had been applied for by Parr in September 1962 -- on May 15, 1973 and Detroit became the official city of license November 20, 1975.
WXON's former channel 62 dial position was quickly occupied by WGPR-TV (technically the third channel 62 in Detroit in the space of 15 years), which signed on in 1975 as the first completely black-owned television station in the U.S.; it was sold to CBS in 1995 and is today's WWJ-TV.
WXON went into the subscription television service for four years beginning in 1979, using the appropriately-named "ON TV" programming (Johnson had filed for STV authority in 1970 for channel 62, then amended it 12 days before beginning operation on channel 20; the application was dismissed in 1974, then reinstated and granted in 1976); they then resumed airing a general entertainment format, became an affiliate of The WB network in 1995 -- changing call letters to WDWB in the process -- and then became a MyNetwork affiliate with the call letters WMYD when The WB ceased operation eleven years later.
---
This article is based upon Mr. Swanson's 2015 article from his "Television History and Trivia" website and has been expanded with additional research.
---
EXTERNAL LINKS