WLOK-TV/73, Lima OH
by Dennis Lamb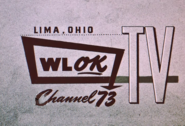 It started with WBLY/1210, which began operation under Herbert Lee Blye as a daytime-only station in December 1936 (the call letters of obvious meaning had been moved from another station in Lebanon PA which he had applied for in 1935 but never put on the air). George B. Storer purchased it in 1938, making it part of his "Fort Industry Stations" chain, then changing the call letters to WLOK in February 1939. Nighttime service was added that September, increasing power from 100 to 250 watts, and moved to 1240kHz March 29, 1941 as part of the North American Regional Broadcasting Agreement. (WLOK-FM/103.3 went on the air in 1948 with 1kw, becoming the highest-powered FM in the region three years later when it increased power to 25kw.) WLOK Inc., primarily owned by former Ohio State football great Lloyd A. "Butch" Pixley, purchased the stations from Storer in April 1951 so that Storer could acquire WSAI/1360 Cincinnati. Pixley applied in July 1952 for channel 41, but in October 1952 modified the application to specify channel 73, and WLOK-TV was granted a permit on that channel November 19, 1952. It took to the air less than six months later, on April 18, 1953.
The rest of WLOK-TV's early history is told in photographic form.
| | |
| --- | --- |
| | This is what the channel 73 control room looked like in 1953. In the background you can see the original 1kW transmitter. There is a sign just visible in the upper left-hand corner that states, "If You Can't Be Quiet, Leave Control Room". In the beginning, there was only a curtain separating the control room from the studio, so when a live show was going on everyone in the control room had to be quiet. |
| | From 1953 until around 1955 WLOK-TV operated with only one studio camera, a General Electric monochrome unit. Shown with the camera are cameraman Dan Bradford and Floor Director Grover Blazer. |
| | Maurice J. "Morrie" Lamb, WLOK-TV's first Chief Engineer, shown with the station's second transmitter, a 12kw General Electric TT-24A. Lamb was one of those responsible for putting channel 73 on the air in April 1953. He continued with the station until his retirement in 1985, overseeing many of the improvements in subsequent years. (This picture was taken during the station's 25th Anniversary celebration in May 1978.) |
Meanwhile, Northwestern Ohio Broadcasting Corporation, owned by George E. Hamilton and Robert W. Mack, put WIMA/1150 on the air in December 1948 (in a reversal of the usual order of things, WIMA-FM/102.1 had been on the air since that summer). They applied for channel 35 post-freeze, and received their grant December 3, 1952. Two years later, following Pixley's death the previous July (and with WIMA-TV still "under construction") Hamilton and Mack acquired WLOK, Inc. in order to get the functioning television facilities. The WLOK and WLOK-FM licenses and the channel 35 permit were surrendered and deleted on December 20, and the WLOK-TV permit was modified for operation on channel 35 as WIMA-TV. WLOK-TV/73 signed off April 18, 1955 and WIMA-TV/35 signed on one week later, on April 24.
(Right before the acquisition by Hamilton and Mack, WLOK-TV filed a request to make a one hour test transmission the morning of January 26, 1955 of "a scrambled video signal or with a regular video signal without audio signal" which was denied by the FCC because "said request contemplates use of a broadcast frequency for a point-to-point broadcast service" which was contrary to the rules and regulations then in force. As this matched an identical request by WGTH-TV/18 Hartford CT, one wonders if channel 73 had been contemplating applying for subscription television operation when that became possible.)
The new WIMA-TV carried programming on the three major networks plus the remnants of DuMont, and while a primary NBC affiliate continued to carry some programming from the other two into the early 1980s. WIMA also had the distinction of providing live coverage from the home of Neil Armstrong's parents during the Apollo 11 moon mission in July 1969. The station provided coverage to all three networks plus world-wide satellite.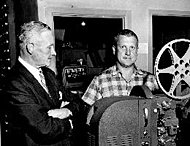 George E. (Bruff) Hamilton and Robert
W. Mack, co-owners of WIMA-TV
from 1954 to 1972, shown with the
station's film chain.
WIMA-TV greatly increased power March 20, 1958 when a new General Electric 12kw transmitter (shown above in the photo of Morrie Lamb) began operation. Video effective radiated power increased went from 16kw to 198kw and audio from 10kw to 105kw.
In 1967 WIMA started making the transition to color when it purchased a RCA TP-66 color film chain, and in 1970 two RCA TK-44 color studio cameras. The film chain remained in service until early 1985 when video tape and electronic "still store" units became the broadcast standard; the studio cameras were retired the year previous.
On February 1, 1972 channel 35 was purchased by the Toledo Blade and Midwestern Broadcasting of Toledo and the call letters were changed to the current WLIO. (Blade Communications Corporation bought out Midwestern Broadcasting's interest ten years later.) Under its current corporate name of Block Communications, WLIO also operates a combined Fox/MyNetworkTV affiliate on its second digital subchannel and owns three low-power stations which together serve as Lima's ABC and CBS affiliate (WOHL-CD WLQP-LD, and WLMO-LP).
---
(Dennis Lamb, KB8CYI, is the assistant Chief Operator of WLIO. This article is adapted from a more comprehensive article on the history of WLIO which formerly appeared on the station website but was removed during its redesign in 2016. Corrections to the early timeline were added by K.M. Richards during reformatting.)
---
EXTERNAL LINKS