WNYC-TV/31, New York NY
by K.M. Richards
This is the story of a rather unique UHF station. It was one of the few television stations owned by a municipal entity (the largest in the U.S. both then and now); for much of its history, it was a non-commercial station which operated on a commercial allocation; it "failed" more than once, without ever going dark; and its construction permit was saved by an FCC experiment.
The station is now known as WPXN-TV, but that has only been during the most recent one-third of its existence. For 41 of its first 42 years (and its total history of more than 60 years), it carried the calls WNYC-TV.
It all started with Robert Ferdinand Wagner II, (commonly known as Robert F. Wagner, Jr.), son of a U.S. Senator of the same name, who represented the 16th District in the New York State Assembly from 1938 to 1942. He then resigned to join the Army Air Corps to fight in World War II and returned to New York City, serving as the City Tax Commissioner, Commissioner of Housing and Buildings, and Chairman of the City Planning Commission before being elected Borough President of Manhattan in 1950. In that capacity, Wagner won a city Board of Estimate approval on February 14, 1952 of a resolution to file for one of the new UHF television allocations that were on the verge of being announced by the Federal Communications Commission in the now-famous Sixth Report and Order. In announcing the resolution, Wagner said that unless the application was made as soon as the FCC began accepting applications, "all channels for this area may be distributed and the city permanently deprived of the opportunity to operate an outlet."
Seymour N. Siegel, director of
the City of New York's
Municipal Broadcasting System.
Literally two months later, on April 14, the city's Municipal Broadcasting System (which already operated WNYC-AM/FM 830/93.9*) announced their intent to apply for the commercial channel 31 allocation, by hurriedly converting their application for non-commercial channel 25. The last-minute change came when, upon its release three days earlier, the Sixth R&O reserved the latter allocations only for applicants with a connection to an educational institution. At the time, MBS director Seymour N. Siegel estimated they would need $316,000 to construct the television facility and then an annual increase of at least $175,000 (to the current radio budget of $315,000) for operations. Siegel told the New York Times that he anticipated WNYC-TV would provide full coverage of United Nations meetings, public health shows, consumer programs, special events, and specialized programming for professionals such as doctors and lawyers. [* - See the first entry in Postscripts for an explanation of the WNYC frequency.]
The City did not find itself alone in seeking channel 31. Six months later, on October 22, the owners of WNEW/1130 also filed an application, followed on July 29, 1953 by a third from a joint venture of WOV/1280 and WHOM/1480, which had announced their intentions shortly after the original City application had been filed more than a year earlier. While WNEW made no announcement as to what their program schedule would be, WOV and WHOM both broadcast foreign language programming, mostly in Italian with some shows in Spanish, Polish and German, and the Times speculated that if channel 31 was granted to them it would be the first foreign-language television station in the nation. At least one party to the joint venture, Fortune Pope of WHOM, essentially ignored the Sixth Report's limitations in saying the City should have filed for channel 25, saying that in his opinion the Commission would "not be too disposed toward granting WNYC a commercial channel." By year's end, Wagner had been elected Mayor, taking office January 1, 1954; he would still be holding that position when channel 31 went on the air.
1954 found both of the other competitors for the allocation leaving the battle. First the WOV-WHOM joint venture dropped out on April 26, citing "insurmountable" economic problems in starting a UHF station in New York, followed on May 5 as WNEW, having recently changed ownership, also withdrew its application. Left unopposed, the City of New York was granted the construction permit one week later, on May 12. In its reporting of the grant, the Times anticipated that civic groups opposed to the city being involved in broadcasting would shift their efforts and attempt to block the appropriation for construction of channel 31; those groups, with names such as the "Citizens Budget Committee" and the "Commerce and Industry Association" had been trying to shut down the "costly operation" of the radio operations since the mid-1940s. In announcing the CP issuance, Siegel said the main studio was to be co-located with the radio stations on the 36th floor of the Municipal Building, with additional studios at 500 Fifth Ave. and at the Board of Education's WNYE/91.5 at Brooklyn Technical High School. (The latter ended up being the location of non-commercial WNYE-TV/25 when it went on the air in 1967.)
One year later, Siegel was still fighting for funding to build WNYC-TV. $389,000 was allocated in 1955, but the city's financial situation prevented appropriation of funds and he asked the Planning Commission to renew the allocation for 1956. He had already created a "television film unit" which was producing public service films which aired on the commercial VHF stations in New York, as well as in schools and museums. The New York Daily News had quickly called the channel 31 proposal a "white elephant" in an editorial against same published on May 14, 1954 ... a mere two days after the CP issuance. They said the lack of UHF-capable receivers (which it estimated as 0.5% of all sets in New York City) meant WNYC-TV would "broadcast practically in secret" and also claimed -- unsubstantiated by any of Siegel's announcements -- that channel 31's programming would consist of nothing but "City Hall programs featuring politicians" and that "only a thimbleful of people" would convert to UHF to watch same. Prominent in the editorial was the holier-than-thou statement that "we run a TV station [WPIX-TV/11] and we know what we're talking about."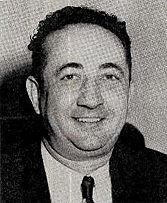 Channel 31's "real" father, FCC
Commissioner Robert E. Lee.
When 1960 came and no construction had yet begun on WNYC-TV, the FCC placed the construction permit into one of the McFarland letter hearings, but it did not remain in that docket for long. In April 1960 an experiment spearheaded by Commissioner Robert E. Lee -- who described himself as the agency's "number one UHF egghead" -- was announced in which the agency itself would fund the construction of channel 31 and pay for one year of operation to determine if "the canyons of New York" were suited for UHF reception, by placing UHF-capable receivers in metropolitan area locations selected for "population density and economic viability." The call letters WUHF were assigned to the experimental station, with the Monday through Saturday daytime hours proposed to be filled with simulcasts of programming from the existing New York VHF stations (allowing for direct comparison testing of the two bands at any of the test receiver locations) with nighttime and Sunday hours to be programmed by the City. Siegel anticipated much of the latter programming would consist of repeats of programs produced by New York Board of Regents that currently aired on WPIX-TV, and said he had begun preliminary talks with municipal colleges to produce nighttime college credit telecourses. The Commission convinced Congress to provide $2 million in funding in fiscal year 1961, with over $600,000 of that budgeted for transmission equipment, close to another $100,000 for leasing transmitter space in the Empire State Building, and just shy of $300,000 for the test receivers and field strength measurement. The City got a mere $100,000 for operating the station for a one-year period.
Compared to the six years during which Siegel had tried in vain to get channel 31 on the air, the FCC-backed experiment progressed toward operation quickly. Only two months after the initial announcement, he was able to elaborate further on the City portion of WUHF's operation, saying he still expected to air U.N. meetings along with public affairs programs, educational programs, and programs to benefit city departments. The Times, apparently missing the point and sounding much like the Daily News had seven years earlier, called the potential audience "insignificant" because of lack of existing UHF-capable receivers; in response, the FCC said 100 test receivers were to be rotated among viewing locations and that they ultimately wanted as many as 5000 homes covering a 25-mile radius from the Empire State Building to be so equipped.
On October 1 of that year, WNEW-TV/5 (the radio station having finally gotten into television by way of a second change of ownership in 1957 to DuMont Broadcasting, successor to the DuMont Network, which had put the station on the air as WABD in 1944 after six years of experimental operation) aired an hour-long documentary on the history of broadcasting, in the process saluting the forthcoming UHF station, but Times columnist Jack Gould said the special did not include sufficient information on the problems and cost of receiving UHF and "the attendant difficulties of beginning a new service with no audience" even though FCC Chairman Newton Minow had appeared in the documentary, calling the experiment a move that "may help eliminate what many consider a bottleneck to the complete development of television in America."
WUHF began experimental telecasts at 3:00 the afternoon of October 23 with a series of still images, broadcast from the 80th floor of Empire State Building using "limited power with a small antenna" pending the completion of the rooftop transmitting antenna's installation. A test receiver 29 miles away in suburban Connecticut was reported to have received "pictures of excellent quality" even with the reduced facilities. Ten days later, regular operation began with the first program telecast at 11:30am ... City of Magic, a filmed tour of New York narrated by Alexander Scourby (and co-produced by one Seymour N. Siegel), simulcast with WNBC-TV/4. Other first-day programming included an interview with Ossie Davis and Ruby Dee on "the Negro in the theatrical arts," an educational analysis of Beethoven featuring the Claremont String Quartet, and a two-hour panel discussion of Soviet policy. (Click here to see the schedule of City-provided programming for WUHF's first week of operation.) Apparently now having a change of heart, columnist Gould said it was clear "there are almost limitless things [WUHF] can do to enrich the available TV diet." It was another month, on November 29 at 5:07pm, before Minow threw the switch on channel 31's full-power 50kW transmitter for the first time. The next day, he joined Mayor Wagner in a formal dedication of the station, during which it was revealed that the City was providing $348,000 in its budget for programming operations at WUHF.

The transmission tower at the
Empire State Building,
showing the then-newly
installed WUHF antenna (the
four tall panels encircling the
base of the tower).
Siegel reported that "at least 100" complaints were received at WNYC during the first few days of operation from potential viewers who had been told that UHF converters required serviceman installation and that radio shops were reluctant to sell them direct to consumers. In response, major converter manufacturer Blonder-Tongue said that consumers could install the equipment themselves "using only a screwdriver." Broadcasting reported that the simulcast programming included a two-hour NBC game show block in the morning, the CBS Evening News, ABC's American Bandstand, 2½ hours of educational programming from WPIX, and Three Stooges shorts (also from WPIX). Jack LaLanne (from WOR-TV/9) started each day at 9:00am, and Saturdays featured network sporting event coverage. Selected prime-time programs from all three networks were also carried, an indication that the experiment was not a "daytime only" operation as originally proposed; in fact, what listings exist for WUHF indicate that the City's programming aired largely on weekday afternoons and Sundays. Switching during the experimental operation periods was performed at the Empire State Building transmitter site, where a patch panel included direct video and audio feeds from the originating stations co-located there.
It didn't take long for the blowing of WUHF's horn to begin. In mid-January 1962 Commissioner Lee expressed optimism after receiving early test results, being quoted in Broadcasting as saying the main problem was in the home installation and that UHF worked as well as VHF if that was done properly. The same article included a cryptic comment from a technician working on the test: "If you get a good VHF picture you usually get a good UHF picture. But, there are times when you don't get a good UHF picture where you get a good VHF picture. And there are other times when you get a good UHF picture but don't get a good VHF picture." The City seemed to agree, reporting that at its locations with all-channel receivers, programs receivable on VHF were sharper and clearer on UHF, and when VHF signals had ghosts about half the locations had no UHF ghosts ... but the other half had worse interference on UHF than on VHF.
As 1962 progressed, the New York City Fire Department got into the act and began airing training programs on WUHF. (By mid-January, all 54 of its firehouses had UHF receivers, as did all 91 of the city's high schools.) March 31 brought the first airing of Around The Clock, produced by the City Police Academy, broadcast live with taped repeats on Mondays and Wednesdays (the multiple airings being deliberate to allow officers multiple opportunities to watch); six weeks later the Police Department began scrambled "lineup" airings four-days-per-week at 9:00am which could only be viewed at UHF-capable sets with decoders installed in 17 precincts, the Academy, and at Police Headquarters. To further protect privacy, the audio was transmitted on the multiplex subcarrier signal of WNYC-FM. (The Daily News reported that at least one layman with a UHF converter was able to get a clear picture "by transposing two wires and making other adjustments" but did not report if any legal action was taken against him.)
In July, with the experiment heading toward its conclusion, Siegel (still in charge of MBS) formally announced plans to continue operating channel 31 "for at least two years" afterwards, at a cost of $450,000. 85% of that was to go to RCA to acquire the transmitter, which had been leased to the FCC for the experiment; the rest went to other station improvements. Funding was approved on September 27, at which point Siegel announced the change of call letters back to WNYC-TV. For its part, the FCC donated the custom-built channel 31 antenna -- which "had been the plan all along" -- citing the cost of dismantling and removing same as exceeding the value of the antenna for scrap.
In its final few weeks, WUHF broadcast a tribute, delivered via satellite from Sweden, to United Nations Secretary-General Dag Hammarskjöld, who had died the preceding September in a plane crash in Northern Rhodesia (today's Zambia). The airing was a precursor to gavel-to-gavel carriage, beginning on October 3, of the 17th General Assembly. Apparently now thoroughly convinced of channel 31's worth, the Times went into cheerleader mode and called the broadcast "an example of the usefulness of UHF television in filling a specialized need." Thus, just as Siegel had foreseen some ten years previous the U.N. became a regular part of the station's schedule.
The WNYC-TV construction permit officially becomes a licensed station;
a search of FCC actions from that period of time leaves it unclear whether
the City formally filed a license to cover application or if the Commission
acted on its own since it had actually prosecuted the CP by building WUHF.
On October 22, 1962 the FCC quietly issued a license to cover the WNYC-TV construction permit, and on November 1 they formally transferred channel 31's facilities to the City during a live telecast from Gracie Mansion attended by Wagner, Minow, and Siegel (the reception afterwards was also attended by Commissioners Lee, Rosel H. Hyde, Frederick W. Ford and E. William Henry), with the WNYC-TV call letters finally being used on the air for the first time at 5:00pm.
WNYC-TV began with an eight hour daily schedule, incorporating much of the civic affairs and public-interest programs developed during the experiment, as well as continuing the live broadcasts of the United Nations' General Assembly meetings. Channel 31 also carried some programming from National Educational Television and continued as a secondary member station of its successor the Public Broadcasting Service when it began operation in 1969 (the primary station being WNET/13, which had converted from commercial status as WNTA-TV to non-commercial as WNDT a few months before the WUHF experiment ended in 1962). The same year that PBS was born, WNYC-TV took out an ad in the New York Times with "You own a television station" in large bold letters in the center, and a light-hearted narrative based on the (probably correct) presumption that most residents of New York City were unaware that channel 31 existed. The bottom of the ad was a coupon, which when mailed to the Municipal Building with $1.00 got the sender two years of the program guide, a WNYC-TV button and bumper sticker and a "UHF Channel Finder" (whatever that was).
By then, WNYC-TV had joined the seven VHF stations in the New York City market and WNJU-TV/47 in a May 1967 announcement that all nine would move to the new World Trade Center's north building "on or about October 1, 1971" after reaching an agreement with the Port of New York Authority over the reimbursement of relocation costs equal to their remaining lease payments at the Empire State Building. Hyde (by then FCC Chairman) had his doubts about service in the interim, expressing concern over potential interference to reception during the WTC construction and saying "no practical solution ... appears to be feasible," in an echo of his statement before the deal was announced that interference would exist from the WTC if stations still transmitted from the Empire State Building. His "damned if you do, damned if you don't" concerns eventually led to an engineering study on the subject which included translator tests on the UHF band from the ESB, and in August 1971 it showed multipath interference during construction to all nine television stations. The high-VHFs (WABC-TV/7, WOR-TV, WPIX, and WNET were the least affected; the low-VHFs (WCBS-TV/2, WNBC-TV and WNEW-TV) had up to 94% interference, up from 80% in March of that year when only the frame was in place. The two UHFs, including the translators, were the most severely affected.
The tests resulted in an expedited process in which construction of the first WTC tower was hastened so that the television stations could relocate there before work on the second tower was begun, and on April 18, 1974 the FCC issued permits for the seven VHFs and WNYC-TV to move, with the VHFs required to keep facilities at Empire State as auxiliary transmitters and "for comparative purposes" (this proved to be an inadvertently prescient decision a quarter-century later when the destruction of the World Trade Center forced the stations to resume using those auxiliary facilities as their main transmitters). Even then, the matter was not resolved easily, with the Port Authority challenging the decision and the FCC denying their petition for reconsideration in August.
Much to everyone's surprise, WNYC-TV applied in 1974 for experimental subscription television operation using the Teleglobe system, which was authorized on November 21; the authorization expired six months later without channel 31 ever transmitting a scrambled signal.
There were relatively few "hiccups" in WNYC-TV's operation for the better part of two decades following that, the most serious being a challenge to their license in 1978 when True Witness Ministries filed a mutually exclusive application for channel 31; it was eventually dismissed, and the City's license renewed, in January 1981 after Administrative Law Judge Thomas Fitzpatrick found the competitors had "failed to prosecute" their application (there were questions left unanswered about their financial qualifications to operate the station and the methodology they had used to "ascertain the needs and interests of the community"). Fitzpatrick even rebuffed the United Church of Christ when it attempted to intervene in the proceedings.
At the end of 1981, Wometco Enterprises announced they had been negotiating with WNYC-TV to lease time, presumably in the evenings, for subscription sports broadcasts. While nothing came of those talks, by the end of 1984 the City Board of Estimates had given its approval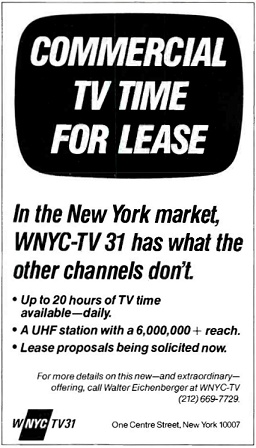 FOR SALE: Airtime on what everyone always
thought was a non-commercial station.

to MBS leasing portions of the daytime schedule to commercial interests, projecting annual revenue at $950,000. There was a downside, that being the loss of an annual grant from the Corporation for Public Broadcasting of $370,000, which concerned PBS enough to suggest a petition to the FCC for channel 31 to be assigned a second set of call letters for use during commercial operation periods. But there was little time to even consider filing same, as proposals had been solicited the previous January and negotiations undertaken with seven of the 20 applicants; the first commercial broadcasts were on January 14, 1985 by Fuji California, Inc. -- paying $390,000 for the first year of a two-hour weekday block of time from 7:00 to 9:00am at $750 per hour -- and the following Sunday by Hellenic Communications Corp. (2:00-3:00pm at $1500, for a total of $78,000) and Nippon TV Network Inc. (5:00-8:00pm at $3000 per hour, totalling $15,000 per week and $468,000 per year). All three were foreign language broadcasters, and non-English programming constituted the bulk of paid programming time on WNYC-TV for the rest of its existence.

WNYC-TV suffered a hiccup in 1993, when Time Warner Cable defied new regulations regarding the assignment of channel positions on cable systems by moving the station from channel 3 (which it had occupied for as long as there had been cable in Manhattan) to its broadcast dial position of channel 31. In May the FCC ordered Time Warner to move WNYC-TV back, after MBS claimed entitlement to the lower channel number under the 1992 Cable Act's must-carry channel assignment provisions. But by that time, the idea of municipally-owned broadcast facilities was losing its appeal, especially for Rudolph Giuliani, who became the 107th Mayor of New York City on New Year's Day 1994. He almost immediately put all three of the WNYC stations up for sale, announcing on March 21, 1995 that the radio stations were being sold to a not-for-profit citizens group for $20 million and that channel 31 would likewise be sold to private concerns. The managing director of the citizen group, David Sit, called it "incredible" that they could not also acquire the TV license and accused Giuliani of setting the minimum sale price at $65 million to make it impossible for them to afford to do so (they had offered $22 million for all three initially). Sit also raised concerns about the ethnic programming being able to continue if the new owners proved unwilling to continue lease-time arrangements, as well as the fate of WNYC-TV's eleven weekly local public service programs. In their coverage of the sale, Broadcasting pointed out that the radio stations were worth far more -- their estimate was $35 to $40 million -- than what the City was getting, and saw the decision as a compromise, especially as the radio station licenses were also commercial but operated as non-commercial. Giuliani justified his decision by saying "cities don't belong in and don't do well in the broadcasting business" and called the existing situation a "distorted role" for government.

A little over four months later, on August 7, a joint venture of Dow Jones and ITT was announced as the potential new owners of WNYC-TV, acquiring it for $207 million (not only more than triple Giuliani's original asking price, but also the highest price ever paid for a UHF station at the time). They announced a plan to rename channel 31 "The S+ Station" (with the call letters WBIS) and broadcast business news in daytime hours by Dow Jones, which intended to eventually distribute that programming nationally. Prime-time and weekend hours were to feature coverage of New York area professional and collegiate sports, centered around ITT's existing TV rights (held jointly with Cablevision's SportsChannel New York) for the Knicks, Rangers and Yankees, concerts from Madison Square Garden (owned by ITT), shows from New York theaters and sports events from ITT-owned Caesars Palace in Las Vegas. The sale was immediately opposed by the Coalition of Ethnic Broadcasters, who wanted (but did not get) a public hearing over the ethnic programming loss, and was finally approved by the FCC on May 17, 1996. Dow Jones/ITT took over at the end of June.
WNYC-TV's final sign-off (June 30, 1996), from TVSignOffs.com.

"S+" had one major problem, though: Their new format was nowhere near ready for air, despite them having had over nine months to develop same while the sale was pending FCC approval. The major stumbling block was on the sports side; cable system operators affiliated with the Madison Square Garden Network and SportsChannel had expressed concern that games would be siphoned away to the new channel and were doing everything under their affiliation agreements to prevent same. Adding to the headache, the just-expired agreement with WPIX for the carriage of 50 Yankees games per year was fueling speculation that those would move to S+ as well. While the partnership tried to straighten matters out (and smooth some ruffled feathers), they entered into an agreement with the nascent cable service Classic Sports Network whereby the latter's programming would air under a leased time contract until S+ was ready to go. This gave CSN exposure on the
previously-restored channel 3 slot on Time Warner Cable, until the latter decided that the change in ownership meant the rule entitling WBIS to the lower channel slot was no longer applicable because the station "didn't exist before" and moved it back to channel 31 without challenge on September 16.
Nevertheless, in November Dow Jones/ITT announced a mid-January start for S+, including a three-hour Good Day New York morning show ahead of weekday market coverage, a Saturday morning kidvid block followed by WCW wrestling, and as much as 35 hours per week of news and events from Fox Sports News to "fill out" the evening schedule, which was still planned to consist of games from the local pro teams. They finally launched S+ at 7:30pm the evening of January 21, 1997 with the New York Knicks-Chicago Bulls NBA game. Classic Sports Network programming disappeared for two months before returning in mid-March with two weekly programs, along with original content from cable networks Outdoor Life Network and Speedvision, and 7½ weekly hours from the Golf Channel one month later.
All of it was for naught, as S+ became the casualty of a hostile bid for ITT by Hilton Hotels (which resulted in "non-core assets" being shed) and a combination of management turmoil and stockholder unrest at Dow Jones. On May 9, 1997 Lowell "Bud" Paxson, who had been acquiring television stations across the U.S. for a proposed nationwide television network, said he was negotiating to purchase WBIS and the sale -- for $257.5 million -- was announced less than one week later. WBIS was the 50th UHF acquired by Paxson, which brought him to 57% coverage of the country, out of a then-legal limit of 70%. He took control of channel 31 one year to the day of Dow Jones/ITT taking over from the City; the latter estimated that the purchase price had essentially equalled the total of the original acquisition price and the costs of planning and executing S+ and left them not making any money on the deal.
WBIS' final sign-off (June 30, 1997), from TVSignOffs.com.
Paxson changed channel 31's call letters to WPXN-TV and continued the agreement with Fox Sports for 21 weekly hours of programming in prime-time, replacing the Dow Jones programming with a 12-hour weekday block from Bloomberg Television. Other cable networks, syndicators and program suppliers looking for exposure in the New York City market quickly approached Paxson to lease airtime, and he filled the remaining unsold time with his "InfoMall" all-infomercial network, launched in 1995, which was running on the rest of his stations while he worked out the details of his new entertainment network.
Our story ends there, because Bud Paxson brought the stability to the channel 31 operation that it had not been able to achieve during the City of New York's constant budget battles, nor as a financial news/sports operation. As we said at the outset, the station essentially "failed" twice before Paxson's ownership, even though it has managed to remain in continuous operation (currently as the flagship station of the Ion Television network ... see postscript below) since that first afternoon in October 1961.
---
POSTSCRIPTS:

Although WNYC now operates on 820kHz, at the time of the city's television application it was operating on 830, thanks to a "temporary" World War II wartime authorization. WNYC, which was supposed to be a low power daytime only station -- so that they wouldn't interfere with clear channel WCCO in Milwaukee (also on 830) -- didn't move to 820 until 1990. WNYC began its history in 1924, operating on 570kHz, then was forced into a time-share on that frequency four years later with WMCA before being moved in 1931 to 810 (where it had to protect WCCO by signing off at sunset). Both stations were moved to 830 as part of the North American Regional Broadcasting Agreement in 1941, and WNYC was authorized to stay on the air until 10pm in December 1942; that was only rescinded after a 1985 court ruling in WCCO's favor.

The WUHF calls moved to WXIX/18 Milwaukee on January 1, 1963. After that station changed calls to WVIV, WUHF was subsequently assigned in 1966 to channel 61 in Hartford, then in 1969 to channel 54 in Baltimore (neither of which ever got on the air) and in 1980 to channel 31 in Rochester, where the call letters still reside.

Robert F. Wagner, Jr. retired as Mayor of New York at the end of his third term, on December 31, 1965. He went on to become the U.S. Ambassador to Spain for nine months in 1968-69, resigning to run for a fourth mayoral term but beaten in the primary election (he tried again in 1973 but withdrew before the primary). President Jimmy Carter appointed him in 1978 to be his representative to the Vatican, shortly after the election of Pope John Paul II. Wagner died February 12, 1991 of heart failure at age 80.

Seymour Siegel died July 15, 1978 at the Columbia Presbyterian Neurological Institute in Manhattan just shy of his 70th birthday. He had resigned from WNYC seven years earlier in a protest over drastic cutbacks to the Municipal Broadcasting System budget.

The original competitors for channel 31 are still broadcasting on the AM band:

WOV changed call letters to WADO in 1959 and gradually became a full-time Spanish language station. It is now affiliated with the Univision Deportes sports network.
WHOM also remained Spanish-language, changing calls to WJIT in 1960 and then to WZRC in 1990 as a result of affiliating with the satellite-delivered heavy metal "Z-Rock" format. It kept the call letters as it switched to brokered Korean-language programming in 1993 and has broadcast in Cantonese since 2002.
WNEW kept those call letters and broadcast various incarnations of "adult" music formats which included (at various times) soft contemporary, big-bands, jazz and standards until the end of 1992, when it was sold to Bloomberg, which changed the call letters to WBBR and installed a financial news format which has continued to the present day.

Bud Paxson launched Pax TV on August 31, 1998 with a 90-station affiliate list (more than half of which were low-power stations, still "under construction" and/or in the process of being acquired). It was, nevertheless, America's seventh English-language broadcast network, following the "big three" (ABC, CBS, NBC) and relative newcomers Fox (1986), UPN (1993) and The WB (also 1993). It was rebranded "i: Independent Television" in 2005 just before Paxson stepped down as chairman, and then again in 2007 to "Ion Television" as the parent company became the Ion Media Group. The entire network of stations, including WPXN-TV, was purchased in January 2021 by the E.W. Scripps Co. for $2.65 billion and channel 31 is now used to carry their digital networks Bounce, CourtTV Mystery, Defy, True Real and Laff on its subchannels.

EXTERNAL LINKS: