WRTV/58, Asbury Park NJ
by K.M. Richards
This is the story of a man, loved and respected in his community as a theatre owner, who tried to duplicate that success in the new medium of television. And had he not been saddled with a high UHF channel that was in the shadow of the seven VHF stations in the market where television had originally been born, he might well have succeeded ... but it was not meant to be.
Walter Reade, Jr.
Walter Reade, Jr. filed for channel 58 in August 1952, in Asbury Park NJ, the city where he maintained the executive offices of the Walter Reade Organization, which he had only that year inherited upon his father's death. In his application he said that he expected to spend $367,750 on construction and to break even the first year, with revenue and expenses both $250,000. Reade was well-known before his inheritance, serving as a company executive for many years before assuming control; the chain of theatres totalled 40 (including drive-ins) in New Jersey, New York and neighboring states. In filing, Reade joined many other motion picture executives who were taking interest in new medium, including Sherrill C. Corwin, who owned not one, but two theatre chains in California -- he was already an active radio station owner, and held minority interests in several applications for VHF stations in the 1950s (later owning outright the permits for KMYR/34 in Los Angeles, KBAY-TV/20 San Francisco, and KFMX-TV/27 San Diego) -- and Mitchell Wolfson, the president of Wometco Theatres, which already owned WTVJ/6 Miami. In 1951, the Theatre Owners of America had called for "theatre television" as part of their offerings, as well as for "specially made films for TV" (Wolfson was TOA board chairman and head of the association's Committee Planning Television and Theatre Integration.) The industry association also advocated the position that "theatre men" were innately qualified by their experience to be TV broadcasters, and Wolfson held the view that as many of them as possible should apply for stations. It therefore came as no surprise that Reade brought in Edwin Gage, with whom he had some mutual theatre holdings in New York and New Jersey, as a 49.2% owner of channel 58.
The groundbreaking ceremony for WRTV's studio-transmitter site.
Left to right: Mickey Rooney (holding flag upright), Eatontown
mayor F. Bliss Paige (with shovel), Hildegarde, Walter Reade
and Edwin Gage (holding sign).
The FCC issued the construction permit on October 1, 1952 (the 55th UHF CP) and assigned the calls WCEE before Reade convinced the educational permittee on channel 17 in Schenectady NY to relinquish WRTV (for Walter Reade TeleVision; the switch on the CPs took place March 1, 1953), deciding to locate the WRTV studios in a new building behind the Eatontown Drive-In. Groundbreaking took place August 15, 1953 and got press coverage in the Asbury Park Press, in contrast to many UHF start-ups having to beg for any mention. It seems likely that Reade already being a regular advertiser in all of the area newspapers for his theatres made them much less inclined to worry about WRTV competing for advertiser dollars. Or perhaps they were trying to stay on the good side of said regular advertiser.
Reade said he hoped to be on the air by December and said channel 58 would have a "minimum radius of 30 miles" covering three counties. The transmitter arrived in late October from RCA and the high-gain slotted-pylon antenna which would increase the one-kilowatt transmitter output to more than 21 kilowatts radiated power arrived several weeks later. As the target date approached, Reade promoted a "Miss WRTV" contest at his Strand theatre, with the grand prize announced as a 13-week television contract "and many more prizes."
While channel 58 was under construction, Reade set out to educate the public about UHF reception by sponsoring a travelling exhibit of television receivers, antennas, and rotors in cooperation with dealers (who no doubt hoped to make a significant number of sales). The "WRTV Show", as it came to be called, made a circuit of most of the Reade-owned theatres in the area, and featured sets with screen sizes as large as 27 and 30 inches. Reade even gave away a free UHF converter each evening in a drawing of theatre attendees, which he surveyed to find out what kind of programming they wanted when channel 58 went on the air.
At the beginning of December, newspaper ads began appearing heralding "WRTV, The Walter Reade Theatre Of The Air" and promising "programming of interest to everyone" as well as stars "when available" from Broadway and Hollywood. One wonders what local residents made of the hype when WRTV afterwards missed Reade's original projected on-air date (test patterns finally began airing on December 14). However, the Tuesday before Christmas, Jan Leonakis, a 23-year-old Asbury Park school teacher, won the "Miss WRTV" title, which included an expense-paid one week vacation in Bermuda and a "television set equipped to receive WRTV." Miss Leonakis brought her share of talent to the future channel 58, having been trained as a concert violinist under Mischa Mischakoff and had not only given recitals in New York and Detroit but also made "several" appearances as a guest artists on radio and television over the previous few years. The Press said she would have various duties at WRTV, including voicing commercials and acting as moderator on panel shows.
WRTV finally began operation January 22, 1954. The production, engineering, film and sales departments had only moved from Reade's business offices to the new building behind the drive-in three weeks earlier. The inaugural broadcast was billed as a "gala open house" that included state, county and local officials and civic club, social and fraternal leaders. Two days later, the Press congratulated Reade in its Sunday editorial column, calling the new station "evidence of the continued development" of the area, and two weeks after the debut, the FCC approved Walter Reade Theatres, Inc. transferring ownership to a subsidiary company, Atlantic Video Corporation.
For its part, WRTV ran daily newspaper ads saluting its latest advertisers (which had to be reassuring to any lingering worry on the part of the Asbury Park Press that channel 58 would steal advertising dollars from them) and was running a daily schedule starting with a sermonette just before 6:00pm, followed by "Princess Jan" (Leonakis)' children's program, various local programs with local talent and panel discussions, and a full-length feature film from 8:30pm to the 11:00pm sign-off, plus five-minute newscasts every hour. Reade apparently used his connections to procure broadcast rights for recent motion pictures with big name stars; as an example, one evening's movie was the 1940 John Wayne film The Long Voyage Home.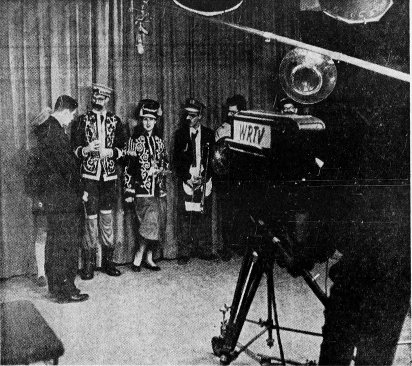 The German Band of Asbury Park High (Ralph Strait, Joan Levy, Bob
Mohn, Ruth Edwards, John Heydt, Allen Gordon and James Bowden)
on WRTV. Behind the camera: Asbury Park student Tom Browning.
On February 12, 1954 an event described by station management as "the first such project ever attempted on television" took place as channel 58 was operated for an entire day by the 1,230 students of Asbury Park High School, in a schedule of programming that included not only an adaption of George Eliot's Silas Marner and performances by the school's German band (shown at right) and all-girl choral group but also a pre-filmed half-hour documentary on daily school activities. The experiment caught the attention of the Associated Press, which sent out a wire story to its affiliated newspapers the day before.
In April, WRTV took out a full-page newspaper ad heralding its newly expanded (by one hour) broadcast day, adding more local programs, including 15 minutes of cartoons hosted by "Corky The Clown" (who posed with Princess Jan for the occasion), a daily Western serial, increased local sports coverage, and promoting upcoming Easter specials. A similar full-page ad appeared one month later as WRTV hyped not only more local specials but promoted a different-themed movie every night from "new films" they had acquired, including 1941's The Corsican Brothers starring Douglas Fairbanks, Jr. At the end of that month, channel 58 telecast nine half-hour educational programs to fifth and sixth grade classrooms as part of a experiment conducted with Montclair State Teachers College, and various local groups such as the Boy Scouts and Junior Service League were making regular weekly 15-minute appearances. Filmed wrestling matches from Hollywood also were added to the schedule.
Filmed commencement exercises for all of the high schools in WRTV's coverage area -- fully sponsored by local merchants! -- dominated the schedule between June 13 and June 23, each 15-minute filmed presentation airing three times during that ten-day period. Those telecasts, along with even more sports programming, were the focus of the by-now expected full-page newspaper ad for that month, along with the announcement of channel 58 listings in a special four-page section of TV Guide.
By October, WRTV was focusing on exclusive "first time on television" motion picture broadcasts (billed as First Run Theatre, while continuing their mix of local sports, including high school football on a one-day filmed delay, additional children's programming, and the occasional syndicated offering such as Colonel March of Scotland Yard with Boris Karloff in the title role. On election day, November 2, 1954, WRTV broadcast election results. And Princess Jan Leonakis was still on the air, long after her 13-week contract

had expired, although earlier in the day than originally. Anyone in the industry looking at channel 58's operation had to conclude that Walter Reade was running the rare UHF success story.
The first sign that all was not going as well as it appeared came on January 13, 1955, when Reade made the surprise announcement that Atlantic Video had applied to move WRTV to VHF channel 8. (The Asbury Park Press apparently ignored its own archives in erroneously noting that the station was "celebrating its one-year anniversary" on the date of Reade's announcement, and in a later article reported it -- again, incorrectly -- as January 12.) He also said that if the FCC did not approve the application he would explore other means "to make reception easier for Shore residents."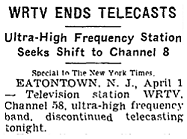 Apparently he was not in a position to wait very long for the Commission to act; he requested FCC authority on March 24 to go dark and did so one week later, at 9:05pm on April 1, after airing the DuMont network's Captain Video and Morgan Beatty With The News, some local news and sports programs, the syndicated Cold War spy drama Secret File USA ... and Princess Jan, who thus managed to parlay her "Miss WRTV" title into consistent employment for the station's entire broadcast period. (She continued working as an elementary school teacher and then was a regular on WNBC-TV/4's Birthday House in New York City from 1963 to 1967 under her married name of Jan Lara.) The last programming disseminated by the channel 58 transmitter behind the drive-in was a transcribed sermonette. Ironically, given Reade's focus on movies, WRTV didn't schedule one that final night, making the previous evening's airing of the 1936 movie Love In Exile with Clive Brook the last in the station's history. (The WRTV building was eventually occupied in the fall of 1956 by local two-way radio dealer Skyway Communications.)
Walter Reade kept the channel 58 construction permit even after the FCC rejected his proposal to move to channel 8 with low power (so as not to interfere with co-channel stations elsewhere in the region, notably WNHC-TV in New Haven CT and WGAL-TV in Lancaster PA, both of whom had filed objections by the time WRTV went dark). He got involved in the syndication business in the interim, forming television film distribution company Intercontinental Television in 1961 with a 13-episode series of 90-minute dramas produced in the U.K., a library of post-1948 feature movies and a package of 39 animated adaptions of children's Golden Books. Reade also fought off attempts by the FCC to cancel the WRTV CP in 1957, 1963 and 1965 before losing the battle on July 23, 1969 when reconsideration of the January 21 dismissal of his final CP extension application (which also cancelled the permit and deleted the WRTV calls) was denied.
However, in the meantime Reade had applied on May 20, 1966 to move WRTV to channel 68 in Newark, with the transmitter atop the Empire State Building, but that drew a competing application in December and it wasn't until after comparative hearings that Reade was granted a new CP on March 20, 1970, but located at the West Orange transmitter site that WATV/13 had signed on from in 1948 (the ESB was only 40 miles from channel 67 in Patchogue NY, 15 miles shy of the minimum separation for adjacent channel stations). He filed for a waiver of the minimum separation rules, in a final attempt to operate from the ESB, and then a petition for reconsideration when that was rejected in October.
Less than one week after the new CP was issued, Reade's administrative assistant, Albert Florscheimer Jr., told the Asbury Park Press that the new WRTV intended to operate 16 hours per day with a "public service oriented" schedule consisting of news, films, and panel discussion programming. Florscheimer said they would "do a lot of local news coverage" focused on northern New Jersey. About a week later, Reade himself told the New Jersey Record the schedule would be "women's programs during the day, children's films late afternoon, and movies at night." Aside from the announcement on the hiring of former WOR-TV/9 general manager Edward A. Warren in May, no further news came from the Walter Reade Organization about the new station; Reade even lost his prized WRTV call letters after the hold on them was released when he lost his court appeal of the original channel 58 deletion, and he had to settle for WWRO (for "Walter Reade Organization") instead. By then the press had apparently lost interest and the call letter change went unreported other than in Broadcasting's weekly report of FCC actions.
As 1971 drew to a close, the FCC denied Reade's petition for reconsideration of his transmitter site move from West Orange. That was apparently enough to make him decide to finally get out of the television business, and in July 1972 he sold the WWRO permit to Blonder-Tongue for $252,099 with the FCC adding a condition that 3½ weekly hours of programming had to be live and local, in prime-time. Reade lost money on the deal; Broadcasting reported that he had spent $375,000 since the demise of WRTV in fighting the legal battles over the CP. Blonder-Tongue changed the call letters to WBTB-TV by year's end and Walter Reade died in a skiing accident near St. Moritz less than one year after the sale.
When WBTB-TV went on the air September 29, 1974, the schedule was typical for a low-budget UHF of the day: Dobie Gillis, The Bob Cummings Show, Voyage To The Bottom Of The Sea, travelogues such as Adventures In Paradise and country music shows from the likes of Porter Wagoner, old movies (one night's prime-time offering was the chestnut Ma and Pa Kettle Go to Town from 1950), and New Jersey-centric news programming. Blonder-Tongue intended to trade on its "BTVision" technology to go into the subscription pay-TV business -- and had authorization to do so -- but channel 68 instead went dark on December 27 after only 90 days on the air.
WBTB resumed operation September 28, 1975 -- the day before what would have been their one-year anniversary if they hadn't gone dark -- with a format of business news, ethnic programming, paid religious broadcasts, and The Uncle Floyd Show.
"Uncle Floyd" Vivino in 1980.
Although this is about as far from the original topic as any article on this site gets, we feel the need to interrupt the timeline to include a few words about "Uncle Floyd" Vivino, well-remembered not by kids but by those who were of college-age back then (and even some who were in their 20s and 30s) and lived within reception range of channel 68's signal. Vivino, a former carnival sideshow barker who described himself in a 1980 interview by the New Jersey Daily Record as "always [having] had a fantasy about being on television" presided over a hour-long program every weekday -- taped live in the living room of the West Orange house which had been converted to serve as the WBTB studios -- clad in a loud plaid jacket, Aztec-patterned pork-pie hat, and polka-dot bowtie. Considering it was ostensibly a kiddie show -- or perhaps a parody of one? -- The Uncle Floyd Show remarkably showed no cartoons (in fact, channel 68 management had dropped the animated Bozo The Clown program just before Vivino approached them with the show, which had been airing on cable for several months). Instead, the show relied on vaudeville-style gags and songs, wisecracking puppets, punk rock bands, and five supporting cast members who "bungled lines and laughed uncontrollably during skits" ... a format which he described as "not a comedy show, not a variety show, not educational ... not like anything else on TV" in the newspaper interview. Airing opposite the 6:00pm news on the New York stations, it was a diversion ... "escapist entertainment" according to executive producer Ed Kaufman. Vivino's personal appearances at shopping malls, record stores, and area schools drew hundreds of fans, and his later nightclub act sold out 14 shows in a row at the Big Apple's famed Bottom Line comedy club, breaking a 12-month long attendance record. The program went into syndication in 1982, then ran on the New Jersey
state PBS network for three years before moving to the statewide cable network CTN ("The Cable Television Network Of New Jersey") with first-run episodes continuing to be produced through 1992 and reruns airing afterwards until CTN's demise in 1999.
On March 1, 1977, channel 68 finally began scrambled pay-TV operation from 8:00pm to 2:00am in a partnership with Wometco Enterprises (yes, the same company whose president, Mitchell Wolfson, had inspired Walter Reade to get into television some 25 years before). Channel 68 changed call letters to WTVG that September and then, after the pay service was rebranded Wometco Home Theatre, to WWHT in August 1979. It later carried DirecTV for about a year beginning in 1984, followed by a brief period as a music video programming outlet as "U-68" (and, finally, a move of the transmitter to the Empire State Building) before being sold to Home Shopping Network in 1986. The HSN-owned stations were sold as a group to Univision in 2002, and channel 68 became one of the original Telefutura network (now UniMás) affiliates as WFUT.
---
POSTSCRIPT: In an ironic twist, in June 1970 -- one year after Reade lost his battle over the channel 58 CP -- the allocation was moved to New Brunswick NJ as non-commercial educational (replacing channel 19, which was reassigned to land mobile use). That station signed on June 5, 1973 as WNJB, part of the New Jersey Network (now NJTV). With the digital transition, WNJB now transmits on RF channel 8 ... the channel Reade had proposed to move WRTV to in 1955. (Clarke Ingram)
EXTERNAL LINKS