WSUN-TV/38, St. Petersburg FL
by K.M. Richards
with contributions from Brock Peters
This is the story of a UHF which was among the first few dozen to go on the air, operating without any dark periods for nearly 17 years, yet was unable to survive against VHF competition, and was ultimately done in by a newer, well-heeled UHF.
UHF wasn't even contemplated for the Tampa-St. Petersburg market in the last proposed "all-channel" allocation table in March 1951; only in the official post-thaw table, released the following April, was channel 38 allocated ... primarily because the Commission was having trouble allocating enough VHF channels to both that market and Miami-Fort Lauderdale without running afoul of its own mileage separation requirements between both co-channel and adjacent channel scenarios throughout Florida. While that engineering problem was being debated at FCC headquarters, in October 1950 the City of St. Petersburg, which already operated WSUN/620, decided to get into television, returning a 1948 CP for an FM at 97.9 and filing for channel 7, one of the six allocations in the proposed 1949 table (reduced to four in 1951 and then three VHFs plus channel 38 in the final table ... Miami saw a similar gradual reduction and replacement as the tables were refined). By 1952, channel 7 was no longer available in St. Petersburg and during the post-thaw requirements for amendments to pending television applications in order to conform to the final table, the City chose the UHF allocation; the reason for that decision is lost to history, although it may have been due to there being three applicants each for the two commercial VHF slots on channels 8 and 13. Empire Coil Company (the same company that ultimately put the first UHF, KPTV/27 Portland OR, on the air and later sold its failing UHF in Kansas City, KCTY/25 to DuMont) also filed for channel 38 in June.
Coverage map for WSUN-TV included in the special
St. Petersburg Times section prior to channel 38's
launch. The original caption identified the innermost
circle as being "Class A" reception, with the second
identified as "Class B" but to become Class A when a
planned increase in power took place, and the third
circle the post-increase Class B reception area.
The only unforeseen error was that it took the City
a year longer to implement the higher ERP.
The following month, the FCC ordered a comparative hearing for all eight applications in the market. While the would-be VHF grantees held on, Empire Coil dropped out of the race in September when it received the Portland grant and the City was granted the channel 38 permit within a few weeks of that decision. WSUN general manager Major George Digby Robinson set the start date as May 1, 1953 and the St. Petersburg Times published a special 32-page section in their April 19 edition, filling it with generic information on the big network shows of the day and television in general, including a "special" report from The Oregonian on the aforementioned KPTV. Information about WSUN-TV itself was confined to three articles (although one was a fairly comprehensive, albeit condensed, timeline of how the City was getting into television with channel 38) and a coverage map of the future signal, plus a mention of efforts to start an educational station on channel 3. For the most part the special section appeared to be an excuse to sell advertising for television sets (all of the major set manufacturers of the day -- RCA Victor, Crosley, Emerson, Sylvania, Philco, Westinghouse and General Electric -- took out large ads, most including local dealer names at the bottom. Also included were ads for antenna towers, television repair services (more than a half-dozen companies offering same without mentioning set sales at all), smaller ads by lesser manufacturers but still listing multiple dealers at the bottom, and no fewer than 30 local dealers, most of whom ran co-op ads for whichever manufacturer they carried sets from (inexplicably including a hardware store, two music stores and a jeweler). Local appliance dealer Tyree's Incorporated apparently sensed an opportunity and ran not only a half-page ad hawking "60 models" of TV sets available at its stores but an additional ten eighth-page ads reinforcing the message of the larger one. Raytheon ran a full-page FAQ on television, confining its dealer list to a smaller ad on the adjacent page with arrows pointing across to the main one, and both Union Trust Company and Florida National Bank ran ads for financing set purchases.
WSUN was the 33rd UHF to go on the air, and the first station in their market since the hearing for the two VHF channels' applications was continuing. Their studios were located on the City-owned Municipal Pier, with the transmitter at the existing AM 620 building (and the antenna on one of its towers) near Gandy Bridge at Old Tampa Bay on state land that had a dollar-per-year state-to-city lease.
Above: Municipal Pier (also called "Million Dollar Pier" by local residents, a
reference to the amount of bonds the City issued to pay for its construction
originally), which housed the studios for both WSUN radio and WSUN-TV.
Below: The transmitter building near Gandy Bridge, expanded in 1967 to
house the studios when the Municipal Pier had to be demolished.

Channel 38 missed its announced sign-on date as well as a second announced May 24 start, but began operation at 4:15pm one week later with a dedicating ceremony featuring the mayors of all three cities in WSUN-TV's coverage area -- St. Petersburg, Clearwater, and Pass-a-Grille (then an independent town) -- followed by a 15-minute NBC newsreel and a full evening's programming including Hopalong Cassidy, Terry and the Pirates, Jackson and Jill, Liberace, a kinescope of the May 17 season finale of The Jack Benny Program with guest Gisele MacKenzie, and two old movies from Monogram Pictures edited to fill one-hour time slots (Mr. Muggs Rides Again from 1945 and Trade Winds from 1938). Although affiliated with ABC (not surprising as the radio station was also affiliated with that network), the opening day's schedule was dominated by syndicated programs due to the network connection facilities still being installed; other networks' programs were carried on film, such as the CBS kinescope of Jack Benny ... which, as it turned out, was the famed comedian's only appearance on channel 38.
The initial limited daily 5:00 to 11:00pm schedule, filled with whatever could be aired on film until the network feed became available -- such as Dangerous Adventure, Hollywood Half-Hour, The Cisco Kid and the Army's ubiquitous The Big Picture -- actually worked out well for WSUN-TV as it allowed for the test pattern to air continuously from 10:00am as a convenience for television set installers; in the first several weeks, the syndicated series and movies moved to less prominent timeslots as the number of network shows made available by kinescope increased, until by early August channel 38 was carrying 25 weekly hours of kinnie'd programming.
Early viewers would have been unable to tell WSUN-TV was a "primary affiliate" of ABC at that point, as the schedule was almost entirely programs from CBS -- Masquerade Party, Burns & Allen, I Love Lucy, Mr. & Mrs. North, Ed Sullivan's Toast Of The Town, The Web, Strike It Rich, Arthur Godfrey, I've Got A Secret, Danger and Gene Autry -- and from NBC -- I Married Joan, Life Of Riley, The RCA Victor Show with Dennis Day, On The Line With Considine, Dragnet, Ted Mack's Original Amateur Hour, Robert Montgomery Presents, You Bet Your Life, Two For The Money, The Big Payoff, Private Secretary and the weekly newsreel -- plus a single DuMont show, Front Page Detective.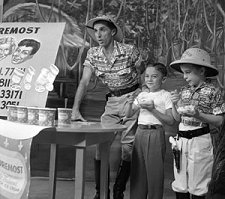 Captain Mac and two guests (one emulating the
host almost perfectly) eating ice cream provided
by sponsor Foremost Milk.
Like most television stations of the era, WSUN-TV had its requisite "kiddie show" in Adventure Trail, which aired weekday evenings at 6:15pm. Host "Captain Mac" was in real life Burl McCarty, who once claimed to have created the character's look "out of spare parts" ... a pith helmet left over from the Soap Box Derby, a Seminole-print shirt, motorcycle riding breaches, and a .38 special revolver that had belonged to his father, a retired Hialeah police officer. The format was typical of its genre, with a small studio audience of kids playing simple games such as trying to drop a penny into a fishbowl in such a manner that it would land in a small cup at the bowl's bottom, birthday announcements, pets, the requisite cartoons, and snacks (provided by program sponsors Foremost Milk, Tarnow Hot Dogs, and 7-Up). McCarty, who was also a staff announcer and DJ at the radio station, took his responsibilities as a role model to Tampa Bay area youth by reminding them to "attend Sunday School, wash your hands, and always put your bicycle away at night." The show was so popular that with channel 38's small studio unable to handle a live audience of only 10 kids a day there was a six-month waiting list for tickets.
Full affiliation with NBC came in July but their clearances on channel 38 were still on a per-program basis, as with CBS and DuMont, and there was still nothing from their "primary network" on the schedule. (Perhaps at that point in time ABC was content to wait for the coaxial cable to reach Florida.)
With all the attention given to channel 38's premiere, it came as a surprise when the St. Petersburg City Council adopted a resolution on October 6 to sell both the radio and television stations "either by lease or sale, provided a satisfactory offer is received and the same may be legally consummated." The latter was the problem, with a legal ruling needed on the transfer of the transmitter site and the studios being on a city-owned recreation pier and it wasn't until April 1954 that City Manager Ross Windom was authorized to entertain bids for a minimum 20-year/maximum 43-year lease of facilities. The high bid came from broadcaster-publisher Edward Lamb (he owned three radio stations, WICU/12 Erie PA, the CP for WMAC-TV/23 Massillon OH, and was in the process of purchasing WTVQ/47 Pittsburgh) for $2.265 million; the other bidders were Ted Mack ("Amateur Hour") bidding $1.115 million and Ferris E. Rahall (who held the CP for WQCY/39 Allentown PA and owned four radio stations, including local WTSP/1380) who was disqualified for failure to submit a $50,000 bond before bidding began.
Lamb had legal problems of his own, and they weren't as easily solved as the transmitter site lease: The renewal of WICU's license was slated for a FCC hearing on issues involving charges that he had misrepresented alleged communist associations. Coming to light at the same time as the infamous hearings conducted by United States Senator Joseph McCarthy, it quickly soured the City of Ft. Lauderdale on the idea of moving forward with the sale of WSUN, and the City Council voted on May 11 to refuse his bid, fearing the City might become involved in long-term litigation as a result of Lamb's problem. And so channel 38 (and AM 620) continued operation from the Municipal Pier.
Meanwhile, AT&T finally made the coaxial cable microwave relay operational, and the first program carried from same on WSUN-TV was DuMont's NFL game between the Detroit Lions and the San Francisco 49'ers on October 11. Other than those Sunday afternoon games and the Saturday NCAA football game on NBC, very little network programming from the cable aired in the early weeks. Channel 38 apparently decided that since the "kinnied" network programs aired on a decidedly out-of-pattern schedule replacing those with live clearances would disrupt whatever local viewing patterns had already developed, and only three ABC series -- Kraft Television Theatre, Juke Box Jury and Walter Winchell -- were added to the evening schedule, although NBC's Colgate Comedy Hour, Television Opera Theatre and Your Hit Parade were also now being seen, along with the CBS Saturday afternoon series The Big Top.

Since sign-on had now been moved to the early afternoon on weekends, weekdays got an expanded schedule as well, with a 2:00pm movie (the first one aired was 1938's "Topper Takes A Trip") along with the ABC daily half-hour featuring Hollywood beauty consultant Ern Westmore and the local "kitchen show" (as the St. Petersburg Times called it) Sugar & Spice was added as of October 12. WSUN-TV also took advantage of the live network interconnection to carry both the Sugar Bowl from ABC and the Rose Bowl from NBC on New Year's Day 1954, and weekday sign-on moved up to 11:00am on March 15 as channel 38 added the game show Big Payoff, soap operas Love Of Life and Search For Tomorrow, and Garry Moore's daytime show from CBS.
A new women's program debuted a month later, on April 12: Date With Fran ("Fran" being Fran Ratteree, who was director of women's activities at WSUN, dating back to her Small World radio program, which she started after moving to Tampa from Wilkes-Barre PA) and in the fall gained a mention in Broadcasting for a series of taped interviews and filmed material -- such as interior native settlements and mountain scenery -- gathered by staff personnel who visited Central and South American countries under an



Fran Ratteree and Guatemalan
President Carlos Castillo-Armas.

arrangement with air cargo carrier Aerovias Sud Americana. On the premiere telecast which aired in October 1954, Ms. Ratteree interviewed President Carlos Castillo-Armas of Guatemala. The specials were known to have continued for at least six installments.

Robinson resigned as general manager at the beginning of August 1954, claiming "duplicity" on the part of two station employees, lack of help from City Manager Windom and "outside interference"; his 1980 obituary said he was upset at the lack of discussions with employees about the television station sale. He continued his daily 6:00pm 15-minute newscast, Major Robinson and the News (which had originated on AM 620 and then simulcast on channel 38 when it began operation) for a few days before being replaced as of the August 3 broadcast by a WSUN staff announcer.

On September 27 sign-on was moved back even farther, to 9:00am, in order to carry the television simulcast of ABC radio's Breakfast Club with Don McNeill, which had already been carried for years on AM 620. Given that last fact, it was surprising that WSUN waited so long to add the video version (it had begun back on February 22). A weekday program with Ernie Lee followed McNeill, and another CBS soap opera, Valiant Lady began airing that same date, joining The Seeking Heart, Brighter Day and Secret Storm -- which had joined the original two soaps in June. (The Breakfast Club simulcast did not go over well with the television audience and its last video broadcast was February 25, 1955, at which point WSUN-TV delayed sign-on to 10:00.)

It also funded a ten-fold increase in power to 257kw, which took effect December 8, 1954 (although based on the coverage map in that special newspaper supplement in 1953, it was obvious the City had planned and budgeted for it at the outset); ironically, a special program airing three days before to celebrate the better signal was interrupted when a power failure took them off the air (the special was rescheduled for the next day). The additional expense seemed even more extraordinary after WSUN-TV's compensation with ABC was revealed during House Antitrust Subcommittee inquiry two years later into that network's affiliation contracts; channel 38 was receiving nothing for carrying the first 25 network hours per week, 25% for the next 35, and 30% for anything beyond the 60th hour.
Newspaper ads for the original Captain Mac, the temporary
replacement's later program, and Ernie Lee, who hosted or
co-hosted a variety of programs in WSUN-TV's early days.
The hearings for the VHF applications had concluded in 1954 as well: WFLA-TV/8 signed on February 14, 1955 (taking the NBC affiliation away from WSUN) and WTVT/13 began operation not long afterwards on April 1, 1955 as a full-time CBS affiliate. Channel 38 had already been dropping NBC shows during the latter half of 1954; the last program carried live was Gillette's Cavalcade Of Sports on December 17 and Your Hit Parade continued via kinescopes, with its last broadcast coming on New Year's Day. Similarly, CBS shows had been gradually removed from the schedule, with the last live program being the 15-minute Jo Stafford Show and kinnies of Godfrey And Friends and I've Got A Secret airing as the last shows on March 31. (Since April 1 fell on a Friday that year, the CBS daytime soap operas moved to channel 13 the following Monday.) WSUN-TV filled the vacant timeslots with ABC network shows -- clearing about half of what the network was offering -- some syndication, a couple of movies and Life Is Worth Living with Bishop Fulton J. Sheen from DuMont ... but minus Captain Mac, whose sponsors dragged him to WTVT and its potential higher viewership. That set off a legal battle over what we would today call the "intellectual property" of the character; it was settled out of court, with McCarty permitted use of the Captain Mac name and the characterization but not the adventurer's uniform or the show's format, and WSUN confusingly also allowed use of the name, plus the uniform and format. McCarty now wore an Australian hat as channel 13's Captain Mac, while the pith helmet was worn on channel 38 by staff announcer Fred Davy, who had also been hosting a morning kid's show. Tampa now had two versions of the same character, both airing at 5:00pm! (It had been in that time slot on WSUN-TV since the beginning of the year.) The parallel Mac's lasted all of five months: McCarty returned in October to channel 38 and Davy moved to hosting a two-hour Saturday cartoon program as "Skipper Fred and the Holiday Jet" until May 1957. (Captain Mac continued for another four years until December 1959, when McCarty became public relations director for the City.)
When 1957 rolled around, WSUN-TV decided to try for a VHF channel. They first proposed to West Coast of Florida Educational TV Inc., which held a grant for the channel 3 educational allocation, to swap same for channel 38, including immediate use of one daily hour on the WSUN-TV facilities pending changeover then turning over existing facilities after the swap was approved by FCC. General manager Fred P. Shawn said the city had a capital investment of $500,000 to date and was "just now breaking even." The City took it gracefully when the permittee rebuffed them, giving the educators three late morning hours of channel 38's weekday airtime -- including use of their studio facilities and personnel -- until WEDU could begin operation. WSUN-TV also filed that year to move to a channel 10 "drop-in" allocation, overriding three competing applications; that was quickly denied in May and a petition for reconsideration similarly rejected in October, with the FCC deciding channel 38 had not "demonstrated that public interest would be served by its operation on channel 10."
That summer, WSUN-TV again flexed its creative muscles by launching a three-hour Saturday afternoon series, Americana, covering "a variety of topics in six divisions ... men, the arts, women, travel and potpourri" with both live and filmed content; that fall channel 38 began a daily 15-minute series of public service broadcasts featuring the county medical society, Social Security, local attorneys, the fire and police departments, and other community agencies (including multiple highly-promoted programs on Civil Defense preparedness).
At the end of May 1958, the FCC set a consolidated hearing for channel 10, including WSUN-TV's application, the original three, and those from two new competitors who filed after channel 38's petition was denied the previous year. All but one of the applicants subsequently requested a waiver of the minimum co-channel spacing requirements in order to co-locate their transmitters with those of WFLA-TV and WTVT; the requested short-spacing -- 185 miles instead of 220 from WPST-TV Miami -- was the highest mileage waiver requested to date. It was opposed by the sixth applicant, the Association of Maximum Service Telecasters ... and the FCC's Broadcast Bureau, which ultimately denied it, at which point all six applicants changed the city of license on their applications to Largo FL in order to comply with the city-grade signal minimums. The hearings took close to three years and at the beginning of February 1961 the hearing examiner recommended that channel 10 be granted to a company primarily owned by Ferris Rahall -- yes, the same Ferris Rahall who apparently couldn't afford to post a bond to bid on WSUN seven years previous -- and his two brothers. Numerous challenges resulted in the full Commission taking additional testimony at its July 13 meeting (at which WSUN-TV said its long history of community service outweighed all of the other applicants' qualifications) and subsequently voting in September 27 to award the grant to the Rahalls, which was made final January 17, 1962.
Or was it? Almost immediately, questions arose about the Rahalls' qualifications as a broadcast licensee. The most serious allegation was that they had "beefed up" the public affairs programming at WLCY (the former WTSP) when they applied for channel 10, proposed to air television versions of same, then dropped the programs when the hearing records were closed in 1960. The grant was stayed in June and new hearings ordered; the Rahalls claimed a nightly telephone-interview-discussion program served as an "adequate substitute" for the cancelled programs. Although the Broadcast Bureau agreed and recommended the Rahalls be disqualified, the full Commission reaffirmed the original grant in November, and a petition for review by two of the losing applicants took until the end of 1964 to be considered and denied.
While all that was going on, City Councilman Jack Burklew was arrested at the end of 1962 on a charge of bribery; in his defense, he claimed he was approached by an unnamed local attorney, representing an out-of-town client, asking that he propose the sale of WSUN to the Council through his real estate brokerage office and was offered $17,500 to do so, and he was acquitted in March 1963. But whether it was Burklew's legal difficulty, the channel 10 battle, or simply the ongoing expense of running the stations for nearly a decade after the City had originally intended to divest them, the end was drawing near for broadcast operations at the Municipal Pier.
The City Council voted on December 1, 1964 to authorize the sale of WSUN after City Manager Lynn Andrews previously warned that a capital expenditure of over $1 million would be necessary to move the station from the city's waterfront, also pointing out that losing the channel 10 bid would likely mean losing the ABC affiliation once that station began operation. None of the alternatives the Council asked him to prepare -- increasing power in an effort to keep its network affiliation at a cost of as much as $300,000, continue as is and hope either to duplicate ABC programs or operate a minimum schedule as an independent with the hope that UHF would "take hold" and result in a future network affiliation, or operate with a schedule of local live public service, news, sports, films and specialized services such as stock market quotations, film documentaries, and cultural programs -- were considered viable by the Council and Andrews then recommended the sale, expressing his belief that the city had no business operating commercial broadcast stations. The final specifications for the bid (both the radio and TV stations were to be sold together, $100,000 deposit was required, and the transfer had to receive FCC approval and be transferred to the winner no later than May 17, 1966) were released on June 3, 1965 with a bidding deadline of September 8.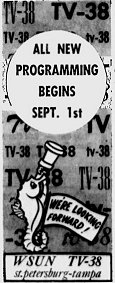 During the bidding period, channel 10 began operation as WLCY-TV on July 18 and as expected took the ABC affiliation, literally effective September 1 (a Wednesday!). WSUN-TV tried in vain to block the affiliation switch in court, then engaged in a spending spree of syndicated programming in order to soldier on as an independent, with different shows in prime-time every evening, including M Squad, The Detectives, Hennessey, Thriller, Ensign O'Toole and The Phil Silvers Show (Sgt. Bilko), plus such improbable specials as the New Hope Auto Show and the National Parachuting Championships. (Practically everything from the famous syndication company Ziv, already played to death in the 1950s, eventually appeared on the channel 38 schedule.) The winning bid for WSUN, accepted by the City Council in October was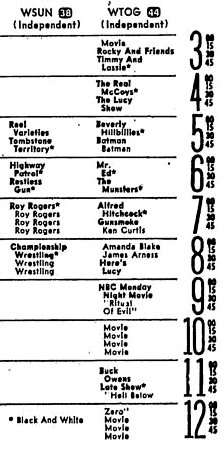 WSUN-TV's anemic schedule for its last day on
the air. Having a stronger signal, competitor
WTOG-TV was the preferred station for carriage
of network shows the VHF stations passed on
(usually to run a locally-sponsored movie).

$1.13 million (similar to the bid Ted Mack had made in 1954 but now worth 15% less adjusted for inflation), from H.Y. Levinson, owner of WCAR/1130 Detroit, accepted by City Council October 7. The application for transferring the licenses was filed December 22 and the FCC approved it less than two months later. Moving the studios from the rapidly deteriorating Municipal Pier to the Gandy Bridge building took nearly two years, barely taking place before the Pier was demolished in 1967.

WLCY-TV tried to get a waiver in 1968 to move their transmitter closer to Tampa-St. Petersburg, and was opposed by WSUN-TV, co-channel WLBW-TV in Miami (the successor to WPST-TV ... see the article on WGBS-TV/23 for details on that debacle), the permittee for channel 44 in St. Petersburg and the Association of Maximum Service Telecasters. WLCY claimed there would be only 200 square miles of "uninhabited and uninhabitable swampland" as the interference area, while Levinson declared channel 38 to be a "financially unstable operation" which would be forced off the air if the channel 10 move was approved. A FCC review board denied the waiver in February 1969, citing the original 1958 hearings on the subject of short-spacing as the basis and suggesting that the laws of physics had not changed in the interim. A request for review was denied September 23, 1970 and a petition for reconsideration was similarly denied March 29, 1971.

Things had already gone considerably south for WSUN-TV by then: When it lost the ABC affiliation the City filled the daytime hours with a continuous time-and-weather service called FYI, airing from 9:00am to 4:30pm until the plug was pulled on it a little over two months later. Under Levinson's ownership, in June 1966 the schedule became anchored by three movies -- one at 5:00pm and a double feature at 7:30 -- and regular newscasts were ended three months later. On February 19, 1968 channel 38 cut back to a daily 3:00pm to 9:00pm schedule, trying to stay afloat ... but was quickly overtaken that November when the well-funded and operated independent WTOG-TV/44 began operation. Owned by Hubbard Broadcasting, which also owned the pioneering and successful KSTP-TV/5 in St. Paul-Minneapolis, it came on the air with better programming and a stronger signal. WSUN-TV, which had managed to extend its broadcast day to 10:00pm by then (but dropped to a four-hour broadcast day six months after WTOG signed on), limped along for close to another 16 months before going dark February 23, 1970. (The final movie, Republic Pictures' 1948 "Wake of the Red Witch" starring John Wayne, had aired three days earlier.) Channel 38 had operated for a grand total of 16 years, 8 months and 24 days before giving up, but believe it or not, that only takes second place in the rankings of the length of time a UHF took to fail; that ignominious distinction belongs to WKBS/48 Philadelphia, which operated for exactly 18 years (September 1, 1965 to August 31, 1983).
---
POSTSCRIPTS:

The FCC hearings on Edward Lamb's fitness as a licensee began in September 1954 and dragged on through most of 1955 before Hearing Examiner Herbert Sharfman concluded that the Broadcast Bureau had failed to prove its charge. It still took until June 1957 for the WICU license renewal to be approved, but the sale of WTVQ to Lamb became a casualty of the delay and its permit was surrendered the following year. Lamb held on to the WMAC-TV permit for a while longer; it was deleted in the 1960 purge.)

WEDU/3 signed on October 27, 1958 from a transmitting site adjacent to the existing commercial VHFs. According to the station website, in 2001 it was the third most-watched PBS member station in the country.

The fight for channel 10 apparently prevented the Rahalls from prosecuting the permit for WQCY Allentown and it had been deleted by the time they received the Florida grant (in the 1960 purge).

In 1972, WXLT-TV/40 Sarasota claimed WLCY-TV had used its economic power to deny it access to syndicated programming, resulting in a new hearing on the Rahalls' qualifications to remain a licensee; by the time that was resolved, channel 10 had been sold and changed call letters to WTSP-TV. It wasn't until 2011 -- after the transition to digital broadcasting -- that the change of transmitter site was finally allowed.

Levinson apparently hoped to return channel 38 to the air, as he did not surrender the license until he sold AM 620 to Plough Broadcasting in 1974. The radio station has changed owners and call letters several times since; the transmitter is still near Gandy Bridge.

After his retirement, Major George Digby Robinson wrote several ornithological books, presided over the city's chapter of the Florida Anthropological Society and organized the local Archaeological Society. He also continued his public speaking, and was said to have spoken at every civic club in the city by the time of his death. He died, apparently of natural causes, at his son Jim's home in St. Petersburg on September 3, 1980. His son told the Tampa Bay Times "he was 84 ... he just wore out."

Neither of the men who played "Captain Mac" are still alive: Burl McCarty died at age 74 on July 23, 1984 after being involved in a boating accident. Fred Davy passed away February 17, 2008 at age 86 following complications from a fall.

Channel 38 was reactivated June 21, 1991 as independent WTTA, after a four-way battle between applicants that began in 1979 and ended in 1985. It was later an affiliate of The WB and has been the MyNetworkTV affiliate in the Tampa-St. Petersburg market since its launch in 2006.