WTAO-TV/56, Cambridge MA
by Joseph Gallant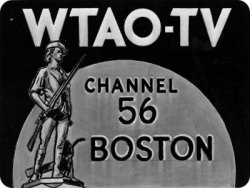 They enjoyed success with a line of low budget receivers, transceivers and transmitters for amateur and commercial use in the 1940s. But their venture into television the following decade was much less so.

WTAO-TV was owned and operated by Harvey Radio Labs through a 100%-owned subsidiary, Middlesex Broadcasting Company, which also owned WTAO/740 and WXHR/96.9. The studios and transmitter were at the FM transmitter site in nearby Woburn. WTAO-TV was scheduled to begin regular programming on September 28, 1953, but went on the air a day early in order to carry an ABC network presentation of football. During the 1953 season, ABC would send mobile units to Notre Dame football games (home and road), make kinescope recordings, and edit them down to 75 minutes (including commercials) for Sunday-night showing. The commentator was Harry Wismer, who did play-by-play as a voiceover while watching the kinescope recording on a TV monitor on Sunday as the film of the game was being broadcast. ABC couldn't carry Notre Dame football live in 1953 because the NCAA had a contract with NBC giving that network exclusive rights to live broadcasts of college football games.

Channel 56 had DuMont and ABC affiliations, but didn't take very many programs from either network. It instead broadcast such fare as old movies (during the fall of 1953, WTAO-TV had movies from 6:15 to 7:30 and 9:00 to 10:30 most weeknights), some syndicated fare, and cheap travelogue films. During 1953-54, they did carry Captain Video, one of TV's pioneering science-fiction shows (live except for some pre-filmed special effects and done on an awfully small budget) from DuMont and a couple of ABC shows.

WTAO-TV did have local news in the fall of 1953 at 6:00 and 10:30pm, both 15 minutes in length. They had no newsfilm -- just a man reading news into a camera (Bob Merhmann, later at the old WJIB-FM, and host of WUMB-FM's Commonwealth Journal until throat cancer forced his retirement, was the "anchor"). An ad in a Boston newspaper in September 1953 referred to the newscast as "'United Press News'--First With the News", so United Press News was probably just 15 minutes of reading wire copy from the old United Press (the same wire service Walter Cronkite and David Brinkley began their journalistic careers with; it later merged with the International News Service [INS] to form United Press International).

During the fall of 1954, WTAO-TV carried DuMont's Monday-night boxing show from St. Nicholas Arena in New York; DuMont's Sunday-afternoon NFL games (also in the fall of 1955); and from ABC, Kukla, Fran and Ollie (which moved to ABC from NBC in the summer of that year) and John Charles Daly (yes, the same man who also hosted What's My Line?) anchoring the ABC network news.

Except for sports events, DuMont's programming ended during the spring of 1955 (Captain Video and the dramatic anthology Studio 57, sponsored by Heinz, both moved into first-run syndication for a short time thereafter), and with the success of Walt Disney's prime-time show (which in Boston ran on WNAC-TV/7, not on 56) and the Mickey Mouse Club (also on channel 7 instead of 56), much of ABC's programming began to run on WBZ-TV/4 or WNAC-TV. As a result, WTAO-TV was practically an independent in the fall of 1955. It no longer ran the DuMont boxing, but continued the NFL games (also airing on WMUR-TV/9 in Manchester NH and WPRO-TV/12 in Providence RI) on Sundays. Television Digest reported that the station's "base rate" (the charge for one hour of airtime) had dropped from $375 to $250 sometime around the beginning of the year; by comparison, WBZ-TV was then charging $2000 for their base rate hour.

Local news was long gone on WTAO-TV by then, although they did run a weekly show titled We Women which was a production of the Massachusetts Department of Commerce spotlighting "a charming woman industrial editor" from the Bay State "for her outstanding work in the field" (as the Concord Enterprise described it). For a time in 1955, they had a show called Winna (listed in TV Guide as "Prizes") which I think may have been local. But nearly the rest of WTAO-TV schedule was movies. Film buffs who could get channel 56 and didn't mind seeing pre-1948 films were able to watch movies weekdays at 4:30, 5:45, 7:30, 8:45, and 10:00pm; broadcasting hours in October 1955 were 4:00-11:30pm Monday-Saturdays and 2:00-11:00pm Sundays. (At least by then the Globe was running listings in their "TV Dial", having added channel 56 in July after nearly two years of all but ignoring them.)

Apparently, the end was near as 1955 ended. By early 1956, WTAO-TV's schedule was cut back to 6:00-10:00pm, with the schedule nearly all old movies. The week after Frank Lyman testified at a FCC hearing on UHF (alongside such industry notables as George B. Storer, Norwood J. Patterson, and Ben Adler), Broadcasting reported channel 56 was "suspending temporarily" pending outcome of the allocations problem. It was reported in Television Digest as being the 58th UHF station to go dark.
The final night of WTAO-TV's operation -- March 30, 1956 -- featured a special program marking its demise. Called "a grim novelty" by Television Digest, it focused public attention on "recent trends in the actions of the FCC which have plowed under hometown community TV, opportunities for the small businessman to use this mighty medium and have fostered a dangerously significant growth of monopoly in the broadcasting industry." Also featured was Massachusetts' lieutenant governor Sumner G. Whittier (who was reported by Broadcasting as saying "the curtailment of choice on the part of the viewing public" was more important than the economic losses by Harvey Radio Labs but had no comments on the proposals then pending before the FCC) and following his address, channel 56 transmitted a special film of the U.S. Air Force Band playing the "Star Spangled Banner."
The Boston Globe continued to list them on the "TV Dial" header until November 22, 1957. One might think that they didn't notice that channel 56 had vanished, except that they had published a blurb about the final broadcast the day it aired; the most likely explanation is that no one at the newspaper noticed it was still in the header until it had to be updated to include WHDH-TV/5, which began operation on the 26th. Harvey kept the license for WTAO-TV (their request during the aforementioned hearings that channel 13 be allocated to Cambridge was eventually denied) and in 1958 they supported proposals for over-the-air pay television at hearings conducted by the U.S. House of Representatives' Commerce Committee. WTAO-TV reappeared briefly between May 17 and November 17, 1962 for FCC-sponsored UHF tests*, then was sold to the partnership of Kaiser Broadcasting and the Globe in 1965 which re-named it WKBG-TV, converted it to color, and resumed broadcasting on December 19, 1966 (one day behind schedule -- transmitter problems on the 18th precluded them from signing-on as scheduled and its live inaugural program had to be videotaped and broadcast the next day).
[* - Although the 1962 tests are referred to in several online articles, including Wikipedia, there was no mention of same in Broadcasting, Television Digest, or any Boston-area newspapers. However, the FCC history cards do carry a reference to a STA granting Harvey "temporary operation" for a period matching the dates Mr. Gallant reported, so this is not entirely an "urban legend" even though the cards do not elaborate on the reason for the STA. The Boston Globe reported in its September 21, 1962 edition that the Archdiocese of Boston was going to operate WTAO-TV for several months pending a grant for channel 38 (which they did receive the following May, going on the air as WIHS-TV October 12, 1964) but nothing further was reported other than a "demonstration program" which apparently aired the morning of November 10. Without verification, we note the latter as improbable.]
---
Additional comment from Peter Q. George: Today, this is WLVI-TV ("CW56"), operated as half of a duopoly by Sunbeam Television with WHDH-TV/7 in Boston. Sadly, upon the consumation of the sale to Sunbeam by Tribune Broadcasting on December 19, 2006, all 150+ employees were terminated, a situation sadly and ironically reminiscent to the day former sister station WKBS-TV/48 in Philadelphia was taken off the air and terminated all of its employees in 1983. The employees of WLVI-TV stayed truly professional right to the very end and had the opportunity to say goodbye upon the completion of its last newscast (THE Ten O'Clock News) on December 18, 2006. Sunbeam took over remote control via their Bulfinch Place studios in Downtown Boston at midnight and began their new newscast at 10:00pm the next evening. Called News 7 @ 10, it was a rather flashy, graphic laden, tabloid newscast ... quite the opposite of what WLVI-TV had broadcast for over 22 years. WLVI-TV is the same broadcast license that dates back to 1953's WTAO-TV, although Sunbeam will probably never recognize that.
---
This article originally appeared in Peter Q. George's "UHF Morgue" at his former RadioDXer site and is republished here with his permission. Reformatting and editing, plus some additional content, by K.M. Richards.