WTPA-TV/71, Harrisburg PA
by WHTM-TV/27 Editors (and K.M. Richards)
[The basic information for this article originally appeared at the ABC27.com website under the headline "Our History" and was available from July 2010 until the station redesigned the website in February 2019 and removed the original article. We have reformatted and edited it for readability and added what information was available in Broadcasting and the local newspapers during the station's early years at the upper end of the UHF band.]
This is the story of a station which by all rights should not have survived its first four years, much less the past six decades, except for a twist of fate coming after its owners tried in vain every tactic possible to improve their position.
WTPA was one of the earliest UHF construction permit holders, having received its channel 71 grant on the last day of December 1952. It was the latest in a trend that had started even before the VHF freeze ... a newspaper (in this case, the Harrisburg Patriot-News, owned by the S.I. Newhouse family) adding television to its print operations. At the time, the Newhouse family owned the Syracuse NY Herald-Journal and Post-Standard as well as WSYR-AM/560 & FM/94.5. WSYR-TV/3 had only been on the air for less than three years previous, and WTPA was only officially transferred to the newspaper after it had been on the air for 18 months (the original grant was to Donald E. Newhouse d/b/a "Harrisburg Broadcasters", who at the time had no official connection to the Harrisburg newspaper operations). Newhouse built quickly and channel 71 officially signed on the air at 9:00am on July 6, 1953, having signed an affiliation agreement with NBC just in time for the first program to be the network's Ding Dong School. (We do not take into account the daily test pattern transmissions which aired beginning June 19 in determining WTPA's on-air date, as the station similarly did not do so in the original version of this article.)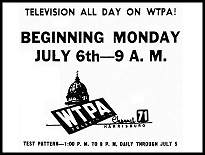 During channel 71's first year, operating hours were 9:00am to 12:15am on weekdays and noon to midnight on weekends. The original schedule included Daily Devotions by "ministers of all faiths" at noon, followed by the First Edition newscast at 12:15pm (other newscasts were Home Edition at 6:30pm and News and Sports Final at 11:00pm), Mac's Matinee -- an early "radio on television" program with local air personality Mac McCauley -- which included comedy bits between the playing of "the top hits of the day" and Harrisburg Hostess with "vivacious young housewife" Miriam Murphy at 2:00pm. (Murphy, it turned out, also had experience as a teacher and nightclub entertainer, which served her well in the interviewing of local personalities.) Between McCauley and Murphy, WTPA offered a viewer-interactive game show, It's Your Move, which closely resembled a cross between the later daytime network hits Concentration and Wheel Of Fortune as viewers participating by telephone selected a number on a checkerboard which then revealed a letter of a famous quotation which they had to guess in order to win. A half-hour cooking show rounded out the ambitious three-hour early afternoon block of live programming.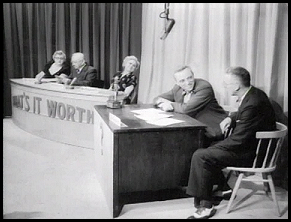 What's It Worth? was a 1950's version of today's Antique
Roadshow and somehow managed to survive all the changes
in WTPA's early history. Most of the other live, local shows fell
off the schedule sometime in the first four years of operation.
Other local shows on the schedule, somehow fit around the network schedule in once-weekly airings, included What's It Worth? (a panel of local antique experts evaluating and classifying all sorts of objects to determine the value of same), Skyline Towers (musical program in an "imaginative night club setting" featuring local group the Al Morrison Trio and vocalists Ed Baekey and Anita Lawrence) and Beat the Bench (an audience participation quiz show dealing with sports in the news).
Only three months after going on the air, channel 71 introduced the area's first mobile unit, first used to cover the Pennsylvania National Horse Show and then a variety of other major events, including the Christmas Balloon Parade, a birthday party for President Dwight D. Eisenhower in Hershey, and Central Pennsylvania's first telethon -- with stage, screen, radio and TV stars and benefitting United Cerebral Palsy -- from the stage of the Harrisburg Community Theatre ... all before the end of 1953. They also provided live coverage of what was one of the largest fires Harrisburg had suffered to that point in time, arriving on the scene of the burning John Stapf Co. warehouse within 10 minutes after the first alarm was sounded on New Year's Eve 1953.
Early WTPA staff member Fred Leuschner later recalled in his book My Memories: "When we finally hit the air July 6, 1953, we felt we were in heaven. Everything we did was new. We created as we went and innovated about everything we did because nobody had done it before. We did everything. We created the shows, built the sets, operated the cameras, announced, and directed the programs. There were so many interesting personalities that it's hard to remember many of them. However, one time a guest brought in a bobcat that got loose and ran all over the studio, scratching the guest so severely that he had to be taked to the hospital for treatment. Although the time periods changed, we had a cowboy band on early in the evenings, often at 6:00pm, featuring Bud Messner and His Skyliners who played and sang and developed quite a following. In the early evenings, we did a few 15 minute shows. One was called Our Commonwealth, a take off on the Commonwealth of Pennsylvania, produced by Bill Richards of the Pennsylvania Historical and Museum Commission. He brought in curators from historical sites around the state. Another was a medical show produced by Dorothy Schaull for the Dauphin County Medical Society featuring local doctors who discussed recent medical developments."
In addition to the local programming, channel 71 carried a variety of NBC shows (although nowhere near the entire network schedule), including You Bet Your Life with Groucho Marx, as well as syndicated offerings Superman and Inner Sanctum.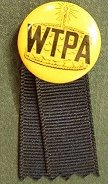 As part of the celebration of its first anniversary, on July 6, 1954 WTPA broadcast special programs throughout the day and presented an hour-long show with outstanding performers who had appeared on channel 71 during the first year of operation, using the theme "A Year for You." A half-hour news special A Year in Review was also aired and the Harrisburg Hostess program was turned into a birthday party for all the babies born the day WTPA went on the air. They followed up the occasion with an open house where visitors saw three live presentations and special WTPA buttons (shown at right; they were about the size of a penny) were distributed to all visitors and service clubs.
Beginning with the 1954-55 season, WTPA switched to a primary ABC network affiliation, likely having discovered that WGAL/8 in nearby Lancaster, which had been a full affiliate of the Peacock Network since its 1949 sign-on, was getting all the NBC viewership of programs essentially duplicated up in the UHF stratosphere. (It is also believed that some viewers were able to get WBAL-TV/11 Baltimore MD -- only about 70 miles from Harrisburg "as the crow flies" -- more clearly than either of the locals.) The move, while likely a good one strategically, was ironic given that at the beginning of the year channel 71 had installed facilities to transmit NBC programming in color -- starting with the Tournament of Roses parade on January 1 -- and ABC was still eight years away from airing any color shows.
In those years, ABC was finally recovering from the disaster of "All Star News" two seasons earlier and was running a full slate of programming in prime-time, but much of it was still not being carried by a large number of affiliates*; although the network did have a better lineup than DuMont by then, WTPA signed up for practically everything the famous Ziv International syndication firm was putting out at the time ... I Led Three Lives, Mr. District Attorney, Boston Blackie, and The Cisco Kid were all being aired in the summer of 1954 (along with non-Ziv programs City Detective, Colonel March of Scotland Yard ... and Liberace). One year later, every program that had done well on channel 71 was airing on channel 8, with higher viewership, and WGAL was so unconcerned with WTPA that it didn't block any of those shows from also running on its UHF competitor.
[*-We suspect that, in those days when the majority of ABC affiliates were not interconnected and dependent on network kinescopes, those were only made available for programs that had "full network buys" by the sponsoring advertisers. Given that a large percentage of ABC clearances were by secondary affiliates -- more often than not UHFs, which presented another handicap when pitching to the advertising agencies -- who often ran those shows "out of pattern" it is also possible that the network excluded those affiliates as well and/or did not include them on the "full network" list given to Madison Avenue ... or the latter simply refusing to pay for the additional clearances.]
The downgrade in network affiliations was only the first setback to WTPA's bid to not become another stereotypical "UHF failure." Local radio station owners Edgar T. Shepard and Edgar K. "Ed" Smith put WCMB-TV/27 on the air September 8, 1954 as a DuMont affiliate, and even though it was still on the UHF band its only VHF competition was the aforementioned WGAL and whatever Philadelphia, Baltimore and Washington DC stations that were receivable in parts of the Susquehanna Valley (CBS was, and still is, affiliated with WHP-TV, then on channel 55). And it was considerably lower on the band and thus easier to receive than channel 71, given the state of receiver design at the time. But given that DuMont was already beginning to crumble as channel 27 took to the air (with at best fifteen weekly hours of programming available to affiliates by that season), Shepard and Smith filled a considerable amount of their broadcast day with ancient "horse opera" westerns, a nightly Harrisburg After Dark talk show, and Beat Pete, in which contestants asked biographical questions they thought the host couldn't answer in three minutes. As did so many UHFs desperate for programming as DuMont slowly ceased operation (they were only airing a live weekly boxing match by channel 27's first anniversary), WCMB-TV added programming from National Telefilm Associates, becoming a charter affiliate as that became the "NTA Film Network" in 1956. This brought Orient Express, The Adventures of China Smith, and Craig Kennedy, Criminologist to the Susquehanna Valley; all three were airing twice a week by August 1955 ... and all of the local live programs had also vanished by then, except for newscasts and a new daily "Uncle Josh" kiddie show.
On the set of Party Line, one of several programs WCMB radio
personality Pete Wambach hosted on channel 27.
With WCMB operating on a low-UHF channel (albeit with lesser quality programming), WTPA began to realize that they also needed to be on that end of the dial to maintain any semblance of viability, and on March 31, 1955 they filed with the FCC to have the channel 21 allocation in nearby Lancaster swapped with theirs and then move there. Unfortunately, WNOW-TV/49 York had the same idea and had filed for a similar allocation table revision two days earlier. The FCC denied both petitions on May 19, but on July 18 Newhouse refiled, this time including the claim that they had reached an agreement with the current channel 21 permit holder (WLAN-TV) to relinquish the frequency in exchange for a $7,500 payment. That petition remained active as the FCC began taking comments in the deintermixture hearings and the following year, WTPA joined WCMB, WHP, WNOW and WSBA-TV/43 York in favoring the deletion of their lone VHF competitor's channel 8 allocation. That was also rejected, and in early 1957 both WTPA and WNOW asked for channel 33 to be assigned in their communities in the aftermath of WEEU-TV Reading having gone dark on that channel in the summer of 1955. Like all of the previous attempts, the FCC also denied those. (WNOW-TV lasted another year after the setback, going dark May 31, 1958; WLAN-TV never went on the air and that led to a reorganization of the channel allocations in the region ... see the Postscript below.)
One of the failed attempts at moving to a better neighborhood.
Meanwhile, with every attempt to move from channel 71 thus far having been stymied, WTPA remained on the air with its weakened ABC network-dominated schedule. By March 1955, nearly the entire ambitious daytime schedule from just two years previous was history (only the cooking program remained), and the station operated a schedule that began at 4:00pm and ended after the 11:00pm news. Other than John Daly and The News airing nightly at 7:15pm, the most prominent network programs were all game shows: Break The Bank on Sunday, The Name's The Same Mondays, Stop The Music on Tuesdays, Masquerade Party and Who Said That Wednesdays, and Dollar A Second on Fridays. Even though WTPA also carried Disneyland, Voice of Firestone, Rin Tin Tin, The Dotty Mack Show, Ozark Jubilee, and TV Reader's Digest a surprising number of programs considered "hits" by ABC were still not being cleared, including Make Room For Daddy, Ozzie And Harriet and The Lone Ranger (see the Postscripts for what we theorize the reason was for those exclusions). All told, channel 71 only cleared 23 weekly hours of non-news programming during a season when the network provided a schedule from 7:00pm until at least 10:30pm every evening. Some prime-time slots were being filled with the same syndicated offerings from the previous year, and as noted previously some of those shows were also airing on WGAL by the fall. Somehow, the local What's it Worth was still on the schedule, and still in a 10:30pm timeslot.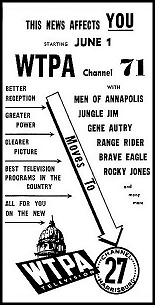 Ad in the Patriot-News the day
before WTPA changed channels.
Things had improved somewhat in early 1956, as WTPA began signing on at 2:00pm in order to run Romper Room (which had been airing at 4:30) ahead of ABC's newly installed Afternoon Film Festival and Mickey Mouse Club. Channel 71 also added Lawrence Welk as he went national, Bishop Fulton J. Sheen as he relocated to ABC from the remains of DuMont, and the breakthrough set of rotating series produced by Warner Brothers (King's Row, Cheyenne and Casablanca) on Tuesday evenings. Still, only about half of prime-time was network -- although all of the game shows remained, even as they changed time slots -- and the occasional industrial "free filler" film was beginning to turn up on the schedule ... possibly the result of having conceded the battle over the duplicated syndication offerings to channel 8, all of which were gone by February. What syndicated programming WTPA still carried tended to be off-network reruns of sitcoms, such as CBS' Topper and NBC's My Little Margie, both having ended their network runs in the 1954-55 season. Going into the 1956-57 season, the schedule looked little different from earlier in the year, with the exception of a 2:00pm weekday sign-on (to where Romper Room was moved to accommodate the network programming still airing in the afternoon).
Uncle Josh (real name,
Chuck Zink) ended up at
channel 8.
And then Shepard and Smith blinked. Channel 27 abruptly went dark April 10, 1957; a subsequently released balance sheet for 1956 showed a deficit of $106,500 on current assets of $72,866 and $285,619 in total assets. By week's end, the two stations had filed a unique application to change facilities between them. The way it was explained in Broadcasting was that WTPA would purchase WCMB-TV (including its channel) for $150,000 and WCMB-TV in turn would operate on channel 71 upon returning to the air. Newhouse also asked for a power increase upon beginning operation on channel 27. The FCC approved the unusual request quickly, on May 18 and WTPA moved to its new channel two weeks later, on June 1. It has been there ever since -- and is still with ABC, more than 60 years later -- although it now transmits on VHF channel 10 as WHTM-TV.
Thus did a UHF, originally trapped on a high channel with a less-than-attractive network affiliation and suffering from competition not only from a powerful VHF but from other stations on the UHF band, have the fates turn favorably in their direction and provide a path to viability.
---
POSTSCRIPTS:
After the move to channel 27, WTPA was slow to improve their clearances of ABC network programming. Although they had already carried about 65% of the prime-time schedule (plus, as noted above, the late afternoon shows) in the summer of 1956, they actually dropped to 40% by the fall of 1958. However, they were now carrying more of the network's "hits" such as The Real McCoys, Walt Disney Presents, Maverick and the Andy Williams/Pat Boone-hosted Chevy Showroom variety show. It is most likely that it simply took some time for them to be added to network sponsorship buys, based on our speculation in the article as to why there were few popular ABC shows airing in the early days of affiliation (UHF affiliates being excluded from advertiser buys and WTPA therefore not even given an option to air much of the network schedule). Apparent proof that this was the case is that channel 27's clearance percentage went back up (to 53%) in 1959 -- adding Leave It To Beaver, Naked City, The Rifleman, 77 Sunset Strip and One Step Beyond, among other programs -- plus the moving of sign-on to 11:00am to carry an expanded ABC afternoon schedule that included game shows Who Do You Trust?, Beat The Clock and Pantomime Quiz. It is also probable that since the network was beginning to make improvements in the quality of its programming around that time, the drop in percentage in 1958 was at least partially due to a combination of cancellation of lesser shows for which sponsors were willing to include a high-channel UHF in their buys and slowness of the advertising agencies to accept and include the now low-channel affiliate in the time orders for the replacements. As WTPM had a better than 80% prime-time clearance in the fall of 1960, in addition to the daytime schedule and the continued nightly airing of John Daly and the News, it appears that channel 27 (especially with the increase in power to 631,000 watts from the former WCMB facilities of 186,000) gradually began looking better to Madison Avenue than channel 71 had.
As had the more-successful syndicated series two years earlier, Romper Room moved to channel 8 in 1957, airing at 9:45am in an abbreviated 15-minute format, later expanding back to a half-hour format at 9:30. It returned to WTPA in 1963 and remained there until 1976.

The construction permit for WLAN-TV/21 that WTPA tried to acquire and move to Harrisburg in 1955 was eventually cancelled in November 1960. Subsequently, WHP-TV successfully filed a proposal with the FCC to consolidate all of the UHFs in the market by moving the now-vacated allocation there and having its own license modified for same; it was approved February 10, 1961. WCMB-TV (by then, WDTV) was also moved -- from channel 71 to the former channel 33 Reading allocation -- although it remained dark and surrendered its permit three years later as part of a proposal to again reallocate that channel, this time to Hershey for use by non-commercial WITF-TV.
EXTERNAL LINKS: