WXPO-TV/50, Manchester NH
by Kevin Vahey
former WXPO-TV employee
On September 4, 1969, Anthony LaCamera wrote in the Boston Record-American that a new Boston UHF station would debut on September 28 ... WXPO-TV, on channel 50. Indeed, the station, which was licensed to Manchester NH, clearly had designs on the much larger Boston market, which at the time only had two commercial UHF's, WSBK-TV/38 and WKBG-TV/56. WXPO-TV was in a race with Worcester's WSMW-TV/27 to see who would get on the air first, and channel 50 won the race by almost three months, but when channel 27 hit the air on January 2, 1970, WXPO-TV was already "at death's door".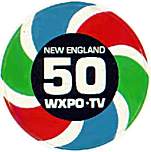 WXPO-TV was owned by Merrimack Valley Communications, a public company set up to run channel 50. The group was led by Neil P. Cortell, who at the time was the owner of the Beacon Sports Network, which produced college and some pro sports on radio in the Boston area. Cortell had a vision to make channel 50 a business channel by day, and sports at night but he was sadly 25 years ahead of his time.
The station actually had two studio locations: The primary studio was located at the transmitter building on Governor Dinsmore Road in Windham, NH (by Exit 3 on I-93) to conform with FCC rules of that time day that the studio had to be located within 15 miles of the city of license. The other studio was co-located with the station business offices on Dutton Street in Lowell, Massachusetts (some 25 miles NW of Boston). The Lowell studios were outfitted with nearly two million dollars' worth of "state-of-the-art" broadcast equipment, including six color studio cameras (three in each studio), three Ampex 2" VTR's, a Grass Valley production switcher, two film chains, and Gates audio boards and cart machines. It was thought by the station owners that the studio would pay for itself as a commercial production house, but that idea was doomed from the start.
Channel 50 was located less than 1,000 feet from the transmitter of WLLH (AM 1400) and RF interference in the studio cameras made it impossible to do any high quality production when the radio station was on. Meanwhile, the station's signal did not perform as well as expected, and coverage was spotty in many parts of metropolitan Boston which further hampered the station. To make matters worse, the Lowell Sun newspaper made it known that anybody who advertised on the new station could forget about advertising in the Sun.
Still, on October 30, 1969 WXPO-TV signed on. The weekday schedule looked like this:
Noon - Info 50 - NYSE and ASE tickers ran on the bottom of the screen while co-hosts Gary Alexander and Gwen Loud delivered business news and information; produced in the smaller downstairs Lowell studio.
3:15 - Romper Room - Locally produced in the larger studio and hosted by Lori Lopez.
4:00 - Woody Woodbury - A bad 90-minute talk show hosted by the man who replaced Johnny Carson on Who Do You Trust?.
5:30 - Treehouse 50 - Hosted by Doug Wheeler and Paul Gettleman, the show featured slapstick comedy and Warner Brothers cartoons. It was probably Channel 50's most watched program as it developed cult status with Boston area college students.
6:00 - Bonus Bingo - Hosted by Don Hill; players could get game cards at local supermarkets.
6:30 - Info 50 Wrap-up - A stock market recap show, which quickly became a "we will talk about anything" show.
7:00 - Mike Douglas - The syndicated show from Philadelphia, run in the evening so that people who worked in the daytime might watch. The problem was that the show was run six weeks behind, to protect WBZ-TV.





Ad run in Broadcasting offering majority ownership
of WXPO at a "bargain basement" price.
The CP was surrendered only three months later.

8:30 - Dennis Wholey - A very, very bad show from Cincinnati.
10:00 - News 50 - New England's first 10pm newscast (channel 56's, with Arch McDonald, didn't begin until December 1), with Gary Alexander, Don Hill, and Doug Wheeler ... but no newsfilm.
10:30 - Steve Allen - Yet another talk show.
Midnight - Racing from Suffolk Downs or Rockingham.
The Saturday schedule featured reruns of Maverick, Adventures in Paradise and Secret Agent plus the John Gary Show, Parade of Bands (from Chicago), Weekend in Hollywood and the Playhouse 90 movie.
WXPO-TV was also the first station to have newsbreaks every hour during the week; these were anchored by John Foran from the New Hampshire studio. They also tried their hand at remote broadcasts, notably the 1969 Lowell-Lawrence High School football game and the "Lowell Holiday Festival", with mixed results. There was also an infamous live New Year's Eve show, which got a little "weird" around 1:00am.
With almost no advertising revenue coming in, the ax fell quickly. The Boston Globe reported on December 29 that an investor group hoped "to save TV channel 50" but on January 9 Cortell told the paper that negotiations had been "terminated" and the broadcast day was cut in half, from twelve daily hours to six; 90% of the staff was let go. Many continued to work unpaid, but by spring the Lowell facility was shut down and the station limped along from Windham. The end came during the 6:00pm hour on Saturday, May 9, 1970 when the electric company shut off the power during an episode of Maverick. Later disclosures showed that Merrimack Valley had $300,000 in outstanding liabilities at the time of the forced sign off.
There were attempts to resume operation as a CBS affiliate (and a sale was announced in the Lowell Sun at the start of 1972), but nothing ever came of those and, after a last ditch effort to sell 65% of the station for "$100,000 cash or best offer" through an ad in Broadcasting's August 19, 1974 issue, WXPO-TV surrendered its license and construction permit November 25 of that year.
---
Additional comment from Peter Q. George: WXPO-TV did return to the air on July 17, 1973 for a six hour test transmission, from midnight to 6:00am. After writing to WXPO-TV, I received a letter in August from a "Mr. Louis Ziddle", regarding the prospects of channel 50 returning to the air. He wrote that "very definite plans are being made to return WXPO-TV 50 to the air, sometime later on this year". WXPO-TV never did return. Its old tower site is now being used for ENG and two-way radio purposes.
---
This article originally appeared in Peter Q. George's "UHF Morgue" at his former RadioDXer site and is republished here with his permission. Reformatting and editing, plus correction of the sign-off date by K.M. Richards.