KAAR/39, San Diego CA
by K.M. Richards
KAAR/39 had its roots in KPRI/106.5, which was put on the air in June 1960 by Lawrence Shushan. The radio station was moderately successful from the start, which started Shushan thinking about television; on June 24, 1963 he and by-then 50% partner Dr. Leon Kahn filed for channel 39 as San Diego Telecasters and were granted a construction permit literally one year and one day later (June 25, 1964) for 11.7kw ERP from Mt. San Miguel near Chula Vista, about ten miles ESE of downtown San Diego. Just before the CP was issued, Kahn sold his interests in both KPRI and the television venture and Shushan reduced his ownership to one-third, with equal interests acquired by retired Army colonel Paul Corriere and Town & Country Development, owned by Charles H. Brown, who derived his considerable revenue from extensive hotel holdings in San Diego's Mission Valley (the center of which was -- surprise -- the Town & Country Hotel, which had started in 1953 as a 46-room motor inn and eventually grew to cover 32 acres with over 900 rooms and a convention center).
A few months before beginning operation, Shushan was already making waves in San Diego; in September 1965 Midwest Television, owners of crosstown KFMB-TV/8, had used a survey showing that the increasing cable television penetration in the San Diego market fragmented local viewership to support its position that the FCC regulate cable systems; Shushan said the results only showed that viewers watching Los Angeles independent stations "aren't getting enough of what they want locally," proving the need for a local independent station. He also said cable would help channel 39 when it signed on by making it available to over 15,000 homes that would then not need new receivers or antennas to receive KAAR. The FCC issued a ruling that July which barred three systems serving San Diego County from providing the Los Angeles stations to any subscriber who had not signed up before February 15 of that year.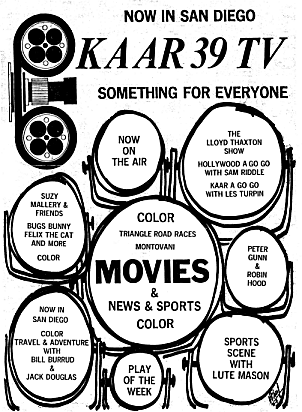 Above: Full-page ad in the San Diego Union on sign-on day
(Sunday, November 14, 1965) promoting KAAR's
"something for everyone" programming.
Below: Ad for KAAR-a-Go-Go in the summer of 1966,
after it had been cutback to a once-weekly
airing (and changed hosts).

With that minor victory in force, KAAR signed on at noon on November 14 with the 1959 movie "The Wonderful Country" starring Robert Mitchum, Julie London, and Gary Merrill (which received a second airing at 5:00 that afternoon following an hour-long "premiere" special). That day, KAAR ran a full-page ad -- shown at right -- in the San Diego Union, advertising the wide range of programming the new station would be offering (in that same issue, department stores Montgomery Ward and the May Company ran large ads "welcoming channel 39!" and naturally promoting the availability of all-channel television sets you could purchase in order to watch it).
Shushan, doubling as the station's general manager, promised KAAR viewers lots of movies -- "at least 18 feature movies in color each week plus seven or eight black and white feature films" -- taped presentations of Broadway shows, cartoon shows for youngsters, a teenagers' show, musical programs and news. Shushan admitted in the article the Union ran that morning that channel 39 had missed its original October target date due to delays in clearing a road to the transmitter site, which took two months longer than expected and prevented their custom General Electric directional antenna, which weighed 3½ tons and cost $58,000, from being installed on schedule; the premiere special that afternoon included a tour of KAAR's 16,000 square foot studios and offices on Engineer Rd. in Kearny Mesa.
Suzy Mallery (later known as
"Suzy Saturn"), host of
KAARtoon-o-Rama.
At the outset, KAAR tried its best to live up to its own hype, operating from 1:00 in the afternoon each day until midnight or 12:30am (depending on the length of the late movie), with travelogues such as Bill Burrud's Flight to Adventure and Jack Douglas' Across the Seven Seas, followed by the first of four daily movies, KAARtoon-o-Rama, another travelogue and KAAR-a-Go-Go (actually the syndicated Lloyd Thaxton program from Los Angeles), two more movies, a 15-minute newscast at 10:15pm and a final feature film. Saturdays brought KAARtoon-o-Rama at 1:00, followed by the 1955 syndicated series Long John Silver, more travelogues and a movie, then the 1958 NBC series Peter Gunn, a local edition of KAAR-a-Go-Go with KGB/1360's Les Turpin as host and the syndicated Hollywood-a-Go-Go with Sam Riddle (also from Los Angeles), and three more movies until 1:00am. Sundays had more movies, the 1955 CBS series The Adventures of Robin Hood, a weekly half hour of "elevator music" by Mantovani and his orchestra, roller derby, a wrap-up of the weekend's sports events with KAAR sports director Lute Mason (formerly of KFSD-TV/10 and KFMB-TV) and Play of the Week, the last recycled (from 1959) remnant of the old NTA Film Network.
It only took about six months for the ambitious operation to burn through available financial resources, and in May 1966 Shushan and Corriere sold a third of their interests (taking them down to 22% each) to Town & Country, which after Charles' death at age 49 that year was in the hands of his widow Ida Mae and son C. Terry. Just under 7% was spun off by Terry to a side partnership, Sample-Brown Enterprises; William S. Sample, the other principal in that entity, replaced Shushan as president and general manager of San Diego Telecasters. Combined, Brown and Sample now owned 56% of channel 39.
The pair made immediate and severe cuts to the KAAR schedule, operating only from 5:00pm to midnight, with all of the color movies gone, and all of its news programming coming in 2½ minute headline summaries -- which were pre-recorded by Lee Shoblom from KDEO/910 (he had worked for Shushan at KPRI-FM at its beginning) -- at the top of the hour, except during movies. KAARtoon-o-Rama morphed from a combination of cartoons and audience participation into an hour of cartoons hosted by "Suzy Saturn" and KAAR-a-Go-Go was reduced to the weekly local version on Saturday, with Shoblom replacing Les Turpin, who by then was in San Francisco as program director of KFRC/610. (Shoblom also worked master control, recording the news headlines -- which in his words he "stole from the newspaper" -- in-between commercial breaks; see video below for a sample of the result.) The Bill Burrud programs, Play of the Week, Mantovani, the handful of syndicated dramatic series, and the roller derby were all that remained of the original syndicated programs from the November schedule; gone were the Thaxton and Riddle music programs (Riddle had ceased production by then and Thaxton was about to follow suit) and Lute Mason, who had gotten out of broadcasting completely by that time and opened a local public relations firm.
There was one interesting addition to the schedule, however: Marv Gray, an ex-CIA agent from Connecticut who had started in broadcasting as Joe Pyne's producer, hosted a weekly discussion program on local issues at 8:00 Monday evenings. (Post-channel 39, Gray went on to be the main conservative voice of early Los Angeles talk radio, hosting the afternoon drive-time shift at KABC/790 for five years, followed by a short stint on KFI/640 before his death in 1973.)
As it turned out, even those belt-tightening measures were not going to be enough to save KAAR. The cutbacks were only the beginning of the end for the first incarnation of channel 39, and the final demise would occur less than a year later.
KAAR 11:00pm news summary from August 6, 1966
(Courtesy Lee Shoblom)
Bill Burrud (and friends), whose
"traventure" programs were a staple
of the KAAR schedule for the first
year of its operation.
Only a few months later channel 39 was all but defunct; by the end of September KAAR was signing on at 7:00pm on weeknights to run a 15-minute newscast (which was produced and anchored by students at San Diego City College), a travelogue -- presumably a free filler film -- or one of the Bill Burrud shows, followed by a lone black and white movie; to make matters worse, the same movie was airing every night for a week at a time! There was no other programming and the station remained dark on weekends. (A very small amount of local programming returned to the schedule in December when Thursday night wrestling matches were added, called by Hardy Kruskamp, who had himself been a wrestler in the 1930s, 40s and 50s, but that lasted for less than one month.)
In January 1967 KAAR entered into an agreement with San Diego State College (today's San Diego State University) in which channel 39 would broadcast the programming of the San Diego Area Instructional Television Authority, produced by the college, until the authority could sign non-commercial KEBS-TV/15 on from the shared transmitter site on Mt. San Miguel. KAAR discontinued its evening news/travelogue/movie schedule and operated only a nine-hour weekday schedule to air the educational programming from 9:00am to 4:00pm, followed by a two-hour unhosted block of cartoons, and (still) no weekend programming. The arrangement was short-lived; the Authority received its grant for channel 15 only three months in, on March 29, and completed construction in just over two months (ironically, that speeded-up timetable was made possible by the sharing of the KAAR transmitter building and tower). KEBS-TV signed on June 12, and with no options remaining channel 39 went dark.
(Although some will dispute the above based on a persistent myth that KAAR went off the air after a 1966 fire that destroyed the channel 39 transmitter site, there were no articles in the Union to support that "urban legend" and there is no entry in the station's FCC history cards requesting a silent STA prior to 1967. Further, the arrangement to broadcast educational programming is well-documented -- including in the Union -- and certainly would not have been entered into if the station's transmitting facilities had been rendered unusable the previous year. The newspaper did report that both channels 15 and 39 were forced off the air late in the evening of September 28, 1970 when a fire that came close to Mt. San Miguel caused San Diego Gas & Electric to shut off power to the shared transmitter site and the engineers to be evacuated. However, that was more than four years after the myth claims and both stations resumed operation on their regular schedules the next morning.)
At that point, it became obvious that Brown and Sample had been negotiating to get out from under the failing UHF all along. Simultaneous with the announcement that KEBS-TV had started up, Texas oil and cattleman Perry Bass, who also owned KFDA-TV/10 Amarillo TX, KFDW-TV/12 Clovis NM and KFDO-TV/8 Sayre OK, announced he was purchasing KAAR. The sale was filed with the FCC on July 5 and was approved on September 25; Bass Brothers Enterprises, dba Western Telecasters, returned channel 39 to the air as KCST February 2, 1968, with an increase in effective radiated power to 363kw, more than 30 times what KAAR had operated with.

Still hampered by being a UHF independent competing with VHF network affiliates, the Bass brothers concentrated on sports coverage of any and all types. Just during its first month back on the air, channel 39 televised away games of the NBA San Diego Rockets (the first night as KCST featured the Rockets playing the Golden State Warriors in Oakland), a local college basketball match between Grossmont College and San Diego City College and a local baseball game between the University of San Diego and San Diego State College, San Diego Gulls hockey matches, highlights of the Tucson Open golf tournament, and the regional high school basketball championships. All that was in addition to half-hour documentaries on such sports as the Grand Prix and skiing, primarily scheduled in the half-hour gap between the 7:00 news and live sports coverage (or sometimes ahead of the 10:00 news). Later that year, KCST signed a one-year contract to carry preseason games of the San Diego Chargers football team -- two away games live and three home games on a one day delay -- feeding Los Angeles independent station KHJ-TV/9 as well. (KCST got a second one-year contract the following season with all five preseason games seen on tape delay, and in 1970 it televised nine San Diego Padres baseball games from San Francisco and nine more from Los Angeles that KOGO-TV/10 couldn't fit into its schedule. It got similar deals the following season and continued to air games from both teams until 1973.)
The KCST news team in 1968. Note that
the sports guy got top billing, due to the
station's focus on sports programming
under Bass Brothers ownership.
There was more to the new channel 39 than sports programming, though: A half-hour 7:00pm newscast anchored the KCST schedule seven days a week, with a second 15-minute newscast at 10:00; a minimum of two movies were scheduled, at 5:00pm and 8:00pm (unless pre-empted for sports), although the titles were back to the black-and-whites from the 1930s, 40s and 50s that KAAR had relied on for much of its short history. The only appearance of off-network syndicated reruns were Peter Gunn following the 10:00 news Sunday through Friday and The Adventures of Robin Hood on Saturday afternoon (perhaps those two series were still on the film library's shelf from the KAAR days). The schedule was limited to just under six hours a day, from 5:00pm to 10:45pm, the exception being Saturdays, when a late movie following the 10:00pm news kept KCST on the air until midnight.
There was an expansion of the schedule after the first couple of weeks; largely to accommodate sports programming, weekend sign-on was moved up to anywhere between noon and 2:00pm. Children's programming also returned to channel 39 when Kids Corral took its place in the 6:00pm hour on weekdays, hosted by Buck Weaver (originating as Buckaroo 500 from KNTV/11 San Jose, where it had been airing since 1965). This necessitated an earlier sign-on to accommodate what had been the 5:00 movie. And in a faint echo of KAAR-a-Go-Go, a Saturday evening show titled Bandstand was added to the schedule.
A slight distraction during KCST's early months was Elliott L. Cushman -- who had held a construction permit for KUSH on channel 21 from December 1953 until he surrendered it in May 1955 -- who filed a petition with the FCC the day channel 39 signed back on, requesting that channel 27 be allocated to San Diego; Western Telecasters (likely fearing that the addition of more stations in San Diego at that time would be its death notice) filed the lone objection but that was enough for the Commission to deny the petition on May 15, citing the fact that KJOG-TV/51, authorized in 1965, was still not on the air and that they would therefore postpone consideration for additional channel assignments until all the existing ones were in use. Of the rejection, Cushman complained that the decision violated the FCC's policy of assigning seven to nine channels to cities with populations of one million or more (the market did eventually get a sixth allocation in 1981 ... channel 69, which had been proposed in 1963 but not added in the 1965 allocation table revision).
As the year progressed, Suzy "Saturn" Mallery was lured back to channel 39 to precede Kids Corral; she and Weaver co-hosted a two-hour special from the San Diego County Fair that May.
By September of the first year of operation as KCST, the syndicated daily Paul Harvey commentary was airing as part of a headline news and sports block at 6:45pm and again at the beginning of the 10:00pm news (listed as "Sports & News" in the San Diego Union "TV Week" pages ... sports was still getting top billing), and movies continued to fill the gaps in prime time when no sporting events were scheduled. British series The Baron now followed the late newscast Sunday through Thursdays (Peter Gunn had moved to 7:00) and sign-off was now at 11:30pm as a result. San Diego Chargers coach Sid Gillman now had his own weekly half-hour program on Wednesday nights, and whenever there was a filler needed because a movie didn't fill a full two-hour timeslot, it would be a sports documentary of some sort. The movies themselves were still mostly ancient, although a few decent titles such as 1952's "Viva Zapata!" snuck in from time to time.
But it was in November of 1968 that KCST began one of the most significant battles in the history of San Diego television.
Since 1956, the ABC television network had been affiliated with XETV/6, licensed to Tijuana, as its San Diego market affiliate; because this required the transmission of network programming across the Mexican border to XETV's transmitter, the FCC had to annually renew the international authorization for that transmission. When that authorization came up for renewal in 1968, KCST petitioned the Commission to deny the ABC application for its extension, essentially cutting the network off from channel 6 unless it wanted to go back to sending film copies to Mexico and forego any live news or sports coverage in the San Diego market, as it had done for the first two years of the affiliation.
KCST made no secret of its belief that if ABC was denied permission to continue feeding XETV the network would have to affiliate with channel 39, since KFMB-TV and KOGO-TV already held the CBS and NBC affiliations for the market. In filing for the denial, KCST noted that the original grant had only been found to serve the public interest because in 1956 there was no "operating or authorized third television station in the San Diego area by which such [third network] choice would be provided." It also reminded the Commission that both of the San Diego VHFs had appealed that authorization and the court had ordered a hearing to determine how XETV's non-network programming would serve the public interest; after the hearing the FCC "excused such factors" as 90% entertainment programming, a small amount of Spanish-language broadcasts and a "lack of public-service broadcasts and local origination." KCST maintained that XETV's programming had not improved in the intervening thirteen years.
As might be expected, both XETV and ABC were furious. XETV rebutted the programming argument made by KCST as "false and distorted" but gave no specific examples of how it had improved; ABC said a switch in affiliations would result in its programs reaching 110,300 fewer television homes in the market, based on the relative coverage of the two stations plus cable carriage of its own KABC-TV/7 from Los Angeles. ABC's research department said that would result in an annual loss to the network "in excess of $1 million" which it said it could not absorb since it was already losing money. The Commission opened the matter up for hearings in July of the following year, at which KCST's rebuttal to the network was that it had lost approximately $650,000 in 1968 all by itself.
Despite those losses, the Bass brothers continued to spend money to improve channel 39. They beefed up the programming budget in KCST's second year of operation, signing on at 3:00pm on weekdays and noon on weekends (sign off was somewhere around midnight every night, depending on when the late movie ended). Channel 39's schedule now included the first-run syndicated series Showtime (a weekly three-hour entertainment special hosted by Steve Allen and Jayne Meadows), as well as Allen's nightly 90-minute talk show and David Susskind's weekly two-hour discussion program, plus off-network series The Rifleman, Bronco, Gilligan's Island, My Favorite Martian, The Big Valley, The Patty Duke Show and Run For Your Life. (They even ran Sea Hunt in the early evening on weekdays.) The quantity of movies decreased, but the quality improved; during the first week of September 1969 only thirteen movies aired on KCST, but those included such titles as "The Razor's Edge" with Tyrone Power, "Love Happy" with the Marx Brothers, and "The Verdict" with Sydney Greenstreet and Peter Lorre. News programming was up to a pair of 25 minute weekday newscasts at 5:30pm and 10:00pm (the last five minutes reserved for the now-ubiquitous Harvey commentaries) and a lone half-hour on Saturday at 10:00pm. Saturday nights were turned over to country music, via the syndicated Buck Owens, Porter Wagoner, and Wilburn Brothers shows. Cartoons had been reduced to a single hour on Saturday afternoon, and there was no sign of either Suzy Saturn or Buck Weaver. Sid Gillman was still around, though, having been moved to a better Friday evening time slot.
In February 1970 the application to increase ERP to 2,238kw was approved, over the objections of XETV's Mexican licensee and its U.S. sales affiliate. XETV fought back via the KCST petition by claiming channel 39 had engaged in ex parte communications by asking a California state senator to submit a letter supporting their affiliation with ABC; KCST claimed the senator had sent the letter directly to the FCC contrary to their request to receive the letter themselves. The Commission rejected XETV's claims on May 15, saying there was no "carelessness or gross negligence" on KCST's part.
1970 also saw the addition of The Addams Family, The Rat Patrol and Burke's Law, plus the game shows He Said-She Said and The Movie Game to the channel 39 lineup; the early news was now at 4:30pm and the 10:00pm news was history. Steve Allen, David Susskind (both replaced by movies) and Paul Harvey were nowhere to be found. The Saturday country music programming had moved to afternoons, with a western movie replacing the cartoons. Other than some minor scheduling changes, such as the return of a weekday hour of cartoons at 3:00pm, the resurrection of roller derby in 1971, and the carriage of some network programs that XETV, KFMB-TV and KOGO-TV didn't clear -- such as CBS' The Glen Campbell Goodtime Hour -- the KCST schedule stayed fairly stable from then until the summer of 1973.
An initial decision on the ABC affiliation came down from Administrative Law Judge James F. Tierney in May 1971 which recommended that the authorization to feed XETV be renewed, subject to an annual accounting of ABC because of their claimed potential hardship if forced to affiliate with KCST and an annual report by XETV listing all pre-emptions of network programming. However, one year later, the FCC declared the XETV affiliation with ABC to not be in the public interest and denied the renewal of ABC's cross-border transmission authorization, overriding ALJ Tierney's ruling. The Commission said Tierney had given "too much weight" to ABC's financial arguments and that KCST's argument that it was now the "third station", the absence of which originally had created the need to affiliate with a non-U.S. station, was considered the crucial point. ABC was given until July 31, 1972 to sever the affiliation agreement with XETV; not surprisingly, the network and channel 6 filed appeals less than one month before the deadline.
The appellate court upheld the FCC decision at the beginning of 1973 and denied XETV's request for a rehearing three weeks later, at which point XETV made a last-ditch attempt to discredit KCST by filing a brief claiming that channel 39 had no news staff and broadcast no "significant" public affairs programming. KCST's response was simple and brief: XETV had no standing to request a remand and their latest filing was therefore an abuse of FCC processes. Before the Commission could respond to XETV's latest filing, though, ABC announced that it had executed a memorandum of understanding with KCST for affiliation and requested that they be allowed to continue feeding XETV until July in order to negotiate the formal affiliation contract with channel 39. XETV subsequently agreed to the deal and two ABC daytime shows not being cleared on channel 6 began airing on KCST April 1, 1973; the rest of the daytime schedule moved on June 1, and the remaining network lineup one month later.
With that battle won, the Bass brothers celebrated by accepting a $12 million offer from Storer Broadcasting for channel 39 and its new network affiliation contract (one had to wonder what Larry Shushan thought when he saw that figure ... the sale to Bass only six years earlier had been for $1.1 million, of which he would have personally received just over $240,000); Storer made its offer on March 13, it was accepted the next day, and both the Bass Brothers and Storer boards approved the deal before month's end. However, one party that did not approve was XETV, who declared the agreement for the affiliation switch void due to the "fraud" being perpetrated, petitioned the FCC to reopen the matter, and said that it would reinstitute its court fight to keep ABC. Both channel 39's current and proposed owners called XETV's actions "unjustified and illegal" because the affiliation matter depended not on who owned KCST, but on its availability as a third domestic signal in the market. The Commission agreed and dismissed the petition at the end of April. XETV appealed to the U.S. Supreme Court, which upheld the FCC decision in June.
With XETV finally out of the way, the sale to Storer was filed with the FCC on August 24 (by which time ABC programming had completed its move to channel 39) and was challenged by a new petition, this time from the National Organization for Women. NOW charged that Storer's employment record showed a pattern of discrimination against women and raised doubts about Storer's minority hiring promises, and requested that the FCC deny the sale; the petition also attempted to reopen the international affiliation matter and charged that Storer would violate broadcast/cable cross-ownership rules because it owned four cable systems allegedly within KCST's grade-B contour. NOW even accused Bass Brothers of "trafficking" the station ... a specious argument as Bass had owned channel 39 for twice the then-minimum ownership period required before reselling a station.
While the Storer sale was pending, the Bass Brothers made a commitment to build a credible news operation at KCST to go along with its new network affiliation. They hired Harold Greene, the producer of KABC-TV's Eyewitness News, as channel 39's news director. Greene also produced the station's newscasts (also titled Eyewitness News), getting ratings which were not only the highest in the station's history but also established KCST as a competitor in the market.
The matter of the NOW petition took a bizarre turn in January 1974 when the Chicano Federation of San Diego County claimed the public interest attorney who represented NOW "had solicited the case ... [and was] less interested in the public interest than in making a name for himself." Broadcasting published an editorial commentary the week after the allegations were made, calling the petition "a gross abuse of the regulatory process and a corruption of the system," noting that it had been filed after the comment period for the application transfer had expired. For its part, Bass Brothers questioned NOW's standing as a party of interest under FCC rules, pointing out that the petition did not identify any individual members within KCST's coverage area. The lawyer in question, Albert Moreno, submitted affidavits from local Hispanic leaders saying a number of groups had requested his assistance but that the coalition broke up and only NOW wanted to move forward (in a further twist, NOW claimed Moreno did not represent them and requested that the affidavits be stricken as irrelevant).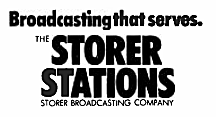 Storer eventually came to an agreement with NOW in which between 40% and 50% of new hires and promotions at KCST would be women, as well as committing to a minimum of 12 prime-time public affairs specials on women's issues during the first two years of its ownership. (That last point drew a warning from the FCC to NOW that a licensee's "discretion in coverage of local issues" could not be overridden by agreements with local groups.) With the petition withdrawn, the sale was finally approved in June and consummated in September.
Three television seasons later ABC -- by then the highest rated of the three networks and apparently still upset with losing VHF coverage in San Diego -- affiliated with KGTV/10 (the former KOGO-TV, which had been KFSD-TV when this story began) and KCST became the NBC affiliate; that move cost ABC their Milwaukee affiliate WITI-TV/6, also owned by Storer, which it flipped to CBS as retaliation for losing the San Diego affiliation. After several further ownership changes and restructurings in the 1980s and 1990s (including another call letter change to KNSD in 1988), channel 39 became an owned-and-operated NBC station in 1996, and remains so as "NBC 7" (its cable channel number).
KCST Newscenter 39 teaser promo with Paul Bloom in the newsroom, from 1980
---
POSTSCRIPTS:
As the 1965 inquiry into cable carriage of out-of-market stations continued, in August 1967 the FCC proposed to prohibit the importation of same into any of the top-100 markets' systems unless the stations' essential "grade-B contour" signal covered most of the distant market. It also proposed a prohibition of originating local programming on cable. The question of whether the FCC had authority to regulate cable systems ended up before the U.S. Supreme Court, which ruled in June 1968 that the Commission did indeed have regulatory authority; the following month the FCC codified its proposed rules and further prohibited cable systems from originating commercials. It was later revealed that near the end of 1967 one of the San Diego County systems, Mission Cable, had offered KCST $150,000 over a three-year period in exchange for their agreeing to ask the FCC to drop the matter. Mission subsequently requested a hearing on KFMB-TV's 1968 license renewal "to determine whether it should bear part of the burden of protecting the growth and development of UHF in its market." (The FCC dismissed the petition, agreeing with Midwest that the issues raised were not appropriate to a renewal proceeding.) On October 27, 1969 the prohibition on cable-originated advertising was lifted. Mission Cable still operates in San Diego today under the name of its corporate parent Cox Communications.
Lawrence Shushan sold KPRI-FM in 1968 and became general manager of San Diego radio stations XHIS/90.3 and XHERS/100.1 in the 1970s, then moved on to KSDO/1130 and KEZL/102.9 in the 1980s. He had lived in Murrieta, a community in San Diego-adjacent Riverside County, in his later years. Shushan passed away June 6, 2000 at age 77.
Perry Bass became a noted philanthropist in his later years and guided the rebirth of Fort Worth's downtown in the 1990s. He died June 1, 2006 at age 91.
Lee Shoblom moved on from KAAR to launch the first all-news radio station in Denver (KBTR/710) on March 21, 1967; he later built and owned stations in Arizona, Southern California and Hawaii, including, in 1982, low power television station K45AJ in Lake Havasu City AZ (which continued operation as KLHU-CA until the end of 2015). He "retired" to Prescott AZ in 1997 and later moved to the northern California community of Ferndale.
Suzy Mallery went into public relations and formed "Man Watchers Inc." in 1975 -- essentially as a publicity stunt, but one which lasted well over a decade -- then proceeded to promote an annual Most Watchable Man (the first was Burt Reynolds) and later, an annual "Most Watchable Men in the World" list and "Man Watchers' Appreciation Week" (it was the second week of January, if you really need to know). She moved to Los Angeles in the 1980s and remained there until her death on June 26, 2008 at age 78.
At age 77, C. Terry Brown is still a co-owner of the Town & Country Hotel (having sold a partial interest in 2014) and in 2017 began the process of replacing 25% of the complex with four seven-story residential buildings totalling approximately 840 apartments, lowering the hotel room count to 700 and the convention center building's square footage by 15%. His mother married car dealer Warren Wright in 1974, becoming Ella Mae Wright, and died in November 2007 at age 88.
Buck Weaver continued to host Buckaroo 500 on KNTV until 1972, then retired to Las Vegas. In 2013 he attempted to raise funds via Kickstarter to produce an updated version of the program, to be hosted by his daughter Cassie Dawn (who had made many appearances on the original as a child). He cancelled the project after two months when he raised only $127 ... all of that in the first two days.
Harold Greene was hired away from KCST by KGTV in 1974 at what was reported as the highest salary in the history of San Diego television and anchored channel 10's newscasts, doubling as managing editor, for three years; after a one-year stint at KPIX-TV/5 in San Francisco he rejoined KABC-TV as an anchor in 1978, returning to KGTV from 1980 to 1982 then rejoining KABC-TV for another 19 years. He moved to KCBS-TV/2 (and co-owned KCAL/9) in 2001 and remained there until his retirement in 2008 at age 64. He still lives in the Los Angeles area.
Would-be UHF competitor Elliott Cushman remained in San Diego, where he had lived his entire adult life, becoming prominent both in real estate investment and in community service; at one point San Diego Magazine reported he was on "more boards and commissions than any person in town" (until shortly before his death, he had been serving on the finance committee of the San Diego Hospital Association). From 1976 to 1979, he held a 14% stake in KUAM-TV/8 (and its affiliated radio stations) in Guam, and he owned a 50% interest in KIKU/13 Honolulu along with his sons Lawrence and Steven from 1979 until 1986. Cushman passed away May 4, 2004 at age 89 after his health went into decline following a stroke.
After losing the ABC affiliation, XETV became an English-language independent station for more than a decade and, like KCST in the early 1970s, cleared network programs not carried by the official San Diego affiliates. It became one of the charter affiliates of the Fox network in 1986 and kept the affiliation for 22 years (which was five more than it had with ABC). In 2008, it traded affiliations with KSWB-TV/69 (which had gone on the air as KTTY in 1984, affiliating with The WB network in 1995 and with successor network The CW in 2006). Almost a decade later, when XETV was unable to reach a renewal agreement for its affiliation with The CW, the network moved its programming to a digital subchannel of KFMB-TV at midnight on May 31, 2017; XETV then became an affiliate of the Mexican Canal 5 network, marking the first time since it originally began operation on January 29, 1953 that it broadcast full-time in Spanish. (That's 123 days past its 64th anniversary, to save you doing the math.)
---
Thanks to Harold Greene for providing first-hand information on the KCST news operation. Thanks also to Lee Shoblom for confirming much of what happened during the KAAR days ... and for sharing a few stories that probably shouldn't be published on a family website! And special thanks to J. Alan Wall for hosting the Shoblom video at his TV-Signoffs site.
---
EXTERNAL LINKS