KLHU-CA/45, Lake Havasu City AZ
by Lee Shoblom
After my experience at KAAR/39 in San Diego I went back into radio, and built a few stations from the ground up. Among those were KFWJ/980 AM and KBAS/95.9 FM in Lake Havasu City AZ, which went on the air in September 1970 and September 1974, respectively.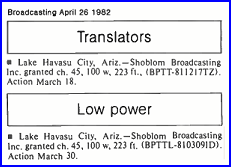 In the 1980s the FCC began allowing low-power television translators to originate programming rather than just retransmit a full-power station into an area shielded by terrain from the originating station's transmitter. I believed such a station -- commonly called LPTV as the industry grew -- would complement my two radio stations, and so I filed for channel 45 and was granted construction permits (shown at right; a two-step process when local origination by a translator was still rare) in March 1982. We went on the air two years later, on March 5, 1984. The call sign K45AJ was assigned sequentially by the FCC; "regular" call letters weren't yet allowed for low power stations.
Compared to building a full-power station, we invested a modest amount: $75,000 in studio equipment and $50,000 for a 1000-watt transmitter. All of our field production was shot using a single-tube Panasonic camera and Panasonic video tape decks. We also had the advantage of co-locating K45AJ with the radio stations, which also allowed us to simulcast some programming such as KFWJ's Breakfast Flakes morning program with myself and Kevin Shepardson (who owned the local tire store when he wasn't on the air).
The rest of K45AJ's programming came from the Financial News Network and JPD (a network which fed old reruns and movies to LPTV stations for a couple of years before going dark). Later we added programming from the Satellite Program Network and coverage of the 1984 presidential election from C-SPAN. We didn't make money from channel 45, but we weren't sinking either, because we had cash flow from the radio stations, which also produced our local newscast. We were a big deal in Havasu because we could be received in all 5,000 households; the local cable operator only had 1200 hookups and no plans to expand. One thing we didn't do which many LPTVs had to resort to in order to pay the bills was carry scrambled subscription television service in the nighttime hours.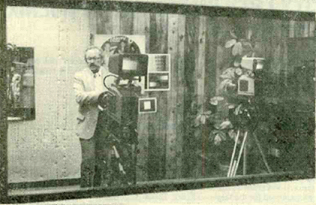 The author visiting LPTV station K61CA Phoenix AZ (yes, the
station that produced SPN's MusicChannel) in 1983, while K45AJ
was still under construction. That station subsequently went
dark and a full-power channel 61 station signed on in 1995.
We had the advantage of the existing translators for the Phoenix TV stations already being on the air from Goat Hill, eleven miles out of town; those were on UHF as well, of course, so everyone was used to receiving their television on those channels. We broadcast from an industrial park on the same "line-of-sight" reception path as the translators.
Near the end of the decade, I figured that if low-power channel 45 could be successful I could make a full-power station work in Lake Havasu. I successfully filed to have channel 34 allocated there, but before I could move forward personal circumstances brought that project to a halt. It never did go on the air; I always figured most people who looked at filing for it thought the town was too small for a full UHF station without co-owned radio stations supporting it.
I sold K45AJ in 1993 to Jeffrey Holmes, who in turn sold it to James Husted two years later. Husted upgraded the license to "Class A" (giving it the same protected status as a full-power station in terms of signal protection and channel assignment, but requiring a specific amount of educational/informational programming for children and a minimum percentage of locally-originated shows) and changed its call letters to KLHU-CA in 2001. The transmitter was moved to Goat Hill the following year, and then was sold to Jensen Investments (later Jensen Media Group) in 2004.
Managing Partner Mark Jensen passed away just before the end of 2012 and his widow Jolene continued to operate KLHU for three years. However, it took a lot out of her -- Mark died relatively young, at age 59 -- and the expense of converting the station to digital was more than she could afford. Jolene converted to digital anyway to qualify for the spectrum auction after the FCC said that it would not allow any analog stations into the auction, and she was pretty angry when the FCC then left her out of the auction anyway. (I had moved to Prescott in 1997 but returned periodically to help with the station management and technical operations.)
KLHU-CA went dark November 19, 2015 and returned its license to the FCC. It is the only station I ever built that went defunct, made even more painful by being the only television facility I ever constructed. If I had still lived there I might have been able to help them make a go of it. I'm proud that even on its last day, KLHU aired its thrice-daily 60-minute local newscast Havasu Today.
(Lee Shoblom, in addition to being prominently featured in this site's article on KAAR/39 San Diego, owned the radio stations mentioned in this article until 1997. He also served two terms on the National Association of Broadcasters' radio board and was president of the Community Broadcasters Association, an LPTV owners' organization. Lee presently lives in the northern California town of Ferndale.)
---
POSTSCRIPTS

The channel 34 full-power allocation was subsequently applied for by multiple parties in 1995. The winning applicant, Meridian Communications, successfully petitioned the FCC in 2000 to move the allocation to Laughlin NV on the premise that the proposed transmitter location was inadequate for a full-power television operation and that an alternate site near Oatman AZ could not provide city-grade service to Lake Havasu City due to terrain. Channel 34 eventually went on the air in Laughlin as KMCC August 21, 2003.
As of November 2016, there were still 13 low-power television stations in Lake Havasu City. Ten of those are still translators for Phoenix full-power stations; the remaining three broadcast satellite-fed religious networks. All but one have converted to digital transmission. None have any local program origination.
---
EXTERNAL LINKS
(Links are via the Internet Archive Wayback Machine.)

KLHU website home page, one month before the station went dark (Note: Links on page are inactive)
KLHU program schedule from January 2014 (last archived version of page)