KPAZ-TV/21, Phoenix AZ
by Raymie Humbert
By the 1960s, Phoenix benefited from a strong slate of not three, not four, but five VHF television stations. While it was unusual in that CBS and NBC were on high VHF, the Valley also lay claim to independent KPHO, Arizona's first station but an independent with regional stature, as well as Arizona State University's KAET.
As in other major cities, potential broadcasters began sniffing around the available UHF allocations in Phoenix. One of them, E. Pluribus Unum Enterprises, successfully got channel 14 moved from Holbrook to Phoenix. Another interested party, Dwight Harkins of movie theater chain fame, petitioned the FCC to allocate channel 20, and Power Television requested channel 26. All three petitions were granted simultaneously in December 1964 (shown at right), but in the summer of 1965 the FCC overhauled the table of UHF allocations nationwide. Yuma had channel 22, to which the
second-adjacent 20 at Phoenix became short-spaced, and so in the revision 14, 20 and 26 became 15, 21, 27* and 33. (27, the only noncommercial allocation, was later replaced by 39. It was the last of the original 1965 allocations to come to air.)
By the mid-1960s, activity had begun in earnest around permits for the commercial stations. The Thompson Broadcasting Company held the permit for channel 15 (originally KZUZ, later KLUZ). Another applicant for that frequency was Harcourt Brace, Inc., more famously known for their textbook publication business. The Lapin family held a permit for KGPA on channel 33. Al Lapin's most successful broadcast station was WAJA in the Miami area, which he sold in 1970. Neither CP made it to air.
Sports, News and Spanish: Spanish Language Television of Arizona, Inc. (SLTA), partly owned by E. Pluribus Unum, received a construction permit July 28, 1965 to build channel 21 (changed from 14 after an FCC allocation table change earlier that year) as Arizona's first full-power UHF station ... the only UHF stations in the state at that time were translators. With plans to go on air in early 1967 with a slate of programs for Phoenix's 160,000 Spanish speakers and programming imported from Mexico via the then-new Spanish International Network, KPAZ-TV planned to broadcast from studios in south Phoenix at 16th Street and Buckeye Road, in a then-Hispanic neighborhood which has now all but disappeared due to airport expansion. Additionally, within a year, it intended to build a satellite station in Tucson to increase its audience by 50 percent.
Much changed in the plans for KPAZ before it went on the air, most notably where its studios would be and how much Spanish-language programming would be broadcast. In July 1967, it acquired a transmitter and antenna combination that would increase the effective radiated power to 251 kW. It also shifted its studio from south Phoenix to a new expansion of the Tower Plaza mall at 36th Street and Thomas Road (named for the KTAR radio tower there). SLTA also had decided to add programming in English, and its promotional billboards pulled no punches in describing its lineup: Sports, News and Spanish. KPAZ telecast in color from day one, having purchased new RCA broadcast and transmission equipment.
The first day of operation was Saturday, September 16, 1967, Mexican Independence Day. Channel 21's opening ceremonies included an inaugural presentation previewing the station's programs as well as appearances by Governor Jack Williams, Senator Barry Goldwater, Mayor Milton Graham, and city councilman Frank Benites. Additionally, KPAZ telecast previews of its sports shows and other Spanish language programming and a live broadcast to mark Mexican Independence Day from their Tower Plaza studios. The next day, the station presented its first bullfight, about which the Arizona Republic columnist wrote, "The experience is is one of the few full justifications of color television that I've seen. Bullfighting is a psychedelic ritual, and the gay pastels of the capes, the crowd, and the confetti are exhilarating."
KPAZ's first weekday, Monday, September 18, looked typical for the first year of the station's operation:

6:00 News Summary
6:00 Comedy
6:30 Hoy en Phoenix
6:45 Noticiero
7:00 San Martín de Porres
7:30 Nueva Cita Musical
8:00 Un Largo Amor
8:30 Revista Musical
9:00 Canadian Hockey
11:00 News Summary
The station began telecasting at 6:00am with an Associated Press ticker-tape news summary. (The FCC issued a waiver to KPAZ to continue the practice in 1968 after the station was caught unaware they needed one in the first place.) At 6:00pm, a comedy show led into thirty minutes of Spanish-language local programs. Hoy en Phoenix, probably a current affairs show, aired at 6:30, followed at 6:45 by the Valley's first Spanish-language newscast, anchored by Ivo Luis Alonso. (Alonso had worked at Phoenix's Spanish-language station, KIFN/860, in the 1950s and had covered space landings as a correspondent for Voice of America prior to what would be a brief stint at KPAZ.) Programs provided by the Spanish International Network, primarily Telesistema Mexicano product, aired through most of primetime, though KPAZ never had a live interconnection to SIN. At 9:00, the focus went to sports ... anything and everything, and it was the primary selling point of KPAZ to English speakers. Jai alai, golf, Canadian junior hockey, and most notably bullfighting were staples in KPAZ's first era. (The bullfighting was enough of a draw that a bull was featured in channel 21's logo, polarizing enough to trigger comments within a month of the station signing on.) Wednesday night brought local wrestling hosted by Jim Spero ... more on him in a moment.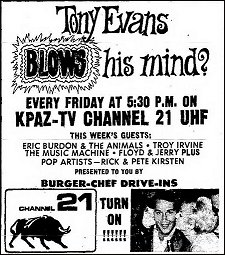 One noteworthy English-language entertainment program aired at 5:30 on Fridays: Teenage Dance, hosted by Tony Evans of KRIZ/1230 radio fame. The first edition featured a mix of regional and national acts: Eric Burdon & the Animals, (Sean Bonniwell and) the Music Machine, Floyd & Jerry (Westfall), Troy Irvine, and Rick & Pete Kirsten. In a short article in Billboard, Evans described his show as being patterned after the Tonight Show but being aimed at the 15-35 age group. The news summary ran for another two hours at 11:00pm before channel 21 ended its broadcast day.
By the end of 1968, KPAZ
had dropped the "toro" logo
in favor of hyping its movie-
dominated schedule, with
tongue-in-cheek "slogans"
at the top and bottom of
its newspaper ads.
The Bull Exits: As 1967 turned to 1968, KPAZ's programming began to change. The ticker tape news, cut to six hours beginning at noon within a month of signing on, disappeared entirely by April 1968, and KPAZ signed on at 4:00pm with movies, which came to dominate the station's broadcast days. Faced with a boycott drive that led sponsors to abandon channel 21, it dropped bullfighting by the summer. While the corridas del toros made the station relevant, it also earned them constant local scorn and controversy, not to mention giving them something of a pariah status with potential advertisers. The Republic noted that, of the many irate callers and writers that expressed their bullfighting frustrations to the paper, "one letter and one caller even accused the station of being run by Communists."
Channel 21 viewers in 1968 were also treated to local sports programming including Arizona State University football highlights and live wrestling from the KPAZ studios, as well as the syndicated music program Upbeat, which originated from WEWS/5 in Cleveland and featured Midwestern local and regional acts, as well as national performers. Among the bands that played on Upbeat were ? and the Mysterians, The Who, Stevie Wonder and John Denver.
In early 1969, as the station's financial situation began to worsen, KPAZ continued efforts at local and alternative programming. The aforementioned Jim Spero (who had worked at various Phoenix radio stations, but at the time was with KXIV/1400) began a Saturday night discussion show called Basharoonie on February 15. Within weeks, the alternative weekly Bachelor's Beat described this new midnight show as "a permanent fixture on the Phoenix entertainment scene" and a "packed and fast-moving show," with guests ranging from the Phoenix police chief to comediennes and singers, though KPAZ's lack of color cameras was cited as a drawback. In May, Playboy After Dark joined channel 21's Saturday lineup at 8:00pm and Basharoonie moved to follow it at 9:00. KPAZ also ditched playing the national anthem at signoff in favor of the song Peace, Brother, Peace written and performed by Bill Medley.
Bankruptcy: KPAZ was going downhill, and quickly. The slow consumer acceptance of UHF availability and the high startup costs (as had been the case elsewhere) were the primary reasons, as well as the apparent lack of viewers for channel 21's programming; the aforementioned changes in its schedule -- begun less than six months after signing on -- hinted at such.
On August 6, KPAZ filed for bankruptcy, and on October 9 the station was placed in the hands of trustee Lou Silverstein, who had been sales manager at the time of filing. (He was replaced the following month by Julius Altschul.) The largest creditor, owed more than $160,000, was RCA, which the station had never made more than the original down payment to. Equipment manufacturer Ampex came in second at $85,000, while Valley National Bank was owed more than $30,000. Channel 21's bankruptcy situation was unusually lengthy, compounded by the requisite federal approvals and a restive creditor.
KPAZ soldiered on with its eclectic mix of movies, Spanish-language programs, and local shows. In December, Basharoonie yielded to Phoenix After Dark, hosted by former KTAR-TV/12 Romper Room host Sherri Chessen, when Spero wanted out.
God Enters: KPAZ finally received a bankruptcy hearing on June 1, 1970. Federal bankruptcy referee Hugh D. Caldwell not only ruled that KPAZ's bankruptcy had actually begun at the end of SLTA's fiscal year, on May 31, 1969, but he also approved the station's sale. The buyer was the Glad Tidings Church, paying $400,000 for the privilege, beating a $225,000 bid from Scottsdale-based Music & Entertainment Co., which had bought into the station in the interim to help keep it on the air. (Glad Tidings' road to buying KPAZ had begun when the other Phoenix television stations denied the group airtime for its religious programming.) The church immediately announced some of its plans for the station, including the return of bullfighting (!) and the end of foreign-language films on channel 21.
A situation quickly developed that might have done the entire deal in, if anyone had been paying attention: Even though KPAZ was not yet in the church's hands, Glad Tidings took an active hand in running the station. On July 3, Silverstein, who had transitioned from trustee to general manager (replacing 17.5% owner Don Thompson, who had started the entire matter with his channel allocation petition in July 1963), departed, saying that the potential new owners were looking for a GM "who would work more closely with the church." He was replaced by Gene Spry, who had held the same position at KPHO-TV/5. Rev. John D. Watson of Glad Tidings Church told the Republic they did not think the FCC would permit the station to carry more than 20% religious programming, and that while they would convert the weekend schedule to religious programs, they would "continue much the same programming" that KPAZ had been running during the week. To finance the purchase, Glad Tidings also announced plans to sell bonds to the public.
By the fall of 1970, KPAZ was calling itself "The New Channel 21". This was their schedule for Sunday, October 4:

12:30 Religious Drama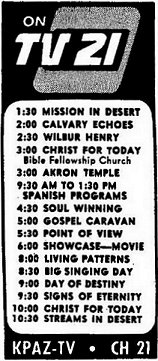 The Sunday KPAZ schedule
about one month before FCC
approval of the license
transfer, offered as possible
proof of Glad Tidings'
illegal involvement in station
operation while the
application was still pending.

1:00 Christ For Today
1:30 This Is The Life
2:00 Musical
3:00 Movie
5:00 Bailey Game
5:30 Movie
7:30 Musical
8:00 Movie
10:00 Christ For Today
10:30 Religious Drama

Saturdays in early 1971, such as this schedule for January 16, retained a healthy portion of Spanish-language shows:

2:30 Festival Mexicano
3:30 Cine Sabatino
5:30 Baile y Gane
6:00 Cine Sabatino
8:00 Invitation To Taiwan
8:30 A.B.C. Forum
10:00 Creeper Theatre

New local programs began to appear on the schedule in 1970 and 1971. The live children's show Mr. Adam's Animals featured trained chimpanzees, while station manager Keith Houser originated Action Auction, a live Saturday night show in which viewers could bid for items ranging from furniture to jewelry. It was one of the station's few money makers.

During that entire time, the sale of the station was still pending with the Federal Communications Commission. On April 18, the Republic ran an article questioning whether the church was illegally managing the station during the process of the sale. The issue finally became moot when the FCC approved the sale on June 23, 1971. Rev. Lindell Edmonds, now the head of Glad Tidings, only then mentioned the purchase of new video tape equipment and the fact that channel 21 had only lost $2,000 in May.

It looked like the coast might be clear ... but the station's largest creditor pitched a fight. RCA appealed the reorganization plan to the Ninth Circuit Court, meaning all payments made to the bankruptcy court were stayed. RCA contended that the equipment it had sold channel 21 was still RCA property. The ruling was partially successful for RCA: The three judges who heard the case found in the company's favor, stating that under the conditional sales law of Arizona, RCA still owned the station's equipment.

While that legal process played out, KPAZ attempted to raise funds to meet deadlines. It staged an 11-day pledge drive called Outreach '72 in October. That same month, it underwent another change in general managers as Spry stepped down -- he was the 16th employee departure since the change of ownership -- and was replaced by a clergyman, the Rev. V. O. Brassfield. More employees left the day after Spry when Edmonds read a list of employees that the station was "financially unable to employ" further; all this came a mere week after the station was a day late making payroll. The church did not provide severance pay or accumulated vacation pay, and even Action Auction found itself off the schedule for a time. The state of financial affairs was hard to square with the station's continued spending .. channel 21 continued to make purchases of new equipment, including a mobile unit.
Channel 21 was finally able to exit bankruptcy in 1972 after Glad Tidings made separate agreements with RCA and Ampex as to their equipment; after the other payments made to creditors that included Valley National Bank, Tower Plaza and Maricopa County, the effective purchase price of KPAZ was $155,000. The church and its latest bankruptcy trustee, Julius Altschul, were at odds, with Altschul reportedly complaining of not being allowed access to the station's financial records.
For a time post-bankruptcy, Glad Tidings pulled through. In June 1975, KPAZ was relocated to new studios at 3551 E. McDowell Road, next door to the church. By the end of the year, KPAZ was devoting about half its broadcast day to religious programming, on the air from 4:30pm to midnight on weekdays, 1:30 to 10:00pm on Saturdays, and an entirely religious broadcast day of 9:00am to 11:00pm on Sundays. (Action Auction even returned to the schedule for a while.)
Not-So-Glad Tidings: Pledge drives continued to be one of the station's main ways of making money, and it was becoming clear that debt-ridden Glad Tidings could not hold out for long. In December 1975, the Trinity Broadcasting Network, a fledgling ministry that owned KLXA-TV/40 in Santa Ana, California, made an application to buy KPAZ and convert it to an entirely religious station by assuming $2 million of channel 21's debt. The deal was expected to close in April 1976, but the FCC asked for more information about channel 21's finances, worried about reports that debt service payments had stopped since the application was filed. TBN also began purchasing $10,000 a month in air time on KPAZ, accounting for half the station's operating costs, to keep it afloat. But on July 26, Glad Tidings informed the FCC by telegram that it was "terminating" the sale to Trinity. Ironically, Paul Crouch, the founder of TBN, said that the reason Glad Tidings was able to do this was because his purchase of airtime had given the church enough leverage to renegotiate the deal.
As 1976 turned to 1977, the tidings became far less glad. Trinity pulled its programming from KPAZ, taking a major source of the station's revenue away. The fatal blow came on Wednesday, January 19, 1977, when RCA seized its assets, forcing channel 21 off the air. With the station in default on its broadcasting and transmission equipment, KPAZ general manager Dale Allen Richman (if you're keeping track, Richman was the fifth GM in less than ten years) noted that "they simply came in and took what was rightfully theirs." The next week, the church and eleven of its officers and directors were sued by Euel and Cinderella Ballentine, who accused KPAZ of defrauding them of $25,000 by ceasing to make payments on savings certificates they bought in February 1975, after they had been promoted on the station. General manager Richman declared that "the devil is trying to strike down the Christian ministry of this television station."
Buyers came out of the woodwork. In February, it was reported that the PTL Television Network, based in Charlotte NC, was seeking to buy what would have been its first broadcast outlet; PTL programming had been airing on channel 21 as far back as 1971. (Later in the year, PTL acquired WJAN/17 Canton OH.) In late March, Trinity, via subsidiary Trinity Broadcasting of Arizona (TBA), again filed with the FCC to acquire KPAZ. TBA asked KPAZ bondholders to swap their Glad Tidings bonds for its own, promising to assume the station's liabilities and have parent TBN loan the station money to pay off equipment costs and back taxes, ($112,000 on the transmitter alone). In July, the FCC approved TBA's application, with a laundry list of conditions, not the least of which was a requirement to file along with the annual financial report by Trinity to the Commission, statements on payments made to "the security holders of the Glad Tidings obligations"; the next month, TBN's monthly Praise the Lord newsletter heralded the good news with the large headline "Praise the Lord, We Got TV 21!"

On Labor Day, September 5, 1977, the Trinity Broadcasting Network put KPAZ back on air with its own programming, which continues today. TBA also settled the lawsuit brought by the Ballentines for $27,500.



The KPAZ studios today, still in the building on McDowell Rd. that
Glad Tidings Church moved it into back in 1975. The church, however,
is no longer next door, having moved to North 32nd St.; channel 21's
neighbor nowadays is the private (but non-religious) StarShine Academy.

On April 30, 1978, KPAZ was linked to KTBN (the former KLXA) by satellite. It was the first of what would be many expansions for Crouch's broadcast ministry.

By the time KPAZ returned to the air, new parties were beginning the process of picking up pieces of the original vision of Spanish Language Television of Arizona. Funding problems had delayed the launch of the New Television Corporation's channel 15, but by late 1978, a partnership with the subscription television-minded Oak Communications meant that KNXV would hit the air running. Meanwhile, beginning in 1976, the Legend of Cibola Television Corporation, a subsidiary of the same Spanish International Network that supplied programming in the first phase of KPAZ, worked to bring KTVW/33 to air. KTVW filled the void in Spanish-language programming left by Trinity's conversion of KPAZ to entirely religious fare, and much like KPAZ had once planned, it extended its reach into Tucson and gain nearly statewide coverage. When KTVW and KNXV began operations on the first two Sundays in September 1979, the dual visions of KPAZ finally came to pass on durable stations that have survived -- and thrived -- to this day.
---
POSTSCRIPTS

Tony Evans moved to Los Angeles to join the staff of KTNQ/1020 when it went on the air at the end of 1976. A year later, he moved to KCBQ/1170 in San Diego before moving back to Phoenix, and is still heard on the air there.
Paul Crouch died November 30, 2013 at age 79, the result of degenerative heart disease. In his later years, he fought against allegations of financial shenanigans and sexual impropriety. TBN is now headed by his son Matt.
KTVW is still owned and operated by Univision (the former SIN). KNXV discontinued subscription television operation on May 4, 1983 and channel 15 became a typical independent station. It became one of the original affiliates of the Fox television network three years later, then transitioned to being an ABC affiliate during the last half of 1994 as Fox moved to KSAZ-TV/10. KNXV remains affiliated with ABC.
Jim Spero passed away June 13, 2017 at the the age of 88. His successor on Saturday nights, Sherri Chessen, now lives in the San Diego suburb of La Jolla; in 2016 the Arizona Republic published an article on the scandal that had removed her from hosting Romper Room on KTAR-TV in 1962.