KQEC/32, San Francisco CA
by K.M. Richards
This is the story of a true rarity in the history of television ... a non-commercial educational station which lost its license because it lied to the Federal Communications Commission.
It is also a story which, had history taken a different direction, might have been one where the UHF station involved would have been on the VHF channel of the station that owned it in the end. The story involves more than a half-dozen other stations, either directly or indirectly, and it is a story which spans 67 years (before postscripts). I hope it makes for interesting reading.
Our saga begins on November 26, 1947, when the Rev. Dr. Sherwood H. Patterson, owner of KSAN/1450, filed an application for the unassigned channel 9 in San Francisco. At that point in time, three of the six channels allocated to the Bay Area had been taken: Channel 4 by the San Francisco Chronicle, channel 5 by the owners of KSFO/560, and channel 7 by ABC, which owned KGO/810. Patterson was in competition with Television Productions, Inc., the division of Paramount Pictures that owned KTLA/5 in Los Angeles, which had been the losing applicant for channel 4 and subsequently given permission by the FCC to reinstate its application as modified for channel 9. Patterson apparently felt outgunned by Paramount, as he withdrew the application shortly after the comparative hearings began May 24, 1948.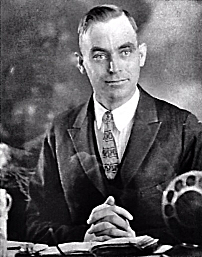 Rev. Dr. Sherwood H. Patterson, in a photo
taken around the time he acquired
KSAN/1450 (then KGGC/1420) in 1937.
(Photo courtesy Bay Area Radio Museum.)
Patterson probably should have stayed in the proceedings: On December 16, 1948, the FCC denied the Paramount application when upholding its earlier 1946 decision that Paramount controlled the DuMont television network and its three stations as a result of its investment in DuMont in 1938. Three months earlier, on September 30, the FCC had frozen the granting of new television licenses, and with no valid applicant for it the channel 9 allocation remained vacant; it was redesignated as non-commercial educational in the 1952 post-freeze channel allocation table.
Fast forward to April 29, 1953, when the Rev. Dr. Patterson's second attempt at obtaining a television station authorization resulted in his being issued the construction permit for channel 32 in San Francisco. KSAN-TV began operation less than one year later, on March 15, 1954 ... making it the ninth UHF in California and the first in the Bay Area (although KTVU/36 Stockton had a transmitter site in the Diablo Mountains which also covered much of the northern part of same, a site later used by KOVR/13). The schedule was heavy on sports, including telecasts of the minor league San Francisco Seals baseball team and same-day films of horse racing in both the Bay Area and Los Angeles, with "Country Lee Crosby and His Western Show" on Saturday nights (Crosby was also a disc jockey on San Rafael's KTIM/1510). Sometimes the juxtaposition of baseball and horse racing caused an odd broadcast schedule, such as on Thursday, April 29, 1954, when the Seals played an afternoon game but the racing films were scheduled for their usual evening timeslot of 7:00; channel 32 signed on that day at 12:45pm for the game, then afterwards filled airtime with free films provided by industry and public relations firms -- popular as filler for television stations up until the end of the 1970s --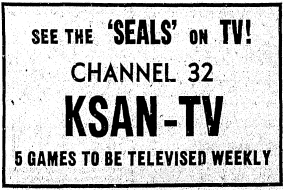 until the races, then telecast its nightly 7:30 newscast and signed off at 7:45! (The Seals' schedule caused Patterson a significant amount of grief, actually: He claimed the station's original contract called for four night games per week, only to have the team move its Wednesday and Thursday games to afternoons about a month after KSAN-TV first signed on. The team's response in the press to his complaint was that there was no provision requring night games, and that "it is better to go along ... and have games to telecast, even if only two, or fight [the team] and wind up with no games.") Absent the baseball games wreaking havoc with its schedule, KSAN-TV normally signed on at 5:00pm -- after a few weeks of starting at 6:45pm -- the exception being Mondays, when there were neither races or baseball games scheduled and channel 32 didn't even bother to turn the transmitter on at all. When baseball season ended in September, the requisite ancient movies that practically all independent UHFs relied on in that era were added to the schedule, often filling as many as three daily timeslots.
Less than one month before KSAN-TV's inaugural broadcast, KTRB-AM/FM, on the other side of the Diablo mountain range in Modesto,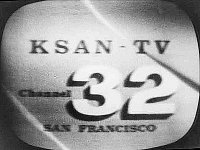 was granted a construction permit for KTRB-TV on channel 14. In the interim, channel 9 went on the air as KQED June 10, 1954. More on both in a moment.
While in July 1955 Patterson told Variety that the station had been operating in the black since May, by KSAN-TV's two-year anniversary things were bleak. Appearing at a FCC hearing on deintermixture in March 1956, Patterson said had "lost hundreds of thousands of dollars" because the market was only 25% converted to UHF despite his extensive coverage of local sports which had brought him what viewers he had. (The old movies were relegated to a late night time slot when Seals baseball resumed in the spring of 1955, then disappeared entirely after Thanksgiving weekend.) Meanwhile, construction permits were granted for channels 20, 26 and 38 in San Francisco, and for channel 48 in nearby San Jose. (Of those, only the channel 20 CP survived, eventually going on the air New Year's Day 1968.)
Patterson may have been overly optimistic about viewership on KSAN-TV, even with his sports-heavy schedule; Hayward Daily Review entertainment reporter Ellis Walker reported in his column of April 9, 1954 that "judging from what I witnessed on the monitors Monday night, it would be my advice to leave your money [for a UHF converter and antenna] in the bank. The station doesn't even appear able to put out a clear signal on a closed circuit. The baseball games won't show up too well through a snowstorm. And it certainly looks stormy ahead for KSAN-TV."
And absent major sports coverage -- or even ancient movies -- KSAN-TV's programming certainly wasn't going to create an incentive to convert to UHF. TV Guide's March 3, 1956 issue showed them operating only on weekdays, signing on at 5:00pm and off at 10:00pm, with a schedule that even the most casual of viewers would call "cheap":
5:00 - Adventure Land
5:30 - The Big Picture (the ubiquitous Army "free series")
6:00 - Around The Bay (see below)
6:30 - Magic Carpet
7:00 - Adventures in Flight
7:30 - Travel Log
8:00 - Film Festival
8:30 - Educational Film
8:45 - Wrestling From Hollywood

Channel 32 had one "personality" ... Lucile Lando, who worked for the co-owned radio station; Lando, the first (and perhaps only) white female to have an R&B radio program in that era, hosted what few local programs KSAN-TV had on its schedule. These included Around The Bay on Tuesdays, Thursdays and Fridays (typical listing: "The National Therapy Association sets up a complete clinic before the cameras with the aid of Letterman Hospital"), a weekly Teen Time program (which was also the name of her radio program) that pre-empted the regular 5:00 hour on Wednesdays, and Ring-A-Bell (apparently an interview program, and probably titled as a homage to San Francisco's famed cable cars) at 7:00 on Thursdays. It also seems that the other "listings" were little more than umbrella titles for the free films provided by industry and public relations firms that were popular as filler for television stations up until the end of the 1970s; these also filled the odd gaps in KSAN-TV's schedule, such as on Mondays and Wednesdays when Around The Bay didn't air. Ironically, Wrestling From Hollywood was a rerun of filmed bouts that had originally aired between 1952 and 1955 on the Paramount Television Network, owned by the same Television Productions, Inc. that Patterson had originally been in competition with for channel 9 in 1948.


Channel listings in TV Guide, March 3, 1956.
And in retrospect, "stormy ahead" may have been an understatement on Ellis Walker's part: In 1955, while commenting on the deintermixture proceedings, the Rev. Dr. Patterson filed a petition to allocate channel 11 to San Francisco and move KNTV San Jose to channel 12. KNTV, of course, was opposed, and that petition got nowhere (and it likely wouldn't have been technically feasible anyway); Patterson turned right around and filed a more convoluted petition with the FCC on October 12, 1956 that would have moved channel 13 from Stockton to San Francisco, moving educational channel 6 from Sacramento as a replacement in Stockton and substituting channel 19 as Sacramento's non-commercial allocation, coupled with the issuance of a show cause order moving KSAN-TV to channel 13. Given that the FCC approved the move of KOVR from Mount Diablo to Butte Mountain less than a month later, on November 8, one could have probably seen the denial of Patterson's second petition coming.
Having now been twice denied a VHF channel for KSAN-TV, Patterson changed tactics. Two years after his previous appearance at an FCC hearing, as the Commission deliberated on whether or not to allow over-the-air subscription television, Patterson -- who appeared to completely support UHF despite his own losses -- again appeared, in support of STV, saying it could be the "salvation" for struggling UHF stations. Patterson pointed out that he had been unable to negotiate rights to telecast games of the recently relocated San Francisco Giants baseball team because they "would not consider any arrangement except on a subscription television basis." He also said he would "go out of business if a wired system gets started in San Francisco before a broadcast system is authorized."
Less than six months later, on June 21, 1958, Patterson took KSAN-TV dark. Bob Foster, the television columnist for the San Mateo Times, noted that when they pulled the plug "hardly anybody noticed the difference."
In November 1960, two related events occurred: The CP for channel 43 in Visalia, south of Fresno, was issued to Patterson's son Norwood, and KTRB-TV's CP was deleted by the FCC for failure to construct (and by that time, it too was tied to the Fresno market, as the permit had been purchased by KJEO/47 with the intent of operating it as a satellite). The KTRB deletion created an opportunity for the College of San Mateo (just south of San Francisco); in October 1961 the National Educational TV & Radio Center petitioned the FCC to move the channel 14 allocation from Modesto to San Mateo and make it non-commercial.
On December 23, 1961 Norwood Patterson put KICU-TV/43 on the air with a schedule typical of an independent UHF in those days ... movies, a handful of off-network reruns and syndication, and a local kiddie show hosted by "B'wana Don", later adding high school football and basketball games and other local sports coverage, and network programming not cleared by the Fresno affiliates (notably G.E. College Bowl from NBC and The Nurses from CBS in the 1963-64 and 1964-65 seasons, adding NBC's The Bell Telephone Hour and Let's Make A Deal the season after that). KCSM-TV/14 received its CP within the following year and began operation October 12, 1964. Modesto received a channel 17 allocation to replace the one moved to San Francisco and was the channel specified in the original application for KLOC-TV that year, only to be replaced by channel 19 two months before beginning operations in 1966 because the transmitter site ended up short-spaced by 11 miles to ... KSAN-TV!
But in 1965, Sherwood Patterson was fighting just to keep the license for KSAN-TV alive, as it had now been dark for close to seven years; after yet another appearance at a hearing, he was given a six-month extension by offering to return to the air as a satellite to his son's KICU-TV. He resumed operation on that basis on February 18, 1966 for two or three hours each day. (As the Fresno station was an affiliate of the United Network, one might have wondered if The Las Vegas Show might have ended up airing in San Francisco after all, on channel 32 ... but message board posts by some who had viewed the resurrected KSAN-TV said the simulcast hours were entirely in the afternoons.)
At this point the licensee of non-commercial KQED/9, Bay Area Educational Television Association (BAETA), officially enters our story with their application for a second station, to be called KQEC, on channel 60; the CP for same was issued April 24, 1967.
It soon became obvious why Patterson put channel 32 back on the air for a few hours everyday; the San Francisco Examiner's Dwight Newton reported that Patterson had been negotiating since October 1965 with Metromedia, which had been built on the foundation of the two owned-and-operated stations of the DuMont Network as Metropolitan Broadcasting and had expanded to California with their 1960 purchase of KOVR/13 Stockton from Gannett and 1963 purchase of KTTV/11 from the Los Angeles Times; Metromedia was eager to acquire a station in the growing San Francisco market but found none of the VHF station owners willing to sell and, deciding it was better to purchase and upgrade an existing UHF station than to build one from scratch, purchased KSAN-TV for $1,210,000 (on top of the $10,000 per month they reportedly paid Patterson on their option to purchase). Approval of the sale was delayed while the FCC considered changing ownership limits, during which time KSAN-TV limped along with its simulcast of KICU-TV, going dark when the sale to Metromedia was approved on March 22, 1968.
Metromedia hurriedly upgraded the channel 32 transmitter and returned to the air as KNEW-TV July 1, 1968 on a daily 3:30 to 11:00pm schedule, while their new studios at 1011 Bryant St., a building which had originally been a blacksmith's shop, were still under construction. (The KSAN call letters were moved to Metromedia's KSFR/94.9, which had just changed formats to progressive rock.) In a move that seemed odd at the time, only three months later Metro TV Sales -- the national sales representative agency owned by Metromedia -- dropped KNEW-TV as a client station in favor of representing KTVU/2, across the Bay in Oakland (no relation to the aforementioned channel 36 in Stockton).

Mitch Agruss, host of Meet
Mister Mitch on KNEW-TV,
and formerly well-known as
Sacramento's "Cap'n Delta".
Local newspaper critics, comparing it to KTTV, found the new channel 32 "a disappointment" in its airing of old episodes of PDQ, Truth Or Consequences and The Woody Woodbury Show when newer shows were being taped and broadcast in Los Angeles. As near as can be told from newspaper articles and advertising, the only local show KNEW-TV ever produced was Meet Mister Mitch, an live afternoon children's talk show hosted by Mitch Agruss -- an eleven-year veteran of kid shows on the other side of the Diablo Mountains at KOVR and KLOC-TV -- and which also featured filmed excursions to San Francisco landmarks. At one point, Newton called them "America's only station without a shred of news."
Channel 32 proved disappointing to Metromedia itself; in mid-April 1970 they announced they were cutting back KNEW-TV's operations to 28 hours a week, airing only programs already produced by them for national syndication (the San Mateo Times called it "all but going out of business"), followed on May 15, 1970 by a proposal to donate channel 32 to the Bay Area Educational Television Association under a "distress sale" waiver. The waiver was justified; in an accompanying statement that surprised no one under the circumstances, Metromedia said it had spent $1.8 million before deciding their "investment [had] not produced proper coverage for the area." (That was made even more obvious when Broadcasting later reported on the corporation's 1970 financial statement, which set a value for channel 32 at only $1,574,201.) General manager Graham Moore -- who had originally come from the aforementioned Metro TV Sales -- released a final statement to the press attributing the station's problems to being unable to "deliver a satisfactory signal ... we operate on one megawatt, we really have to have five" and the delay in starting construction of a "supertower" at the Mt. Sutro site they shared with KGO-TV/7.
By the time the donation proposal was announced, the new austere schedule for channel 32 had been in effect for nearly two weeks, having taken effect on May 4. With 90% of its staff (including Moore) let go, KNEW-TV was left in the hands of the station engineers, who now had little more to do than play films and video tapes from 4:00 to 9:00pm daily on a schedule consisting of repeats of Metromedia-produced Pixanne, Wonderama, You Don't Say!, Queen For A Day and Pay Cards, plus even older -- by over a decade at that point -- reruns of Sgt. Bilko, Death Valley Days and Mike Hammer (apparently to run out a contract with Universal's MCA TV syndication division as much as possible). On Sundays KNEW-TV was only on the air for 90 minutes, to run Bishop Fulton Sheen at 6:00pm, bookended with a Sgt. Bilko rerun and one of those free films that KSAN-TV had run so many of originally; Saturday was similarly bare bones, with a two-hour "broadcast day" starting at 5:00pm and anchored by country-western artist Bill Anderson's weekly syndicated half-hour.
The transfer application was filed on July 27 and approved on September 9 -- shortly after KQEC filed for a second extension on the channel 60 CP, the first having come not long after KNEW-TV first went on the air -- and Metromedia went dark in the Bay Area at the end of the following week, at 7:00pm on September 19, 1970. BAETA renamed itself KQED, Inc. and on October 9 filed with the FCC to swap the KQEC channel 60 non-commercial allocation for the commercial one on channel 32 (which was actually approved six months after KQEC went on the air).
On April 26, 1971 KQEC filed to change its CP to the channel 32 facilities on Mt. Sutro and began operation June 28, 1971, only to find themselves unable to properly program both the VHF and UHF stations separately; on April 5, 1972 they were given a 90-day waiver to simulcast KQED on KQEC and channel 32 again went dark two months after that waiver expired, on September 2.

Channel listings in TV Guide, September 18, 1971. KDTV was still four years away from going
on the air on KQEC's original channel 60 allocation and KCSM-TV was still on channel 14.
While KQEC was off the air, its former allocation of channel 60 finally got a tenant, as Spanish International Network received a CP for KDTV on November 13, 1974 and began operations on August 10, 1975. KQED, Inc. likely didn't even notice, as it was trying to renew the channel 32 license; on December 17, 1975 they were told to resume operations by the following March 29 as a condition of renewal (the FCC subsequently extended that date to January 2, 1977, a deadline which they barely managed to meet).
Shortly after KQEC returned to the air, KCSM-TV and KDTV filed a joint request to make channel 60 non-commercial again, as SIN offered to donate its facilities to KCSM-TV in order to broadcast themselves on the more desirable channel 14 allocation. This was approved by the FCC and the swap took place March 5, 1979.
However, while that swap was being engineered KQEC was having more problems, as the Community Coalition for Media Change and the California Public Broadcasting Forum filed petitions to deny channel 32's 1977 license renewal, primarily on the grounds that KQEC had spent more time off the air than on, and had simulcast channel 9 for nearly all the time that they had managed to operate. (This was despite the statement in a 1972 letter from KQED, Inc. to Ben F. Waple, then Secretary of the FCC, that the second station was needed to air programming in the area of adult education, as well as "community programming, originated by and directed to the many ... ethnic minorities in the San Francisco Bay Area.") That renewal, as well as the subsequent 1980 renewal, were ultimately approved, and reaffirmed by a Memorandum Opinion and Order ... by which time KQEC had gone dark for another six months, from November 5, 1979 to May 29, 1980.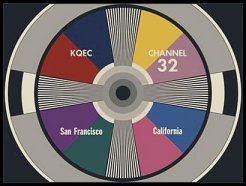 The public interest groups that had challenged the license renewals turned to the U.S. Court of Appeals after the Minority Television Project filed an application on November 1, 1983 challenging the next renewal of the KQEC license. In the appeal, the groups claimed that KQED, Inc. had lied about KQEC's latest dark period; KQED had told the FCC that they needed to go dark to replace "inferior" equipment inherited from Metromedia (which the latter quickly and vehemently denied) but, it was claimed, actually did so for purely budgetary reasons. In January 1985, the appellate court ordered hearings not only on KQEC's license renewal but that of KQED and KQED-FM/88.5 as well; the administrative law judge assigned to the hearings, James F. Tierney, allowed a review of the programming of all three stations prior to the licenses being placed in jeopardy to see if the misrepresentation of the dark period could be mitigated by KQED's performance as a licensee. Tierney ultimately issued an initial decision January 16, 1987 renewing KQEC's license and denying the competing Minority Television Project's application for channel 32.
If Jerold M. Starr's accounting in his book Air Wars: The Fight to Reclaim Public Broadcasting is correct, then so were those challenging KQEC's license renewal; Starr wrote that Anthony Tiano, who was hired as KQED's general manager in 1978, decided to implement capital improvements -- including installation of a new master control routing switcher -- which would have required channel 32 to either move or rent/purchase standby equipment. Despite that being estimated as costing a maximum of $5,000 Tiano "temporarily" suspended operations then told the KQED board that leaving KQEC dark for a longer period would "help reduce the station's large budget deficit" which at the time was estimated at being at least $500,000. They gave the public the same excuse, but when it came time to report the extended dark period to the FCC their story was that a delay in shipment of the new switching system was the reason. It was Larry Hall, then president of the California Public Broadcasting Forum, who discovered the misrepresentations while reviewing FCC records and used the discrepancy -- which was a direct contradiction to the FCC mandate at the previous renewal -- to file the second challenge to KQEC's license in 1983.
In any event, MTP appealed Tierney's decision, which brought the matter before the FCC Review Board in December 1987. On April 18, 1988 the Review Board revoked KQEC's license and awarded channel 32 to MTP. KQED appealed, got a stay of the decision, and (miraculously, it seems) managed to keep channel 32 on the air through the entire challenge/appeal/hearings/review process.
This already strange story took a bizarre twist at that point: On November 13, 1989, KQEC announced a joint venture with KRON-TV/4 for a 24/7 "Bay News Center" service, which would be produced by KRON-TV and both aired on KQEC and fed to cable systems with commercials (KQED to receive 20% of those proceeds) while KQEC covered the breaks with PSAs and promos. Before that idea could move forward, though, the full Commission voted on February 8, 1990 to deny KQEC's latest license renewal and re-awarded the channel 32 license to MTP, using the KQEC facilities. KQED appealed again, was denied by the FCC a year later, and moved on to the appellate court ... only to withdraw their motion to dismiss the license renewal decision in May 1991, saying "we simply need to move on." They continued to operate KQEC until August 30, 1991 to give MTP time to prepare for commencing operation, then went dark; KMTP-TV went live the next day using the same former KNEW-TV transmitter on Mt. Sutro that KQEC had inherited.
In recent years, KMTP-TV challenged the FCC in its own right. In 2002, the FCC levied a $10,000 fine against them for showing paid commercials that did not meet the standards for underwriting announcements; after being denied an appeal they filed a lawsuit against the FCC in U.S. District Court over the Commission's standards, including charges that the FCC standards do not take into account foreign language broadcasting. KMTP-TV achieved only a partial victory: On April 12, 2012 the U.S. Ninth Circuit Court of Appeals ruled that non-commercial stations can air advertisements for both candidates and political position statements as protected free speech, but sided with the FCC at the end of 2013 that the government "had a vested interest in maintaining public television without the influence of for-product sponsors." The U.S. Supreme Court decided on June 30, 2014 not to hear the case, but did not comment on why it chose not to do so.
---
POSTSCRIPTS:
After KTVU/36 went dark on April 30, 1955 the call letters were reused for channel 2 in Oakland (as noted above) when it began operation March 3, 1958. Channel 36 was reallocated to San Jose and went live as KGSC-TV on September 3, 1967; it changed call letters to KICU-TV March 27, 1981 after the Visalia license was finally cancelled (see below). KTVU/2 and KICU-TV/36 have operated as a duopoly since 2000.
KICU-TV (the Visalia one) continued operation for several months after KSAN-TV signed off, even airing a significant amount of NBC prime-time programming that summer while KMJ-TV/24 carried Oakland A's baseball (as well as daytime's Match Game and Let's Make A Deal, which KMJ did not clear), then went dark October 18, 1968. The next day, Norwood Patterson told the Fresno Bee that channel 43 would resume "in six to eight months" from a new transmitter site; it was later revealed that Patterson was undercapitalized, and apparently operated his various corporate enterprises by standing off creditors, including the government. He was indicted a year later on charges that he had failed to pay more than $140,000 in federal withholding taxes from 1965 until 1968 and found guilty July 3, 1972; the convinction was upheld on appeal. KICU-TV's authority to remain dark expired December 19, 1970 but the license was not cancelled until April 1, 1975; channel 43 was made a non-commercial allocation June 22, 1977 and then moved to Fresno as a commercial allocation April 10, 1981. It is now licensed as KGMC, the only full-power station owned by LPTV entrepreneur (as of mid-2021 he owned 18 stations, two-thirds of them in Central California -- eight in Fresno, two each in Bakersfield and Monterey, one each in Sacramento and Santa Maria -- and the remaining six in Boise ID) Gary Cocola.
After leaving KNEW-TV, Graham Moore got into the cable television business at Tele-Communications Inc., eventually heading up their pay-TV division and then becoming their director of corporate marketing services before going into the consulting business in 1982. Moore died October 31, 1996 at age 76.
Mitch Agruss went back to Sacramento and became KTXL/40's "Cap'n Mitch", remaining there until 1984, by which time he had done somewhere in the neighborhood of 5,000 shows across all four stations, the vast majority of those live. Agruss passed away November 14, 2015 at age 92.
KCSM-TV moved to channel 43 in the switchover to digital television broadcasting, and discontinued analog operation early -- in May 2004 -- after losing the lease on the Mt. Bruno transmitter site that it had inherited from KDTV. In 2013, believing it was a candidate for having its spectrum auctioned, the the San Mateo Community College District entered into an agreement with investment firm LocusPoint Networks to act as their representative and split the proceeds. For reasons that even after the district sued LocusPoint in 2017 were not made clear, KCSM-TV was not added to the FCC list of stations with biddable spectrum. After the lawsuit was settled, KCSM-TV was sold in May 2018 to noncommercial broadcaster Rural California Broadcasting Corporation, which already owned PBS affiliate KRCB/22 in Cotati (north of San Francisco, in wine country). They changed the call letters to KPJK two months later, and the station's RF signal moved to channel 27 in the second repack of digital television in 2020.
KMTP relinquished its channel 33 digital assignment in the aforementioned spectrum auction and since mid-2018 has operated as a channel share with KEMO-TV/50 and KOFY-TV/20 on KCNZ-CD's channel 28 transmitter. All but KEMO moved to channel 21 in the second repack; "channel 50" now shares a transmitter with KCNS/38 and KTNC-TV/42, broadcasting on RF channel 32 (!). KMTP successfully applied a year later to join that channel share as well, which -- presuming it moves before the CP expires in March 2024 -- would put it back where it started as KSAN-TV.
---
Thanks to Jim Ellwanger for providing the KSAN-TV program information and the TV Guide channel listings.
---
EXTERNAL LINKS