Overmyer - A Man And His Network
by K.M. Richards

D.H. Overmyer

This is the story of a man named Daniel Harrison "D.H." Overmyer, a self-made millionaire who gambled all of his wealth (and then some) away on the dream of becoming a network television mogul.
Our story begins on April 15, 1963, when D.H. Overmyer filed an application for a new television station on channel 79 in Toledo. He was 38 at the time, and Toledo had two stations already: WTOL-TV on channel 11 (CBS) and WSPD-TV on channel 13 (ABC), with NBC programming split between the two. The following February, with others having filed competing applications for channel 79 -- one being Springfield Television Broadcasting Corp., which had begun expanding beyond its home territory in New England -- the FCC set the matter for comparative hearings.
At first glance, Overmyer seemed to be exactly what the growing UHF industry needed: He was a self-made Toledo businessman whose extensive interests included trucking and warehouse holdings, and the weekly Toledo Monitor newspaper. His financial statement at the time showed ownership of 200 warehouses in 56 cities worth $35 million dollars, plus a leasing company and 80% ownership of Progress National Bank for a total somewhere in the neighborhood of $50 to $60 million. Overmyer also apparently had the drive to make a successful run at broadcasting; shortly after the FCC filing for Toledo, his executive vice president and managing director Robert F. Adams (formerly general sales manager of WBKB-TV under ABC in Chicago) said they "hoped to acquire the full complement of AM, FM and TV properties allowed under the FCC's rules as soon as feasible."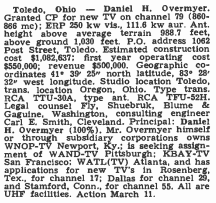 ---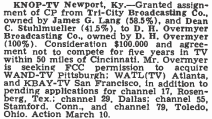 ---
---
---
---
---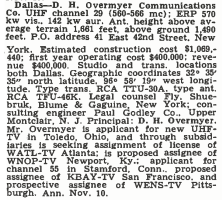 ---

Overmyer's would-be television empire
of new stations and acquisitions.

The competing applicants for Toledo had all dropped out by September 1964 and Overmyer received the channel 79 construction permit March 11, 1965, immediately requesting the call letters WDHO-TV to incorporate his initials. The grant was changed to channel 24 in June, when the FCC revised the allocations table to reserve channels 70 to 83 for translator use, but D.H. had already been busy negotiating deals to acquire dark station WATL-TV/36 Atlanta (which had operated as WQXI-TV for seven months in 1954-55) and the CPs for WNOP-TV/74 Newport KY (across the Ohio River from Cincinnati) and KBAY-TV/20 in San Francisco. He had also applied for channel 17 in Rosenburg TX (a suburb of Houston), followed in October for channel 55 in Stamford CT and in November for channel 29 in Dallas ... and as a flourishing final touch requested a waiver of ownership limits if all the stations owned were UHF, with the intent of acquiring the CP for also-dark WAND-TV Pittsburgh (which had been on the air for twelve months in 1953-54 as WKJF-TV) ... he was originally aiming for WENS/22 in that city but was outbid by Springfield Television, his previous competitor for the Toledo grant! The WNOP-TV sale was approved the day before the Toledo CP was issued.
The FCC set the KBAY-TV sale for a hearing in May 1965 while simultaneously approving the acquisition of WATL-TV. The WAND-TV sale was approved two months later, followed by the Rosenburg application in August. (The Stamford application was withdrawn in the summer of 1965 after his waiver request of the ownership limits was denied.) Overmyer then requested a move of the Newport-Cincinnati station to channel 19, which the FCC included in its further revision of the allocations table the following year.
In October, Overmyer started a tradition of renaming his would-be stations for family members ... WSCO-TV Newport (for wife Shirley), WJDO-TV Rosenburg (for son John) and WECO-TV Pittsburgh (for son Edward). The Dallas application went into comparative hearings in December, and Robert Adams resigned at the end of the year to start a consultancy concentrating on station acquisitions.
Meanwhile, Overmyer was making moves to at least protect his investment in WDHO-TV, having made a request in November 1964 for the FCC to freeze all microwave relay applications for supplying out-of-market TV stations to CATV systems, pending Commission rulemaking proposals (his concern being the carriage of Detroit MI-Windsor ON market signals in Toledo). His justification was that continued relay grants would be difficult for the Commission to undo in the future and would "undermine, if not completely destroy" policy decisions the FCC would make in determining CATV's role in television broadcasting, but the request was rejected in April 1965. Overmyer subsequently used a similar argument before the Toledo City Council the following month when Buckeye Cablevision applied for its franchise, and was similarly rebuffed. It wasn't his final move on the subject, though ...
1966 began with Overmyer joining forces with future competitor Storer Broadcasting (WSPD-TV's licensee) in filing objections to Buckeye Communications' microwave relay station applications in Toledo and nearby Findlay OH; that hung up the applications for more than a year and ultimately led to FCC-imposed limitations on Buckeye's carriage of the Detroit-Windsor stations.

In the meantime, WDHO-TV went on the air May 3, 1966 ... an event followed by a profile of Overmyer in Broadcasting a few weeks later. The latter prompted Mel Lucas, whose entire experience in television consisted of owning a piece of the first two incarnations of channel 40 in Sacramento CA, to write an open letter to Overmyer which appeared in Broadcasting's June 27 issue, urging him "to start with one UHF station, make it a success, then move into other cities." Even though Lucas admitted in the letter that he had "learned the hard way" the advice fell on deaf ears. By that time, the Atlanta station had been renamed WBMO-TV (for daughter Barbara).
Much of Overmyer's 1966 activity was similarly routine. He added a new twist to the Dallas application hearings by requesting a FCC study of moving channel 27 from Tyler (about 100 miles away) to there and changing the channel 29 allocation to channel 33, so that both he and his competitor could be granted CPs (this apparently made perfect sense to the Commission, which approved the channel allocation changes right before year's end). Construction also began to get WSCO-TV back on the air.
[Author's Note: The phrase "back on the air" in the last sentence is based upon several references in Broadcasting to WNOP-TV having been in "suspended operation" when Overmyer acquired the CP; however, a review of Broadcasting Yearbooks during the pre-Overmyer years do not show any period of operation and a review of the FCC history cards, once they became available, confirms that channel 74 was never on the air.]
But the big news came on July 12, 1966, when Overmyer announced the formation of a fourth television network -- the Overmyer Network, or ON -- headed by former ABC-TV president Oliver Treyz and to begin operation in September of the following year, with WPIX/11 New York as the network "flagship" station. Treyz, appearing on a late-night radio talk show in New York City two weeks later, said ON planned a themed approach to appeal to the "lost" audience -- 20% of nation's homes he said had gone from regular to occasional viewing -- "[we'll] probably have a comedy night, a night of game shows, a night of suspense programming and a night of drama." The only announced program at the time, though, was a late-night show, tentatively called Weeknight and originating in Las Vegas. The following month, ON reported it was looking into a plan to program live-on-tape shows provided on a "strip" basis by station group owners, who would retain ownership and syndication rights after first network airing.
Things moved at a quick pace in subsequent months. In late September Broadcasting mistakenly reported that still-under construction KBSA/46 Guasti (Riverside) was to be the Los Angeles ON affiliate and that studios were being constructed at KBSA for some network origination, only to correct itself the following week when ON announced KHJ-TV/9 as the L.A. affiliate. The next month, ON announced it had a deal in place to telecast games of the nascent Continental Football League (which had at that time only been in existence for a single season), and that it had clearances for Weeknight in 60 markets, including Chicago (WGN-TV/9), Washington (WTTG/5), and St. Louis (KPLR-TV/11) with a target air date of April 3, 1967. The KBAY-TV CP sale, having been approved, was renamed KEMO-TV (for daughter Elizabeth) in October.
Back in Toledo, WDHO-TV revamped its schedule in the fall of 1966 by adding a nightly prime-time movie, with three days covered by NBC's Tuesday and CBS' Thursday and Friday network movies not cleared by WSPD-TV and WTOL-TV. (Apparently as a prelude to the revamp, the channel 24 prime-time schedule had largely been filled -- all but 3½ of the 28 hours designated as such -- the previous summer with uncleared programming from all three networks, improbably including the CBS Evening News with Walter Cronkite ... perhaps WTOL-TV didn't consider "Uncle Walter" to be as trustworthy as viewers elsewhere did.) By year's end, Overmyer said he had spent $100 million on channel 24 and the acquisition of his other UHF stations and that he would seek outside financing for ON, the logo for which contained a stylized, squat "O" that had already been incorporated into the station ID for WDHO-TV.

Oliver Treyz and D.H. Overmyer shake hands with
Mims Thomason of United Press International as they
announce that UPI will feed its filmed news service via ON.

1967 began with ON announcing a partnership with United Press International, whereby the network would transmit two feeds of a UPI "scripted newsfilm" service (one hour in late afternoons, and a fifteen-minute late feed in the 10:00pm hour), with revenue from charging those affiliates wishing to use it split 60/40. Weeknight was renamed The Las Vegas Show and gained a Baltimore clearance on new UHF WMET-TV/45, which was to sign on March 1. KJDO-TV's allocation moved in January from channel 58 to channel 45, but no construction had begun on the would-be Houston O&O; elsewhere in Texas, the Dallas maneuver worked as the competing applicant moved to channel 33, leaving channel 27 wide open for Overmyer. (He ended up withdrawing the application in October.)
ON became the United Network on March 4 as Overmyer gave up 80% of the network ownership and was excluded both from the new board of directors and from having a management role in the network. (The UHF stations remained his property.) Three of the new investors also owned interests in radio's Mutual Broadcasting System -- Jack V. McGlothlin, chairman of the United board; Willard Garvey, chair of the executive committee; and James W. Nichols, vice-chairman of the board. Seven of the 14 members in the investor syndicate remained anonymous. The Mutual ownership link was significant as Overmyer had been talking with them about merging his television network with their radio network; although the proposal was rejected by the Mutual board McGlothin and Garvey asked Nichols to research ON's prospects, which led to their investing in ON personally. At the same press conference, Treyz simultaneously announced a one-month pushback of The Las Vegas Show's premiere, to May 1, attributing the delay to problems constructing a soundstage at the Hacienda Resort Hotel. The comedy duo of Dan Rowan and Dick Martin (who would ultimately host Laugh-In on NBC one year later) had reportedly been approached to host the late-night United Network program.


Bill Dana, host of
The Las Vegas Show

One month later, Overmyer announced he was selling an 80% interest in the unbuilt CPs to AVC Corporation, with an option for them to acquire the remaining 20% at a future date. (Before the sale was filed, AVC renamed itself U.S. Communications and made a side deal to acquire WPHL-TV/17 Philadelphia.) Bill Dana was signed as host of The Las Vegas Show, which launched the network on schedule May 1 ... but UPI delayed its newsfilm service start to September.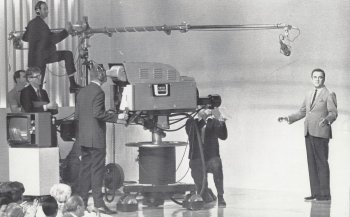 Bill Dana on the set of The Las Vegas Show

The Las Vegas Show certainly tried to live up to its pre-broadcast publicity. The premiere telecast featured Milton Berle, Arlene Dahl, Jack Palance, Abbe Lane, Sarah Vaughan, Rich Little, Chad and Jeremy, and Allen and Rossi, plus appearances by Nevada's Governor Paul Laxalt and Senator Howard W. Cannon. The program also had a regular comedy troupe consisting of Pete Barbutti, Danny Meehan, Ann Elder, Jo Anne Worley and Cully Richards (in a 2011 interview, Barbutti recalled John Byner and Jackie Vernon as being among the regulars as well, but this could not be confirmed). Jack Sheldon was miscast as the bandleader; it was said that he couldn't conduct and he couldn't read a score, but was hired because he was "somewhat of a character" and could act as a foil to Dana. Variety reported that the opening night broadcast had gotten a 6.0 in the overnight Nielsen ratings -- compared to 4.7 for Johnny Carson on NBC, 4.5 for Merv Griffin on CBS, and 2.9 for Joey Bishop on ABC -- with 24% of the available audience, calling it a "no-nonsense, fast-moving, well-paced professional show" with no time for "what have you been doing lately?" idle chit-chatter.

Bill Dana and Chita Rivera on
The Las Vegas Show May 19, 1967

During the rest of May, The Las Vegas Show included amongst its guest list such performers and celebrities as Craig Stevens, Sheila MacRae, Robert Clary, Jaye P. Morgan, Barbara McNair, Gisele Mackenzie, Hugh O'Brian, Mort Sahl, Liberace, Rod Serling, Hugh Hefner, John Wayne, Don Rickles, Chita Rivera, Gary Lewis and the Playboys, Marty Ingels, The Kingston Trio, Xavier Cugat and Charo, Professor Irwin Corey, Sergio Mendes, Gale Garnett and Mel Carter.
It was all for naught. On May 31, 1967, the United Network ceased operation after running up $1.7 million in unpaid bills.
An Associated Press article the next day quoted "some sources" as saying the network suffered from bad timing, starting operation in May when the other networks were in reruns and advertising budgets for the television year were ending. In that same article, executive producer David Sontag was quoted as saying only that "Las Vegas should have been tapped [as a source of television programming] long ago." Time headlined its article on the demise "United We Fall". Two decades later, in his book Syndicated Television, Hal Erickson called The Las Vegas Show "the first series in history to leave the air because its network was cancelled."
United Network filed Chapter 11 bankruptcy on June 22, citing liabilities of $1,822,486 and assets of $1,132,410. The failure to pay a $400,000 deposit to AT&T for television relay service triggered both the network shutdown and the bankruptcy; later reports indicated that The Las Vegas Show had gone on the air with considerably less than a sold-out advertising schedule, and what time had been sold had been at steeply-discounted rates. The bankruptcy filing showed that Overmyer himself was owed $250,000 by the new entity; other creditors included Chase Manhattan Bank, Texas Bank and Trust ... and Bill Dana, who was still owed $25,700 when the plug was pulled. One week later, McGlothlin said he intended to revive the network and Garvey (who resigned at the time of network operation ceasing) was working on a backup plan of his own if McGlothlin failed; Garvey also said United Network's biggest mistake had been in not waiting until it could launch with a full eight hours of programming per day, to fill the time leased from AT&T.
WE HAVE AN AFFILIATE WHERE?!?



If anyone other than D.H. Overmyer could have said they were "extremely disappointed" that the United Network had failed, it would have been Chester Smith.



Smith was the "hillbilly" singer from Modesto CA who leveraged his local fame to put KLOC-TV/19 on the air August 26, 1966. When he signed on, Modesto was considered to be outside the Sacramento market, so he was paying for a handful of sitcoms and movie packages at an "unrated market" price. Within a few months, the "big boys" (the three VHF stations in Sacramento) complained to the syndicators and managed to get KLOC-TV included in the market, thereby pricing his programming out of easy reach.

KLOC-TV was probably the most unlikely choice of all time to be any network's affiliate, but ON's previously announced Sacramento affiliate KTXL/40 was not on the air yet and they approached Smith to carry the network's shows until KTXL was ready to sign on. He had hoped, then, that the temporary affiliation would have at least filled channel 19's evening hours for a year or two, by which time he might have built up enough of a "war chest" from local ad sales in the network shows to afford Sacramento market prices for prime-time movie packages.

He developed an interesting survival strategy after the network's demise (desperation being the mother of innovation) by simulcasting his KLOC/920 radio station on channel 19 until sunset, then switching to Spanish-language novellas which he acquired cheaply from television networks in Mexico. Gradually, the simulcast hours were replaced in the late mornings and early afternoons with paid religious programming, leaving only his own morning drive-time show to run on both radio and TV, and beginning the programming from Mexico earlier in the day.

In the end, it was the Overmyer Network that belatedly (and inadvertently) saved KLOC-TV and Chester Smith, because their installation of a network video link to his station got the attention of the Spanish International Network (now Univision) several years later; in working out the interconnection between their flagship station KMEX-TV/34 in Los Angeles and their planned San Francisco station KDTV/60 in 1972 they discovered the relay branch and came calling to see if Smith would replace his own Spanish-language programming with theirs, figuring he already had the audience in place. It worked out well for all concerned, since by that time SIN's programming day started right around the time channel 19 was already switching from religion to "Mexican" on its own. In fact, KLOC-TV was not only the first non-O&O SIN affiliate, it ran the network schedule for close to two years before KDTV ever signed on.

Smith ultimately got rich from his affiliation with SIN: When he sold them what was by then KCSO-TV in 1997 he took a large portion of the purchase price in stock. It was worth a small fortune by the time of his death in 2008.

The above is the author's recollection of how Smith told the story when they spoke in 2005.

Of the show's demise, Barbutti had nothing but nice things to say about Bill Dana, though, recalling that he "flew to New York and went to the people who were bankrolling the show. He said, 'I don't really need the money, but pay everyone else and if there's anything left you can pay me.' That's the kind of guy Bill Dana is." He was less kind to the show's writers ("they would write you the funniest thing you ever heard and then the worst things you ever heard"), the director ("a guy named Win Opie, who was clueless ... they'd have a technical problem and [he] would be screaming, 'Get that camera out of there!'"), Sontag ("another no-talent"), station clearances ("they had us on at 2:00am in the Midwest and at 4:00am in New York"), and the network's owners ("a cattle company out of Kansas").
In the aftermath of the bankruptcy filing, one industry trade publication claimed the network takeover by "the Texas contingent" was nothing more than a tax dodge. As one unnamed but "highly reliable" source put it, when it seemed the network was a long-term business risk, they "opted to pull the rug out." According to some reports, United's cumulative losses over the summer would have totaled $4 million, but also would have generated a $70,000 to $100,000 profit by September. The report said "the key figure in the Texas group" (which would have been McGlothlin) had reportedly told close friends that they chose instead to benefit from hefty tax losses, to offset expected large capital gains taxes from oil transactions. The report was never proven or disproven.
At least one creditor got paid, although they had to sue United Network in the U.S. District Court of Appeals in New York City to get what little they got: Lewron Television, which had provided the equipment and technicians for The Las Vegas Show had claimed that it was owed $117,000, of which United denied all but $34,000 and filed a counterclaim against Lewron in the amount of $71,050. In the end, Lewron ended up with only what they had already been paid by United plus $13,326.89 in "miscellaneous charges" (and they might have spent more than that just on attorney fees for the lawsuit).
At the end of August, Nichols announced a plan to restructure UN as a news-focused network with 40 to 50 affiliates, all independents and mostly VHF; his plan was to feed 14 half-hour programs per week to affiliates in the early morning hours (to reduce AT&T charges), with compensation to be a 50-50 split of ad revenue sold in programs by local stations. Nichols proposed that the new "interim" network would be absorbed by United once it exited Chapter 11 but that concept faded quickly: In January 1968 former ABC Radio executive Robert Pauley -- who had been named at UN as Ollie Treyz' replacement as the bankruptcy was filed -- claimed that the new venture, now called "Independent Broadcasting Co." had no connection with United and that he had never signed a contract with them.
The United Network never resumed operation and Independent Broadcasting Co. never got off the ground.

Overmyer's empire crumbles

The sale of the remaining construction permits to U.S. Communications was approved just before the end of 1967. In the wake of that approval, Congress questioned if the transfer -- all in top 50 markets -- was in the public interest; a subsequent editorial in Broadcasting accused the House subcommittees as "installing themselves as super-FCCs" and said that continuing to do so would mean "no finality to important FCC decisions and regulatory chaos." The editorial drew two letters to the editor: One was from the chief counsel to one of the subcommittees who said the hearings were to determine if the Communications Act was being "administered in accordance with congressional intent" as specified in a 1946 statute to exercise oversight of licensing and regulatory commissions under the jurisdiction of the House Commerce Committee; the other was from Congressman John Dingell of Michigan, who claimed the editorial was full of "unsubstantiated allegations." In response, Broadcasting published a second editorial on the subject, ending with the question "who's in charge?"
Dingell then joined with Congressman John Moss of California to introduce a bill prohibiting the sale of construction permits and putting a stricter limit on multiple-station ownership; it was later toned down, calling only for the FCC to require hearings on all station sales to determine "fair market" value and prohibit transactions exceeding same, including CPs. The subcommittee investigators, meanwhile, all but openly accused FCC staffers of being "paid off" to approve the Overmyer-U.S. Communications deal. Overmyer, his key employees and attorney, and FCC staffers involved in both the original CP issuance and the transfer applications were all questioned by the subcommittee, with Overmyer testifying that his out-of-pocket expenses were actually double what he settled for and that it "wasn't his understanding of the deal" that he was "guaranteed" another $3 million if U.S. bought the remaining 20% later. The FCC, for its part, pointed out that its rules on top-50 market ownership were not in force when Overmyer's CPs were originally issued; by year's end they proposed a rulemaking on CP trafficking which quietly went nowhere.
The hearings involving Overmyer finally concluded in May 1969, with the subcommittee report reduced to making an "after the fact" recommendation that the FCC should have held hearings not only on the transfer of the construction permits to U.S. Communications but on the original CP grants themselves, claiming Overmyer was "patently deceptive" in reporting his finances. In September 1970, the FCC decided to belatedly hold hearings on the Overmyer-U.S. Communications deal, despite Overmyer filing a petition for reconsideration on the basis that everything relevant had already come out in the Congressional hearings. It took until May 1973 for Administrative Law Judge Herbert Scharfman to issue a ruling, saying that Overmyer "misrepresented" -- though not maliciously -- the amount of his out-of-pocket expenses. The Commission remanded the case back to ALJ Scharfman the following January with a request for an evaluation of Overmyer's character to remain the licensee of WDHO-TV, which Scharfman affirmed without additional hearings.
Thus the Overmyer broadcasting empire ended where it began ... with a single UHF station in Toledo, Ohio.
---
POSTSCRIPTS:
Four of the five former Overmyer CPs eventually began operation under U.S. Communications:
KEMO-TV, on April 1, 1968. It went dark literally three years later, on March 31, 1971 and was sold to Leon Crosby in early 1972, who put it back on the air February 4 of that year. It is today's KOFY-TV.
WSCO-TV, on August 1, 1968 as WXIX-TV. It was sold to Metromedia in 1971 and is still using those calls.
WBMO-TV, on August 16, 1969 under its previous call letters of WATL-TV. It also went dark March 31, 1971 and was sold to Briarcliff Communications Group three years later, resuming operation July 5, 1976. It has kept the WATL call letters to the present day.
WECO-TV, on August 30, 1969 as WPGH-TV. It went dark two years later (August 16, 1971) and was sold in receivership to a company 20% owned by Crosby at the end of 1973, resuming operation January 14 of the following year. It also has kept its WPGH calls through the ensuing four decades.
The KJDO-TV CP was relinquished October 13, 1971.

In June 1969 WDHO-TV stopped being an independent station carrying all three networks on a secondary affiliation basis and became a primary affiliate of ABC. It remained so for the remaining years of Overmyer operation.

WDHO-TV operated for another decade before going bankrupt. It was seized by the First National Bank of Boston March 28, 1981, remaining under Overmyer operation, then was sold four years later to an investment group who changed channel 24's call letters to WNWO-TV (which are still the station's calls).

Overmyer was found guilty of bankruptcy fraud in 1986; a district court judge overruled the jury verdict in 1987 and acquitted him, but the original verdict was upheld on appeal in 1988 and affirmed by the District Court in 1990. After the Supreme Court refused to hear further appeals Overmyer ultimately served six months in federal prison and was fined $850,000. Despite the conviction, his son John still had good things to say about his father: "He was a good man. You look at today's people, what people have done, his mistakes don't compare to the mistakes that other people have made."

D.H. Overmyer died July 24, 2012 at age 87 of heart and kidney failure, after suffering a stroke three years earlier. He spent his final years living in an assisted-living facility in the San Fernando Valley region of Los Angeles.

Bill Dana (born William Szathmary) died June 15, 2017 at age 92, at his Nashville home. He made several guest appearances on television series, playing both comedic and dramatic roles, through the 1980s, and was instrumental in the creation of the American Comedy Archives, a series of audiovisual interviews with notable comedians housed at Emerson College's Iwasaki Library. The cause of his death was not made public.
---
EXTERNAL LINKS