KTHE/28, Los Angeles CA
by K.M. Richards
The story of Los Angeles' channel 28 started with one FCC commissioner's addition to the television channel allocation table developed during the television application "freeze" for use in 1952 and beyond. Frieda Hennock's primary dream as the first woman member of the Federal Communications Commission was to have television be more than just an entertainment medium. Miss Hennock believed television could be used to educate as well, and she pushed for non-commercial channels to be allocated in the major cities. Although she did get the allocations, she failed in one regard: Since a proposal to move all television broadcasting to the UHF band had been rejected, she wanted one VHF channel reserved in each metropolitan area and one per "major educational center" (whatever that was; Hennock never specifically defined the term), and any market that had no unused VHF channel allocation or only one allocation to operate shared educational



Frieda Hennock

operations with commercial facilities. At the time it was proposed, that would have affected only the larger markets that had built out existing television grants either prior to or during the freeze ... notably New York City, Washington DC, Philadelphia, Baltimore, Atlanta, Detroit, Cincinnati, Buffalo, Indianapolis, Kansas City, San Diego, and Los Angeles.

Although backed by organizations such as the National Education Association, Commissioner Hennock did not get her way (a 1950 editorial in Broadcasting said she had "gone off the deep end in her zeal to do a job for the educators" and that her proposal would "make all save the educators second-class citizens", while then-FCC chairman Wayne Coy indicated concern over the "startling lack of data as to the willingness and readiness of educational institutions to use television as an educational tool"). Ultimately, only 73 of the 200 non-commercial educational allocations were in the VHF band (37 of those in major metropolitan areas) and UHF channel 28 was allocated to Los Angeles.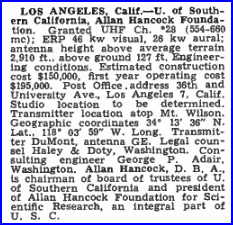 The first UHF non-commercial grant.
There was immediate interest in the channel 28 allocation by the University of Southern California ... or more accurately, by the Allan Hancock Foundation at USC, which was among the earliest post-freeze television applicants in 1952, receiving a construction permit on August 28 of that year. The FCC assigned the call letters KUSC-TV -- matching those of the University's existing FM station -- two months later when the Foundation made no request of their own (they said the following February, as they began campus-limited closed-circuit telecasts, they would select their own calls "later" and took until October 1953 to select KTHE).
Then came the delays, invariably connected to "waiting for delivery" on various transmitter components. The construction permit was extended twice -- in May 1953, and again in July -- before test patterns finally began to air intermittently beginning in August and what was reported by the Los Angeles Times as "experimental programming" nightly during November both from the four (!) studios located on the USC campus; KTHE had also originated some test programming in September from the Los Angeles County Fair in Pomona via a remote truck, proving that while there may have been difficulties in getting channel 28 on the air, they certainly weren't financial. (The New York Times reported that the Hancock Foundation provided "about $500,000" in startup funding.)
USC's campus newspaper, the Daily Trojan, reported that channel 28 began broadcast operations November 30, 1953 (which was technically true; although the Times and the industry's trade publications all reported the previous evening's dedication ceremonies as the official start, regular scheduled programming did not begin until the next day). KTHE was not only the first educational UHF in the nation ... it was the first UHF, period, in Los Angeles; John Poole's KBIC-TV on channel 22 was still installing its new transmitter at Mount Wilson and did not begin its infamous continuous test pattern transmission until the following month. In a market where viewers were long accustomed to having seven strong VHF signals available for watching, a few hours a night of educational programming on KTHE (coupled with the lack of actual programming on KBIC-TV) provided little incentive to purchase UHF conversion equipment for their television sets.
Commissioner Hennock was invited to speak at the dinner preceding the dedication ceremonies, calling channel 28 "The Schoolhouse of the Air" and KTHE proceeded with a daily operating schedule beginning at 7:00pm and continuing most nights until 9:30pm. This typical week's schedule was included in a Broadcasting special report on educational television published in July 1954: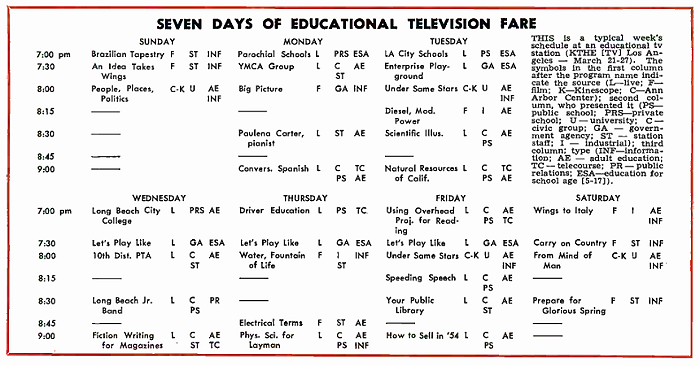 Not listed above, but a frequent staple of the schedule, were performances by G. Allan Hancock's string quartet; Hancock, owner of the Rancho La Brea Oil Company (including the famous tar pits of the same name, which he donated to the county of Los Angeles in 1916), was a cellist for the Los Angeles Symphony Orchestra and preferred being called "Captain" as a nod to his accomplishments as a sea captain. Essentially, Captain Hancock was KTHE; not only did his foundation provide virtually all of the construction and operation funds, his personal aide-de-camp William Sener was the station manager, and the channel 28 studios were in the Hancock Foundation building on the USC campus. (Naturally, Hancock also occupied a seat on the University's board of trustees.) None of this was a surprise to anyone who had followed the University's entry into broadcasting in 1946; the Foundation funded the construction of KUSC-FM/91.5 as well, and Sener was hired as director of USC's "radio department" in September of that year (the station went on the air less than two months after his arrival, on October 24).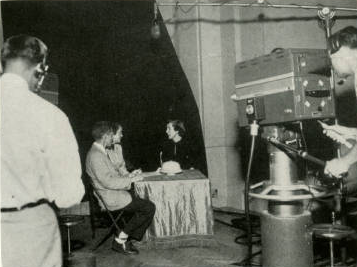 These are two of the only four photos of KTHE/28's operation known to exist.
Left: Master Control (from the Daily Trojan, November 17, 1953).
Right: The play "The Medium" being telecast (from USC's El Rodeo yearbook for 1954).
Three other photos appeared in the Los Angeles Times on February 15, 1953 (prior to KTHE beginning broadcast operations).

As Erik Barnouw said in A History of Broadcasting in the United States, and reiterated in his later book Tube of Plenty: The Evolution of American Television, KTHE's almost complete dependence on Captain Hancock made matters all the more precarious. Hancock reportedly began disagreeing more frequently with USC's board of trustees on unrelated matters and eventually he withdrew his entire support for the University, save for Foundation funds already allocated to other projects.
Captain Hancock, with
his trusty cello but
without the quartet.
By that time, FCC Commissioner Robert E. Lee had begun to question the wisdom of having pre-reserved educational television channels and was proposing the "de-allocation" of same; in an editorial supporting Lee Broadcasting cited KTHE's problems as justification, saying "it is difficult indeed to support TV stations on dreams" and suggesting that education would be better achieved through use of commercial stations' air time. (Of course, Frieda Hennock fought him at every turn and the allocations remained ... with many of the 73 VHF channels targeted at some point by commercial UHFs trying to get onto the lower band.)
Hancock resigned from the Foundation and as chair of the Board of Trustees on July 1, 1954. By month's end USC announced that it was "taking direction" of channel 28, cutting the paid staff from 26 positions to 10 and reducing the broadcast schedule to 6:30-8:30pm, weeknights only. Ironically, that announcement came the same week as Broadcasting's report showcasing KTHE's schedule as "typical" of ETV; that report quoted the American Research Bureau (later called Arbitron and now part of Nielsen) as saying the number of UHF-capable receivers in the Los Angeles market was so low as to be "statistically uncountable." (That number did not significantly increase until after Los Angeles got its first commercial U, KMEX-TV/34, eight years later.)
The Hancock Foundation's name was removed from the license August 17, and KTHE suspended operation less than one month later, on September 10. It had operated for a mere 285 days. The Daily Trojan quoted USC president Fred D. Fagg as saying "the University does not plan to assume further initiative in the organization of a separate corporation to take over the television channel" but that the studio facilities would continue to be used for teaching and research by the telecommunications department. It didn't take long for that last statement to become reality; KUSC-TV came to life (or would that have been "back to life"?) only six weeks later as a campus-limited, closed-circuit operation originating from the former KTHE studios in Hancock Hall. The first telecast, at 3:15pm on November 1, was a fraternity-sorority musical talent program (Campus Capers), followed by a travelogue and a short film produced by the University's cinema department. Programming was presented in two-hour "transmissions" consisting of back-to-back fifteen-minute programs on Mondays, Wednesdays and Fridays.
Tom Brodek, who was at KUSC-TV from 1956 until 1960, related that the station could be viewed from the Student Union, fraternity and sorority houses, and in Hancock Hall itself through coaxial cable wiring that had been installed in early 1955. He says programming was talk, interview, talent -- "once we were even allowed to open the side door and shoot outside" -- and that some shows were kinescoped but he didn't know what happened to that film. KUSC-TV was only operating on Fridays by then, having had its schedule cut back after the spring 1956 semester.
While USC was amenable to allowing an advisory council comprised of former Foundation board members to conduct a survey to determine the need for a "community" outlet in Los Angeles, the KTHE license expired on January 28, 1955 and the University returned the CP for cancellation on February 14. As the first ETV station to go dark, channel 28's demise was described by Barnouw as "a serious setback" for educational television.
Two years later Ed Flynn, a writer and public relations professional with years of experience working with the World War II propaganda effort in Hollywood, approached USC in an attempt at reviving channel 28 but gave up after much stalling and delay from the University. (Reportedly, they never even disclosed to Flynn that they had already surrendered the permit long before he approached them.)
Flynn, along with television producer Winter Horton, later formed the Committee for Educational Television, which after a few false starts became Community Television of Southern California in 1962. It was that organization which returned channel 28 to the air under a new license as KCET on September 28, 1964, this time as a non-profit community station rather than as an educational

station connected with any institution of higher learning. It remains on the air today and operates from the second floor of the same John Poole-owned building on Mount Wilson that both KTHE and Poole's own channel 22 (today's KWHY-TV) originally signed on from some ten years previous.
There was one person who could be called a link between the two channel 28s: James L. Loper, who was a doctoral student at USC (he was the first to be awarded a doctoral degree in Telecommunications, in 1962) when he joined the Committee for Educational Television. When KCET went on the air, Loper was its first director of educational television; two years later, he took charge of the station as vice president and general manager. Loper then served as KCET's president from 1971 until 1983, when he resigned amidst accusations by the Los Angeles Times that he had "brought the station to the brink of bankruptcy".
---
POSTSCRIPTS:
George Allan Hancock died of a heart attack May 31, 1965 (less than one year after channel 28 returned to the air in Los Angeles) at age 89.
In 1971, KUSC-TV became, at least operationally, part of the newly established Annenberg School for Communication and Journalism (it was rechristened Trojan Vision in 1997 and the studios received a facelift soon afterward). The last telecast from Hancock Hall's Studio B was on May 1, 2014; Trojan Vision now originates from the campus' Robert Zemeckis Center for Digital Arts on a 24/7 schedule.
Commissioner Frieda Hennock was not reappointed to the FCC when her term expired on June 30, 1955; she passed away just short of the fifth anniversary of her term's conclusion (June 20, 1960) at age 55 following an operation four days earlier to remove a brain tumor.
At the time KCET went on the air, Los Angeles was the last major metropolitan area to get an educational television station; most observers blamed the failure of KTHE for the delay. KCET was also one of only three major-market ETVs to operate on UHF (the others were WTVS/56 in Detroit, on-air October 3, 1955, and WETA/26 in Washington DC, which began operation October 2, 1961). In 1968, CTSC attempted to raise money to purchase KTLA/5 but its owner Gene Autry abruptly took the station off the market. It was subsequently revealed that in 1971, KCET entered into negotiations to purchase the KTLA license and then swap it for KTTV/11's facilities; that deal fell apart when Autry balked at not being compensated for his facilities and programming contracts (he also wanted to know what would happen to his employees, a question no one was apparently prepared to answer). That same year KCET dropped out of the three-way battle for channel 58 when they were unable to come to an agreement to essentially share the channel with the Los Angeles Unified School District, which wanted a full-time operation. (LAUSD eventually won the license for KLCS/58 ... the third applicant -- Viewer Sponsored Television Foundation -- was granted a new channel 68 allocation but proved technically unable to operate what was KVST/68; it operated only from May 5, 1974 through December 23, 1975 before going dark). A petition by a citizen group to the FCC in 1976 proposing that at license renewal time for the seven VHF stations in Los Angeles the Commission determine which "serves the public least well" and reassign that license to KCET was summarily dismissed, but not before Loper had to hurriedly reassure those stations that channel 28 had nothing to do with the petition. (Loper was quoted in the Los Angeles Times as calling the proposal "impractical" because it would be so controversial as to create hearings that would "drag on for years -- possibly dozens.")
James L. Loper went on to oversee the Academy of Television Arts & Sciences until his retirement in 1999. He died at his Pasadena home July 8, 2013 at age 81; the cause of his death was not revealed.
KLCS relinquished its license for digital channel 19 as part of the spectrum auction and now shares KCET's transmitting facilities; the transition took place April 23, 2018.
---
EXTERNAL LINKS: