KBIC-TV/22, Los Angeles CA
by K.M. Richards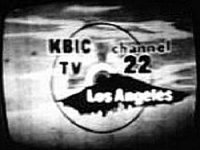 KBIC-TV was the first commercial UHF TV station on the air in Los Angeles (only educational KTHE/28, which began operation November 29, 1953, preceded it). The station had its roots in an amateur/experimental station on Signal Hill (near Long Beach) using an Army surplus transmitter as KX2XAZ, operated by John H. Poole (1917-2003) beginning in 1949. At the time, Poole owned KALI/1430 in Pasadena, and later owned KBRT/740 on Catalina Island and KBIG/104.3 in Los Angeles.
After receiving one of the earliest construction permits for UHF (issued December 10, 1952) on channel 22 as KPIK, the transmitter site was moved to Mt. Wilson, and a new General Electric TT-27-A transmitter was purchased. At the time of the grant, Poole announced that, at 540,000 watts, he would be operating the highest-powered station in the U.S.; he changed the call letters to KBIC-TV at the beginning of December 1953.

Front view of the GE TT-25-A water cooled UHF TV transmitter. The cabinet
at the left of the picture is the visual amplifier, the center unit is the 100-watt
exciter, and the right cabinet is the aural amplifier.

This photo is from the aural end of the transmitter, and shows the GE video
monitor and transmitter remote control panel.
The transmitter was housed in a three story building. On the first floor was KFMV-FM/94.7 (owned by the International Ladies Garment Workers Union in those days, and later to become first KFWB-FM, then KRHM, KMET, and today's KTWV). Power distribution and water coolers, along with KTHE's transmitter, were on the second floor and the channel 22 transmitter was on the third floor. The building still stands today, including an attic that has windows facing south for microwave receiving dishes used for studio-transmitter links. (A photo can be seen at Scott Fybush's "Tower Site of the Week" article for December 16, 2005.)
As far as anyone has ever determined, KBIC-TV never carried any programming material other than the test pattern/station ID (see above), which was not a slide but an etching onto a video imaging tube which was then electrically operated as a camera would have been. In the earliest days, they actively solicited reception reports, and made arrangements to provide low cost Army surplus UHF converters to hams and other interested parties.
Poole was also granted a construction permit in 1953 for KBIE-TV/46 in Sacramento -- in fact, the KBIC-TV calls were assigned there originally -- but surrendered it, unbuilt, after only two years; a third permit, issued two months after the Sacramento CP, did operate as KBID-TV/53 in Fresno for five months in 1954 before going dark, running a six-hour daily schedule with the typical mix of ancient two-reeler movies and first-run syndicated programs like Colonel March of Scotland Yard. (Even competing independent KVVG/27 had a better schedule, including some DuMont network shows aired via kinescope.) At the time he suspended operation, Poole said the "refusal of major TV networks to affiliate with the station was the principal reason" he did so; ABC had already affiliated with KJEO/47 and NBC with KMJ-TV/24 the previous year, and CBS apparently was waiting to affiliate with whoever got channel 12 (which had been in comparative hearings since before channel 53 first signed on). Poole also said he planned to resume broadcasting "when TV set distribution has increased to the point where local advertising can support an independent station" but he instead allowed the CP for that station to expire in 1957, although he did propose in 1955 a swap in the allocations table of channel 53 for non-commercial educational channel 18 or for channel 30 in nearby Merced. Back in Los Angeles, meanwhile, the KBIC-TV CP remained in force by continuing to broadcast the ID "slide".
Poole also filed applications on July 3, 1952 for channel 28 in Salinas, channel 29 in Bakersfield and channel 36 in Stockton but withdrew all three a few days before the Los Angeles grant.
The final amplifiers on the channel 22 transmitter were sold to KNBS-TV in Walla Walla, Washington when they signed on in 1960. They were operated there until that station went dark, less than one year after beginning operation. The 100-watt exciter remained at KBIC-TV and was used for testing. After KNBS-TV went dark the amplifiers were returned to Mt. Wilson, where they were stored for a couple of years then reassembled (after a thorough cleaning to remove the snake skins and rat droppings from Walla Walla!).
Once back on the air, but at the considerably lower effective radiated power of 65.3kw -- the RCA transmitter having been replaced by a GE TT-25-A and a directional antenna having been installed at the beginning of 1963 -- Poole sold KBIC-TV (the remaining equipment from KX2XAZ -- about $17,000 worth -- was donated by Poole to a new television station in Taiwan; apparently it was considered a charitable donation because the equipment was given to American Jesuit priests working with the station ... $5,000 of equipment was similarly donated by KPIX/5 San Francisco), and it officially began programming as KIIX March 25, 1963. KIIX was only the second television station in the U.S. to program for a "Negro" audience, the other being WOOK-TV/14 in Washington DC, which had gone on the air only one month previous.
According to an article in the February 4, 1963 issue of Broadcasting which outlined the station's plans, KIIX was to program in two-hour segments each conducted by its own personality, playing records, introducing guest entertainers, and interviewing newsworthy individuals ... "pretty much like a deejay on an independent radio station." The article said KIIX also planned a half-hour children's program each afternoon and a 30-minute news program in the evening. Their studios and offices were located in South Central Los Angeles in a former automobile showroom on Washington Blvd., known both then and today as an area with a substantial black population, converted into a main studio which was "open to the observation of sidewalk passersby." (Surprisingly, that building is still standing, and presently houses a trio of automotive repair businesses.)
Although the Los Angeles Times carried KIIX's program listings in their Sunday "TV Times" supplement, the listings in the daily edition of the newspaper often seemed to be missing some of the programming, leaving local black weekly newspaper the California Eagle as the reliable published source of program information, which they headlined as "KIIX-TV Schedule Of Events" while curiously omitting the channel number (the only other area newspaper that appears to have carried listings for channel 22 was the Valley Times Today, which predominantly served the growing San Fernando Valley region of Los Angeles ... a curious situation as the black population of that area at the time was negligible). Programming at launch included Miss Jones' Playschool, a one hour daily program called KIIXVille, a nightly 30-minute program of "revival music" and half-hour newscasts at 6:30 and 10:00pm, with the centerpiece program being the aforementioned personality-hosted two-hour show titled KIIX On The Town, which occupied most of the prime-time hours. Weekends brought Showcase of Talent, KIIX Jazz Festival, KIIX Platter Panel, KIIX Ballroom, religious programming ranging from church choral concerts and short clergy sermonettes to a 15-minute "News of the Church" just prior to sign-off on Saturday nights, and assorted shows titled Drama

Los Angeles Rams halfback Dick Bass, who
briefly co-hosted a nightly 15-minute sports
program on KIIX with teammate Pervis Atkins.

Workshop, International Revue, La Parisiene Revue, Achievement '63 and a Sunday evening half-hour hosted by a mysterious "Mr. Anthony".
One "personality" who leveraged his brief tenure at KIIX into a distinguished career was Larry McCormick, whose name is barely legible in the ad shown at right; McCormick, who was only 30 years old at the time, had already tasted fame as the morning drive personality for the previous five years at the highly successful R&B radio station KGFJ/1230 (and was doing mornings at KDAY/1580 concurrent with his new television gig). Post-channel 22, he spent four years at all-news KFWB/980 before returning to KGFJ in 1968. McCormick then returned to television one year later by becoming one of the first African-American news anchors in the country, adding weekend news anchor duties at KCOP/13 while keeping his radio job. Two years later -- by which time he had moved on to KABC/7 as their weekend weatherman -- he was hired away by KTLA/5; he remained there as a reporter and anchor until his death 33 years later at age 71. In his biography entry at Don Barrett's Los Angeles Radio People, McCormick called KIIX "an experiment in Negro TV which failed in four months." He wasn't kidding.
KIIX's owners, Central Broadcasting Corporation, applied for channel 30 in St. Louis a mere month after officially signing on in L.A., with the intent of using the same programming formula, but before the application process could complete, KIIX abruptly cancelled all of its live programs on August 1 -- program director and "chief newscaster" Bob DeCoy told the Los Angeles Times that neither he nor the other 34 employees had prior notice before being handed their paychecks and termination notices -- cutting its broadcast day from seven to two hours (all of it filmed programming), then ceased operation just short of its launch anniversary, on March 9, 1964. (The St. Louis CP was eventually issued in 1966, to a group that included a certain John W. Dean III -- yes, that John Dean -- and is today's KDNL-TV.)
Not long after the cutback, Los Angeles City Fire Commissioner Fred Kline proposed that the city acquire channel 22 as an "emergency alert system" with various city departments using the channel during normal broadcast operation. Valley Times Today reported that Kline had already talked with the owners and had been given a price of $485,000 ... $300,000 of which he proposed would come from an earmarked fire department television fund. He proposed that major fires be telecast live so that crews from later responding stations would already be apprised of the situation before arriving on the scene, and suggested that criminal line-ups could take place via television (apparently oblivious of the civil rights implications of same) to save the cost of prisoner transportation and inconvenience to victims who at that time had to travel to police headquarters in downtown Los Angeles for such line-ups. The proposal was forwarded to the City Council for study and consideration ... and nothing more was heard of it.
With the City not riding in to save channel 22, it was sold in July 1964 for $150,000 plus the assumption of notes payable totalling $205,377 ... about a third less than the price Central had given Commissioner Kline a year earlier. The buyer was Hugh Murchison's Coast Radio Corporation, which owned KPOL/1540 and KPOL-FM/93.9, and KIIX resumed operation as -- surprise! -- KPOL-TV March 29, 1965 (it had been scheduled to begin operation at the start of the month but ran into "operational difficulties", which left the Los Angeles Times having to publish a note in its Friday, February 27 edition that the upcoming Sunday "TV Times" booklet would include listings for channel 22 but that the station would not yet be broadcasting). As KPOL-TV, channel 22 operated as a traditional independent station, with old movies, inexpensive syndicated programming, and whatever free films were available as timeslot fillers. (Station manager Fred Custer told Broadcasting they had acquired a number of filmed shows that were "old but good"; one local newspaper called them "so old viewers may think they're first-run.") Only four days into its new incarnation, however, KPOL-TV went dark due to a strike by AFTRA-IBEW workers against KPOL-AM/FM; channel 22 was back one month later but its programming created no incentive for Southern California viewers to purchase UHF-capable sets or receivers.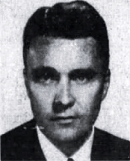 KPOL's Robertson Scott
The Friday before KPOL-TV first took to the air, program director Robertson Scott was quoted in Walt Dutton's Times column that "a show isn't necessarily bad because it isn't new" and expanded on GM Custer's original remarks by giving a laundry list of anthology series that had been acquired for the channel 22 library. At the same time, Scott said KPOL-TV didn't expect to compete with the established VHF stations, admitting that it would be "several years" before UHF would reach enough people to do so. As for the "pretty good shows" that now resided in the film vault, the initial schedule for channel 22's operation was:
SUNDAY
5:00 - Young World (syndicated childrens' news program)
5:30 - Rocky Jones, Space Ranger (1954 syndicated series)
6:00 - "Horse Opera" (ancient two-reeler Westerns)
7:00 - Susie (reruns of the 1953-57 CBS series Private Secretary)
7:30 - The Way (1955 syndicated religious drama series)
8:00 - "Museum Movie" (pre-1945 two-reelers)
9:15 - "Horse Opera"
10:30 - Quest For Adventure (reruns of the 1957 documentary series ABC Presents)
11:00 - Armchair Adventure (syndicated travelogue from the 1950s)

WEEKDAYS
5:30 - Film (see explanation below)/"Horse Opera"
7:00 - The Trouble With Father (reruns of the 1950-55 ABC series The Stu Erwin Show)
7:30
M - Star Performance (reruns of the 1952-56 CBS series Four Star Playhouse)
T - The Answer (1956-60 syndicated religious drama series)
W - Celebrity Playhouse (reruns of the 1952-57 NBC/ABC series Ford Theatre)
Th - The Fisher Family (pre-1956 episodes of religious drama series This Is the Life)
F - My Hero (reruns of the 1952-53 NBC series)
8:00
M/W - Dateline Europe (re-released 1951-53 seasons of syndicated series Foreign Intrigue)
T - Cross Current (re-released 1954-55 season of Foreign Intrigue)
Th - Overseas Adventure (re-released 1953-54 season of Foreign Intrigue)
F - Colonel March of Scotland Yard (1956-57 British series)
8:30
M/T/W/Th - All Star Theatre (reruns of the 1957-60 NBC series Alcoa Theatre)
F - TV Reader's Digest (reruns of the 1955-56 ABC series)
9:00 - "Museum Movie"/Films

SATURDAY
5:30 - Film/"Horse Opera"
7:00 - Terry and the Pirates (1952 syndicated series)
7:30 - Sea War (13-part documentary from the BBC)
8:00 - The Four Just Men (1959-60 British series)
8:30 - Dr. Hudson's Secret Journal (1955-57 syndicated series)
9:00 - "Museum Movie"/Films
11:00 - The Big Picture (U.S. Army documentary series)

(The above listings are from the Sunday "TV Times" supplement from the May 2, 1965 Los Angeles Times, the first edition after KPOL-TV's resumption from the strike that carried its listings.)

KPOL apparently had enough credibility from their years as a radio station to get slightly better newspaper coverage for their television station's listings than had KIIX (including papers in Long Beach and Pasadena), although one -- the Los Angeles Herald-Examiner -- provided as little detail as possible, listing simply "Western" at 6:30 and "Film Drama" for all the old syndicated series that were sharing weeknight timeslots.
Channel 22 also programmed whatever free films had been sent to them by public relations firms and government agencies -- it was common practice in those days to send out pseudo-documentaries and travelogues to any station that would run them as filler, and KPOL-TV took full advantage of them, most days running one ahead of the "Horse Opera" and as many as three after the "Museum Movie" -- until signing off at 11:30pm. This resulted in films titled "Culinary Arts of Japan", "At the Fair", "The Other Side of Florida" and even "Report on Bootleg Dentistry" appearing on the schedule. (If this mattered little to viewers, it mattered even less to the Herald-Examiner, which didn't print any post-movie listings at all.)
Apparently Custer and Scott still believed in their programming philosophy one year later; the Pasadena Independent Star News television listings book for the first week of May 1966 showed only minor tweaks to the schedule. The 5:30 "Horse Opera" movies were replaced by a package of 51 Monogram westerns from the 1930s which had been cut down into multi-part serials running under the umbrella title Rainbow Valley, followed at 6:00 by the Stu Erwin sitcom on weekdays (on Saturdays viewers got The Fisher Family and on Sundays, the 1958-59 CBS series Yancy Derringer). The "Horse Opera" was moved to 6:30 seven nights a week and Susie had been replaced with the 1952-54 CBS/NBC series Mr. and Mrs. North on Sundays. (Young World completely disappeared ... temporarily.) More reruns of This Is the Life -- these having been retitled Patterns for Living -- moved into the Thursday time slot vacated by the Fishers and the 1953-56 syndicated series Waterfront had taken the post-"Horse Opera" timeslot on Saturdays. A token amount of news was added in the form of two five-minute newscasts at 7:55 and 8:55pm Monday through Saturday, likely "anchored" by a KPOL-AM/FM announcer (and probably read while an ID slide displayed; nothing reported at the time indicated that channel 22 had live studio facilities ... or even a camera) and the free films had been relegated to filling the gap between the end of the "Museum Movie" and 11:30pm sign off, even replacing the Sunday night documentaries and travelogues.

By this time it had become evident that Murchison only put channel 22 back on the air in order to have a three-station package to sell off and retire from the proceeds, but for some reason the company that bought the radio stations (Capital Cities) wasn't interested in the barely-there UHF. Thus KPOL-TV was instead sold to Thomas S. Bunn and others who held minority interests in Coast Radio Corp., which was KPOL-AM/FM's licensee and 90% owner of channel 22's license. Since the radio and television stations were now going to be under separate ownership, the call letters were required to be changed (and were, on August 17). The nightly schedule of ancient reruns and even more ancient movies continued on the new KWHY-TV until November 7, 1966 when it became the first television station in the U.S. to offer non-stop live coverage of the New York stock exchanges, a format which remained in the morning and early afternoon hours until October 1999.

Even as the financial news gave channel 22 a reason to be on the air in the daytime, the rest of the schedule became erratic; KWHY-TV at first extended the "old but good" programming to begin after the business news programming ended every afternoon. However, starting in November 1967 they began signing off for a few hours after the market closed, returning at 5:00pm with more of the same ancient programming and adding a financial news wrapup and interviews in the 7:00pm hour, with an 11:00pm sign off. Six months later (May 1968) they were signing off at 6:00pm after running a couple of movies following the financial news, and two months after that (July) rolled sign off back to 3:00pm. For reasons lost to history, one year later (August 1969) they went back to operating afternoon and evening hours with syndicated programming and ancient movies, plus the 7:00pm stock market wrapup programming. (It should be noted that the bulk of the schedule still consisted of programs produced for first-run syndication in the 1950s and early 1960s, such as 1957's African Patrol, 1959's Glencannon, and The Third Man from 1960-61; with no more than 39 episodes available for most of those shows, KWHY-TV must have been depending on finding viewers after each schedule expansion who had not seen them during earlier airings, or even on the VHF independents when they were truly "first-run".) In February 1970 channel 22 was running repeats of Young World every weeknight -- yes, five-year-old reruns of a "news" program -- then the evening financial news programming, signing off afterwards at 8:30pm ... and in mid-April again eliminated everything but the weekday stock market coverage and a few hours on Saturday and Sunday to run paid religious programming such as Garner Ted Armstrong and Bible Answers plus filler such as The Big Picture.
Although hypothesized by many that the erratic schedule hours during that period were a response to Kaiser Broadcasting having put KMTW/52 on the air June 22, 1966 -- changing calls to KBSC-TV 21 months later -- that is not likely; Kaiser's original schedule of three hours per day of travelogues -- which Kaiser admitted were "obtained without a fee" and transmitted in black-and white (!) -- was not likely to draw UHF-capable viewers away from KWHY-TV. It wasn't until 1970, with a schedule consisting of Japanese animation (including Kimba the White Lion and Speed Racer) and Three Stooges shorts in the late afternoon and somewhat newer movies in prime-time, that channel 52 developed a small but loyal viewership ... something channel 22 never had outside of its financial news programming in those days.
In March 1971, Bunn and his investors filed with the FCC to sell KWHY-TV to Zenith Radio Corporation for $1.6 million, the latter intending to move forward with subscription television after the experiment with their Phonevision system at WHCT/18 Hartford CT had ended two years previous (Zenith also was set to acquire the 1968 construction permit for WCFL-TV/38 Chicago, which was reported as being nearly ready to go on the air, with its antenna already in place atop that city's 100-story John Hancock Building and transmitter installation expected in "about a month"). But by April 1972 the sale was terminated (resulting in a lawsuit) and Zenith similarly walked out of the Chicago deal in June 1973. The following year, Coast settled its lawsuit with Zenith and applied for its own STV application for channel 22 (along with a substantial increase in ERP, to 1726kw), planning to lease the station to a competing pay-TV firm. The FCC granted the application in November, two months after approving that of Oak Television, which was acquiring KBSC from Kaiser (although the implementation of "ON-TV" programming took until April 1, 1977, after a petition to deny the sale of channel 52 was filed by Coast on February 19, 1973; between Oak's opposition filings and numerous extensions of time to reply by both sides, the matter took until December 21, 1976 to resolve, when the FCC determined KWHY had "not presented any substantial and material questions which would require hearings ... or which would warrant reconsideration" of the grant; Coast filed an appeal February 3, 1977 which quietly went nowhere).
Ironically, Kaiser had planned to operate channel 52 as a STV outlet from the start, having signed an option in February 1966 with a company which was attempting to build a nationwide network of stations using the Phonevision system. The aforementioned schedule of free films had been intended as a "holding pattern" to get on the air until the pay-television programming could begin, and it wasn't until Zenith ended the WHCT operation and began negotiating to buy channel 22 that Kaiser shelved their STV plans and began airing the animation and old movies programming lineup identified above.
While all that was going on, KWHY-TV remained on the air and finally began generating some cash flow from somewhere other than daytime hours; in January 1972, the Sunday evening hours were brokered to Korean and Japanese program producers (the remaining evenings were similarly brokered to a Spanish-language broadcaster beginning in July of that same year). This seemed to be an echo of channel 22's past: When KIIX had cut back its schedule shortly after beginning operation in 1963, its president H. Calvin Young had said he was hoping to refinance the station and return to a full daily schedule "broadened to include programs in Italian and Chinese, and perhaps others aimed at other ethnic minorities among the Los Angeles population."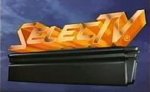 KWHY-TV continued the ethnic programming until July 28, 1978, when it leased all weekday evening and weekend hours to American Subscription Television to operate SelecTV (and increased ERP again, to 2570kw); three years later, when Coast objected to airing R-rated movies, SelecTV exercised an option in 1981 to buy channel 22 for $5.3 million in a partnership with Harriscope Broadcasting (which also owned all or part of stations in Bakersfield, Chicago, Albuquerque, Billings MT and Casper WY), continuing to program the business news programming during daytime hours. In 1984 SelecTV acquired the ON-TV subscriber base and merged the services (KBSC was then sold to Spanish language network Telemundo, which rechristened it KVEA). The partnership -- under the corporate name "Choice Channel of Los Angeles" -- continued until April 1, 1989, when SelecTV turned off the scrambler for the last time and sold out to Harriscope, which then also went entirely Spanish language outside of the business news hours. As noted above, the business news programming lasted another ten years before being cancelled (it then continued for another eleven months on KWHY-DT/22.2 and KJLA/57 before being finally and permanently cancelled at the end of September 2000).
KWHY Business News from July 11, 1991 (9:30-10:00am)
Channel 22 was sold in 2001 to Telemundo (yes, they ended up owning both former STV stations) which operated it as a Spanish language independent, continuing under subsequent NBC ownership of that network under a FCC waiver. When Comcast purchased NBCUniversal in 2011, KWHY-TV was spun off to local businessman Alex Meruelo. It was an affiliate of MundoFox (later MundoMax) during that network's existence from August 13, 2012 to December 1, 2016 and since September 2017 has also broadcast the programming of KBEH/63 Oxnard (now licensed to Garden Grove and also owned by Meruelo) under channel sharing arranged in the aftermath of the UHF spectrum auction which compensated many stations for surrendering their transmitter license. Since April 2019 it has transmitted on channel 4, making it one of the relatively rare full-power digital stations on the low-VHF band.
---
This article includes information from one written by broadcast software engineer Jack Calaway (who passed away in November 2007) that originally appeared as a page on his software company's website, now defunct. Steve Grimm and Tom Anderson were credited in the Calaway article as having provided some of his information. Photos were taken circa 1962-63, original source unknown.
---
EXTERNAL LINKS