KCCC-TV/40, Sacramento CA
by K.M. Richards
KCCC-TV was the first television station in Sacramento, and only the third commercial UHF station in California (KMJ-TV/24 in Fresno was first, having signed on June 1, 1953, followed by KBAK-TV/29 Bakersfield on August 20 of that year; KJEO/47 Fresno almost beat them to third place, but signed on the day after KCCC-TV). Initially, it seemed they were in a race with John H. Poole, who was already airing a non-stop test pattern on KBIC-TV/22 in Los Angeles and was in the process of building KBID-TV/53 in Fresno, to be first to get on the air; Poole, having beat out Jack O. Gross (who had put KFMB-TV/8 on the air in San Diego in 1949, and later returned there to put KUSI-TV/51 on in 1982) in competitive hearings for the other UHF allocation in Sacramento, received the construction permit for KBIE-TV/46 a mere three weeks before KCCC-TV received theirs on July 16, 1953.

Ad for KCCC-TV's inaugural broadcast (September
30, 1953). The Dodgers won the game, 9-5, but
lost the Series, four games to two.

When KCCC-TV began operation September 30, 1953, Poole had not even begun construction on KBIE-TV (he ultimately surrendered the CP, unbuilt, in June 1955) and the grants for channels 3 and 10 were still in comparative hearings, as was channel 13 in nearby Stockton. Therefore, at that time the only television available in the state capital was channel 40, unless one had the ability to raise an antenna high enough to receive the San Francisco VHF stations (which had been on since 1948-49) over the Diablo mountain range, some 75 miles to the west.
KCCC-TV signed on with programming from all four networks, but slowly lost that cornucopia of programming choices; DuMont started winding down its network operations a year later, KBET-TV/10 took the CBS affiliation when it began operation March 20, 1955, and KCRA-TV/3 did likewise with NBC when it went on the air September 2, 1955. It seemed likely that KOVR/13 would have stolen an affiliation as well when it signed on September 5, 1954, except that a tactical decision by their owners worked against them. KOVR chose Mt. Diablo (highest peak in the aforementioned range) for its transmitter site, in order to "KOVR" (cover) both Sacramento and San Francisco. Since ABC network programming in San Francisco was carried on owned-and-operated KGO-TV/7, they weren't about to dilute their audience share by also affiliating with channel 13.
Channel 40 did manage a "first" when it broadcast the opening of the 1954 session of the California Legislature live on March 2 of that year ... almost 25 years to the day before C-SPAN started televising Congress and 37 years before the California Channel began similar telecasts.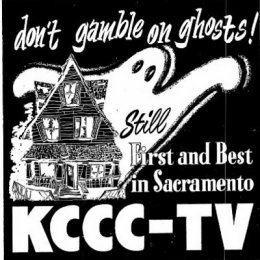 An early ad for KCCC-TV; one presumes the "ghosts"
theme was a reference to the closest other television
service being 75 miles away in San Francisco.

A non-factor in all this was the short-lived KTVU/36, to the south of Sacramento, which operated from December 18, 1953 to April 30, 1955 running mostly cheap syndicated programming and a few local programs before going dark ... although they inexplicably simulcast a few NBC shows with San Francisco's KRON-TV/4 -- among them Mr. Peepers, My Little Margie, Howdy Doody and You Bet Your Life -- during their final month of operation. (They'll make a cameo in this story in a couple of paragraphs, though.) KCCC-TV, having seen two VHF competitors come on the air that year and spirit away its more attractive network affiliations, filed comments in the deintermixture hearings then in process proposing that "any VHF channel allocated for non-commercial use but not occupied be made available for commercial use" (at the time, the educational allocation on channel 6 had not yet been filed for, and would not go on the air until the beginning of 1959 as KVIE).
To make matters worse, ABC was apparently not yet sending its entire network schedule to the west coast: Shows such as Wyatt Earp, Masquerade Party, The Lone Ranger, and "John Daly and the News" were absent from KCCC-TV's schedule and some of ABC's programs, such as Down You Go and Chance Of A Lifetime, weren't airing even on KGO-TV.
KCCC-TV's owners (Capital City TV Corp.) began negotiating to buy KTVU and operate it as a satellite, with a backup proposal to move a vacant channel 16 allocation from Red Bluff to Pittsburg-Antioch, across the bay from San Francisco (which was approved June 8, 1955); the FCC approved the KTVU sale and granted authority for it to resume operations on that basis on the same day (August 26, 1955) but -- shades of KOVR -- ABC refused to grant permission for its programming on KCCC-TV to be retransmitted on a station which had overlapping coverage in the San Francisco area with its own KGO-TV. Channel 36 never returned to the air and its construction permit was deleted less than a year later; the channel 16 allocation was never applied for by KCCC-TV or anyone else, and it was ultimately reassigned to land mobile use.
Meanwhile, John Poole had surrendered the CP for KBIE-TV on June 7, and while he never made a statement as to why, a statement he made the previous August, when he took KBID-TV dark after only five months of operation likely applied: Even though CBS had not affiliated with either of the two UHFs in that city or the third in nearby Tulare, they seemed content to wait for channel 12 to exit comparative hearings and go on the air (which did not happen until May 1956) and he did not believe the amount of set penetration in Fresno made an independent station viable. That may also have entered into his application to move the proposed channel 46 site from downtown Sacramento to Pine Hill, some fifty miles east (which both applicants for pending channel 10 had on their applications) ... but even then, he waited to build, claiming that a requirement by the site owner, the State of California, was for the first tenant to build a 600-foot tower capable of accommodating five television transmitting antennas. Whether that requirement was fact or fiction, KBET-TV did take to the air from there (although they moved to a different site in 1958, with KCRA and KVIE following them soon afterwards) and there was no indication that he'd had a hand in that tower's construction. It mattered little in the long run, as an even taller shared "candelabra" tower -- 1,549 feet high, with a triangular platform -- in Walnut Grove became the home to what was by then KXTV, KOVR and KCRA-TV (each having their own tower on one of the three corners of the triangle; KVIE moved there a couple of years later with their antenna mounted below the platform) in mid-January 1962. All four remained there for over two decades before moving to even taller towers nearby in the early 1980s.


Channel listings in TV Guide, March 3, 1956. (Courtesy Jim Ellwanger.)
The KCCC-TV schedule shown in the March 3, 1956 issue of TV Guide was fairly typical for a UHF station affiliated with ABC; however, channel 40 (either by its choice or by ABC's) did not clear the entire network lineup. The daytime schedule Monday through Friday was:

11:45 - Program Highlights
12:00 - Afternoon Film Festival (from ABC)
2:00 - My Little Margie
2:30 - "KCCC Kitchen"
3:30 - "Club 40" with Gene Nelson
4:00 - "The Chesters"
4:30 - "Bonanza Bill" (children's program)
5:00 - Mickey Mouse Club (from ABC)
6:00 - "Bonanza Bill"

After 6:30pm, the schedule was filled with a mix of what was probably the cream of the ABC lineup at that time -- Voice of Firestone, Warner Bros. Presents "Cheyenne", Make Room For Daddy, Disneyland, Break the Bank, Rin Tin Tin and Ozzie & Harriet -- intermixed with off-network reruns and other syndicated programs such as Amos 'n' Andy, The Ken Murray Show, The Life of Riley, Confidential File, Badge 714 and Racket Squad. The syndicated Douglas Fairbanks Jr. Presents followed at 10:30, with movies at 11:00 on Thursday and Friday nights only. Weekends were a hodge-podge of old westerns (including a Saturday morning airing of Hopalong Cassidy), movies, religious programming, free filler films, and a few ABC shows such as Ozark Jubilee, Lawrence Welk, and Ted Mack's Original Amateur Hour.

Photo of KCCC-TV's on-air newsroom (obviously from their early days, as
channel 40 had no local newscasts by 1956). Can anyone identify either
of the two gentlemen here?

That same year, Lincoln Dellar, who had previously lost in the competitive hearing for the channel 3 allocation that became KCRA-TV, purchased the controlling interest in Capital City TV Corp. through his company Sacramento Broadcasters, giving him ownership of KCCC-TV. Dellar, who had been in radio close to 25 years at that point, and owned both KXOA/1470 Sacramento and KXOC/1290 Chico, immediately found himself in a fight to keep what network programming channel 40 had left on its schedule: In 1955, the FCC had begun questioning why KOVR's transmitter was so far (35 miles) from its city of license -- it was actually closer by five miles to San Francisco -- and since they were never going to get an ABC affiliation sitting atop Mt. Diablo anyway they filed in August 1956 to move to Butte Mountain, just east of their actual city of license, and announced that they intended to secure the ABC affiliation for the Sacramento market after the move. The ink was barely dry on channel 13's application when KCCC-TV filed an application of its own for that channel, using the existing facilities on Diablo, saying they would be happy to operate as an independent serving both markets "if KOVR can't make a go of it themselves." When that tactic failed, they filed a protest against the move, charging that KOVR was "attempting to move in on Sacramento and secure the ABC affiliation," which was difficult to dispute given its owners' public statements.
The FCC stayed the KOVR move in January 1957 and agreed to hold hearings on misrepresentation or concealing of facts in its application such as areas and population which would lose service, whether service to Stockton increased or decreased and whether the move might injure authorized (channel 40) or proposed (channel 46) UHFs in the area. Meanwhile, as if to prove the argument against itself, channel 13 announced their affiliation with ABC, effective February 17; but, seeing that he wasn't going to be able to curb the momentum of a UHF-to-VHF affiliation swap, Lincoln Dellar purchased an 18% interest in KOVR, sold it KCCC-TV's assets, withdrew his objection to the transmitter site move, and took channel 40 dark on May 31, 1957.
This apparently did not sit well with one of the former owners of KCCC-TV ... Melvyn Lucas, who put together Capital TV Corp. with three friends in the auto business and a consulting engineer, filed the next year for channel 40 -- but at considerably lower power and antenna height -- was granted a construction permit November 5, 1958, then chose the same KCCC-TV call letters! After a quick change in call letters (to KVUE) less than two weeks before its "second" inaugural broadcast, channel 40 returned to the air November 1, 1959; with the old KCCC-TV studios and transmitter site on Garden Highway now being used by educational KVIE (which was in itself ironic ... from their comments in the deintermixture hearings it seems obvious that would have been the channel 6 location in any event), KVUE leased temporary studio space at the California Fair Grounds and erected a new transmitting tower (fed by the former KCCC-TV's RCA transmitter) at a location which had more recently been the city dump.
Unfortunately, the "new" channel 40 had a more dismal program schedule than its predecessor. With ABC network programming having moved to channel 13, KVUE -- like most UHF independents in those days -- was dependent on ancient movies, bottom-of-the-barrel syndication, and whatever local programming it could cobble together. The weekly schedule as it began operation included 15 movies (the newest of which were from 1947-48); some "first-run" syndicated series -- Police Call, Lilli Palmer Theatre, Whirlybirds, The Gray Ghost, China Smith, Charter Boat, The Whistler and Steve Donovan, Western Marshall -- and a few off-network reruns (Mr. Adams and Eve, The Californians, Combat Sergeant and Panic ... even kinescopes of NBC's Cameo Theater); and a handful of local programs which included Woman's VUE, Men's VUE, Project 40 and Dance Party, for which no details have survived the intervening years. What news there was on KVUE came as a five-minute headline summary at 10:00pm each evening.
As a UHF independent in an area where all three networks were now on VHF (and with a signal that was inferior to its predecessor), KVUE went dark after only four months, on March 21, 1960. Three years later, its license renewal was challenged by Camellia City Telecasters -- headed by Jack Matranga, who also owned KGMS/1380 -- by filing an application for a new station on channel 40; in response, KVUE asked for permission to operate as an experimental subscription television station for three years (which Camellia City opposed, saying such permission would be "unfair to its competitive status" as a new applicant). The STV application was denied as unacceptable for filing after Camellia City raised questions regarding the financial feasibility of KVUE to operate at all -- Television Digest referred to the deficiency as "sole funds for the test were to be raised by sale of stock without any assurance stock could be sold" -- and KVUE's license renewal was denied on December 6, 1963, despite a last-minute offer to move to the vacant channel 46 allocation. (That was just as well, as the "Melco" pay-tv system designed by Lucas would have transmitted normal video and "background music", with the actual program audio received via a subcarrier either on channel 40 or a local FM station and subscribers paying a flat monthly rate to rent the special equipment to decode the audio. It seems fairly likely that the Melco system would have been the easiest to hack of any STV system then being proposed.)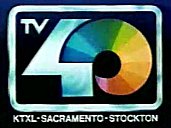 KTXL/40's logo, dating from its
launch in 1968. The Fox network
logo was not added until 1990.

The construction permit for what would become KTXL/40 was issued March 19, 1965 to Camellia City. In the revision of the television allocation table later that year, KTXL was reassigned channel 29, which ultimately led to their requesting a rulemaking a year later to move back to channel 40 when every available transmitter site created short-spacing issues to other allocations. KTXL went on the air October 26, 1968 from a new tower two miles north of the Walnut Grove "candelabra" and operated as an independent, developing a reputation for a schedule that included first-run movies, quality syndicated programming, and original programming (including being one of the first independent UHF stations in the country to launch a nightly newscast seven days a week) until becoming one of the charter Fox network affiliates October 9, 1986.
The following year, Camellia City Telecasters sold KTXL to Renaissance Broadcasting, which was itself acquired by Tribune Broadcasting in 1996. As a result, as digital subchannels came into existence, channel 40.2 was one of the 30 charter affiliates of Antenna TV (also owned by Tribune) when it launched on New Year's Day 2011. KTXL transmitted on channel 55 during the transition to digital television broadcasting, beginning in 1999; ten years later, it moved back to channel 40 in the repack that removed the highest numbered UHF channels from use and ended analog operation of full-power stations. It moved to channel 22 in the second repack on May 1, 2020, although it still displays on receivers as "40" as it has all along.
---


KTXL/40 sign-off circa 1985, from TVSignOffs.com.
[Additional information on the Fresno-area stations referenced in this article can be found in the articles on KVVG/27.]
---
POSTSCRIPTS:
KOVR was sold to Gannett in 1958, then was sold again to Metromedia two years later, only to end up in the hands of the McClatchy family in 1964. McClatchy, which also owned the Sacramento Bee and KFBK/1530, among other holdings (which included KMJ-TV Fresno, mentioned at the outset), operated KOVR until 1980, when they sold it to the Outlet Company for what was then a record-setting $65 million. The McClatchys had originally been a competing applicant for channel 10.
Lincoln Dellar, after the sale to Gannett, owned several radio stations throughout the state over the succeeding decades and also put KLYD-TV/17 Bakersfield on the air October 8, 1959. He passed away June 26, 1992 at his Santa Barbara home, from pneumonia. At the time of his death, he owned KPRL/1230 and KDDB/92.5 in Paso Robles, in California's Central Coast region.
Mel Lucas was heard from again in 1966 before fading into the annals of history, first as the sales manager of the short-lived -- it lasted all of three months, from February 10 to May 13 -- KSJV-TV/21 Hanford (Fresno) then, as that station was failing, the author of an open letter published by Broadcasting to D.H. Overmyer trying to convince him to build his network one station at a time, admitting in the process that he had "learned the hard way." He died October 13, 2005 at age 95.
---
Thanks to Jim Ellwanger for providing the KCCC-TV program listings information and to Lon Huber at UHF Nocturne for providing the KVUE program listings information.
---
EXTERNAL LINKS