Rochester's Long Wait For (W)UHF
by Scott Fybush
When WUHF signed on for the first time on January 28, 1980, Rochester NY joined the growing list of markets with their own commercial UHF outlets. But if Rochester was late to that list, it wasn't for lack of trying. The seeds of commercial UHF in Rochester were planted right at the dawn of the medium, and the path from those early years to the start of WUHF was littered with the remnants of failed attempts to bring UHF to fruition in the Flower City.
As the VHF freeze drew to a close in 1952, Rochester was a one-TV-station market with five radio operators all hoping to join their oldest and biggest competitor, Stromberg-Carlson's WHAM/1180 on the video landscape. The impending thaw brought with it a second VHF channel for the city, channel 10, to challenge WHAM-TV/6 (which was about to shift to channel 5 to prevent co-channel interference with the Canadian Broadcasting Corporation's CBLT/9 in Toronto, which was moving to channel 6 to accommodate a new station on channel 9) along with new allocations for commercial UHF stations on channels 15 and 27 and educational TV on channel 21.
WHAM's competitors on the radio scene included WHEC/1460, the CBS affiliate that was nearly as old as WHAM itself and that boasted cross-ownership with Gannett's newspapers, the Democrat & Chronicle and the Times-Union; WSAY/1370, Gordon Brown's plucky independent that had signed on in the 1930s; and three newer entries that had come to the air in the boom years after World War II: WRNY/680, WARC/950 and WVET/1280.
Three of the five, WSAY, WHEC and WVET, ended up filing applications for channel 10, and the competitors seemed poised for a long and ugly set of comparative hearings until two of them found a way to break out of the pack. By agreeing to share time on channel 10, WHEC and WVET presented the FCC with an easy solution to the Rochester competition. Their application, filed early in March 1953, was the second share-time proposal to the FCC after what would become KSBW-TV/KMBY-TV on channel 8 in Monterey-Salinas, California. The FCC granted their proposal in less than a week, on March 11, prompting an unsuccessful protest from WSAY's Brown.
While Brown fought for channel 10, the other Rochester radio outlets and several outside groups all placed their bids for new homes on the UHF dial. Iowa-based Meredith was the first UHF applicant, filing in August 1952 for channel 15. If built, the station was to have been part of a statewide chain of Meredith stations, including Syracuse's pioneering WHEN-TV and an application in Albany. Early October brought a bid for channel 27 from the Gloversville-based Schine Chain Theatres (55% owner of WPTR Albany) and an application for channel 15 from WARC. In November, the Rochester Broadcasting Company, which owned WRNY and WRNY-FM (97.9), entered the fray for channel 27 as well. The final channel 15 application came in March 1953, when the Star Broadcasting Company, owner of WGVA (1240) in Geneva, 35 miles to the east, filed its own Rochester TV application.
WRNY and the Schine group joined forces in late March to form the Genesee Valley TV Company, applying for and quickly receiving a grant on April 2 for channel 27, initially as WGVT but quickly changed to WRNY-TV. Less than two weeks later, Meredith dropped its application for channel 15, leaving only WARC and Star in the competition for the bottom of the UHF dial. They ended that fight two months later when Star agreed to buy WARC for $110,000. Star was quickly granted a CP for channel 15 on June 10. (The ever-truculent Brown filed a protest against WARC's sale, too, on the grounds that "WARC refused to allow WSAY to rebroadcast network programs of sponsors who desire their programs to be broadcast by WSAY.") In September, channel 15 received its callsign, WCBF-TV, a match to the new WBBF callsign that replaced WARC on 950. Both calls were derived from initials of members of the Forman family that controlled Star.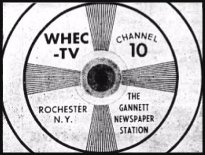 By then, Rochester's destiny as a VHF city was already becoming established. WHEC-TV/WVET-TV secured an ABC affiliation in June and then signed up as a primary CBS affiliate in August. With NBC long established on WHAM-TV (and WHAM radio) and even the fast-decaying shell of the DuMont network tightly bound to WHAM, the prospective UHF operators already had a big strike against them.
Another strike came in the search for a tower site. Pinnacle Hill, rising more than 700 feet above sea level just a few miles southeast of downtown Rochester, was the natural place for TV in town. WHAM had already endured a long fight with the surrounding town of Brighton to get its TV tower built in 1949, and the town's zoning rules firmly forbade any additional towers from being built at the location where all the antennas around Rochester were already pointing. While all of the applicants for 10, 15, 21 and 27 had specified the WHAM-TV tower on Pinnacle Hill as their proposed transmitter sites, it was the channel 10 partners who quickly locked up the access to the site. Contracting with GE in nearby Syracuse to provide its very first helical antenna, channel 10 arranged to have that antenna mounted atop the WHAM tower as a new support for the WHAM-TV antenna directly above it. Channel 10 also quickly bought up land next to the tower to build its own transmitter building in time for its November 1, 1953 sign-on.
The only advantage remaining for any of the UHF rivals was studio space. While WARC/WBBF operated from the Sheraton Hotel, the ambitious WRNY had placed its own big bet on TV. Just a few blocks down East Avenue from WARC, WRNY's brand-new studios at 191 East Avenue boasted not only state-of-the-art radio facilities for its AM and FM outlets but also a basement studio ready to go for television.
WRNY-TV was not to be, though. Its construction permit expired August 1, 1955, with no apparent effort on WRNY's part to keep it active. (WRNY-FM/97.9 soon shut down as well.) Its studios, however, eventually saw plenty of use. After seeking out several possible new homes to replace its cramped quarters atop the historic Rochester Savings Bank building on Franklin Street, WHEC struck a deal in the fall of 1956 to buy WRNY's East Avenue facility. After WRNY moved out, WHEC renovated the building and moved in later in 1957. It used the building for 22 more years before demolishing it in 1979 and replacing it with a new building on the parking lot next door. (AM 680, for its part, was sold to new owners, moved to smaller radio-only quarters, and became the city's first top-40 station as WRVM and then its first country station as WNYR.)
WHEC and channel 27 interacted in another way as well. On December 8, 1955, WHEC and WVET applied to the FCC to add UHF to their share-time. Their plan would have made channel 10 a full-time primary CBS affiliate and channel 27 a full-time primary ABC affiliate. The pair would have continued their existing share-time arrangement, with one station operating the channel four days and three nights a week and the other filling the remaining hours. But whichever station wasn't operating channel 10 at any given time would have operated channel 27 instead, in a TV version of the unique radio share-time in Dallas and Fort Worth that found WFAA and WBAP operating both an ABC affiliate on 570 and an NBC outlet on 820.
WHEC and WVET told the FCC that approving their unusual request would give UHF a much-needed boost, and indeed it might have. Rochester would have joined Buffalo and Albany much earlier as a three-network city, and instead of being a competitive threat, the UHF signal would have received a hefty promotional boost from its established channel 10 sister.
The stations may have had another, more self-serving reason to file the channel 27 application: Brown's fight against the channel 10 grant kept grinding through the court system long after the station was established on the air. Just before the channel 27 application was filed, a federal appeals court had agreed with Brown that the channel 10 grant should be sent back to the FCC for further study. Under the FCC rules then in effect, that could have caused the channel 10 grant to be revoked. Having a permit in hand for channel 27 would have allowed the WVET/WHEC operation to continue in some form. But as it turned out, no such backup plan was needed. Fortunately for WHEC and WVET, Congress amended section 309(a) of the Communications Act in 1956 to give the FCC discretion about allowing a station to remain on the air when its grant was sent back for further study. The FCC allowed channel 10 to stay on the air and then reaffirmed its original grant, and in December 1957 WHEC and WVET asked the FCC to dismiss their UHF application.
Yet another factor may have played into the end of the channel 27 plans: Under heavy pressure from ABC, the FCC soon began considering plans to add a third VHF channel to Rochester and Syracuse. By shifting WKTV in Utica from 13 to 2 and swapping channels between Rochester's WROC-TV/5 (the former WHAM-TV) and Syracuse's WHEN-TV/8, the FCC opened 13 in Rochester and 9 in Syracuse for new applicants.
There was no shortage of those: In Rochester, a dozen applicants filed for the station, among them the indefatigable Gordon Brown of WSAY and also an educational group, the Rochester Area Educational Television Association (RAETA), which had been producing programs that aired on channel 10. Facing the prospect of interminable comparative hearings, the Rochester channel 13 applicants formed a temporary interim licensee, Flower City Television, and put WOKR on the air September 15, 1962.
By then, the WHEC/WVET share-time had ended: when WROC-TV went up for sale in 1961, WVET's owner, Veterans Broadcasting, was the buyer. It moved into the historic WHAM Radio City building on Humboldt Street, changed the calls of WVET radio to WROC, and sold its half of channel 10 to WHEC-TV, which was able to go full-time after eight years as the longest-running sharetime in the country up to that point in time. WVET's former studio building at 17 S. Clinton Avenue downtown became the new home of channel 13, and a change in Brighton zoning laws allowed the new WOKR to build its own tower on Pinnacle Hill next to that of channels 8 and 10.
UHF was then at its lowest ebb in Rochester. Star Broadcasting's WCBF-TV/15 remained on the FCC's books for many years, answering the FCC's 1955 letter to defend its unbuilt CP and appearing for oral hearings in 1960 to explain why it still hadn't gone on the air. Its CP was deleted November 22, 1960 and a 1961 petition for reconsideration was unsuccessful. Star promptly became one of the applicants for channel 13, joining in the interim joint licensee that operated the station until a final grant was made in 1969.
At that point, only one CP remained on the books in Rochester. The state university board of regents had filed for CPs across the state at the very dawn of UHF, including a July 24, 1952 grant for WROH-TV on Rochester's channel 21 allocation. SUNY held the CPs as placeholders, but never received funding to actually build them into a statewide network. Instead, it gradually released the CPs to local groups willing to raise money and operate educational stations, beginning in 1962 with WMHT-TV/17 in Schenectady and then in 1965 with WCNY-TV/24 in Syracuse. (Other SUNY CPs would eventually be activated later on in Binghamton [WSKG/46] and New York City [WNYE/25]; others in Ithaca, Utica and elsewhere eventually expired unbuilt.)
Faced with the prospect of spending years as a minority partner in the channel 13 interim operation and only the slimmest chance of actually winning the channel, RAETA became the first of the channel 13 partners to drop out. It acquired the channel 21 CP from SUNY in 1966, building out studios in the old East High School basement at 410 Alexander Street, a new transmitter building on Pinnacle Hill land owned by channel 10 and an antenna on the side of the WROC/WHEC tower next door.
WXXI station ID from the 1980s, including
a list of ten high-UHF channel translators,
mostly with channel numbers in the 60s.
With new calls, WXXI, that matched its channel number, channel 21 signed on September 6, 1966. After more than 14 years of waiting, UHF was finally on the air in Rochester. (Almost two decades later, WXXI would end up playing a closing role in the Gordon P. Brown story. After entering radio with WXXI-FM/91.5 in 1974, WXXI purchased the former WSAY/1370 in 1984 and turned it into a "WXXI" as well. Brown had already been dead for several years by then; in the interim, 1370 had been sold to John Dickey Sr., father of the Dickey brothers of Cumulus fame, and had changed calls to WRTK.)
By the time WXXI-TV took to the air on 21, channels 15 and 27 had been deleted from the allocations table, replaced by new commercial allocations on channels 31 and 61. Harcourt Brace World, the publisher, applied for channel 61 March 2, 1967 and received a CP grant March 24, proposing operation from the WNYR-FM/101.3 site off Colfax Street on Rochester's west side. It promptly abandoned most of its UHF plans and surrendered the CP unbuilt June 23, 1967. (The Colfax Street site would finally get UHF TV decades later, in the form of low-power WBGT-CA/40.)
Channel 31, meanwhile, ended up in a lengthy tug of war between two applicants. Philip Y. Hahn, Jr., the owner of Paine Drug Company in Rochester, filed an application March 8, 1967, competing with an application that had been filed November 18, 1966 by Cleveland-based Malrite Inc., owner of WNYR-AM/FM. After an FCC hearing, Hahn won the CP grant on January 18, 1968 with the calls WAAE-TV. Like Harcourt's channel 61 and Malrite's channel 31, Hahn's new station would not have operated from Pinnacle Hill; instead, it would have been built atop the Commerce Building next to the Genesee River downtown with a modest 294 kW at 255 feet height. The facility was deleted and then reinstated in 1969; by the time it was deleted for good in 1972, the unbuilt CP had changed calls to WPYH-TV. (The Commerce Building was demolished in the early 1980s and replaced by the Riverside Convention Center.)
WUHF/31 logo circa 1989.
Malrite Broadcasting reapplied for channel 31 in January 1977, and it finally brought commercial UHF to the Rochester airwaves in 1980 when it signed the station on as independent WUHF. The new station ended up with ties, in one way or another, to the histories of nearly every other TV station in town. Its antenna sat on a new Pinnacle Hill tower shared with an upgraded WXXI-TV facility. Its studio at 360 East Avenue sat next door to that of WHAM/1180, which had moved out of Humboldt Street when Veterans moved in back in 1962. Its Malrite radio sister stations were WEZO/101.3 and WNYR/990, the latter the direct descendant of the old WRNY/680 and its 1953-55 attempt to get on the air with television. WUHF joined the Fox network at its launch in 1986; two decades later, in the hands of Sinclair, channel 31 moved into Humboldt Street as a shared-services partner to WROC-TV. In 2014, Sinclair moved WUHF out of WROC's building and in with WHAM-TV/13, the former WOKR, which Sinclair now operates under another shared-services deal.
Channel 61 was not so fortunate. It lingered to the end of the analog era as an unbuilt hole on the dial. The last attempt to build channel 61 came from WXXI, which filed for the channel with the idea of operating it commercially under a for-profit subsidiary. The FCC never acted on the application, nor did it assign a digital companion channel, and the application was eventually dismissed a few years into the DTV era.