One Channel, Two Stations
by K.M. Richards
with Clarke Ingram
Almost from the start of commercial radio broadcasting, there have been situations where more than one station has shared the use of a single frequency. Most were simple affairs, such as the sharing of 1150kHz in Los Angeles by KRKD and KFSG, which had begun on a different frequency in 1928 and then continued from 1941 to 1961, in which KRKD operated during daytime hours and KFSG from 6:00pm to midnight. Other, more complicated arrangements existed in Chicago, where three stations shared 1240kHz until 1996, with switches between stations at 6:00am, 8:30am, 10:00am, 3:30pm, 5:00pm, 7:00pm, 8:00pm, 10:00pm, 11:00pm and midnight. Probably the most unique was in the Dallas-Fort Worth market where two stations -- WFAA and WBAP -- shared two frequencies (570kHz and 820kHz) from 1929 to 1970, in which they swapped dial positions as many as nine times a day. When television entered the post-freeze era in 1952, a handful of similar situations were also created. Some were used to avoid being on UHF, others were in cities with no UHF allocations, and one was on a UHF channel.
This article gives a brief overview of each of the share-time television operations.
---
Kansas City MO - KMBC-TV/WHB-TV, Channel 9: Although it was not the first time-share arrangement approved by the FCC for television, it was the first to go on the air. Kansas City was one of the luckier metropolitan areas in having television service during the "freeze" as WDAF-TV had begun operation on channel 4 October 16, 1949. Post-freeze, Midland Broadcasting (KMBC/980) was the first to submit its application, for channel 9 in May 1952. Meredith Engineering (KCMO/810) applied for the other allocation on channel 5 one month later and WHB Broadcasting (WHB/710) filed a competing application for channel 9 in July (apparently deciding it had a better chance in comparative hearings against KMBC than it did against KCMO).
Meredith did have competition for channel 5 from Capper Publications (WIBW/580) which had also applied for channel 13 in Topeka KS, only to be challenged by an application from Sherwood Patterson (licensee of the erratic KSAN-TV/32 San Francisco). When Patterson agreed to withdraw in Topeka, Capper withdrew in Kansas City, resulting in the KCMO-TV construction permit being issued June 2, 1953. This apparently worried Midland and WHB, who might have feared that they would still be in comparative hearings when the ill-fated KCTY/25 (which had received its CP January 22) began operation, and they very quickly joined forces, amending their applications on June 23 to stipulate shared use of channel 9, with the CP being issued two days later.
A last-minute telegraphed protest by KEDD/16 Wichita, saying it had intended to also file for channel 9, was rejected by the FCC as not being a "formal application" (also questioning why KEDD hadn't applied sooner) and the combined KMBC-TV/WHB-TV signed on August 2, 1953, on a schedule which alternated every 90 minutes ... an arrangement which necessitated both stations affiliating with the same network (CBS). While maintaining separate studios, the stations shared transmitting facilities at the Power & Light Building, where WHB had already been located.
Station ID slide when KMBC-TV handed
off to WHB-TV. A similar slide existed
for the opposite switch.
The frequent switching between stations led to concerns that the ten-second break allowed by the network for station identification was insufficient to follow FCC regulations on same for each station individually, so the Commission approved a request to combine both into a single ID slide (shown at right).
The time-share failed to last a single year; On April 26, 1954, a deal was announced in which WHB acquired KMBC, merging the television stations and spinning off their station at 710. Total amount of the deal was $1.75 million, plus the assumption of $90,000 in obligations and a $25,000 non-compete payment to KMBC's previous owner, Arthur B. Church, Jr. (The spinoff of WHB more than covered the payment to Church, netting $40,000.) In announcing the deal, a joint statement by the two owners said that while they had found that "the difficulties of such shared time operation can be eliminated by one ownership" and that they felt the best service to Kansas City would be better accomplished "with the unification of the two television staffs." The deal was consummated in mid-June, followed by KMBC-TV moving to a new transmitter site with higher power (a site for which WHB-TV had already been issued a CP before the buyout and which was under construction when the sale was announced).
---
Minneapolis-St. Paul MN - WTCN-TV/WMIN-TV, Channel 11: The original WTCN-TV was on channel 4, having gone on the air pre-freeze July 1, 1949. As part of an ownership change that left the television station co-owned with WCCO/830, channel 4 became WCCO-TV and the new owners of WTCN/1280 filed for the channel 11 allocation in June 1952 (before the sales were even approved on July 31). They were quickly joined by applications from WMIN/1400 in July and from Meredith Engineering in August.
The three-way battle was buried amidst many other comparative hearings -- they were scheduled to be the 207th on the list for comparative hearings that the FCC released in August -- and they came to an agreement at the end of March 1953, with Meredith withdrawing
and the other two simultaneously filing amendments to their applications for a time-share. The FCC issued the construction permits on April 16, 1953 and both began operation on September 1. By that time, a new pair of competing applications were in the FCC's in box, for channel 9 (KEYD/1440 and WLOL/1330).
Little is known of the joint WTCN-TV/WMIN-TV operation, other than their holding joint network affiliation agreements with ABC and DuMont and (typical of share-time operations) common transmitting facilities atop the Foshay Tower Building, but the arrangement ended in April 1955 when Consolidated Television & Radio Broadcasters (already owners of AM-TV combinations in Indianapolis IN and Grand Rapids MI) purchased WTCN-AM/TV outright, as well as the license for WMIN-TV, which was surrendered to avoid a second FCC approval process of the sale. When the sale was consummated on May 1, 1955 WTCN-TV went full-time on channel 11.
---
Salinas-Monterey CA - KSBW-TV/KMBY-TV, Channel 8: Although the third share-time television arrangement to begin operation on September 11, 1953, it was the first-ever such grant with the construction permit being issued February 19 of that year. As with the other such agreements, the owners of the affiliated radio stations (KSBW/1380 and KMBY/1240) had filed their applications in 1952 (KSBW, in fact, was among the earliest to do so after the freeze was lifted, on July 21) but found themselves buried deep in the list of mutually-exclusive situations (#164 on the list of 206 cities with between 25,000 and 100,000 population) and quickly filed amendments to their applications specifying share-time operation and affiliation agreements with all four networks.
Channel 8 very nearly was delayed going on the air; in June 1953, the permittee of KICU/28 Salinas tried to challenge the share-time grant on the basis that it violated §3.651 of the FCC Rules, which provided that all television stations were "licensed for unlimited time operation" ... KSBW/KMBY responded that the "letter of protest" was not in the proper form for consideration and was without merit. Among KICU's claims -- typical of a UHF who could not get a network affiliation -- was that the public interest would not be served by the cherry-picking of programs from all four networks by a single station; it also claimed that the 25% ownership stake in KSBW held by the San Francisco Chronicle (licensee of KRON-TV/4 at the time) would "monopolize the economic support for TV stations in the Salinas-Monterey area." The Commission was not convinced by those allegations, ruling a month later that the protests were too vague and did not set forth "with particularity" the allegations of injury. In refusing to follow through on a demanded oral hearing on the matter, the FCC said the burden of proof rested with KICU and that they had failed to provide any.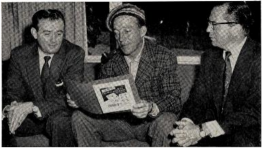 John Cohan, general manager of KSBW-TV, and S.M.
Aston, general manager of KMBY-TV, look over the
winning entry in the stations' contest in which
advertising agency employees were invited to "name"
the Salinas-Monterey television market. (The winner
received $1,000 for "Pacific Paradise".) Sitting
in-between Cohan and Aston was one Harry M.
Crosby, better known as "Bing", who owned 24%
of KMBY (and therefore 12% of channel 8).
Meanwhile, channel 8 found a way to immediately get the attention of Madison Avenue by sponsoring a "name this market" contest open only to ad agency employees. They received what was described to Broadcasting as an "avalanche" of entries, with the top prize going to "Pacific Paradise", accompanied by a pair of dice showing seven spots (one for each of the seven cities in the market).
Other than that clever promotion, KSBW-TV and KMBY-TV's time-share agreement was unremarkable, with the hours of operation split but most of those hours filled by network programming. It is likely that viewers couldn't tell which station was on at any given time, lending credence to a statement made by FCC Commissioner John C. Doerfer during the discussion of KICU's protest that "the public does not care who provides the programs on a given channel as long as it gets the programs."
Like most other such agreements, the one for channel 8 was short-lived. In November 1954, KSBW bought out KMBY for $230,000 plus the assumption of $117,000 in liabilities, spinning off KMBY/1240 in the process. The joint statement issued by both stations was already starting to sound familiar, saying that "improved service to this area will result from an integrated operation and eliminate the economic problems of operating share-time in such a small market."
But the story didn't end with the end of share-time on channel 8.
In June 1956, KSBW-TV purchased KVEC-TV/6 in San Luis Obispo, interconnecting it via a microwave relay to operate as a semi-satellite station, and changing its call letters one year later to KSBY-TV. It operated on that basis until 1979, with the exception of blacking out CBS programming also carried by KCOY-TV/12 Santa Maria (after it came on the air in 1964), local newscasts (which originated at the channel 6 transmitter site!) and local commercials. It was then sold, becoming the standalone NBC affiliate in its market. (KSBW lost the ABC affiliation to KNTV/11 San Jose in 1960, and the CBS affiliation to KMST-TV/46 when it signed on in 1969.)
KICU/28 never went on the air, despite a very public assurance that it would. It surrendered its CP four months after channel 8 went on the air (January 12, 1954); the call letters were then originally assigned to KLYD-TV/17 Bakersfield in 1958, but changed before beginning operation. The KICU calls were later assigned from 1961 to 1975 to channel 43 in Visalia, and then in 1981 replaced KGSC-TV as the call letters for channel 36 in San Jose, where they remain.
---
Phoenix AZ - KOY-TV/KOOL-TV, Channel 10: During the freeze years, Phoenix was served by a lone station, KPHO-TV/5, which had begun operation December 4, 1949 with the typical cherry-picked schedule from all four networks that one-station markets tended to implement. When the freeze was lifted in July 1952, the licensees of KOOL (Maricopa Broadcasters) and KOY (KOY Broadcasting) filed within weeks of each other, immediately finding themselves on the long list of mutually exclusive applications designated for comparative hearings, at position #200 of 212 "large cities".
The situations we have described in this article up until now had one factor in common that could have been used to avoid the hearings without having to share a channel, and that was the availability of UHF allocations; in Kansas City no one had filed for channel 65, in Minneapolis-St. Paul channel 23 remained available, and in Salinas-Monterey the nearby channel 60 allocation from San Jose could have been moved if anyone had petitioned for same. But in Phoenix there were no UHF allocations, having all been assigned to smaller communities scattered around the state.
Even if channel 15 in Prescott, channel 18 in Casa Grande, or channel 34 in Globe -- each 50 miles or farther away -- could have been moved to Phoenix, KOOL and KOY were under pressure from KTYL-TV/12 in next-door Mesa, which received its CP in February 1953 and appeared ready to begin operation quickly after being authorized, and from KTAR/620, which had filed for channel 4 in April 1948 but was held in abeyance by the freeze, and had -- at about the same time that KOOL and KOY filed for channel 10 -- filed an amendment to conform with the new allocation tables by specifying operation on channel 3.
KTAR found itself competing with two other applicants, eventually losing in 1953 to an applicant that included a 40% ownership stake by former U.S. Senator (and Majority Leader during his last two years in office) Ernest W. McFarland, whose 1952 amendment to the Communications Act gave the FCC the authority to question CP holders about delays in constructing their facilities. KTAR then acquired KTYL-TV and changed its call letters to KVAR in July 1953 (since FCC rules at the time prevented KTAR-TV from being used in a different city of license than the radio station).
Meanwhile, KOOL and KOY, already in a position of being last to go on the air in Phoenix, filed amendments to their applications in March 1953 specifying shared use of channel 10. They were granted their CPs at the end of May 1953 and went on the air October 11, with an odd schedule of one operating noon to 6:00pm and the other 6:00pm to midnight for a week, reversing positions the following week. All of their promotions carried both call letters (see example at right) and they shared not only a transmitter site but also the studios and some of their technical and operational personnel.
The combined promotion extended to a weekly newsletter, Arizona Television, which the stations jointly published beginning the week after Thanksgiving with advertiser listings, viewer letters, and programming reports. What they didn't have was network programming; while KTYL-TV had wrestled NBC and some DuMont programming away from KPHO-TV, the latter kept both its CBS and ABC affiliations.
Predictably, the time-share didn't have longevity. In mid-March 1954, KOOL announced it was buying out KOY's interest in channel 10 for $400,000. The press releases were full of the usual "we did this to bring television to the community" (as if there had been none before they came along) and to "avoid lengthy litigation of competitive applications" (there, they had a point). In their individual statements, both stations' managers offered the usual "single management is better than shared time operation" explanation ... but the application filed on April 9 said otherwise, citing "dissatisfaction with the share-time arrangements" as the basis for the decision and indicating that KOY-TV had posted an operating loss of $45,464 in the six months of its operation, more than wiping out the $27,087 profit the radio station had made in the same period of time.
The FCC approved the merger one month later and KOY-TV's call letters disappeared. It's entirely likely that the viewers never noticed (they might not have even been watching channel 10 very often until KOOL-TV affiliated with CBS in June 1955).
---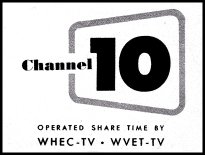 This "Channel 10" logo appeared on all
newspaper advertising during the
share-time years, made necessary by the
operating schedule for the two stations
essentially forcing a common program
schedule on weekdays.
Rochester NY - WHEC-TV/WVET-TV, Channel 10: At first glance, this time-share was another case of two radio stations trying to get into television sooner than the typical two years that it was taking in the immediate post-freeze years for the FCC to sort through mutually exclusive applications. But it ended up the subject of a protracted legal battle which took more than seven years to work through.
WHEC/1460 and WVET/1280 maintained separate television studios, co-located with their radio stations, and common transmitter facilities ... but with a schedule that seemed to be closer to the Phoenix model, with hand-offs occurring approximately every 24 hours: WVET operated channel 10 Mondays, Wednesdays and Fridays from 6:00pm to midnight, Tuesdays and Thursdays from 9:30am to 7:00pm, and Sundays from 10:45am to 5:00pm, with WHEC operating a "comparable schedule" the rest of the time. As was often the case, this required the same network affiliation for both (in this case, CBS with some ABC and DuMont programs).
Gordon Brown belatedly decides that he
should be channel 10's licensee, by trying
to create a loophole.
Although authorized by the FCC in March 1953, WHEC-TV and WVET-TV were briefly delayed in starting construction when the licensee of WSAY, Gordon Brown, filed for channel 10 and insisted upon an "expedited hearing" under the provisions of the McFarland Act. The Commission dismissed his protest in July, saying his protest was "not specific enough" and reinstating the grants, only to have Brown charge that the policies were changed as a result of his filing and then demanding a full comparative hearing. That, too, was denied.
The joint tenants completed construction and signed on November 1, 1953. Both were surprised by competitor WHAM-TV/5 taking out an ad in the Democrat & Chronicle newspaper (WHEC's owner) welcoming the new station(s) to the air: "Running the only station in town is not an un-mixed blessing. In fact, it's a lot like being the old-time king with a hundred wives. He may have seemed lucky to some of us, until we remember that he had to live by a hundred sets of household rules! We haven't had a hundred wives, but we have been wedded, since 1949, to four networks ... too many good programs for one telecaster to handle!" In response, the newspaper editorialized that channel 5's ad was "contrived to blast the fallacy that monopoly is something to be sought, to be bought, or to be achieved through any sort of business skullduggery." (Channel 10 subsequently got the CBS affiliation for Rochester, with channel 5 keeping NBC and both carrying some ABC programs.)
Brown wasn't done, though. In June 1954 he filed with the U.S. Court of Appeals seeking "an impounding of profits" of channel 10, calling the Commission's actions "arbitrary and capricious" and "in defiance of all the rules" during oral arguments ... only to have his request for a stay against the FCC denied in July. (He also wanted to be declared a "third owner/interim operator" of channel 10 pending the outcome of the appeal.) Amazingly, the court ruled in August that he was entitled to a hearing based on a strict reading of the McFarland Act; the ruling was stayed multiple times (mainly because implementing it would have taken the stations dark), during which time the share-timers appealed to the U.S. Supreme Court, citing their capital investment of about $750,000, a payroll for more than 100 employees being put at risk, and the potential "interruption of national network service to one million people."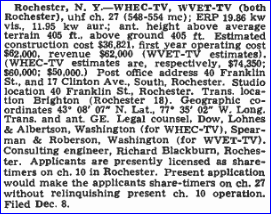 The proposed television version of WFAA/WBAP.
In July 1955 the appellate court ordered the hearing Brown had been demanding, which the FCC complied with in February of the following year. In the interim, Brown tried to have channel 10 put in the hands of the Rochester Institute of Technology as trustees, and WHEC/WVET proposed to also operate channel 27 share-time, with each operating the UHF station during hours they weren't operating the VHF one.
As 1956 began channel 10 continued to operate as it had for more than two years, and in August, an FCC hearing examiner issued an initial decision affirming the original grant and denying Brown's protest. In October Brown appeared before a three-judge panel of the Court of Appeals claiming the FCC should have ordered channel 10 off the air after the July 1955 ruling. They ruled the following month that the Commission had not abused its discretion and did not err in refusing to force the share-time operation off the air. Meanwhile, WHEC purchased a new three-story building to house both its radio and television operations.
A final set of oral argments were heard by the Commission in March 1957, during which Brown added the claim that Gannett (the Democrat & Chronicle's owner, and therefore half-owner of channel 10) constituted a monopoly, questioned WVET's financial qualifications, charged that the two stations fixed rates between them, and by tying up two network affiliations was preventing UHF from operating in Rochester. Ultimately, Brown was ruled against on the basis of the WHEC and WVET applications having been filed in 1952, meaning he had no valid argument in favor of waiting to file until after the original grant. The FCC dismissed the channel 27 application at the stations' request in December and officially reaffirmed the channel 10 grant in March 1958, almost five years to the day they had originally made it. Brown filed a petition for reconsideration a year later. It was summarily denied.
In October 1959, the Court of Appeals upheld the FCC decision. The Supreme Court denied a request for review by Brown the following April. In July 1960, Brown was back, this time claiming that because Commissioner Frieda Hennock abstained when the original grant was voted on in 1953 that the 3-2 vote was invalid due to the lack of a quorum. It took the FCC less than a month to rule against him yet again. (Meanwhile, when educational interests requested that channel 13 be allocated to Rochester, WVET-TV suggested that it be allowed to share-time on that channel during the hours it was not operating channel 10.)
And the share-time operation continued to operate, with no apparent friction between the two owners -- perhaps the ordeal of fighting Gordon Brown had brought them to even more cordial relations than they'd originally had? -- with joint sales promotion and occasional joint community events, even receiving license renewals in 1960 (over Gordon Brown's protestations).
The time-share finally came to an end in 1961, after WROC-TV/5 (the former WHAM-TV) agreed to be purchased by WVET-TV, whose interest in channel 10 was concurrently bought out by WHEC-TV. Despite opposition from two labor unions -- the American Federation of Television and Radio Artists (AFTRA) and the National Association of Broadcast Employees and Technicians (NABET) -- who claimed the sale contract had a provision to "dishonor" existing contracts, and Brown filing his opposition on familiar grounds (his station, and therefore the general public, would "suffer from extension of the monopolistic influence of the Gannett Company"), the FCC approved the sales in July, despite a last-minute request from you-know-who to vacate channel 10 entirely and allow new applications. The unions protested the approval, were denied a stay in federal court, then negotiated a new deal with Gannett, and the deal was completed at the end of that year.
WVET-TV kept the WROC-TV call letters and, because of changes made to the allocations table in 1961 as the result of the deintermixture proceedings, moved to channel 8 on September 8, 1962. WHEC-TV showed the same grace after the sale as it had for the almost nine years of share-time operation, taking out ads in trade publications calling the experience "an extremely pleasant association" and wishing "our former partner, now our respected competitor" the very best of success as both stations continued to serve Rochester.
(Additional information on the WHEC-TV/WVET-TV share-time can be found in the article on Rochester television.)
---
Pittsburgh PA - WENS/WQED, Channel 13: This seems to have been the shortest share-time arrangement on record. Some might even think, after reading this part of the article, that it really shouldn't count as one. It did require FCC approval, however, and it did involve shared use of a single channel, if only for a short time.
WENS/16 was a pioneering UHF station, having received its construction permit during the first post-freeze year (December 23, 1952) and going on the air August 29, 1953. As a competitor to DuMont's WDTV/3 (later KDKA-TV/2 under Westinghouse ownership) -- meant WENS at least was able to choose among the network programs that wouldn't fit on the VHF's schedule. And when a second VHF station did go on the air in 1954, it was non-commercial, educational WQED/13.
Of course, WENS had the usual difficulties with a lack of UHF-capable sets (and too many viewers who were content to just leave channel 2 on all the time), but they managed to outlast the first UHF to sign on the air in Pittsburgh, WKJF-TV/53, which came and went in 1953-54, going dark less than two weeks before its first anniversary and later becoming part of the Overmyer Network debacle.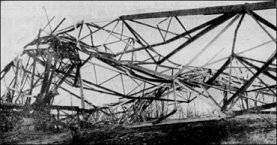 The wreckage of the WENS tower, as photographed
by the Pittsburgh Post-Gazette.
On the morning of Friday, March 11, 1955, WENS' luck took a bad turn when its tower in the Reserve Township area collapsed in a storm. The day started with a 6:30am call from assistant chief engineer Clint Prewitt to general manager Larry Israel: "I just looked out my window to where our tower is. It isn't." Thinking quickly, Israel and William Wood (his counterpart at WQED) came to an agreement for channel 13 to carry channel 16's prime-time network programming. After securing permission from Westinghouse, whose tower near Pitt Stadium was also home to WQED's antenna, the next move came from Pittsburgh's mayor, David Lawrence. He had considerable political clout in those days, and persuaded the FCC to call an emergency session -- one hour before they were to recess for the weekend -- to approve Special Temporary Authority for the WENS/WQED arrangement until April 1. (Commissioner Frieda Hennock cast the lone dissenting vote, apparently finding the idea of a commercial station even using part of one of "her" educational channels abhorrent, even in an emergency.)
So it was that on the following Sunday (March 13) WQED, identifying with both its call letters and those of channel 16, began spending its evening hours airing such commercially-sponsored fare as CBS' Shower Of Stars (see ad at left), Topper, Our Miss Brooks, Arthur Godfrey's Talent Scouts and Ed Sullivan, NBC's Medic, Camel News Caravan and Dinah Shore, and ABC's Ozark Jubilee, Pepsi-Cola Playhouse, Dotty Mack and Boxing from Eastern Parkway. Although some of WQED's evening programs did air during timeslots in which WENS did not air any network shows, the emergency situation did require the last-minute rescheduling of three WQED "pledge week" specials from their original 9:30pm slots to 7:30pm, before WENS programming began.
Apparently the arrangement brought new viewers to channel 13; the University of Pittsburgh-produced debate program Campus On Call found itself sandwiched in-between ABC's Disneyland and CBS' I've Got A Secret on March 16. The program, which solicited phoned-in viewer questions for its in-studio guest, found its switchboard overwhelmed with calls ... "clobbered", as Wood put it when queried by the Pittsburgh Post-Dispatch.
Using a shorter tower, WENS returned to the air on channel 16 the evening of April 27, ending the share-time arrangement but was rebuffed in their attempts to secure a more permanent share-time arrangement with WQED, even with public support from Post-Dispatch radio-television columnist Win Fanning. The weaker signal made competition even more difficult, and WENS went dark on August 31, 1957, shortly after unsuccessfully fighting to keep a third VHF station, WIIC/11, from going on the air. WENS eventually sold its equipment to WQED, which relicensed it as WQEX using a construction permit they had been granted for channel 22. It resumed operation March 19, 1959.
---
Lansing MI - WMSB/WILX-TV, Channel 10: This share-time arrangement had several unique aspects. Lasting 13½ years, it was the longest-lived sharing of a channel; it was an agreement between commercial and educational broadcasters; and one of its participants moved from a UHF channel to share a VHF one and then moved back to the UHF band afterwards.
The story begins at Michigan State College (now Michigan State University), which already had been operating WKAR on both the AM (870 since 1941, but with a history on prior frequencies going back to 1922) and FM (90.5, since 1948) radio bands, licensed to East Lansing. Although many people have speculated over the years that the call letters stood for K(C)ollege of AgricultuRe, they were actually randomly assigned by Herbert Hoover, the U.S. Secretary of Commerce (which was the radio licensing authority when the AM station began operation). With that lengthy a history of radio broadcasting, it was not surprising that the College applied post-freeze for an educational station on channel 60.
WKAR-TV received its construction permit October 15, 1952 and went on the air January 15, 1954. It was the third educational television station in the United States to begin operation (after KUHT/8 Houston and the short-lived KTHE/28 Los Angeles). Unfortunately, as was often the case in the 1950s and 1960s, the majority of television sets in the area at that time could not receive UHF without an external converter, and even then the signal was marginal at best. With this in mind, the College set out almost immediately after beginning service to have channel 10 in Parma-Onondaga, the only other VHF channel allocated to the Lansing area, redesignated for noncommercial educational use.
MSC filed its petition at the beginning of June 1954, following it up with a formal application for channel 10 on July 13. At the time, Armand L. Hunter, the director of television development at the College, said WKAR-TV feared it was "in immediate danger of being the only UHF island in a sea of VHF service." By those actions, Michigan State College inserted itself into what was already a four-way contest (the owners of radio stations WIBM, WILS and WKHM, and Triad TV Corporation), although the formal hearing had not been scheduled. By the time of the application filing four more educational television stations had begun operation, on VHF channels in Pittsburgh (WQED/13, on April 1) and San Francisco (KQED/9, on June 10) and on UHF channels in Madison WI (WHA-TV/21, on May 3) and Cincinnati (WCET/48, on June 29).
It didn't take long for the channel 10 battle to start shaking out. WIBM changed hands and withdrew its application only days before the MSC petition in June (although the new owners were allowed by the FCC to file an application of their own), and by September the College had reached a tentative agreement with WILS (TV Corporation of Michigan, which had already put WILS-TV/54 on the air September 20,



The channel 10 tower in Onondaga.
(Courtesy MSU archives.)

1953) for a share-time operation, in which they would operate non-commercially during midday hours (9:30am to 2:00pm weekdays, 10:00am to 2:00pm Saturdays, and noon to 4:00pm Sundays, plus a 90-minute early evening weekday period from 6:00 to 7:30pm for "University of the Air" telecourses) and WILS would operate commercially during all other hours. Perhaps in anticipation of the agreement giving them an edge in the comparative hearing, TV Corporation simultaneously filed for approval to lease channel 54 to a new company with the same ownership for a two-year period, which was approved only a few weeks after being filed. After several false starts, the hearings began a little over one year later, on November 17, 1955; in the interim, MSC filed to change the licensee name on all three stations to the Michigan State Board of Agriculture.

WILS-TV changed call letters to WTOM-TV October 22, 1954, then unsuccessfully fought a transmitter site move proposed for WJRT/12 Flint. It subsequently went into receivership, going dark October 9, 1956; its license expired two years later.

An initial decision favoring the share-time applications was issued on March 7, 1957, conditioned on WKAR-TV surrendering its channel 60 CP (which it did, on July 7, paving the way for full Commission approval on September 3). WKHM's owner, Jackson Broadcasting & TV Corporation, promptly filed a petition to set aside the decision and reopen the record "to enlarge issues", noting that WKAR-TV had suspended operation -- conveniently ignoring the fact that MSC could not legally continue to operate channel 60 after surrendering the construction permit at the Commission's request -- and that state laws disqualified the Board of Agriculture both legally and financially from being a station licensee. Perhaps suspecting a "grasping at straws" petition, the FCC denied a stay of the grant in November and formally issued the CPs for channel 10 one month later.
As was required by FCC rules at the time, both stations had to select call letters other than those assigned to their radio stations licensed in different cities; thus, when channel 10 began operation March 15, 1959, it was as commercial WILX-TV and educational WMSB. The already unusual arrangement had an additional twist in that WMSB owned the station transmitting facilities and WILX-TV leased air time for their hours of operation (both stations having separate studios and offices). Perhaps as a partial appeasement, and perhaps just an idea facilitated by the network feed being available anyway, WMSB carried the sustaining public affairs programs fed by NBC, rather than WILX-TV having to pay for the time to air them.
Meanwhile, Jackson Broadcasting filed with the U.S. Court of Appeals, arguing that channel 10 was "supposed to be used at Parma" (this time conveniently ignoring that when the channel allocation had been moved from its original 1952 location at nearby Hancock it was given the dual-city designation, including Onondaga) ... and losing the argument in June 1960. WMSB changed the name of its licensee again while that appeal was pending, to "Board of Trustees of Michigan State University of Agriculture and Applied Science" (how the FCC fit that mouthful onto the license's small allocated space is anyone's guess).
It wasn't long before MSU decided its 38 hours a week of programming on channel 10 wasn't enough ... yet at the same time, they were apparently unwilling to reactivate channel 60; in November 1961 they filed a request to have channel 18 assigned to East Lansing "to supplement programming on WMSB." After the Canadian government raised objections the FCC in June 1962 moved the non-commercial allocation for channel 24 from Coldwater (about 60 miles away, near the Indiana border), making it commercial and moving the old WKAR-TV allocation -- which had been a commercial allocation all along -- to channel 61, formally changing it to non-commercial (it was bumped even farther up the UHF band again in the 1966 allocations table revision, to channel 69).
Possibly because they would have ended up even higher on the UHF dial than they had been in the mid-1950s, WMSB did not file for their old allocation, instead waiting until 1971 and then filing for channel 23 (changed in the 1965 allocation table revision). Even then, the new station at East Lansing -- again to be called WKAR-TV -- was granted its CP first, followed by an application for WILX-TV to operate full-time on channel 10, conditioned on WMSB relinquishing its license and WKAR-TV beginning (or should that be "resuming"?) operation. All of the applications had been granted by May 1972 and WKAR-TV went live on September 10, simulcasting its inauguration as WMSB's last telecast on channel 10.
The reasons for discontinuing the share-time operation were never formally disclosed, nor was the amount paid by WILX-TV for the channel 10 transmitting facilities.
---
Aurora/West Chicago IL - WPWR-TV/WBBS-TV, Channel 60: The first (and only) time a UHF channel was operated share-time was this pair of stations, and by the time it ended more construction permits and licenses had changed hands than anyone would have anticipated.
Fred Eychaner, WPWR-TV's
original owner.
It began when Fred J. Eychaner, who owned WQVQ/1430 in one of the Chicago suburbs, filed on September 5, 1978 for channel 60 in nearby Aurora as Metrowest Corporation. He likely never intended to start a blizzard of applications, but by the following May four competing applications had been filed, including one by a company called Hispanic American Television (which later changed its name to HATCO-60), owned by one Marcellino Miyares and specifying West Chicago as its city of license. Two of the competitors dropped out by mid-1980, and a third was unable to resolve an objection by the FAA to its proposed transmitter site, which left Eychaner and Miyares in mutually exclusive status.
Apparently neither wanted to go through comparative hearings, so they filed for share-time operation (even though it had been almost a decade since the last such operation had ended and just shy of 25 years since the FCC had made a share-time grant) and were granted construction permits in 1981. Miyares ran into trouble with his choice of call letters; the grant of WBBS-TV was protested by CBS (licensee of WBBM-TV/2) not once but twice ... and denied by the FCC both times. Eychaner had no such difficulty with his choice of WPWR-TV and the two jointly constructed transmitting facilities atop the Sears Tower in downtown Chicago.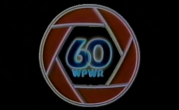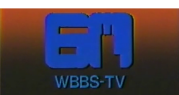 WPWR-TV was on the air first, on April 4, 1982, with WBBS-TV following two weeks and two days later. Metrowest operated from 2:30am (the time HATCO-60 chose for signing off each night) until 7:00pm, when Miyares' operation resumed for the evening. Not surprisingly, WBBS-TV featured programming aimed at Hispanic audiences including local news programming, telenovelas and variety series from NetSpan (which evolved several years later into the Telemundo network), going head-to-head with local competitor WCIU-TV/26, which was then affiliated with the Spanish International Network (SIN). WPWR-TV devoted the bulk of its schedule to a subscription service, Sportsvision, which Eychaner had developed through a deal with the Chicago White Sox.
Above: You want complicated? We got your complicated.
Below: The control room monitor with WCAE station ID
slide in 1968 (ten years before Eychaner even started).

It was Sportsvision which caused the first hiccup, by moving to cable in January 1984 when the pay-television revenues did not live up to expectations. Eychaner filled the vacated time with public domain movies, cartoons and classic sitcoms from the early to mid-1950s, acquiring more recent off-network sitcoms later in the year.
But Miyares' half of channel 60's operation was also about to be shaken.
In the spring of 1985, WSNS-TV/48 discontinued its ON TV subscription television operation and took the SIN affiliation away from WCIU-TV ... which in turn acquired NetSpan's programming service. This left WBBS-TV with only enough programming to operate only weekends, from 8:00pm to 2:30am; the weekday nighttime hours became part of WPWR's schedule. As all this was happening, Eychaner decided he wanted a full-time operation, and on a lower channel number as well.
Eychaner was in luck, as WCAE/50 in nearby St. John IN had problems of its own. Licensed to the Lake County Central School District and operating since September 1967, it had gone dark due to budget cuts in 1983 with the station assets and license transferred to Northwest Indiana Public Broadcasting at the end of that year. Elsewhere in the state, a group of businessmen had held the construction permit for WDAI/56 since June 1981 and were not even close to going on the air, primarily because they, too, wanted to operate from the Sears Tower but needed to be at least six channels removed from -- of all stations -- WPWR-TV on channel 60 to do so. Eychaner proceeded to put together what may have been the most complicated deal in television history.
In November 1984, Eychaner acquired the WDAI CP from Great Lakes Broadcasting for $225,000, then swapped channels with the WCAE permit, for which he compensated the public broadcasting organization an additional $684,000. In the process, a new "Channel 50 TV Corporation" was formed, 90% owned by Metrowest and 10% by Great Lakes. This, of course, solved the "six-channel spacing" problem at the Sears Tower.
Eychaner then bought out the rest of Miyares' WBBS-TV operation in August 1986 (after having already been operating full-time as WPWR-TV since the previous November by leasing the remaining nighttime hours from him), then sold channel 60 to Home Shopping Network and moved the WPWR-TV call letters and programming to channel 50 -- the former WDAI permit, if you've gotten lost trying to keep track -- signing-on there January 18, 1987. (Channel 60 simultaneously took the call letters WEHS, and WCAE used its modified CP to begin operation as WYIN later that year, from a transmitter site properly spaced from both channels 50 and 60.)
WPWR-TV/50 became Chicago's #3 independent station (after WGN-TV/9 and WFLD/32), affiliated with the United Paramount Network (UPN) when it launched in 1993, then was sold to the Fox Television Stations group in 2002 for $425 million, netting Eychaner a tremendous profit over his original investments.
---
And there you have it ... the eight instances in the analog television era where more than one station shared a single channel. As you can see, share-time was always eventually to prove itself an unsuccessful course of action.
Of course, with today's digital television broadcasting there would never be occasion to make such an arrangement, since multiple "stations" exist as subchannels of practically every station on the air now (and many stations now share a single transmitter and RF channel as part of repacking the UHF band to free spectrum for other purposes). You could say that the industry evolved into the ultimate share-time operations!
One last point of interest: As reported above, viewers in communities with only one television station found themselves at the mercy of that station's owners creating a schedule of programs from all three networks (four, when DuMont was in existence) and no network receiving full-time clearance. Although that had pretty much come to an end by the end of the 1970s, one station continued the practice for another three decades ... KXGN-TV/5 in Glendive MT, then (as now) the nation's smallest television market. From its sign-on November 1, 1957 it cherry-picked programs from ABC, CBS and NBC, although it favored its primary affiliation with CBS, clearing its prime-time schedule live from 6:00pm to 9:00pm Mountain Time (using the Eastern network feed) most of the time and then switching to the Pacific network feeds for the other two from 9:00pm to midnight (favoring NBC). This arrangement continued until the 2009-10 television season, by which time KXGN-TV was operating with a digital signal and began airing the entire NBC schedule on its 5.2 subchannel. It had also carried UPN's prime-time schedule in the post-midnight timeslot during that network's 1995 to 2006 run. It is still the only full-power station in that market of 5,000 households and reaches much of the state of Montana via ten co-owned translators (and the ABC, Fox and PBS networks are all relegated to translators as well).