WFAM-TV/59, Lafayette IN
by K.M. Richards
On November 11, 2016 an article appeared in the Lafayette Courier & Journal headlined "Lafayette TV station debuted in 1953":
---
More than 60 years ago, Greater Lafayette welcomed its first commercial television station. The first station, WFAM-TV, sent out signals on ultra high frequency (UHF) Channel 59. Years later, it gave way to WLFI-TV, familiar today on HD Channel 1018.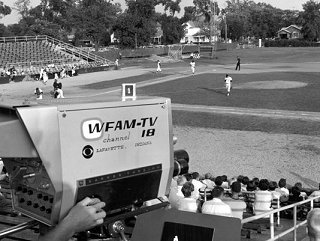 A WFAM-TV 18 camera follows the action in the 1960s
at Loeb Stadium in Lafayette's Columbian Park. This
photo accompanied the article in the Courier & Journal.
(Courtesy Tippecanoe County Historical Association.)
Early in June 1953, WFAM-TV began broadcasting a test pattern. People owning 1950s vintage black-and-white receiving sets seemed amazed just to sit and stare at the pattern. This was long before the advent of cable or satellite TV service. You had to catch the signal "out of the air" with some form of antenna.
Ordinarily, Lafayette area people could get Channel 6 out of Indianapolis. Maybe Chicago. Maybe South Bend. Under certain strange atmospheric conditions a viewer in Lafayette might see a snowy station in Chicago. But for those reading this who may be too young to remember it, television in 1953 was something special.
WFAM-TV station management conducted exhibition programming as a sort of dry run, or warmup exercise. They sponsored an open house June 9-12 from the Purdue University landmark known today as Lambert Fieldhouse. Curiosity about the novelty of TV caused about 3,000 persons to look in on live telecasting from the Fieldhouse that first night. They could see the painted studio sets, the microphones, the dazzling lights, snarls of wires and a cumbersome camera or two. The station's first staff included news reporter K. C. Strange; artist Keith Butz; engineer Harry Garba; and all-purpose staffers Harry Bradway, Dick Long, Jane Ransom and Hi Shumway.
At 6 p.m. on June 15 WFAM-TV's first official telecast from an enlarged radio studio on McCarty Lane aired programs titled Weatherman, Travelscope, Uncle George, Sportsman's Club, Ringside With Rasslers, The Chimps, Paradise Island, an old Hollywood movie and the Clete Roberts (News) Report, ending at 10 p.m.
---
Those five paragraphs, which a footnote identified as being a reprint of "Old Lafayette" columnist Bob Kriebel's June 1, 2003 entry, failed to give any further details of the station's history. The entire remainder focused on the technology of television, particularly the 1927 contributions of a Purdue University graduate. Said graduate had nothing to do with WFAM-TV directly.
Sadly, since WLFI-TV does not have a page on their website telling their history, and the Wikipedia article on the station has few details (some of those being incorrect, with broken reference links) on the station's early days, we will have to emulate the late Paul Harvey and tell ... the rest of the story.
The history of WFAM-TV starts with O.E. Richardson, who had operated WASK/1450 since 1942 and WFAM-FM/95.1 since 1948. While the reason for his decision is not known, he decided in 1951 to also get into television, filing for channel 59 on August 10 of that year in anticipation of the FCC lifting the "freeze" on new applications. He -- and everyone else trying to get a jump on the anticipated demand for new station grants -- had to refile when the Commission decided that all "pre-thaw" applications had to be refiled by July 1, 1952 to be considered; Richardson did so May 12, listing the estimated construction cost at $158,000 and income matching operating



O.E. Richardson

expenses at $75,000 per year. WFAM-TV was to be co-located with the existing radio stations' studios and transmitters. After the refiling deadline, Lafayette IN was #120 on the priority list for processing in Group A-2 (stations in cities 40 or more miles from any existing station). Richardson received his CP relatively quickly, on December 23, 1952 and went on the air less than six months later, as noted in the original newspaper article. To make room on the tower for the television antenna, at 9:00pm on March 31 channel 59's namesake FM went silent, after day-long "mourning services" simulcast on WASK (advertised as "America's First F.M. Radio Wake") and its license returned to the FCC. Intermittent test patterns were reported airing soon afterward, in early May, and on the first day of same all of the advertising time on WASK was sold to Lafayette Radio Supply "to inform dealers of converters, antennas, strips and other equipment" that would be needed to receive the new UHF station.

WFAM-TV's launch was saddened somewhat by the death from a heart attack of its general manager, Al Herkimer, on May 30, only two weeks before the formal inauguration. The Courier & Journal reported in his obituary that he had "been extremely busy directing work of setting up the new television station." (Herkimer was replaced by David F. Milligan, recruited from WFBM-TV/6 in Indianapolis.) Two weeks later, the station announced a start date of June 15 at 6:00pm, and a few days before the announcement the newspaper published a special four-page section titled "Television Comes to Lafayette." For some reason the Anderson Daily Bulletin and Muncie Star-Press didn't get around to mentioning the debut until Independence Day, and they reported the station would begin operation July 6.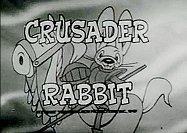 What viewers who tuned in channel 59 in
time for the nightly sign-on were treated
to before regular programming began.
At first, much of WFAM-TV's programming was locally originated, largely by using existing WASK employees doing double duty; an affiliation with the DuMont network was announced only after they had been on the air for over two months, on August 23, and did not begin until the network's telecast of the Cardinals-Bears pre-season NFL game from Chicago on September 20. Somehow, channel 59 managed enough of a programming budget to include a handful of first-run syndicated shows, including Jackson and Jill, Public Prosecutor, Hollywood Half Hour, Front Page Detective, Foreign Intrigue, Hollywood Off-Beat, Ramar of the Jungle, The Files of Jeffrey Jones, Eddie Drake Investigates and Liberace, plus off-network reruns of Dragnet ("Badge 714"), Fireside Theater ("Royal Playhouse"), The Life of Riley and I Married Joan ... and the U.S. Army's ubiquitous The Big Picture. Channel 59 also signed on each day just before 6:00pm in order to run a Crusader Rabbit cartoon, part of a syndication package that included the first four programs in the preceding list as well as the previously mentioned Paradise Island and Ringside with the Rasslers. (They also briefly ran what were likely kinescopes of the last several 15-minute news commentaries from political newspaper columnist Drew Pearson; the series had ended its run on DuMont three months before WFAM-TV signed on.)
Nearby Purdue University also produced several limited-run "series" at WFAM-TV, notably Purdue Travelscope and Purdue Camera on Science, plus programming on agriculture, home economics, and other subjects. Pretty much everything else on the schedule is presumed to have been hosted either by the radio station staff (although it is possible some of the programming was the usual films produced by industries and government agencies, then distributed free of charge to stations) or well-known locals like the Courier & Journal's sports editor Gordon Graham. Ancient two-reeler movies filled out the schedule. One program which WASK's on-air announcers probably didn't mind being part of was a five-hour telethon and on-camera auction to benefit polio research, which pre-empted the schedule for the entire evening of January 29, 1954.
Channel 59 had the unfortunate luck to affiliate with DuMont as the network was beginning its downward spiral toward oblivion. In addition to the football games, which moved Sunday sign-ons to 1:00pm, WFAM-TV aired fourteen NBA basketball games beginning in December, but only a relative handful of the network's other programs -- Life is Worth Living (Bishop Fulton J. Sheen), Johns Hopkins Science Review, Stars On Parade, Dollar A Second, The Goldbergs, and Better Living Television Theater -- ever appeared in what passed for the Courier & Journal's published listings for the station's first year on the air. It also appeared that everything but the sporting events and Bishop Sheen was airing via kinescopes ... as an example, Stars On Parade, which aired live on the network on Wednesday evenings, were on the Saturday WFAM-TV schedule.
At first, WFAM-TV's "news" was the syndicated Clete Roberts Reports, which aired nightly, first at 6:00pm and then at 6:15, although ten-to-fifteen minute long "Weatherman" reports delivered by program director Richard W. "Dick" Long aired nightly at 9:30pm, with a 6:00pm edition added in September (responsible for the bump of Roberts to fifteen minutes later). Roberts was already a veteran journalist by then, having been a war correspondent during World War II and the Korean War, and his commentary-laden newscasts had been carried, starting in 1942, on the Pacific Coast Network (which consisted of NBC Blue network shows plus regional offerings). The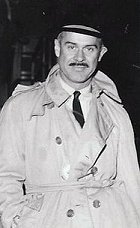 Clete Roberts

television version was created in 1951 to capitalize on his coverage of the Korean War and production was already winding down by the time channel 59 signed on. At the time, Roberts was especially well-known in Los Angeles, having worked at KMPC/710 pre-World War 2 and at KFWB/980 afterwards, with his television series being an outgrowth of his existing reports for KLAC-TV/13. Roberts was replaced in April 1954 by a half-hour local newscast, with an additional ten-minute newscast airing at 10:00pm.
It may have been a telling sign that the biggest "hit" WFAM-TV had in its early years was Banko, a bingo-like game sponsored in 1955 by the Eisner Food Store chain (where, naturally, viewers could pick up their free Banko cards every week in order to tune in and play along). Eisner provided the smaller prizes as well, which included a six bottle carton of Pepsi-Cola for everyone who scored a Banko, a small appliance or kitchen aid -- for example, an electric popcorn popper on the June 29 broadcast -- to the ten viewers each week who scored in the least number of throws, and local appliance store Reifer's (at "9th and Main", footnoted the Eisner newspaper ad) gave away an Admiral refrigerator to anyone managing to win on less than nine throws during the weekly broadcasts.
Initially, channel 59 operated with an anemic 20kW effective radiated power, which was eventually increased by a factor of eight -- to 170kW -- in September 1955, not long after securing an affiliation with the CBS television network at the end of 1954. That came just in time to replace the crumbling DuMont network; shows like Captain Video had left the schedule in April without ever airing on channel 59, Bishop Sheen had moved to ABC, and the last of even the most inexpensive productions -- It's Alec Templeton Time and What's the Story? (neither of which were on the WFAM-TV schedule either) -- were about to air for the final time. The new affiliation brought color to channel 59 for the first time, but the 1956-57 Telecasting Yearbook indicated that the network comprised the only color facilities; local programs remained monochrome transmissions.
One year after the power increase, Richardson petitioned for the channel 18 allocation in Lebanon to be swapped with his channel 59 grant. By year's end, the FCC had acted on the request by substituting channel 79 at Lebanon instead, but denied the request for a show cause order to allow WFAM-TV to move there, instead making channel 18 "available for application by all interested parties." By that time, Richardson had apparently had enough, selling both the radio and television stations to assistant station manager Henry Rosenthal and partners -- the president of a local bank, the manager of a local construction company, and a public accountant -- for $330,000 in February 1957. The sale took less than one month to gain Commission approval.
Rosenthal proceeded to apply for the channel 18 allocation, and also filed a petition to move the channel 10 allocation from Terre Haute to Lafayette using the creative logic that the recent reallocation of channel 2 from Springfield IL to St. Louis MO and Terre Haute during the deintermixture proceedings created a situation where the community "could not support two VHF stations in the face of competition from three Indianapolis stations whose signals covered Terre Haute as well." That drew a competing proposal by WDAN-TV/24 Danville IL to move channel 10 to their city of license instead; the FCC denied both petitions April 3, 1958, the same month as
the issuance of a CP for WFAM-TV to move to channel 18. By that time, CBS programming was being augmented by movies and other shows from the nascent NTA Film Network, based at WNTA-TV/13 in Newark NJ (in the New York City market).
It was beginning to become apparent that Richardson had sold out because he lacked the capital to follow through on the channel change, and that Rosenthal & Co. also had a similar shortfall, because on May 8, 1959 they filed for permission to go dark, doing so on May 16, then announcing three days later the sale of the television station to broadcast engineer and CATV equipment manufacturer Sarkes Tarzian for a mere $65,000 ... most of that being for the station's equipment.
No, "Sarkes Tarzian" wasn't a brand name, it was the name of
the man who completed WFAM-TV's shift to channel 18.
In this 1955 Rotarian photo he is shown at co-owned WTTV.
It was Tarzian -- who also owned Indiana stations WTTV/4 Bloomington and WPTA/21 Fort Wayne -- who ordered new equipment to convert WFAM-TV to its new home on the dial, returning it to the air on channel 18 at 12:30pm on November 15, 1959. (There was an ironic twist to his now owning the station and implementing its change of channels: WTTV had moved from channel 10 to channel 4 the same month that WFAM-TV received its original construction permit. A further later irony was the reallocation of channel 59 to Indianapolis in the late 1970s.) Tarzian constructed a microwave link to WTTV, resulting in some regional shared programs such as sporting events, children's programs, the Indiana State Fair's $50,000 horse show, and educational programming from Indiana University in Bloomington. And Tarzian also applied for a further ERP increase, to 206kW, literally ten days before resuming operation, completing the upgrade less than nine months later.
Shortly after the move down the UHF dial, WFAM-TV finally created a logo that could be used in their print advertising, stylistically identical to its new sister station in Bloomington and making its debut in the Courier & Journal on December 14, 1960 (prior to that, the call letters and channel number in ads were simply typeset using whatever font was handy at the newspaper). Even when they had no programs to promote, channel 18 ran a "business card" ad every Saturday with just the call letters and the logo, a practice which continued for years. However, in what could be attributed to a lack of coordination with its affiliate, CBS ran newspaper ads the week of the fall 1962 season with just the network logo and "18" typeset next to it. (Or perhaps they didn't care that WFAM-TV had its own logo at that point.)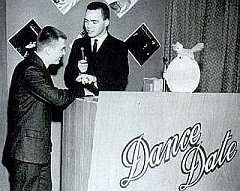 Although he wasn't one of those WASK disc jockeys who staffed the station in 1958, Lafayette native Brian Lamb (yes, the C-SPAN guy) began working at the radio station that year at age 17, and then returned during his junior year at Purdue in 1961 to host Dance Date (shown at right). Lamb created the show, emulating a well-known national ABC-TV hit: "I loved Dick Clark and what he did with American Bandstand when I was a kid," he later explained. "When you're young you copy everybody else." Dance Date was telecast weekday afternoons for a half-hour and Lamb ran the whole show, taking responsibility well beyond just handling the microphone. "I built the sets, hosted the show, got the dancers, sold it to advertisers ... It was a very important experience."
In 1963, WFAM-TV found itself on both sides of the debate by Lafayette's Board of Public Works over whether or not to allow Jerrold Electronics Corporation to establish cable television service in the city. Said by-then station manager Long at a February 11 meeting: "We feel that cable TV will be an advantage ... because our channel 18 signal will be sent into every home on a VHF channel." But Long then tempered that support by suggesting that the pending federal law mandating UHF tuners in new television sets "should be considered" and then expressed concerns that since it shared some programs with sister WTTV and Indianapolis CBS affiliate WISH-TV/8, to have simultaneous carriage of the same shows on different channels would be tantamount to "competing with our own shows, cancelling out our own audience and risking loss of national advertising." (Years later, in 1967, cable TV manager Frank Delia found himself explaining in a huge newspaper ad why he had to "blackout" cable channel 8, which carried WSBT-TV/22 in South Bend, whenever it was carrying the same programs as WFAM-TV on cable channel 7.) The following year, Sarkes Tarzian paid for 120 viewers to have an outdoor bowtie antenna and replacement of tubes in their UHF tuners, in an effort to entice viewers to tune in "the best picture from the number one network, CBS" and taking advantage of a reported $250,000 investment in equipment to provide "many times the signal strength of any station received in Lafayette."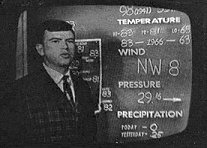 WFAM-TV weatherman Steve Speheger,
part of the expanded "Hometown Television
Service" news block in the mid-1960s.
He was with channel 18 until March 1968.
There was obvious further investment when on October 11, 1965 "Hometown Television Service" made its debut on channel 18. WFAM-TV devoted a full 90 minutes at 6:00pm on weekdays to an expanded local newscast, followed by the CBS Evening News with Walter Cronkite and then a half-hour program devoted to "local issues, problems and events examined in depth." The station even gave away 500,000 S&H Green Stamps to viewers for watching the enhanced news block.
Sarkes Tarzian's ownership thus brought some needed stability to the station's operation, although it was relatively short-lived: In July 1958 he filed for approval to move WTTV to Indianapolis -- even getting as far as the FCC issuing a notice of propsed rulemaking in December 1961 -- only to be challenged by competitor WFBM-TV's claim there would be prohibited signal overlap with channel 18 (the move was later challenged by WISH-TV as well, which claimed Tarzian was trying to secure an affiliation with ABC -- which filed comments endorsing the proposal, likely because Tarzian owned two stations affiliated with that network -- in light of WLWI/13's license being in jeopardy). Tarzian asked the FCC to ignore the apparent overlap, also offering to give up the UHF station if necessary, but by October 1962 the Commission denied the rulemaking. A petition for reconsideration was filed the following month and was denied in July 1965; the FCC issued a final denial of the 1958 application at the end of June 1967. (Tarzian had, in February 1959, been granted approval to dual-identify WTTV as Bloomington-Indianapolis, but its official city of license has remained
unchanged to the present day.) By that time, Tarzian had branched into newspaper ownership by founding the Bloomington Tribune in September 1966 and it was speculated that he had spread himself too thin financially in the process; he sold WFAM-TV for $250,000 to former Courier & Journal sports reporter and Purdue radio sportscaster (and Lafayette native) Dick Shively, who co-owned CATV systems in eight states and held a minority interest in WLKY-TV/32 Louisville KY. Shively then applied for the call letters WLFI-TV (changed on February 11, 1968, the day after the Saturday ad in the Courier & Journal finally ended its more than seven year-long run).
We'll leave the story there, because for all intents and purposes WLFI-TV became a new station, disconnected to great degree from its roots. Today, it transmits on VHF channel 11 and is still a CBS affiliate, also holding affiliations with The CW and Ion on two of its digital subchannels.
---
POSTSCRIPTS:

O.E. Richardson passed away June 6, 1983 near his childhood home of Beaver Dam KY (he was living at the time in Fort Myers Beach FL and was visiting relatives when he died). Cause of his death was not reported; he was 87.

Cletus Enoch "Clete" Roberts continued to gain prominence in broadcast journalism, joining Los Angeles television stations KNXT/2 (now KCBS-TV) in 1955 after the Korean War, joining KTLA/5 three years later and returning to KNXT in 1966. After a second two-year stint at KTLA beginning in 1974, he took a hiatus for several years before concluding his distinguished career at public television station KCET/28. He also appeared in numerous Hollywood productions as a war correspondent (essentially playing himself), most prominently in the M*A*S*H episodes "The Interview" and "Our Finest Hour". Roberts retired in 1982 and died September 30, 1984 of heart failure at age 72.

Sarkes Tarzian owned a number of radio and television stations over the years (and sold WTTV in 1978). The company that still bears his name continues as an active multi-market broadcast company. Tarzian died November 17, 1987 at age 87; the cause of his death was not made public.

Dick Long remained with channel 18 until 1970. He subsequently worked for radio stations in Ohio, Indiana and Minnesota, followed by several years as an account executive with the Faber Advertising Agency in Minneapolis. He returned to WLFI-TV in 1980 as regional and local sales manager until he retired in 1992. Long passed away October 15, 2011 at age 85 following a battle with Alzheimer's Disease and cancer.

Brian Lamb retired as CEO of C-SPAN (the Cable-Satellite Public Affairs Network) in March 2012 but conitnued with the network as executive chairman of its board of directors. He lives in Arlington VA with his wife Virginia (neé Martin), also a Lafayette native; the two had known each other in grade school but did not become romantically involved until both had moved to Washington DC. Lamb made one final appearance on C-SPAN in March 2019, as part of its 40th anniversary special.
EXTERNAL LINK:

Sarkes Tarzian page at the Southwest Museum of Engineering, Communications and Computation website
---
(Information on WTTV's history provided by Keith Elster.)