WHUM-TV/61, Reading PA
by Clarke Ingram
"The nation's first high-power ultra-high-frequency TV station, now under construction by GE, will be delivered for erection at Reading, Pa., this December," reported Popular Science, Billboard, and other magazines in the fall of 1952. Its ultimate arrival came a few months later than expected. Reading had been allocated UHF channels 55 and 61, but channel 55 proved unsuitable due to inadvertent short-spacing, leaving the owners of radio stations WEEU and WHUM to wrangle over the single remaining TV channel. The FCC eventually allocated channel 33 to Reading, which was then granted to WEEU, and WHUM received a construction permit for channel 61 in September 1952.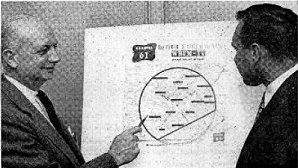 Humboldt J. Greig shows GE's sales manager Frank Barnes
the proposed WHUM-TV coverage area.
Plans for the new WHUM-TV were remarkably ambitious. Its president and primary stockholder, Humboldt J. Greig, had been sales manager of WABD (TV) in New York City and assistant director of the DuMont television network. In short order, Greig secured a CBS network affiliation for WHUM-TV (the network's first UHF affiliate), signed a deal with General Electric for over $450,000 in equipment (including the first high-powered UHF transmitter to roll off GE's assembly line), hired the chief time buyer away from ad agency McCann-Erickson as his sales manager, and erected a 1,000-foot tower 22 miles northwest of Reading. It was, by most accounts, the most highly publicized UHF start-up since KPTV/27 in Portland OR, with both the tallest tower then in use and the highest effective radiated power ever attempted. Utilizing a new GE 5-bay helical antenna, WHUM-TV achieved an ERP of 261,000 watts, covering a 60-mile radius in heavily populated eastern Pennsylvania which encompassed Harrisburg, York, Lancaster, Easton, Bethlehem, Allentown, Williamsport, Wilkes-Barre, and Lebanon with a population totaling 2,675,100 ... greater than that of the San Francisco metropolitan area at the time.
WHUM-TV needed the most powerful signal it could muster: Within that 60-mile circle one VHF station and three UHFs were already on the air, with two more UHF CP holders testing equipment. Much of the population could pick up good signals from three VHF stations in Philadelphia, one in Lancaster, and another in Wilmington DE. There were six UHF permittees in the area that had announced on-air target dates by summer, and six other UHF allocations with pending applications.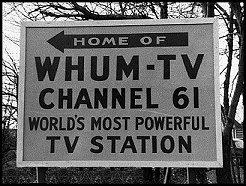 This sign was placed at the head of the driveway
to the WHUM transmitter around the time the
channel 61 tower was erected.
(Courtesy Ed Wagaman)
"The Nation's Power Station!" declared a full-page ad in Variety, and a sign proclaimed "The World's Most Powerful TV Station" at the channel 61 transmitter site near Summit Station. "Your picture might be snowier in Reading," quipped former WHUM-TV announcer Frank L. Rothenberger in a 2007 interview with the Reading Eagle. The extreme height of the tower, combined with rugged terrain and the peculiar propagation characteristics of UHF television, caused the channel 61 signal to skip over much of Reading, while other communities (like Lancaster) received an excellent picture. Nonetheless, the station anticipated 100,000 UHF-equipped television sets in its primary coverage area by the time of its inaugural broadcast in February 1953. The antenna "beam tilt" problem was corrected two months later; in the interim, Greig provided UHF antennas and converters to 40 community antenna (cable) systems for their use in providing WHUM-TV to their subscribers.
But channel 61 had promised the area a December 1952 debut, perhaps too ambitious a goal for a station which had only received its grant in September. Construction was hindered by technical, equipment, and weather delays. WHUM-TV ran a continual barrage of publicity, with their remote truck (below) becoming a popular attraction at every county fair in eastern Pennsylvania. They gave demonstrations in every town of 20,000 population or more, saturating the region with promotion. At the time, Television Digest quipped "if ever a station was pre-sold, WHUM-TV was." When they missed their original target date, they proceeded to run a "Reward For The $61.00" contest in newspaper advertising, inviting readers to send in postcards predicting the "month, day, hour, and minute" channel 61 would officially start telecasting. (The winning answer was February 10, 1953 at 12:12am.)
Despite WHUM-TV's considerable investment in equipment, evidently not much was spent on programming. The station rented studio space in the once-elegant (but by then outdated) Tower Hotel on Skyline Drive atop Mount Penn in Reading, and used GPL remote-control cameras to save money on camera operators. More than 40 hours a week of the schedule were filled by the CBS network, with 28 hours of live local programming. Mary Ann Chelius Smith hosted a live cooking show on WHUM-TV: "(It) was a no-budget operation," she told the Eagle. Not only did she have to buy her own food for the show and wash the dishes afterward, at the outset she didn't even know how to cook!
Television magazine reported in 1955 that food and food products accounted for 32 percent of WHUM-TV's advertising income, followed by soaps and detergents at 22 percent and coffee and tea at 18 percent. One series of editorials on the station drew over 20,000 cards and letters, proving they had viewers as well as revenue. When competitor WEEU-TV folded that June, channel 61 added programs from the ABC network. In a pamphlet called "Television In Pennsylvania," the station thanked cable television for adding 66,000 TV households to its potential audience in places like Williamsport and Pottsville, turning Central Pennsylvania into "UHF heaven."
Most viewers, however, found it easier to tune in the three Philadelphia VHF stations, particularly after the FCC permitted increases in their power and height. In April 1955, WHUM-TV received FCC permission to relocate its studio from the Tower Hotel to its transmitter site along Route 83, presumably as a cost-saving measure. Cutbacks followed, although some live and local programs (like the popular "Night Mayor" show, transplanted from WHUM radio) continued.
The evening schedule
for September 4, 1956
which never aired.
By 1956, with deficits mounting, a voting trust comprising 66% of WHUM-TV's stockholders wrested control of the station from Humboldt J. Greig. Channel 61 continued to operate with a full schedule of programming from 7:00am to midnight ... until September 4, when a catastrophic lightning strike to the tower brought an abrupt end to operations. Damage to the station's antenna and waveguide was described as "extensive" and two days later the company announced it would not rebuild. "WHUM-TV Will Stay Dark," reported Broadcasting magazine, citing "severe economic losses in UHF" and noting that the station's equipment would be sold to satisfy "urgent financial pressures." From that point forward, the station existed only on paper.
Lacking an operating television station, the big tower atop Blue Mountain was not long for the world. In June 1958 the Gettysburg Press ran an Associated Press story with the headline "TV Tower Branded As Menace To Aviation." It went on to say that the "now-defunct Reading WHUM Television Co." tower was being "torn down and scrapped." The Tower Hotel was razed the following year. WHUM/1240 continued to operate and is today's WIOV. With its tall tower gone, its equipment sold, and its studio building bulldozed, channel 61 soon became only a memory. When the FCC inquired about the dormant station's future plans, WHUM-TV decided to surrender its construction permit. It was cancelled by the FCC on August 13, 1963. "The World's Most Powerful TV Station" had faded to black forever.
Channel 61 eventually was reallocated to Wilmington DE, while Reading's channel 33 allocation was moved to Harrisburg and designated non-commercial in 1965, becoming the home of WITF. Reading eventually was granted channel 51, which went on the air in 1980 as WTVE.
---
Portions of this article were taken from Television Digest's coverage of WHUM-TV in its April 11, 1953 issue.