WOOK-TV/14, Washington DC
by K.M. Richards
Richard Eaton, owner of
United Broadcasting

The story of channel 14 begins not in our nation's capital but in the state next door. Maryland is where United Broadcasting, primarily owned by Richard Eaton, applied for channel 14 in Odenton (a suburb of Annapolis) when the television freeze was lifted in 1952; they withdrew the application a year later when the FCC advised that engineering questions about the proposed station would require hearings. Before the end of 1953, United filed for channel 18 in Baltimore (which was granted December 9, 1953) and for channel 50 in Washington.
[It should be noted that at the time of the channel 50 filing, United owned radio stations in Baltimore and Washington, as well as Hagerstown -- where they filed for channel 53 and almost immediately withdrew the application in 1952 -- Rockville, Cleveland OH and Richmond VA. They also acquired additional stations over the years; the radio stations are only mentioned in this article where they are relevant to the story of channel 14, although we will reference Eaton's later television operations in other markets.]
WOOK-TV (taking the call letters of United's AM station in DC, WOOK/1340) was granted its construction permit February 24, 1954; in November they petitioned the FCC to move channel 14 to Washington from Annapolis, pointing out that no applications were pending for the latter city since they withdrew the previous year; the Commission made the change in quick order and WOOK-TV was granted the channel change April 22, 1955. Less than a month later -- at a May 12 bankruptcy auction -- Eaton acquired the 12kW General Electric TT-25-A transmitter of defunct KACY in Festus (St. Louis) MO, also on channel 14, for the bargain basement price of $20,000.
Before Eaton even started construction, he submitted comments in the early deintermixture hearings requesting additional VHF channels for his two markets. He also acquired the CP for WACH-TV/33 Newport News VA (which had gone dark July 1, 1955 after two short-lived attempts at operation) and its associated AM station for $54,500 at a bankruptcy auction in 1956, applied for (and then withdrew from) channel 3 in Wilmington NC, and purchased WMUR-TV/9 Manchester NH in 1958. The Manchester acquisition was something of a "consolation prize" for Eaton, having purchased the station one week after the sale of WVUE/12 Wilmington DE from Storer Broadcasting fell through; Storer had originally agreed to purchase WMUR-TV but multiple protests delayed FCC approval and they backed out of the deal a year later. United nearly lost both the WOOK-TV and WTLF CPs in the first of what turned out to be numerous inquiries by the FCC into unbuilt station grants in 1957 but survived; ultimately, they lost the WACH-TV CP in 1965.
In December 1960, WMUR-TV was given a short-term license renewal, along with WOOK's sister station WFAN-FM/100.3, followed by a similar short-term renewal for WOOK itself three months later. WOOK-TV was still not on the air.
Eaton finally made his plans for channel 14 public in September 1962, telling Broadcasting he planned a "heavy emphasis on news, both national and local, with special attention to Washington's Negroes." Six months later, having missed the original announced target date due to technical difficulties in the transmitting facilities, Eaton was attacked by prominent Washington community leaders -- including representatives of the Urban League and NAACP -- who expressed concerns to FCC Chairman Newton Minow and Commissioner Robert Lee

that WOOK-TV would perpetuate the stereotype of "the tap-dancing, shouting Negro." He quickly agreed to sit down with them every five or six weeks "to see if anything on the station was distasteful." Channel 14 went live a week after that agreement, on March 5, 1963. A little over nine years had passed since the FCC had made the grant to United.
WOOK-TV did live up to its promises, even if it wasn't 100% programmed for its target audience at the outset. It aired two half-hour newscasts each day, along with the weekly news interview program Washington Speaks hosted by news director and anchor Ed Dorsey (Dorsey also hosted later additions Insight and Hotseat) and black-oriented syndicated series Broadway Goes Latin, Oscar Brown's Jazz (later retitled Jazz Scene USA) and Mahalia Jackson Sings. But the majority of the schedule consisted of movies from the late 1930s to mid-1940s (with an occasional title from the 1920s!), wrestling matches, and off-network/first-run syndicated series Mark Saber, Errol Flynn Theater, Zorro, Scotland Yard, and Frontier Doctor plus old westerns starring the likes of Red Ryder, Wild Bill Elliott and Roy Rogers, cut down to fit one-hour time slots. WOOK-TV signed on each day with a half-hour of cartoons from the silent movie era, but that was restricted to Saturdays after two months and completely eliminated by the following February. It did manage a decent slate of locally-produced entertainment programs -- One Night Stand, Talent Time, Showcase 14 (originating from various nightclubs in the Washington area), Wonder High School Quiz and Aunt Mary's Birthday Party -- much of which comprised the Saturday prime-time schedule. A major addition was a weekly program featuring the Buck Clarke Trio, which began airing in July 1963.
But the program that WOOK-TV was best remembered for was Teenarama Dance Party, hosted by WOOK disc jockey Bob King for an hour every weekday and two hours on Saturday. It played host to an in-studio audience of 50 to 60 teenagers per broadcast and featured a teen "board of directors" who selected the songs to be played. Over the years, artists such as Chubby Checker, Dee Dee Sharp, the Dovells, Roy Hamilton, the Drifters, Brook Benton, Jackie Wilson and Lionel Hampton's jazz-tinged big band made guest appearances on the program, along with up and coming artists that station manager John Panagos said "would not get exposure through any other television setup in the country." Teenarama Dance Party remained on the channel 14 schedule for nearly its entire history, lasting until 1970 (although King was replaced by other WOOK air personalities after the first two years).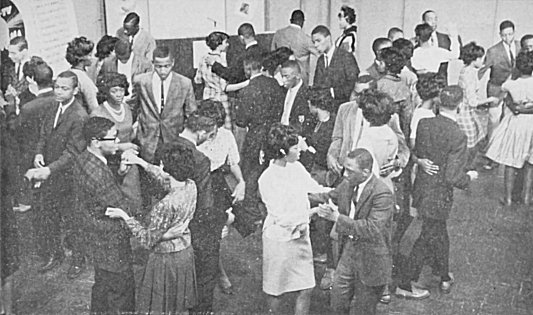 On the set of WOOK-TV's Teenarama Dance Party

From the beginning, WOOK-TV believed that not only its programming but also its commercials had to be tailored to its audience. Channel 14 gained a reputation for producing, either on videotape or 16mm film, custom commercials for its clients -- which included national brands Budweiser, Sinclair gasoline, Newport cigarettes, Seven-Up and the Safeway supermarket chain -- "with the use of Negro announcers and models," as Panagos reported in an interview given the advertising industry publication Sponsor six months after channel 14's debut.
WOOK-TV's Dee Porter doing a custom videotaped
commercial for Speed Queen washers


Panagos went on to say that they were retaining and renewing 90% of their advertising clients as a result.

That couldn't have been easy: The ARB (American Research Bureau, later known as Arbitron and part of today's Nielsen organization) ratings for the first half-hour of Teenarama Dance Party in March, 1967, found it tied for last place, with 3% of the available audience, with a rerun of The Patty Duke Show on UHF competitor WDCA-TV/20, which had signed on only one year previous. (The top rating in that timeslot went to WTTG/5, whose rerun of The Flintstones drew a 42% audience share.)

During the course of 1964, much of the syndicated programming was phased out, but Bishop Fulton J. Sheen was added to the schedule that year (sponsored by a local radio-TV store and a home remodeling company); His Eminence had a surprisingly long run on WOOK-TV, lasting until the summer of the following year. Also, in what had to be an early version of infomercials a local charm school operated by Precola Devore sponsored a weekly half-hour; Ms. Devore, according to an interview at the time, believed that "the demand for Negro models is growing ... their various tones of color are in demand."

But even as channel 14 was apparently finding its audience, things were getting complicated for Eaton in 1965. In January, the FCC designated the renewal for WOOK's license for hearing due to "numerous violations" which could also carry a fine of up to $10,000; a fine of a similar amount was halved for Eaton's New York City radio station and short-term (one-year) renewals were granted for the radio stations in Richmond, Rockville, Baltimore, and Cleveland. WFAN-FM also received a short-term renewal but WOOK-TV and WMUR-TV were granted regular three-year renewals. The license renewal for WOOK, which had been in limbo since 1962, finally went into a hearing in July (and was granted June 24 of the following year with an accompanying $7,000 fine for violations of various logging and engineering rules). Nevertheless, in June United announced that its television stations in Baltimore (WTLF, which by then was a 12-year-old unbuilt CP) and Detroit (WJMY/20, which Eaton had acquired the CP for following the station's going dark after eight months of operation in 1962-63) would begin operation within the next twelve months. And WOOK-TV was listed as a future affiliate of Unisphere Broadcasting System, which was announced the previous month by television station representative Vic Piano as a new network that would distribute "only" fully sponsored programs to independent UHFs. Unisphere turned out to be a pipe dream and most of the "affiliates" were stations Piano represented for time sales, and the following year another "wannabe" network called TBC said it had signed WOOK-TV as an affiliate for its new late-evening network; TBC also failed to materalize.
1965 was the beginning of some major programming philosophy changes at WOOK-TV. In mid-February the ancient movies were retired in favor of more recent titles such as 1948's "Letter to Three Husbands" with Eve Arden. At the same time, Teenarama Dance Party expanded to 90 minutes on weekdays and Hour of Stars -- recycled episodes of The 20th Century Fox Show, which had alternated on Wednesday nights with the U.S. Steel Hour for two seasons on CBS in the mid-1950s -- now anchored the schedule, airing nightly at 8:00, excepting Sundays. The late newscast was reduced to a five-minute headline summary just before the 11:00pm sign-off. As the year progressed, the old movies had replaced the newer ones by mid-April, but the rest of the schedule remained stable, with syndicated series like The Walter Winchell Files and Official Detective filling a handful of half-hours where no local programming was scheduled.
WTLF and WJMY missed their projected 1966 on-air dates, just as WOOK-TV had three years previous; the Baltimore station -- with the new call letters WMET-TV -- finally went live March 1, 1967 on channel 24 (having been moved there in 1961 as part of a four-way allocations table revision which moved stations in the Harrisburg PA market to lower channels) using equipment purchased from WCHA-TV/46 in Chambersburg PA, which had gone dark in 1954. Although WMET's program director Brian Rehak told the Baltimore Sun that channel 24 would "carry 80 percent of the programs on WOOK" by December of the following year only Teenarama and a Sunday evening hour in Italian were appearing on both stations' schedules.
(After more FCC hearings, Eaton was finally allowed to sell WJMY's CP to the licensee of WXON/62 Detroit in 1972 so that station could move to the lower channel number.)
Hour of Stars and the rest of the syndicated programming disappeared from the WOOK-TV schedule in June 1966, and news programming was moved into the 10:00-11:30pm timeslot as part of a discussion show titled Critique, which also once again displaced the ancient movies. They also added a weekly hour of stock car racing from the Beltsville Speedway in June and weekly drag races not long afterwards. The remaining odd gaps in the channel 14 schedule were filled with the ubiquitous films from government agencies and public relations firms that were always available to television stations free of charge (and conveniently provided in 15- and 30-minute lengths).
WOOK-TV's license came up for renewal in 1966 as well, and two competing applicants filed against it: Washington Civic Television Inc. and Washington Community Broadcasting Co. (which was partially owned by political newspaper columnists Drew Pearson and Jack Anderson, and which also filed against the AM station's license renewal).
While Eaton waited for the FCC to designate the renewal for a comparative hearing, he built on the concept adopted with Critique and adopted a news and discussion format in February 1967 (see Broadcasting article at right). Teenarama Dance Party remained on the schedule, followed by either a local sponsored program or a "free film" feature, then at 7:00pm, channel 14 broadcast a three-hour news block followed by Controversy 14 until 11:30. The new discussion program had difficulty keeping hosts ... Dennis Richards was replaced by Sherwood Ross when it expanded to three hours at the beginning of April, only to be replaced by Jock Laurence after one week. By the fall of 1967, Controversy 14 had moved into the prime-time slot (with yet another new host, John Hightower, Jr.) followed by a one-hour newscast at 10:00.

A few syndicated series from the 1950s, including Captured, Foreign Legionnaire, Danger Is My Business and Silent Service were added at the beginning of 1968 and Teenarama Dance Party went back to a one-hour format. Weekly hours in Italian and Spanish also made their debut, and for some reason channel 14 also ran an hour of filmed programming from NASA following the late news on Thursday nights. The call letters changed to WFAN-TV on February 14. Controversy 14 was renamed Checkpoint 14 mid-year, and made minor headlines with its July 31st broadcast when the presidential candidates for the American Communist party criticized FBI double agent Herbert A. Philbrick (whose life had been the subject of the syndicated series I Led Three Lives in 1953), only to be confronted by Philbrick himself, who was in the audience! The candidates, who had not been advised of Philbrick's presence beforehand, stalked out of the studio saying that they would not appear on the same program as a "stool pigeon" and "paid informer."
Naked tower sitter
William B. Willis
(Washington Star photo)
1969 was the year things started to unravel for WFAN-TV. As the year began, Checkpoint 14 was now on its fifth host in less than two years, Norman Ross (it was, for a few months starting in April, also pre-empted for two of its three hours on Tuesdays for roller derby!), and the news had been reduced to a headline summary at 6:00pm; the ancient movies had again returned, airing in the late afternoon before Teenarama Dance Party (which now only aired on weekdays) and following Checkpoint 14. On May 20, channel 14's sign-on was delayed for a rather unusual reason: A Howard University architecture student named William Bruce Willis stripped naked and climbed the WFAN-TV tower, perching atop the transmitting antenna for four hours before being rescued by an Army helicopter from nearby Fort Belvoir; Willis was described in newspaper coverage of the incident as being incoherent when he had spoken to the WOOK disc jockey on duty before climbing the tower. The incident was the only news coverage WFAN-TV had all year, other than brief two-sentence program notes in newspaper entertainment sections. (Two years later, Willis was charged with the strangling death of a Howard University co-ed in her dorm.)
The FCC finally set the WOOK/WFAN-TV hearings for August 1969, but before they could begin Washington Community accused the radio station of promoting a numbers racket "in the guise of religion" by disguising the numbers within Biblical references. Eaton denied "aiding and abetting" any sort of lottery, saying he was convinced of the on-air preachers' sincerity, and contended that Washington Community failed to present sufficient facts to warrant an inquiry. As the hearings began, Eaton hit them with accusations of his own, questioning the journalistic practices of Pearson and Anderson, including alleged incidents of eavesdropping, the use of papers which had been stolen from the files of Senator Thomas J. Dodd by his employees, and an assertion by Anderson about well-known station owner and TV Guide publisher Walter Annenberg -- who was at the time serving as U.S. ambassador to Britain -- that his stations were fighting the establishment of cable television, a statement that United called "an unmitigated inaccuracy." United also questioned whether Washington Community's principal, Dr. Phillip C. Brooks, failed to keep its application up to date by not reporting liens against his properties which would affect his financial qualifications. (After the death of Pearson on September 1, 1969 the competing application for channel 14 was withdrawn due to his estate determining it could not honor the financial obligations for same, although the hearings continued for the challenge to the AM station's license.) With Washington Civic Television having withdrawn its application as the hearings began, United requested that WFAN-TV's license be renewed in May 1970, since there were no longer any matters under consideration for that station. The FCC disagreed, ruling that the issues raised against WOOK raised character qualification issues affecting United itself.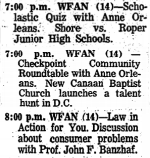 The major changes at WFAN-TV in 1970 were based around the addition of a nightly Spanish-language newscast with Ramón Irigoyan, which cut Checkpoint 14 down to two hours per night (the Saturday night version vanished completely from the schedule, replaced by a triple feature movie). They also had a new "director of public service and community affairs" named Anne Orleans, who performed the same function on WOOK radio; she used the other half of the recovered hour -- as well as some of the time that had been used for free "film features" -- to report on consumer affairs, teen issues and government news, as well as moderate community roundtable discussions. On other nights, those slots featured Law In Action For You with a professor from George Washington University Law School and Scholastic Quiz, with Orleans presiding over teams of students from local schools. (Inexplicably, in the midst of all that, reruns of the 1955 syndicated comedy The Great Gildersleeve were airing twice a week as well.) Checkpoint 14's airtime was gradually reduced until it became nothing more than the title of Orleans-hosted half-hour roundtables; it was then replaced by a series of "meet the candidates" programs in the weeks preceding the November 3 election. Irigoyan disappeared from the schedule at the same time and Teenarama Dance Party was cancelled after the November 21 airing, by which time it had aired somewhere in the neighborhood of 2,300 shows. At year's end the weekday and Saturday schedule consisted of two ancient movies bookending blocks of "free films" and Orleans-hosted news and public affairs interview shows; Sundays consisted almost entirely of local religious programs, many of which had been appearing on channel 14 for more than two years.
Meanwhile, Eaton negotiated a sale of WMET-TV to Pat Robertson's Christian Broadcasting Network, which was announced in March 1971. The sale was never consummated and channel 24 went dark January 14, 1972. While that station's fate was in limbo, United faced a new challenge, this time to its license for WMUR-TV. During a bankruptcy hearing for WKTR-TV/16 Kettering OH, evidence was introduced that Eaton had entered into a consultancy agreement with ABC television network representative Carmine Patti and that the agreement had affected the network's agreements for WMUR-TV and KECC-TV/9 El Centro CA (the CP for which Eaton had acquired in 1967, along with radio stations in suburbs of Los Angeles and San Francisco, and had signed on December 11, 1968). For good measure, the FCC included KECC-TV in the proceedings and conditioned all future actions for WMET-TV and WFAN-TV on the outcome.
Programming was largely unchanged through 1971, although the phrase "To Be Announced" started appearing on the schedule frequently beginning in April, especially for movie titles. WFAN-TV's broadcast day slowly shrank to 4½ hours (6:30-11:00pm weekdays, 5:30-10:00pm Saturdays), although Sunday managed a 7½ hour day due to the continued paid religious and Italian programs.
By the end of 1971, Eaton appeared to have had enough of television, and announced his intent to sell all six of United's TV stations. In that year, WFAN-TV had incurred $135,694 in cumulative operating losses; WMET-TV in the same period lost $72,354; WMUR-TV, $64,504; KECC-TV, $58,949, and KIKU/13 Honolulu HI (which Eaton had acquired in 1966), $89,524. United also claimed unrecovered investments on the WJMY CP of $639,898 and said the total losses from television -- which totalled approximately $4 million, including unamortized investments -- had wiped out the profits from the radio stations by $75,124 in 1970 and $30,614 in 1971. To make matters worse, as 1972 began the FCC designated the Cleveland radio stations' renewal for hearing due to allegations of equal-time and Fairness Doctrine violations, failure to file time-brokerage contracts and exercise adequate control over brokered programming, contest rigging, and misrepresentations regarding the stations' news staff and news and public affairs programming in the renewal application. (The proceedings took until 1982 and the licenses were renewed.)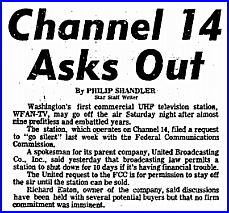 Amidst all that turmoil, WFAN-TV went dark February 12, 1972. United subsequently brought to the attention of the FCC that Patti had testified in a civil lawsuit brought against it in New York, denying that his consultancy agreement with Richard Eaton had any effect on network affiliation agreements. United requested that the Commission delay proceedings against its television stations until a transcript of the testimony could be reviewed and the FCC agreed to allow WFAN-TV to remain dark "until 15 days after release date of action on the petition for reconsideration of hearing orders." In November, land-mobile interests requested that channel 14 be deleted from the allocations table in Washington DC, as unused UHF allocations in metropolitan areas were converted to that purpose; United countered by announcing the sale of WFAN-TV, contingent on the FCC authorizing subscription television operation for the new owner.
Eaton took out a full-page ad in the Washington Post two weeks after channel 14 went dark, publishing the same ad in that week's edition of Broadcasting; in it, he blamed the FCC for the station going dark due to policies that prohibited changes in facilities while challenges to a station's license were pending.
An initial decision was rendered in February 1973 by Administrative Law Judge Forest L. McClennin, clearing United on the question of being qualified as a licensee, and recommended the renewal of the WFAN-TV license. That was only a partial victory for United, as McClennin also ruled that the Washington Community application for WOOK be granted over the renewal by United, on the basis of diversification plus "carelessness and negligence" in technical operation (with 19 violations). Two months later, the FCC ordered WMET-TV and WFAN-TV to resume operation by July 1, since United's stated intent was to only keep ownership of the stations until they could be sold ... therefore, "resumption [was] considered to be in the public interest" by the Commission. The order was stayed on June 6, but the FCC revoked both the licenses April 16, 1974, citing the long dark periods. United appealed the cancellation of the Washington and Baltimore licenses, but the FCC denied their petition for a rehearing, noting that both had been upheld in the appellate courts.
Richard Eaton might have been right in blaming FCC policies for the demise of WOOK-TV/WFAN-TV, except that those policies were not responsible for the failure of his other television stations. It seems more likely that history will remember him as someone who built a radio empire, then nearly went bankrupt trying to duplicate his earlier success in television. Was he naïve? Perhaps, but so were many others, if we are to use him as an example. Better, then, that we simply include him in the long list of UHF operators who gave it a try but failed.
---
POSTSCRIPTS:
The initial decision regarding WMUR-TV and KECC-TV was released in 1974, with the licenses renewed on the condition that United sell the stations under the "distress sale policy"; Eaton announced a sale of both at the end of 1977 pending the decision being made final, but it took until 1981 for the remaining legalities to be resolved and the stations sold. In the interim, KIKU was sold at the end of 1979 (it is today's KHNL-TV). KECC-TV's call letters were changed to KECY-TV after the sale.
In December 1976 the Central Virginia Educational Television Corp. requested the reallocation of channel 14 to Fairfax VA for noncommercial use. The FCC denied the request and channel 14 returned to the air August 3, 1993 under a new license as WTMW (today's WFDC-DT); the educational broadcasters instead signed on WIAH/56 (today's WNVC) June 6, 1981.
United appealed the decision on WOOK to the FCC but it was made final in September 1975; the U.S. Court of Appeals upheld the decision two years later and the Supreme Court refused to hear the case. United swapped the call letters and formats of the AM and FM stations in 1976 and the then-WFAN went dark April 22, 1978. WOOK's renewal was challenged the following month by Hispanic Broadcasting Corp. and the Metropolitan Washington Coalition for Latino Radio because the format flip had put the FM's Spanish-language format on the now-dark AM. Hispanic Broadcasting filed a competing application for the 100.3 facilities; while the renewal was denied after hearings in 1982, a third party (District Broadcasting) won the new license. United appealed the decision and won, changed the call letters to WDJY in 1984, then to WJZE in 1991, and sold the station in 1994 (it is today's WBIG-FM). The 1340 frequency returned to the air as WYCB later in 1978.
Richard Eaton died June 1, 1981. At the time, the FCC said it had no reason to believe that misconduct would continue under the officers who assumed the management of United.
Channel 24 in Baltimore returned to the air December 24, 1985 under a new license as WKJL-TV. It is today's WUTB.
United Broadcasting Company continued to operate the remaining radio stations under a trust established by Richard Eaton's will until 1989, when control was transferred by Sovran Bank of Maryland to the remaining United shareholders. The stations were then sold off, piecemeal, in the early 1990s; the last two, sold in late 1994, were WKDM/1380 New York City and KALI/1430 San Gabriel (Los Angeles) CA.
Beginning in 1996, the Richard Eaton Foundation has supported the broadcast journalism program at the University of Maryland. In 2000, the University's television department moved into a broadcast center on campus named for Eaton.
Precola Devore-Parks passed away January 17, 1997 at age 72. Her charm school had remained in business until her death.
Controversy 14's Sherwood Ross went on to host a talk show on WOL/1450 and later worked for the Miami Herald and Chicago Daily News, and the Reuters news agency. He is still active as a contributor to several blogs, including Veterans Today, OpEd News, and LA Progressive. Ironically, Ross hosted the program for the shortest period of time yet information on the other longer-lived hosts is unavailable.
The documentary "Dance Party: The Teenarama Story" debuted at the DC International Film Festival in 2006, narrated by Martha Reeves of the Vandellas, and subsequently aired on public television stations nationwide.
On August 19, 2014, the FCC granted a construction permit for a new non-commercial low-power FM station to operate on 103.1 MHz in Washington DC. The permittee chose the call letters WOOK-LP, but the station's permit was subsequently revoked when questions were raised about the legal status of the grantee; the application was finally dismissed on May 10, 2016 and subsequent attempts for reconsideration were all denied by the FCC. (Maybe the call letters have a curse on them now.)
---
EXTERNAL LINKS