WRLP/32, Greenfield MA
by Peter Q. George
Channel 32, WRLP in Greenfield, MA came on the air on June 1, 1957. The call-letters WRLP-TV stood for Roger Lowell Putnam, the brother of WWLP (channel 22, Springfield, MA) founder William L. Putnam. Originally, "TV-32" was specifically designed to rebroadcast the programming of co-owned and operated WWLP (called a "satellite" in FCC terminology). The rugged terrain of Western Massachusetts, Southern Vermont and New Hampshire made it very hard to get channel 22's signal, especially in the area of Greenfield, MA and Keene, NH. Cable was very new and comparatively expensive in those days. What signals hit the "headend" were limited and hardly worth the expense. No CNN, no HBO and no TV Land ... this was the 1950's. "TV-32" provided the much needed TV service to those who otherwise would be stuck with blank screens.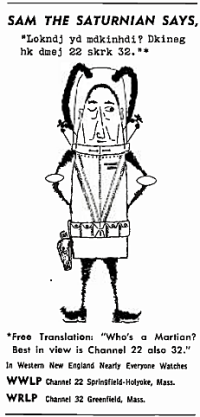 1957 trade publication ad
for WWLP/22 and WRLP/32.

There was an obvious symmetry to the channel numbers, as shown in the dual ID logo at right, but that almost wasn't the case.
WRLP was originally to transmit on channel 58, but Putnam petitioned the FCC to move channel 32 to Greenfield from Lowell MA -- perhaps he thought of it due to his brother's middle name -- which it did on September 27, 1956. For whatever reason, however, the FCC denied their simultaneous request to move WRLP to the new allocation by the usual "show cause" order; it took a formal Modification of Construction Permit application to accomplish the second part of the move, and the FCC granted the channel change only three months before WRLP went on the air, on February 13, 1957.
Having a second full-power station was only part of Putnam's strategy to cover the entire region. Even before WRLP went on the air, Springfield Television received authorization for translator W79AA in Claremont (January 31, 1957 ... the first translator to be authorized for the licensee of the rebroadcast station, rather than a non-affiliated community group, and the first translator to rebroadcast a satellite), followed in the course of the year by W71AA in Newport and W81AA in the Lebanon-Hanover area; at the time of the channel 81 grant (October 31, 1957), Bill Putnam referred to it as part of "an overall program to establish a chain of translators" throughout New England. The translator network dream was killed a month later, on November 29, when the FCC rejected a plan engineered by Putnam for multiple changes in the television channel allocation table in Massachusetts, Maine, New Hampshire and Vermont -- six communities receiving a switch of channels, four losing their allocations completely -- to allow all his translators to operate on channel 72. And, of course, there was also WWOR-TV/14 in Worcester MA, which turned out to be a colossal mess all by itself several years after it went back on the air in 1958 as yet another repeater of WWLP.
But getting back to channel 32 ...
The WRLP transmitter site was on Gun Hill in Winchester, New Hampshire. (The tower is still there, to this day.) The high elevation there made it possible for "TV-32" to be viewable even in the Springfield area, resulting in coverage overlap between channels 22 and 32. So, even though the "mini-duopoly" was grandfathered, Springfield Television decided to break away in late 1974 from channel 22's full-time simulcast in the evening and offered independent programming during the prime-time hours, including a local evening newscast.

Above: Channel listings in TV Guide, September 7, 1974, showing channel 32 as a satellite to WWLP.
Below: Listings one year later (November 29, 1975), showing channel 32 as a separately listed station.
(Courtesy Jim Ellwanger.)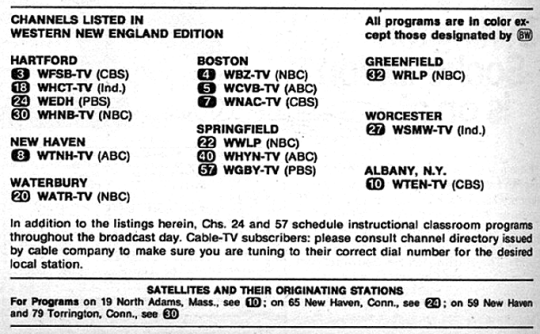 Click here to see a page from TV Guide's December 5, 1964 issue showing listings for WRLP as a simulcast of WWLP.
Cable was growing throughout Western New England and WRLP's Bruins, Red Sox and Celtics sports telecasts from WSBK-TV and WBZ-TV in Boston were extremely popular. Nearly 50 cable systems in 5 states (MA, NH, CT, VT and NY) added channel 32 to their lineup (some of them had to be forced to carry it by the FCC after Bill Putnam's previous opposition to cable in the 1950s and 1960s created animosity among CATV operators, especially when he took them on to protect his nonduplication rights against WBZ-TV, which got convoluted whenever a cable system could receive both WWLP and WRLP). Unfortunately, advertisers at that time did not include the cable audience in terms of advertising dollars, and cable viewership accounted for nearly 70% of WRLP's total audience. The result was that the rate card was extraordinarily low for the total amount of audience being served.

William L. "Bill" Putnam, taken around
the time WRLP went dark.

So, even with some good syndicated product like Alfred Hitchcock Presents, The Lucy Show, Sha Na Na, The Brady Bunch and Warner Bros. cartoons, WRLP still lost lots of money; Bill Putnam once said that channel 32 "never made a dime since the day it was turned on". Just five weeks before "TV-32" was to celebrate its 21st anniversary, the sad saga of WRLP came to a close ... not with a bang, but with a whimper. Had channel 32 stuck around for even a couple more years, the tide could have eventually turned around. However, Putnam basically ran out of patience; this was 1978, and he didn't feel that they had a prayer to turn a profit.
Ironically, the last show (which followed the last regular season game for the 1978 Boston Bruins and one last newscast from WWLP) on Sunday night, April 9, 1978 at 11:30 PM was The 700 Club. The license was cancelled and the call letters deleted by the FCC two weeks later, on April 25, also closing the then-pending renewal of WRLP's license.
The WRLP transmitter did live on, being immediately shipped to Salt Lake City to start up Springfield Television's new UHF station, KSTU/20 (which later moved to VHF channel 13, but that is a different story). The Putnams also put WKEF/22 Dayton OH on the air in 1964 and operated it until 1984, when they sold all three stations.
Bill Putnam retired from broadcasting in 1984 and died December 20, 2014 at age 90.
---
This article originally appeared in the author's "UHF Morgue" at his former RadioDXer site and is republished here with his permission. Some information was provided by Peter J. Wiggins. Editing, rewriting and additional information by K.M. Richards.
---
EXTERNAL LINKS

Google Books preview of How We Survived in UHF Television: A Broadcasting Memoir, 1953-1984 by Kitty Broman Putnam and William Lowell Putnam