WJZB-TV/14, Worcester MA
by Peter Q. George
WJZB-TV started life December 4, 1953 as WWOR-TV (no relation to the current WWOR-TV in Secaucus NJ), owned and operated by Salisbury Broadcasting Corporation and operating from the same building as Major Armstrong's pioneering experimental FM station W1XOJ on Asnebumskit Mountain. At that time, like many other start-up UHF operations, channel 14 had many things working against it. First, it was a UHF station. Second, there were too few UHF TV converters at that time and the ones that were out there rarely worked properly. Finally, channel 14 was affiliated with both ABC and DuMont, the two least watched networks at the time.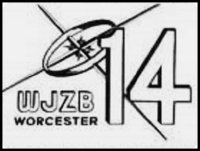 They did have a secondary affiliation with NBC, whereby WWOR-TV had the option to broadcast anything that Boston's WBZ-TV/4 would not clear (they also rebroadcast programming from WPIX/11 New York for about one year in 1954-55, received via WMGT/74 Adams MA), but it was virtually impossible to sell commercial time for a station that nobody watched. As a result, channel 14 left the air September 5, 1955.
In 1958, Salisbury merged with Springfield Television Broadcasting Corporation (owners of WWLP/22 in Springfield and its full-time satellite WRLP/32 in Greenfield). As a result of this merger, on December 1 Springfield Television put channel 14 back on the air as a satellite of WWLP for six hours a day. This would be the norm for channel 14 for the next six years until December 1964 when they decided to experiment with six to seven hours a day of independent programming, except for the Huntley/Brinkley Report and WWLP News from Springfield. With the 1964 "all-channel legislation" now being the law of the land, Springfield Television decided to try to let channel 14 become the first true independent UHF TV station in the Greater Boston/Worcester area since the demise of WTAO-TV/56 in Cambridge and WNET/16 in Providence several years before. The now-renamed WJZB-TV (since April of that year, named after one-time WWLP staffer, John Z. Buckley) provided local sports programming from Assumption College in Worcester, plus Boston Celtics basketball and Boston Bruins hockey. They also bought a package of feature length movies and some syndicated product such as Ripcord, Susie, Highway Patrol and The Aquanauts. They also got other syndicated sports programs such as roller derby and Kyle Rote's World. As usual, they also had some "table scraps" such as "travelogues" and standard "filler material" to round out the day. But, it was all for naught.
In 1965 alone, channel 14 cost over $200,000 to operate and maintain (of which they did a valiant but yet less than adequate job in maintaining that clunky old transmitter). The Asnesbumskit Hill site in Paxton, Massachusetts was a fine location for channel 14's 400,000 watt ERP signal that stretched from Southern New Hampshire through most of Rhode Island and Eastern Connecticut. The picture from that old transmitter was less than spectacular, though. The tower that still holds the channel 14 antenna is now home to the transmitter and antenna of WAAF/107.3 in Worcester.
A major problem for channel 14 in the late 1950s and early 1960s was that it was a part-time NBC affiliate in an area which was well covered by the then-NBC affiliate WBZ-TV/4 in Boston and WJAR-TV/10 in Providence. While all NBC shows were seen in "living color" on a very strong WBZ and WJAR, such was not the case on channel 14. The transmitter was not capable of broadcasting in color so, by the spring of 1967, after six years as a part-time satellite of WWLP and then three more years of trying to operate the station as an independent, WJZB-TV was forced to cutback its hours of operation to 90 minutes a day, the minimum FCC requirement in order to keep the license. With all of the Boston and Providence stations coming in "loud and clear" in Worcester, it was impossible to get advertising to pay the bills. Technically, WJZB-TV was a total disaster. But with only 90 minutes a day of operation, they probably thought that it wasn't worth the bother in fixing up the transmitter. So, from 1967-1969, this was channel 14's daily schedule:
6:00pm Local Springfield News from WWLP
6:15pm Western Massachusetts Highlights
6:30pm The Huntley/Brinkley Report
7:00pm Local Springfield News from WWLP
7:30pm Sign Off

And that was it!

WJZB's would-be sister station in Dallas, except for being dark and
resuming operation only after channel 14's license was relinquished.
In October 1968, the sale of WJZB-TV to United Artists Broadcasting Inc., along with the construction permit for dark WENS/22 Pittsburgh, was announced. The sale was called off after a mere two weeks as UA's parent company Transamerica Corporation proposed to merge with multi-market radio-TV operator Metromedia Inc. (the merger itself was subsequently called off in June 1970). Two months later, in December, the sale of WJZB-TV and the WENS CP to Evans Broadcasting Corporation was announced, as well as the sale to Evans of KMEC-TV/33 Dallas, which had just gone dark after a little over one year of operation. (The aforementioned Mr. Buckley was now Evans' CEO.) Many big plans were made to upgrade channel 14's facilities to color and operate at the maximum 1,000,000 watts power, but all those plans were quickly destroyed as the transmitter and channel 14's quonset hut building were irrepairably damaged by a fire in May 1969. It was never to be rebuilt; by October of that year, with the FCC still not having taken action on the application for transfer and Bill Putnam of Springfield Television now stating his intent to put WENS back on the air, Evans now made no mention of wanting to purchase WJZB-TV (even as it asked the FCC to declare the WENS CP to be either expired or forfeited and its new application for channel 22 accepted and granted). The license and allocation for WJZB-TV were deleted in February 1970 at the request of Springfield, with channel 14's frequency reassigned for "land mobile" (two-way) radio. The new equipment originally purchased for the upgrade was sold to the State Mutual Insurance Company of Worcester, who used it to start WSMW-TV/27 in Worcester in 1970. What smoke-damaged studio equipment was salvageable -- including some studio light fixtures still stenciled "WWOR-TV" -- was donated to the Clarke School for the Deaf (now the Clarke Schools for Hearing and Speech) in Northampton MA for their campus-limited video operation. Putnam also donated the old monochrome image orthicon tube cameras from WKEF/22 Dayton.
Bill Putnam retired from broadcasting in 1984 and died December 20, 2014 at age 90.
---
This article originally appeared in the author's "UHF Morgue" at his former RadioDXer site and is republished here with his permission. Some information was provided by Art Donahue, Joseph Gallant, Richard Steinberger, Mike Bugaj and Mike Fitzpatrick. Editing and rewriting by K.M. Richards.
---
POSTSCRIPT: KMEC-TV resumed operation for ten months in 1972 under the call letters KBFI-TV (after Evans sold it to the Berean Fellowship), then resumed operation in April 1973 as KXTX under the ownership of the Christian Broadcasting Network; by year's end it had swapped facilties with KDTV/39 (dark since early 1968 itself) in that same market and still operates on that channel.
EXTERNAL LINKS

TV-SignOffs.com page on WWLP, including WJZB-TV program schedule from 1964
Google Books preview of How We Survived in UHF Television: A Broadcasting Memoir, 1953-1984 by Kitty Broman Putnam and William Lowell Putnam
Tower Site of the Week from March 13, 2003, showing the WWOR-TV/WJZB-TV transmitting tower