WTVI/54, Belleville IL
by K.M. Richards
(based on an article by B.J. Kostelac)

Believe it or not, these are all the same station.

One of the three major VHF television channels in St. Louis is KTVI/2. Its birthplace, however, is not in that city. It began broadcasting in 1953 as the Signal Hill Broadcasting Corporation in Belleville IL. The call letters were then WTVI, and it was then on UHF channel 54, commonly referred to as the channel "at the bottom of the hill."
Although long-time business partners Paul E. Peltason and Harry Tenenbaum (both investment bankers) held just over 67% of the Signal Hill stock, the remaining one-third was mostly owned by employees of St. Louis stations, with 10% each belonging to KMOX/1120 account executive Bernard T. Wilson (who doubled as President and General Manager) and to Vice Presidents Theodore F. Weiskotten, a producer-director at KSD-TV/5 and John I. Hyatt, also a KMOX account executive. It was one of the early UHF grants, having filed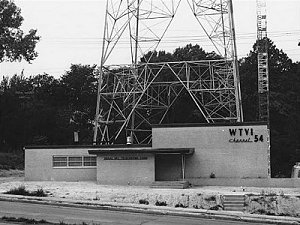 The WTVI studios and transmitter site at 10200 W. Main St. in
Belleville. The sales offices were located in St. Louis on the
top floor of the Boatmen's Bank Building.


"pre-thaw" for channel 11, which had been assigned to Belleville in the proposed 1948 allocations table, then amending the application in mid-October 1952 to the new channel 54 allocation, receiving the construction permit on November 19. WTVI went on the air August 10, 1953 with DuMont network programming (brought in by a 11-mile microwave relay from AT&T's St. Louis network center that had only been installed days before by Southwestern Bell) and local shows. The first program was a St. Louis Browns (now the Baltimore Orioles) and Cincinnati Reds benefit baseball game from Busch Stadium, hosted by Buddy Blattner and Dizzy Dean. Channel 54 had already negotiated a deal to carry Browns games on a regular basis, and in fact the schedule for their second day of operation consisted of little besides a doubleheader against the Detroit Tigers and two 15-minute newscasts ... one between games, the other following the second. (After the Browns moved to Baltimore the following season and became the Orioles, WTVI successfully negotiated for the TV rights of their previous crosstown rivals, the Cardinals, carrying all 77 road games the first season alone.)

But while WTVI had been making preparations to begin operation, a UHF competitor was already surfacing. William E. Ware, who owned the largest (25%) stake in KSTL/690, put together a consortium of local businessmen -- keeping 10% ownership for himself -- to apply for channel 36 as "Broadcast House, Inc." Ware and company filed at the end of July 1952 and received their CP January 14, 1953. Two months later, Wilson jumped to the new station as their sales manager.

After being granted the call letters KSTM -- presumably to be as close to KSTL as possible, since the radio station couldn't share the calls as it did not directly own the television station -- in February, Ware took out a full-page ad in the April 8 issue of the St.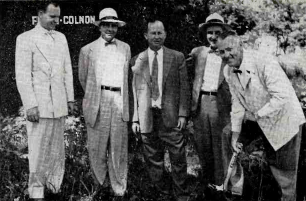 Groundbreaking for KSTM's (later KTVI's) studios in St. Louis.
William E. Ware is at right with the shovel; the others, left to right,
were local businessmen -- and channel 36 minority owners --
Ward Fickie, Chester Merritt, William Biggs and O. D. Guth Jr.

Louis Globe-Democrat announcing that KSTM "will begin telecasting on channel 36 soon ... with basic ABC and some CBS and local shows" and followed that up with a highly publicized groundbreaking on June 3 for a new 14,000 square foot building to house the studios and offices and a 600-foot tower behind the building, at a then-substantial cost of $200,000 (the equivalent of $1.9 million in 2019).
Ware also tried to eliminate his UHF competition before either could begin operation, filing a complaint at the end of July not only with the FCC but also with the Federal Trade Commission, charging WTVI with calling itself a "St. Louis station" and saying it was already on the air. The complaint essentially went nowhere, but by the time of the filing he was likely preoccupied with the delay caused by citywide construction worker strikes that summer (and even after those were settled, there was an additional four-day delay in the progress on the Berthold Ave. KSTM building due to the International Brotherhood of Electrical Workers striking over channel 36's engineers joing the "wrong" -- in this case, the International Alliance of Theatrical Stage Employees -- union). By then, the stress of building KSTM had taken a fatal toll, as Ware passed away of chronic hypertension on August 20 at age 44. Broadcasting reported that he had been previously hospitalized for the same condition and that he had both worked overtime at the radio station and put in many hours overseeing the television station construction. The combination was generally believed to be the reason for his ultimate death.
Channel 54 was technically St. Louis' second television service, even though Belleville was southeast across the Mississippi from there (KSD-TV had been on the air "pre-freeze" with NBC network programs since February 8, 1947 and KWK-TV/4 hadn't yet signed on ... in fact, that grant was still in comparative hearings when WTVI began operations.) WTVI was primarily a DuMont affiliate, but had a "per-program"
arrangement (more commonly called a secondary affiliation in the industry) with CBS in addition, although in their early weeks they barely carried even their primary network's offerings, clearing only Rocky King, The Plainclothesman, What's The Story, Boxing From Eastern Parkway, Blind Date, Dotty Mack, Where Was I?, Treasure Hunt, Author Meets The Critics, The Big Idea, Life Begins At 80, Twenty Questions, Down You Go, Wrestling From The Marigold, and the daily Captain Video live via the microwave feed. They did, however, stay on the air until midnight (or close to it) every night in order to air a feature film after the late news opposite channel 5's schedule of -- for the most part -- kinescope-delayed CBS programs.
Television in 1953 presented a certain magic to its viewers. Norm Greenberg, working part-time for WTVI, would draw the daily weather map using a light color that television cameras would not pick up. Those "invisible lines" were drawn over during the weather presentation by the on-air announcer. The weather announcer thus appeared to be a wizard as he sketched over the existing information and related the local weather information to the captivated television audience. Eileen Logsdon, secretary and office manager at WTVI for 28 years, reminisced for the Belleville News-Democrat in 1989 that "things were pretty hectic ... we were the only St. Louis UHF station that did not meet their demise." As television gained popularity, viewers increased. Broadcasts featured local personalities who helped keep viewers' attention. "We got to see and meet the big stars, like Charlotte Peters. With those live shows, there was never a dull moment. And you never knew who or what would walk in that door," she remembered. Greenberg remembered "very clearly during the summer months when [we] were carrying Cardinal baseball broadcasts. Jack Buck would come into the studio carrying a regular business briefcase which he would then open up in the studio and it was an Anheuser-Busch beer display. That's the way he did the commercial."
Back on the other side of the Mississippi, after Ware's death the remaining partners in Broadcast House hired Marshall H. Pengra, general manager of KGKB/1490 Tyler TX, as Ware's successor; he began two weeks after the originally-announced September 1 on-air deadline. The tower was finally finished one month later and KSTM went on the air at 3:15pm on October 25, albeit with limited power pending the arrival of additional transmission equipment from RCA. (The nickname "Big Mo" came from earlier promotional ads run in the industry trade publications likening the station to a battleship.)
When the Fall 1953 season began, channel 54's "per-program" arrangement with CBS added the nightly newscast with Douglas Edwards, and ten prime-time hours of programming from the Eye network that KSD-TV had passed on (at least, unlike channel 5, WTVI ran most of its CBS programming at the scheduled time). The move brought both Jack Benny and Jackie Gleason to St. Louis viewers for the first time, but viewers who thought channel 36 would be bringing them the entire ABC lineup were likely surprised when KSTM only carried 12 hours of the network's prime-time schedule and 2½ hours were still airing on channel 5 instead (and still mainly in fringe time slots); network schedules for ABC, CBS and DuMont showing which programs aired in the St. Louis market once both UHFs were on the air, are here. (At right: WTVI ad in the Post-Dispatch from March 1, 1954.)
It was less than two weeks before the inaugural sign-on, though, that KSTM set into motion one of the most contentious matters in television history. On October 15, Broasdcast House's Washington attorney delivered a petition to the FCC proposing to replace the VHF allocations for channels 4 and 11 in St. Louis with four UHF allocations (all coincidentally higher than the existing assigned channels ... 64, 70, 76 and 82). It was that petition which eventually resulted in the deintermixture hearings that took until 1963 to finally resolve in all of the affected television markets. And even then, Broadcast House hedged their bets by filing an application six days later for channel 11 -- which was about to go into comparative hearings with the existing four applicants -- with "East St. Louis" as the proposed city of license.
On January 7, 1954 KSTM finally "lit up" its full licensed facilities of 275,000 watts. By then, the full-page ads in the trade publications promoting it to ad buyers which had run since August had ceased, and channel 36 operated at the higher power for a mere seven months before going dark on August 4. In announcing the ceasing of operation, KSTM President P.H. Wire (with no mention of Pengra, who is presumed to have already resigned by that point) said "the expense of running a UHF station in St. Louis had proved greater than the possibilities of support from sponsors" ... but WTVI's general manager John D. Scheuer, while expressing regrets over its competitor's demise, said the St. Louis UHF audience was continuing to grow.
Very little changed immediately for WTVI in the aftermath of KSTM's demise. None of the ABC programming that had been seen on channel 36 appeared on channel 54's schedule, even as more holes were appearing in the DuMont schedule by then and CBS had just terminated both of their secondary affiliation agreements in the market. They were operating from later afternoon until just before midnight, but even carrying nearly all available network programming only now filled only 10½ hours per week, out of a total of 13 hours available via the microwave relay.
It was later reported that Broadcast House made the decision to go dark to improve their chances for the channel 11 application, which the FCC had rejected as "not acceptable for filing" because of their holding the grant for channel 36; it was only on February 2 of that year that the Commission finally accepted the application, complying with an order from the U.S. Court of Appeals. In any event, KSTM was never to return on any channel, as their construction permit was cancelled on August 26; the channel 11 grant eventually went to CBS but was then spun off to one of the competing applicants when CBS opted to purchase KWK-TV instead.
And WTVI was also trying to throw monkey wrenches into the plans of their future VHF competitors: They challenged the channel 4 grant by filing a competing application on April 17, 1954 -- two days before the merger of three competing applicants was approved by the FCC -- then challenged FCC merger policy in federal court. WTVI told the FCC the granting of options to competitors for their dismissal constituted an "illegal consideration" since the recipients would then pay only part of the option value for the stock. Signal Hill claimed that "a direct result of the operation of KWK at this early date may mean the end to at least one of the UHF services now serving the St. Louis area, and this is being done through a grant which is legally indefensible." The appellate court denied a stay of the grant but allowed KWK-TV to go on the air under Special Temporary Authority while the court decided the merits of appeal. Thus it was that on July 8, 1954 channel 4 began operation, removing CBS programming from both WTVI and KSD-TV at the end of that month. With DuMont crumbling, WTVI affiliated with ABC, beginning with the 1954 fall season. (In November, WTVI both withdrew its protest and dismissed its appeal.)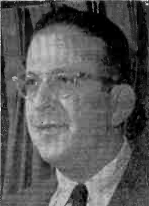 WTVI/KTVI General Manager
John D. Scheuer
WTVI was also the target of legal action, as KACY/14 in nearby Festus MO filed suit on March 6, 1954 in St. Louis federal court against Signal Hill and CBS, charging that they had conspired to prevent it from getting any CBS programs not carried by KSD-TV. The licensee (Ozark Television Corporation) said in their petition that they had anticipated $100,000 profit since beginning operations on November 26, 1953 but instead had lost $244,282, further alleging that its plant and equipment, originally worth $650,000 was now worth less than one-quarter that amount as a result of the "conspiracy." Ozark claimed that they were the only TV station in the market that was contractually free from network commitments and could assure time for CBS network program clearances. (It was apparently a last-ditch effort on their part, as KACY signed off permanently less than a month later on April 2; Ozark subsequently declared bankruptcy and the FCC cancelled their permit in September 1955. By that time, the lawsuit had been quietly dropped.)
The demise of KSTM sparked Signal Hill to negotiate with Broadcast House to purchase their facilities (even including the building) and once they had a deal in place filed on February 10, 1955 to put channel 36 back on the air by moving there. The application was granted one month later on March 9; they signed on their "new" channel exactly one month after that, on April 9. (The original grant called for them to surrender the channel 54 permit before beginning operation, but that condition was subsequently dropped and the CP was surrendered on April 15.) Since WTVI had now moved to the western side of the Mississippi River, it took the call letters KTVI, which had become available when channel 9 in Nampa ID surrendered its unbuilt CP the previous October 28.
Not long afterwards, Scheuer, working with National Telefilm Associates, came up with the genesis of what was to eventually become the NTA Film Network. His concept was simple: UHFs and small market VHFs, unable to afford quality programming on their own, would pay NTA a lower per-hour rate in exchange for returning half of the ad revenue for each program to NTA. By August 1954, Scheuer (who had sent telegrams to several potential affiliates to measure interest before the plan was announced) had 18 affiliates signed and an equal number in negotiation with NTA. The move opened up new markets for National Telefilm's library of more than 150 westerns and feature films, plus series such as China Smith, International Playhouse and Orient Express, adding first-run programs when the "network" began operation in October 1956, by then having over 100 affiliated stations. For his part, Scheuer left KTVI in the fall of 1955, returning to the Triangle station group, which owned the Philadelphia stations (WFIL/560 and WFIL-TV/6) from which he had been recruited by Signal Hill.
But even though KSTM was no longer dependent on the outcome, the deintermixture hearings that Broadcast House had inadvertently started in 1953 were to give KTVI a colossal break ... only no one could have predicted how long it would take for that break to be made permanent. On February 26, 1957, the FCC voted to deintermix Springfield IL, where only WICS/20 was operating and WMAY-TV held a permit for channel 2 but had been prohibited from beginning construction until a decision was made about whether that market would be all-V or all-U. It was that lowest of VHF channels which was to be replaced by swapping it with the channel 36 allocation in St. Louis ... even including an offer for KTVI to receive a Special Temporary Authorization to move to that channel pending completion of the deintermixture hearings and final decisions. Because channel 2 was to also be allocated to Terre Haute IN, raising the possibility that St. Louis might be short-spaced (depending on transmitter location and power), Signal Hill was asked to furnish engineering details by April 1. They did so on March 8 when they formally filed for the STA, which was granted literally five days later, and channel 36 went dark at midnight on the 20th, in order to hurriedly make changes at the Berthold Ave. transmitter site to begin operations on VHF.
KTVI general manager J.J. Bernard (left)
with majority owners Paul E. Peltason and
Harry Tenenbaum on April 15, 1957, the
day KTVI began operation on channel 2.
Sangamon Valley TV Corporation, which was the permittee of WMAY-TV, was far from happy with the Commission's decision. They were even less happy when the Louisiana Purchase Company filed a competing channel 2 application using the former KACY site, which they claimed met the mileage separation requirements to Terre Haute; they also petitioned the U.S. Court of Appeals to stay the STA, but that request was refused. Further complicating matters was the Cape Girardeau TV Corporation, which had advocated for channel 2 to be allocated to that Missouri community rather than St. Louis. Meanwhile, KTVI filed a formal application on March 22 for that channel, following it up with an April 12 application to similarly modify their existing CP. Signal Hill signed on channel 2 three days later.
It only took a week for Louisiana Purchase, KWK-TV, and WTHI-TV/10 Terre Haute to file protests over KTVI's move. The new applicant went so far as to request a STA itself, which was denied because the "petitioner has no outstanding authorization which could be modified to specify operation on channel 2 and has made no showing warranting a conditional grant." WTHI-TV had filed to move to channel 2 in their community and claimed the old KSTM site was too close to their proposed transmitter site. But KWK-TV was probably the most panicked of the three, because the comparative hearings for channel 11 were coming to a close and it appeared that CBS would be the winning applicant ... and (obviously) move their programming there from channel 4. With KTVI now also on the VHF band, KWK-TV believed there was no chance to take the ABC affiliation away from them as a replacement.
KWK-TV likely had good reason to worry. Not only was the STA for KTVI to operate on channel 2 extended until at least February 1, 1959 "or until a CP is issued after the conclusion of comparative hearings," ABC rented space at St. Louis' Chase Hotel to salute its newly improved affiliate in a presentation to agencies and advertisers titled "No More St. Louis Blues" (which they also used as the theme for trade publication ads a few days later). The day after the ABC presentation, the FCC denied all of the petitions for reconsideration of the April protests. Louisiana Purchase tried again to have the STA terminated but the FCC rejected that petition as well.
CBS did indeed emerge as the winner of the channel 11 grant in October, then surprised everyone by spinning it off to one of the competing applicants and making a deal to buy KWK-TV instead, changing its call letters to KMOX-TV in the process. The Globe-Democrat, which owned 23% of channel 4, made a deal to acquire 25% of KTVI once the CBS deal closed; the combination of a loan, stock purchases, and the assumption of mortgages totalled $391,000. Meanwhile, Signal Hill finally listed the old 550-foot Blaw-Knox tower in Belleville for sale in Broadcasting's classified section. The sale price was never disclosed. (Channel 11 eventually went on the air April 28, 1959 as independent KPLR-TV, which promptly stole the broadcast rights to the Cardinals from KTVI.)
1958 found Louisiana Purchase making a deal of its own with KTVI, acquiring a 10% stake for $13,519 but with a provision that Signal Hill could repurchase the interest within three years at twelve times the original price and also reimbursed the now-withdrawing competing applicant for $41,000 in expenses. With no further apparent obstacles, on April 2 the FCC approved Signal Hill's application to operate on channel 2 permanently.
Thus did one station begin operation on one UHF channel, then move across a state line to operate on a lower UHF channel with similar call letters, and ultimately end up on VHF because of actions taken by the former occupant of their second channel.
---
POSTSCRIPTS:

KTVI ultimately remained on channel 2, despite an attempt by the House Legislative Oversight Subcommittee to overturn the entire deintermixture process in St. Louis and Springfield, at one point charging the FCC of making the comparative grants involved in the process on the basis of ex parte communications with Signal Hill's Tenenbaum. The matter eventually went to the U.S. Court of Appeals, and then to the Supreme Court, which remanded it back to the appellate court and vacated the 1957 FCC decision to swap the allocations. In May 1959 the matter was remanded back to the FCC, which after more hearings to determine if anyone was actually in the wrong decided to revisit the deintermixture question, only to be told by the appellate court two years later that its plan for



Harry Tenenbaum

reevaluation was not sufficient. It wasn't until July 1963 that the FCC completed the process (again) and decided (again) to leave Springfield all-UHF, granting KTVI the permanent license for channel 2 it thought it had approved five years earlier. Sangamon Valley Television Corp., even though it had surrendered its permit in October 1959, petitioned for a rehearing and was denied twice in September and November; the Supreme Court reviewed the case in 1964 but did not overturn the previous decisions.

Harry Tenenbaum, key figure in that long court battle, died December 7, 1964 of a heart attack at age 62. His death came less than six months after Signal Hill sold Newhouse Broadcasting Corp. (owner of the Globe-Democrat) the 74% interest in KTVI that it did not already own. Paul Peltason died in August 1974 at age 76; the cause of his death was not made public.

WTHI-TV went into comparative hearings for channel 2 in Terre Haute after competing applications were filed in 1957 (one dropping out within a year), then had its renewal application on channel 10 added to those hearings in 1958 after a competing application was filed for that channel as well. The FCC ended up consolidating all the hearings, coming to after an initial decision on April 22, 1960 to renew WTHI-TV's channel 10 license and dismiss both channel 2 applications. After challenges were raised and rejected, that decision was made permanent December 4, 1963. The second applicant reapplied for channel 2 and won the grant after merging with two competing applicants, finally signing on the air September 1, 1965 as WTWO.

Neither channel 36 nor channel 54 were reapplied for; the 1965 allocation table revision replaced them with channels 24 and 30, both in St. Louis.

KTVI remained an affiliate of the ABC network for four decades before switching to the Fox network in 1995. It has been co-owned with KPLR since 2013.

EXTERNAL LINKS:

Doug Quick's old pages on WTVI and KACY & KSTM (via the Internet Archive "Wayback Machine")

---
This article is based on an article which appeared in the March 1993 issue of Illinois History which was written by B.J. Kostelac, who was a student at Belleville Township High School West at the time. (Illinois History was produced for middle school and high school students by the Illinois Historic Preservation Agency; it appears to have ceased publication when that agency was merged into the Illinois Department of Natural Resources in 2017.) Kostelac still resides in the St. Louis area and works for his family's oil and grease recycling business. In order to provide a more complete view of this period in the area's television history, this new article incorporates most of Kostelac's original article but was newly researched. Additional information is contained within the article Deintermixture: When Television Almost Became All-UHF.