The Duel Between WKST-TV and WXTV
At no time in the history of UHF analog television was there more paperwork filed by two stations regarding channel assignments than between 1955 and 1959, when WKST-TV New Castle PA and WXTV Youngstown OH fought with the FCC and between themselves for lower channel numbers. This became apparent while the notes for the two stations was being compiled; the situation was so convoluted that both Broadcasting and Television Digest had to be consulted multiple times to ensure that the correct dates and details were included ... and when it was, the resulting mess (as now listed under those stations) was nearly impossible to follow.
We therefore offer as an alternative a timeline for all of the activity surrounding both stations during that contentious period, in hopes that it clarifies anything left confused by the original notes.
9/4/52: WKST-TV granted CP on channel 45 in New Castle
4/4/53: WKST-TV begins operation
12/15/54: WKST-TV petitions to change city of license to Youngstown
1/14/55: WKST-TV goes dark
4/20/55: FCC denies WKST-TV city of license petition
8/31/55: FCC reconsiders WKST-TV city of license petition
11/2/55: WXTV granted CP on channel 73 in Youngstown
1/12/56: FCC denies WKST-TV city of license petition for second time
5/19/56: WXTV petitions for allocation change to channel 33; forces reconsideration of twice-denied WKST-TV petition to move to Youngstown
10/18/56: FCC denies WXTV channel 33 petition, denies WKST-TV city of license petition for third time but makes allocation dual-city
11/23/56: WKST-TV files to move transmitter site to Youngstown
12/5/56: WXTV files for channel 45
12/19/56: Competing application for channel 45 filed
2/20/57: FCC approves WKST-TV application for transmitter site change, returns both WXTV and competitor channel 45 applications as unacceptable because WKST-TV still licensed on that channel
10/30/57: WKST-TV resumes operation
11/20/57: FCC denies WXTV appeal of WKST-TV transmitter site change
4/3/58: Channel 33 allocation proposal reinstated as part of request in Pittsburgh by WQED/13 to use channel 16 for its pending second station WQEX
5/9/58: U.S. Court of Appeals denies WXTV appeal of WKST-TV move to Youngstown
7/16/58: WKST-TV relicensed with both cities of license at new transmitter site, channel 33 allocated to Youngstown
8/1/58: FCC stays channel 33 allocation order
9/4/58: FCC authorizes WKST-TV to move to channel 33 with main studio in Youngstown
9/24/58: WXTV files for channel 33
11/7/58: FCC reverses channel 33 allocation order from July, returns WXTV application for same
7/30/59: FCC allocates channel 45 to WXTV, effective once WKST-TV is operating on channel 33
11/29/59: WKST-TV moves to channel 33
11/15/60: WXTV begins operation
2/28/62: WXTV goes dark, never resumes operation
12/23/63: WKST-TV changes call letters to WYTV and city of license to Youngstown
3/25/64: FCC denies license to cover application for WXTV on basis of half-owner being indicted on felony charges
4/22/64: FCC orders WXTV to go dark "by June 1" even though station isn't on the air
5/25/73: Non-commercial educational *WNEO-TV Alliance OH (Kent State University) begins operation on channel 45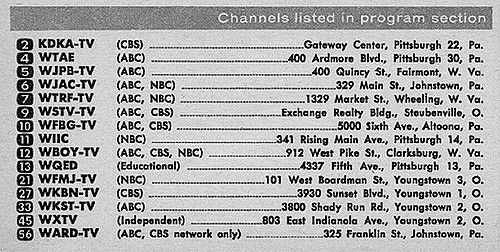 Channel listings in TV Guide, November 4, 1961, during the brief period that
both WKST-TV and WXTV were on the air. (Courtesy Jim Ellwanger.)
Back to the
Channels 45-83 page