Why Is There No Channel 37?
by K.M. Richards
Even though television broadcasting has evolved from analog to digital (with most stations actually transmitting on a different channel -- the majority on the UHF band -- than they use for on-air identification) one thing has not changed since UHF's debut in 1952 ...
There has never been a station on channel 37.
That is not to say the FCC didn't intend to have stations on that channel: When the post-freeze table of channel allocations was approved in 1952, channel 37 was assigned to 18 communities -- Anniston AL, Valdosta GA, Algona IA, Winchester KY, Brookhaven MS, Sikeston MO, Claremont NH, Paterson NJ, Auburn NY, Norman OK, Baker OR, Springfield OR, Meadville PA, Newberry SC, Beaumont-Port Arthur TX, Pulaski VA, Grand Coulee WA, and Beaver Dam WI (a 19th allocation, to Melbourne FL, was added by rulemaking July 30, 1953) -- and there were at least three parties who had an interest in filing applications for channel 37 stations.
Above: E.D. "Dee" Rivers Jr., who
intended to put WGOV-TV/37
Valdosta GA on the air.
Below: The original WGOV-TV
application announcement
in Broadcasting.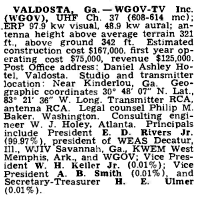 The first -- the only one who ever received a construction permit for channel 37 -- was Eurith Dickenson "Dee" Rivers Jr., son of the former governor (1937-1941) of Georgia, hence the call letters for his WGOV/950. Rivers was one of the early filers when the FCC began accepting post-freeze applications in July 1952, and received one of 19 CP grants (the most ever issued on a single day) on February 26, 1953. The senior Rivers was also interested in UHF broadcasting; among other holdings, he was 50% owner of the CP for WMIE-TV/27 Miami FL, which was used by George B. Storer to put WGBS-TV/23 on the air at the end of 1954.
Dee Rivers had enough of a commitment to television that he took co-owned WGOV-FM/92.5 off the air and surrendered its license one month after receiving the WGOV-TV permit, on March 23, and successfully petitioned the FCC in 1954 to change the channel 23 allocation at nearby Fitzgerald GA to channel 53 in order to eliminate spacing "taboos" that hindered his ability to find a usable transmitter site. Despite those efforts, he surrendered the WGOV-TV CP on November 9, 1954 after missing several announced start-up dates. At the time, Rivers told the Commission he was surrendering the permit "because it was not economically feasible to operate an independent non-network UHF station in Valdosta" (unfortunately, a not uncommon conclusion drawn by many early permittees).
August 1953 newspaper ad for Thomasville
GA appliance dealer Whiddon's, using
channel 37's pending debut to sell more
Zenith television sets. Unfortunately,
WGOV-TV (the dealer misspelled their call
letters) missed the November 15th start
date -- and several more -- before
surrendering their CP, unbuilt.

The owners of WTSV/1230 Claremont NH also filed for channel 37 in their city on April 20, 1953, only to withdraw their application when channel 8 in Mt. Washington was granted to an applicant which they held a 5.9% interest in (that station is today's WMTW in Poland Springs/Portland ME). The Meadville PA allocation was moved to Clymer NY in 1956 via a petition filed by WGR-TV/2 Buffalo, which had intended to file once the allocation was moved and operate channel 37 as a satellite station; for reasons that were never noted for posterity, WGR-TV chose not to follow through on that intent. There were others who showed an interest in operating a channel 37 station, and we will get to them a bit later.
But in 1959, the International Telecommunications Conference in Geneva broached the subject of reserving specific spectrum for the growing scientific field of radio astronomy, which had grown out of experiments in the 1930s by Bell Laboratories engineer Karl Jansky. While investigating static interfering with transatlantic shortwave voice transmissions, Jansky had discovered the existence of faint electromagnetic radiations of the stars; Cambridge University in the United Kingdom did substantial additional research during World War II, and the University of Illinois had begun construction of a radio-telescope in Danville. The signals occured -- and likely still do occur -- in five bands distributed throughout the whole range of the radio spectrum, one being 611 MHz ... right in the middle of channel 37. (To its credit, the FCC had in 1955 invited comments to determine if rulemaking should be instituted regarding protection to radio astronomy, but had deferred any action until the ITC came to an agreement that would apply worldwide.)
In a case of extremely bad timing, almost simultaneous with the ITC beginning its discussion on radio astronomy Springfield Television, owners of WWLP/22 Springfield, WRLP/32 Greenville and WWOR-TV/14 Worcester (all MA) filed a petition for the Clymer NY channel 37 allocation to be moved to Syracuse NY for its use; in the subsequent rulemaking proposal in 1960, the move was opposed by the Carnegie Institute of Washington, the American Astronomical Society, the National Academy of Sciences, Yale University, Harvard University and (of course) the University of Illinois. The latter two went beyond mere objection, filing petitions of their own in 1960 to have channel 37 deleted from the allocations table.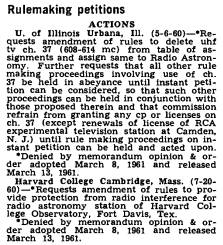 Although the petitions from the two universities were ultimately denied (see left), along with Springfield Television's, they did lead to the further solicitation of comments in 1962 on the reservation of frequencies "promising to be most useful for astronomical observation." Oddly enough, a group of New Jersey educators also announced at the same time that they intended to apply for the channel 37 Paterson allocation to operate a non-commercial educational station licensed to nearby Glen Ridge (by the time they finally applied a year later, however, a separate allocation had been added for channel 77 at the new community). In the interim, the FCC held in abeyance any channel 37 applications that might be filed within 600 miles of the new Danville IL radio telescope and proposed restricted operation between midnight and 7:00am for stations beyond the 600 mile limit.
The scientific community got support from a strange source, when syndicated conservative newspaper columnist Ralph deToledano devoted his February 13, 1963 commentary to the subject. It was rather off-handed support, though, as his argument seemed focused more on the destruction of television as a mass media than in scientific progress; his key point was that the country "would lose little if deprived ... of insipid horse operas, detective thrillers that have lost their point, [and] aging comedians with aged material." DeToledano knew precious little on how the process worked, calling on President John F. Kennedy to "give up one UHF channel" in the interest of science. He also apparently failed to submit any official comments for the public record.
In April 1963, FCC officials responding to comments filed by the objectors to the Springfield Television petition were quoted in Broadcasting as pointing out that the Commission was besieged with demands from a multitude of sources for spectrum space, including that in the UHF band. Said one: "If we grant an exception in the case of the radio astronomers, what argument do we have for denying requests for others, such as land mobile users, who want channels now reserved for UHF television?" (As was later proven in 1970 when translators were moved from channels 70-83 in order to use that spectrum for land mobile, FCC staff was remarkably prescient ... not to mention the more recent reallocation of channels 38-69 to cell phones.)
Nevertheless, on October 4, 1963, the Commission reserved channel 37 for the exclusive use of radio astronomy nationwide until January 1, 1974; dissenting Commissioner Robert E. Lee was as prescient as staff had been six months earlier, saying that he saw the ten year period "as very likely stretching out to infinity." Lee also expressed doubt that there would be sufficient effective contribution to scientific knowledge to warrant removal of channel 37 from television use, pointing out that science had already been given radio windows throughout the spectrum on sixteen bands, nine of which were reserved on an exclusive basis.
One month after the FCC action, the ITC voted to assign channel 37 to radio astronomy worldwide.
The FCC now had to deal with the channel 37 applications already pending. In Paterson NJ, comparative hearings were taking place among four applicants -- Spanish International Network, Progress Broadcasting Corp. (owners of foreign language WHOM/1480 in New York), Bartell Broadcasters (who owned Spanish-Italian language WADO/1280 in New York), and Trans-Tel Corp. -- which had to be interrupted while the Commission made a decision on what channel to assign there instead; in Melbourne FL the owners of KMEG/920 Eau Gallie and WDCF/1350 Dade City had jointly applied in 1962 for the channel, which they had been responsible for having had allocated ten years prior. In the 1965 allocations table revision, New Jersey got channel 41 and Florida's allocation was replaced by channel 31 (not that it mattered as the pending joint venture application was subsequently withdrawn; a new applicant received a CP in 1966 but it was deleted, unbuilt, three years later). Valdosta got a replacement allocation of channel 44 and Anniston AL was proposed to receive channel 70 (which was actually applied for on April 15, 1964) but was instead assigned channel 40 when the FCC decided to delete unused allocations on channels 70 to 83 in favor of translators. Significantly, with the exception of those four communities, none of the channel 37 allocations were replaced ... they simply disappeared from the 1965 table.
Photo of analog channel 37 broadcast
in the Dominican Republic, posted by a
contributor at RadioInsight.

The FCC allowed the channel 37 restriction to remain in place past the original 1974 end date; in 1977, while gathering comments for the upcoming World Administrative Radio Conference, a working group of radio astronomers asked for channel 36 to be similarly restricted. That request was denied but the channel 37 reservation was reaffirmed at the WARC in 1979; subsequently, the Canadian Radio-television and Telecommunications Commission also enacted a ban on the use of channel 37 for television broadcasting. By worldwide agreement, the reservation of 611 MHz for radio astronomy is a permanent one.
There are still a handful of places where channel 37 exists, under the authority of nations who did not sign on to the WARC agreement. The only remaining countries known to use NTSC channel 37 are the Philippines, Trinidad and Tobago, and the Dominican Republic (in non-NTSC countries channel 37 is assigned a frequency other than 608-614 MHz). In Japan, which used the NTSC standard but with channel numbers one lower than other NTSC countries, channel 36 was used in some areas for analog television broadcasting until they completed the conversion to digital in 2012. No digital channel 36 stations are licensed in Japan.
Now you know why there is no broadcast channel 37 in North America.
---
POSTSCRIPTS:
WGOV filed a petition for rulemaking October 28, 1955 requesting the allocation of channel 8 to Valdosta; the petition was denied (the allocation instead went to Waycross GA, where it was applied for by the Georgia State Board of Education as one of the first three stations in what is now the Georgia Public Broadcasting network, as WXGA-TV) and the radio station was sold the following year.
Trans-Tel won the grant for WXTV/41 Paterson, which signed on August 4, 1968. It merged with Spanish International Network in 1972 and the station is still owned by Univision, the successor to SIN.
WHMA/40 Anniston signed on October 26, 1969; the call letters changed to WJSU-TV when the station was sold to Jacksonville State University in 1984. It became part of a trimulcast in the Birmingham market, along with WCFT-TV/33 Tuscaloosa and WBMA-LD/58 Birmingham, in a unique situation where the LPTV was the primary station and the full-power stations were satellites. Sinclair Broadcast Group, in the aftermath of purchasing all seven television stations owned by Allbritton Communications Company in 2014, sold WJSU-TV and WCFT-TV as a result of FCC rules requiring them to reduce the number of stations it owned in the market. Channel 40 is now WGWW but continues to carry WBMA-LD's programming on its 40.2 subchannel under a lease arrangement with Sinclair.
Channel 31 in Melbourne was replaced by channel 56 in the table of assignments June 28, 1972 and went on the air May 19, 1986 as WAYK (today's WOPX-TV). Many years later, in 1999, LPTV station W20AY moved to channel 31 when it was displaced from channel 20 as part of the digital transition process; it became W31CF November 8 of that year and changed call letters to WSCF-LP the following May.
WVGA/44 Valdosta signed on December 24, 1980. It went dark November 6, 1992 when its tower was downed by a plane crash and resumed operation under different ownership October 28, 1995 as WGVP. It is today's WSWG and was one of the few stations which discontinued analog operation early, receiving FCC authority to remain digital-only after its analog transmission line was damaged January 30, 2007.
Dee Rivers died in 1983 of complications from Lou Gehrig's disease. He was 67.
In 2000, the FCC began allowing the use of frequencies within channel 37 by medical telemetry equipment at extremely low power.
Channel 37 was assigned as the PSIP virtual channel to low-power station WNWT-LD after that station's previous choices of same conflicted with stations in Philadelphia, New Jersey, and Hartford (when overlapping signals carry the same PSIP, television receivers have difficulty with the conflict). WNWT began using that virtual channel August 1, 2019; thus far, no other station has been similarly assigned, although it would appear to be a perfect solution to such conflicts.
---
EXTERNAL LINKS