KCTY/25, Kansas City MO
by Clarke Ingram & K.M. Richards
Realizing that under the terms of the FCC's Sixth Report and Order its future depended on the success of UHF, DuMont bought a UHF station in Kansas City and attempted to make it viable. The tale of DuMont's venture into UHF ownership is brief, but enlightening.

KCTY's tower, 70-stories tall.
DuMont became the first network to go into UHF when it acquired Kansas City's KCTY on channel 25 from UHF pioneer Herbert Mayer's Empire Coil Company at 12:01 a.m. January 1, 1954. The transaction came suddenly; it was first broached on
December 29, 1953 and approved by the FCC at a special meeting two days later. DuMont took over all the equipment, a full five-year lease on the real estate, as well as KCTY's obligations, for a nominal cash payment of $1. (The station had reportedly cost Mayer $750,000 in equipment, property, and operating losses since signing on June 6, 1953.)
Mayer had not skimped on equipment, even including a remote unit in order to specialize in local origination. But even though he had previously put the very first UHF station in the U.S. -- KPTV/27 Portland OR -- on the air the previous year, Kansas City proved too much of an uphill battle.
When KCTY first signed on, its only competitor WDAF-TV/4 had been off the air for two weeks, owing to a walkout on May 22 by members of the American Federation of Television and Radio Artists (better known by its acronym AFTRA) which lasted another two weeks, until June 19. Unfortunately, KCTY was unable to capitalize on the AFTRA strike and only managed a few hours of operation per day while it was in progress, making it highly unlikely that very many viewers found an incentive to becoming UHF reception-capable. But Herbert Mayer did give it the proverbial college try, even retransmitting major league baseball games from co-owned WXEL/8 Cleveland that would likely have otherwise been seen on WDAF-TV. Channel 25 also carried the Golden Gloves boxing tournament that aired June 16 and had just announced its carriage of Johns Hopkins Science Review and Monday night boxing from DuMont and Playhouse of Stars from CBS, to begin the following week.

At least they picked a good first movie
to air on June 6, 1953 ... Hitchcock's
"Foreign Correspondent".
Anyone who might have been watching on that first June evening of operation would have wondered when the real television station was going to start: Other than the test pattern, the only programming that evening was the 1940 Alfred Hitchcock movie "Foreign Correspondent" and for much of its first two weeks KCTY showed only old movies and other film features. As noted previously, the first three network programs did not air until June 22.
When KCTY issued its first official rate card, it included a "Charter Advertiser's Discount" under which advertisers who signed before August 1 would receive a 40% discount; if signed during the month of August, they would receive a 30% discount; 20% during September, and 10% in October. It seems apparent that the promotion did not generate sufficient business.
KCTY was also slow in adding network programming. The biggest DuMont shows, such as Rocky King, The Plainclothesman and Down You Go were running in late evenings and weekend afternoons on WDAF-TV via kinescope (as were a handful of ABC shows such as You Asked For It), with most of the NBC prime-time schedule live and some CBS shows like Ed Sullivan's Toast of the Town, I Love Lucy and Burns and Allen in the early evenings on kinnie with an occasional live clearance. Channel 25, meanwhile, cleared only DuMont sports programming, the aforementioned Johns Hopkins series, and Captain Video; the rest of their six-hour broadcast day was filled with two short newscasts and old movies (their evening After Dinner Theater repeated after the late newscast for the first month of operation, apparently to avoid going through what had to be a limited library of films too quickly; the repeat was replaced by a different movie under the title Night Owl Theater beginning the second week of July), as well as the syndicated Buck Rogers series consisting of edited versions of the 1939-40 movie serials. (The latter was dropped by mid-August.)
KCTY did manage at least one pioneering programming move in the market when it debuted Share The Fun with hostess Sue Bowen, the first daily (as opposed to weekly) children's program in Kansas City. Sadly, while the show's existence can be confirmed from multiple sources, no details on its format or airdates could be found, other than it being on the schedule in December 1953 and continuing into DuMont's ownership the following month.

KCTY sports director Bill Grigsby calling a high
school football game from CYC Athletic Field.
Grigsby went on to announce games for baseball's
Kansas City Athletics from 1958 until 1961 and for
football's Kansas City Chiefs from 1963 until 2009.
He passed away February 26, 2011 at age 89.
(From Grigsby's autobiography; see external links.)
The investment in a mobile unit was not going to waste either, as KCTY regularly televised Friday night high school football games from CYC Athletic Field (today's Satchel Paige Stadium) during the fall of 1953. Later in the year, DuMont's Saturday afternoon professional basketball games were also aired.
In fact, sports was central to the KCTY schedule. A newspaper ad announcing the exclusive area telecast of an August 14 football game between the College All-Stars and the Detroit Lions also advertised the upcoming schedule of Sunday afternoon DuMont football games, as well as that network's Monday night boxing matches and those on Tuesday and Saturday nights from ABC. Both networks' wrestling coverage (ABC on Wednesday, DuMont on Saturday) were also highlighted. All told, even before the football coverage began on October 11, ten hours a week of the channel 25 schedule was devoted to boxing or wrestling; Mayer must have thought that sports was a huge draw against his VHF competition, as the words "Convert Now!" were interspersed in five places around the ad's border.

Network affiliations in Kansas
City as of Fall 1953. As usual,
the "big three" signed with the
VHFs and left DuMont on the
mostly-unwatched UHF band.
KCTY was Empire's second UHF station, although it held CPs for additional UHFs in Denver and Indianapolis, but unlike Portland it was quickly buried under VHF competition. When channel 25 went on the air, the only other station there was pre-freeze WDAF-TV, and the other VHF applicants appeared to be headed for endless FCC hearings. But mergers and dropouts quickly resulted in two more VHF rivals (KMBC-TV and WHB-TV sharing time on channel 9 beginning on August 1 of that year and KCMO-TV/5, which started operation on September 8) who were able to grab most of the local business due to VHF's greater coverage. Nevertheless, Mayer made a valiant effort to compete, pouring money into channel 25 in an attempt to gain a foothold, but it was quickly evident that the public wasn't willing to convert fast enough when it could get the programs of three networks on VHF (ABC affiliated with channel 5, CBS with channel 9, and channel 4 kept NBC, leaving channel 25 with DuMont). Empire Coil put KCTY on the market, first asking $750,000, then $400,000, and finally $300,000; there were no takers ... nobody even willing to name his own price. Mayer considered going off the air and salvaging what he could from the sale of his equipment and property -- which would have been a better deal financially than the DuMont transaction -- but decided such a move would have a depressing effect on UHF.
Upon taking over operation of KCTY on January 1, DuMont immediately dispatched Donald McGannon, its assistant director of broadcasting, to supervise the changeover, announcing that the "DuMont network, research and manufacturing divisions [will be put] in a position to study at firsthand the problems, both financial and commercial, faced by [UHF] station owners." DuMont also moved Donald Stewart, who previously had been their manager at WDTV/2 Pittsburgh, to be KCTY's new station manager and added 21 of its shows to the weekly schedule, comprising most of the network schedule not already carried by channel 25. They also planned a large-scale campaign to add to the claimed 60,000 to 70,000 UHF-equipped sets in the Kansas City area (compared to 400,000 VHF-only sets). The first 15 kw DuMont UHF transmitter was to be shipped to KCTY when it became available, replacing the 1kw RCA transmitter the station had been using.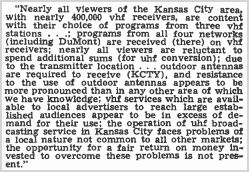 Excerpts from Dr. DuMont's statement on KCTY's
shutdown, as reported in Broadcasting.
However, DuMont's ownership of KCTY didn't last long enough for it to get that new transmitter. After only six weeks, DuMont decided to abandon the Kansas City experiment in the interest of "sound business judgment." Dr. Allen B. DuMont said they had studied the situation carefully and concluded Kansas City viewers were adequately served by their three VHF outlets, stressing that the problems were "peculiar to Kansas City and not necessarily fundamental limitations of UHF broadcasting in general." As history later proved, those problems were not unique and were a major drawback in UHF's development. (The International News Service was nowhere near as gracious as Dr. DuMont, titling their report "Public Apathy Forces UHF Station to Close".)
KCTY went dark at the end of its broadcast day February 28, 1954, becoming the third UHF station to go off the air out of a total of 130 UHF starters to that time. Former DuMont managing director Ted Bergmann summed up the company's experience in Jeff Kisseloff's The Box: "It had no audience ... It cost us a quarter of a million (dollars) to shut it down. It proved that UHF could not compete with VHF."
DuMont relinquished the license for KCTY on March 11; two days later local resident Dr. Kenneth Berg, a Presbyterian minister who was active in the creation of retirement communities in Missouri and Kansas, held a meeting at the Kansas City YMCA to discuss acquiring the station for educational use. (Dr. Berg was apparently unaware that there was no longer a station to acquire.) KCMO-TV assumed the DuMont affiliation on a secondary basis. Stewart went on to the ill-fated WGLV/57 Easton PA.
---
POSTSCRIPTS:
Concurrent with the KCTY sale, Herbert Mayer sold Empire Coil Company (including WXEL and KPTV; it surrendered its unbuilt CPs for KDEN/26 Denver and WNES/67 Indianapolis) to George B. Storer, who also operated WGBS-TV/23 Miami from December 29, 1954 to April 13, 1957. Two weeks after the Miami station went dark, Storer sold KPTV and the new owner took channel 27 dark, moving the call letters and programming to channel 12 in Portland.
After selling its interest in channel 9 to KMBC-TV in the summer of 1954, WHB/710 moved its studios and offices to the eleventh floor of the Pickwick Hotel, where KCTY had spent its brief existence. It was reported at the time that due to extensive modernization and redecoration when channel 25 moved in, a "minimum of work" was required for the radio station's occupancy.
DuMont began to dismantle its network operations the following year; many of the entertainment programs on the network were dropped by May, 1955, leaving only eight shows remaining on the network schedule. The panel show What's the Story? was the last regularly scheduled non-sports program on DuMont; its final airing was on September 23, 1955. Only occasional sporting events aired for the next year, the last being Boxing from St. Nicholas Arena on August 6, 1956.
Herbert Mayer made a subsequent attempt at UHF station ownership: As Ajax Enterprises, he was granted a construction permit for WPHD/23 Philadelphia PA on September 28, 1955 and for WXEL/38 Boston on October 12 of the same year. Both CPs were deleted, unbuilt, November 22, 1960 and Mayer's petition for reconsideration was denied March 15, 1961. (The WXEL CP originally held the calls WHMB; Mayer reclaimed the WXEL calls literally one week after Storer changed those of the Cleveland station to WJW-TV in April, 1956.) He died August 19, 1991 after spending three decades in the art world as a gallery owner and collector.
After KCTY, there were no UHF commercial stations in Kansas City until KCIT-TV/50, which began operation October 29, 1969 and went dark July 7, 1971. The longest-surviving U in that market is KBMA-TV/41, which signed on September 28, 1970. It is today's KSHB-TV.
---
This article is based upon one that appeared in Television Digest in its January 2, 1954 issue, plus additional research by Clarke Ingram, for his DuMont Television Network historical website. It was updated and expanded by K.M. Richards for the History of UHF Television site.
---
EXTERNAL LINKS