Satellite Program Network
by K.M. Richards
If you were among the subscribers to cable television in the 1980s, you may have at some point seen one of the earliest of the nationwide channels to become part of the expanding television universe during that decade ... the Satellite Program Network. Even if you were, you might well wonder: What relevance does SPN have to the history of UHF television?
There are actually two answers to that question, and the first is SPN's origin itself.
SPN was owned by a company originally called Southern Satellite Systems, which was created by one R.E. "Ted" Turner III in 1975 to lease a transponder on one of Western Union's Westar satellites in order to uplink his WTCG/17 Atlanta for distribution to cable systems nationwide; Turner was inspired by Home Box Office (HBO)'s decision earlier that year to uplink its movie service -- which after three years of operation using microwave relays to feed 42 cable systems in Pennsylvania and New York was only barely profitable, with just under 100,000 subscribers -- and saw no reason why his independent UHF station's schedule of Atlanta baseball games, some syndicated off-network series, and a batch of old movies wouldn't be attractive to systems which had no indie station of their own to carry. However, the FCC had other ideas, and advised Turner he could not hold the license for WTCG and also feed programming nationwide via satellite; Turner offered SSS to the man at Western Union he had been dealing with, Ed Taylor, for one dollar. Taylor paid the dollar, changed the name slightly (to Satellite Syndicated Systems) and started uplinking what came to be called "SuperStation WTBS" via RCA's newly launched Satcom I. It was a big hit, signing up carriage agreements in the first five years with cable systems serving a combined total of 10.4 million viewers. RCA marketed Satcom I as "CableNet One", having signed Pat Robertson's Christian Broadcasting Network (CBN) in 1977, retransmissions by United Video of WGN-TV/9 Chicago and Eastern Microwave of WOR-TV/9 New York the following year, pay-TV services Showtime, Spotlight, and StarChannel (today's The Movie Channel), and in 1979 ESPN.
In the earliest days, WTCG still signed off the channel 17 transmitter for a few hours overnight, and because of the FCC restriction Turner couldn't feed the satellite transponder during the off-air hours. Taylor filled those hours with worn-out prints of movies that had fallen into the public domain, with "per inquiry" 800-number ads filling the few commercial breaks. When WTBS went 24/7, Taylor leased another transponder on Satcom I and built the Satellite Program Network. Of course, those old movies could hardly sustain a full-time network and there wasn't nearly enough revenue from the 800-number ads to pay the bills, so Taylor sub-let two prime-time hours a night to the new "family-friendly" Home Theater Network pay channel and went on a search for programming to fill the remaining hours as cheaply as possible.
(In 1980, SSS sold the lease on its Satcom I transponder to the nascent pay channel Premiere, and moved SPN to Westar III, which was owned by Taylor's old bosses at Western Union, then used the proceeds from the sale to install new receiving dishes at the cable systems carrying the network. It moved again two years later when Westar V went into orbit as a replacement.)
What Taylor discovered in his search was that there were plenty of independent programmers who were producing niche-oriented shows but were generally restricted to local cable channels and the occasional non-network UHF station due to the difficulty in syndicating programming on such a small scale. These shows found a home on SPN, essentially creating the "pay for play" model which is now prevalent for infomercials, with the old movies continuing to run from midnight until mid-morning as "All Night at the Movies" (since back then, no one would pay to run at 3:00am).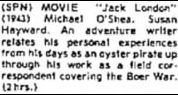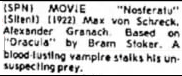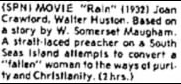 SPN's "All Night at the Movies"
selections for the week of
May 26, 1985 (from
Galveston Daily News listings)
One of the earliest successes on SPN was The Paul Ryan Show, produced as a local program at Santa Monica (Calif.)'s Theta Cable and hosted by the actor of the same name (born Bernard Feldman) who had landed bit parts in episodes of several television series in the 1970s and in the 1978 movie "Coma" and -- much to everyone's surprise -- was an excellent show-business interviewer. In the course of more than 500 shows aired on SPN until 1984, Ryan consistently attracted such celebrities as Peter Ustinov, Sophia Loren, Marty Feldman, Christopher Reeve, Robin Williams, John Ritter and Henry Fonda as guests. Post-SPN, Ryan continued to produce and host the program until 1992 -- at one point airing on the InfoMall network which preceded Pax TV on Bud Lowell's network of UHF stations -- and passed away April 23, 2015 of leukemia.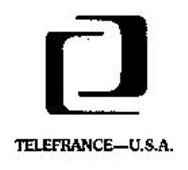 SPN also had a long-running relationship with Gaumont, Europe's largest filmmaker, who in 1978 acquired a service called TeleFrance USA which had been airing a morning show on Modern Satellite Network and subsequently added prime-time programming on SPN. Its programming focused on art, history, culture and French public affairs, rounded out by French motion pictures, Cordon Bleu Cooking and a twice-monthly French-American Perspective news program dealing with issues affecting relations between the two countries. TeleFrance's CEO and program director Jean Vallier said the service was aimed at the highbrow or "upscale" viewer, and in November 1982 it gained notoriety for airing "The Rosenbergs Must Not Die", a two-part French made docudrama based on the real-life story of Julius and Ethel Rosenberg. At its peak in 1983 TeleFrance was programming four hours per weeknight on SPN and three hours each on Saturdays and Sundays, and that same year it aired an 18-part series of programs featuring famed French mime Marcel Marceau. SPN, for its part, seized upon an unusual aspect of TeleFrance's programming for a unique promotional push: Because over half the shows were captioned, the network launched a campaign in every cable market it was carried in to get the hearing impaired community to watch. (Citing "a lack of advertiser support" and an unfavorable exchange rate between the French franc and the United States dollar which had increased both the costs for French sponsors and the costs of operating the service, TeleFrance discontinued the MSN morning show in early 1983 and left SPN at the end of September of that year.)
All this was not to say that the "pay for play" philosophy caused a rush of would-be production moguls beating down the doors at Satellite Program Network's Tulsa headquarters, even though Broadcasting reported that time was going for as little as $100 per half-hour at one point; for every Paul Ryan who was able to sell enough commercial time within his show to pay for airtime and studio facilities, there were others who were unable to do so, leaving plenty of holes in the schedule. Many of those holes were filled by "bonus" airings of paid shows, meaning the odds were pretty good that programs such as Indiana Fishing, Sew Video and The Susan Noon Show* would be airing if you tuned in SPN, regardless of the time of day. In February 1981, the network aired 21 of the 56 hours of the first national March Of Dimes telethon and sometimes carried local sporting events offered to it by its cable system affiliates just to lessen the amount of repeats!
(*-Another tie-in of SPN to the history of UHF: Susan Noon's program began as Heartbeat West, a daily interview program on KTZO/20 San Francisco ... which as KEMO-TV was a remnant of the would-be Overmyer Network.)
In 1982, SPN discovered a niche that was completely underserved by the growing cable industry ... ethnic programming. That year saw the premiere of Jerusalem Today (written and produced in Israel), Ireland's Eye (produced by Northern Ireland's RTE television network) and Visions of Asia. The following year, they were joined by Japan 120 (produced in cooperation with that country's NHK network and entirely dubbed into English), Scandanavian Weekly and Holland On Satellite (produced by Dutch TV personality Henri Remmers and hosted by Lori Spee, an American who had lived in Holland for 11 years), whose first airing on SPN was introduced by none other than Walter Cronkite, whose family was of Dutch origin.
It was around this time that SSS made a misstep, filing in mid-1982 for permission to launch a direct-to-home television service called SatVue, which would have utilized five satellites to transmit pay-per view events, movies and foreign programming starting in 1988. The venture never developed beyond the conceptual stages.
Also in 1983, Conservative Counterpoint -- which newspaper accounts described as a Satellite Program Network show, despite the fact that SPN originated none of its programming itself -- thrust the network into the national spotlight when it carried an interview with Interior Secretary James Watt in which he said "if you want an example of the failures of socialism, don't go to Russia ... come to America and go to the Indian reservations." The Ute nation seized on Watt's remarks and claimed Watt was "trying to grab mineral-rich land from Indians by discrediting the reservation system." The Secretary ultimately sort-of apologized, claiming that reports of the interview were inaccurate (despite the interview itself being available on tape) but that he didn't "apologize for the message" because in his opinion the government had abused the Indian people "for too many years." Whether or not he was right, Conservative Counterpoint did not last much longer on the SPN schedule.
That same year, SPN found a replacement for much of "All Night at the Movies" when it agreed to carry The MusicChannel, a music video program resembling MTV, from 4:00 to 10:00am on weekdays; produced by the Community Television Network, which operated LPTV station K61CA in Phoenix, it remained on the schedule until late 1985, outlasting the originating station itself by nearly two years. Some of SPN's early viewers might have felt a touch of déjà vu, remembering Video Concert Hall, a program that aired for several months in 1980 to fill gaps in the schedule (it had also aired on USA for a few months prior to its SPN run) before moving to the premium service Showtime the following year.
It is here that we discover the main reason Satellite Program Network is part of the history of UHF: As noted in the article on translators, the first LPTV station went on the air at the end of 1981. One year later, the fledgling LPTV industry held its first ever national conference, and SPN was present to market itself as a source of programming. By year's end, they were able to claim 19 LPTV affiliates in addition to the 430 cable systems that were its primary distribution. (Parent company SSS even toyed with the idea of being the licensee of a few LPTVs, having already gotten into over-the-air subscription television by operating DirecTV affiliates in their home market of Tulsa and in Ann Arbor, Michigan, but they ultimately stayed in the distribution business and sold off the full-power stations.)
By 1985, SSS had negotiated a better transponder for SPN on RCA's Satcom III-R (which had been launched in 1981 and quickly got the bulk of the cable network business, only to start losing it to Hughes' Galaxy 1 satellite when it launched in 1983); since many cable systems added a second dish to receive the new satellite's transmissions, SPN found itself in a much improved position to sign up systems which had lacked the resources to receive it previously. By then, the schedule included a lot of programming aimed at outdoorsmen (for example, Jimmy Houston Outdoors, Billy Westmorland Fishing Diary, and Scuba World), an expansion of ethnic shows (among them Meditteranean Echoes, Brazil 2000, Discover Australia, and Hello, This Is Germany), religious broadcasters (James Kennedy, John Osteen, Oral Roberts, Jimmy Swaggart and others, taking up a 6½ hour block of time on Sundays with repeat broadcasts in mid-mornings and late nights on weekdays) and a hodge-podge of crafts, investment programs, and the inexplicable carriage of University of Illinois football and basketball, with the former on a same-day delay and the latter carried live. The MusicChannel had been renamed Contempo after the originating LPTV had ceased operation and the movies now occupied a mere three hours of the overnight schedule, but by year's end the movies were back to running all the way to 10:00am.
Anyone looking at the full SPN schedule that year might have realized they were in dire straits, even with improved cable system carriage. Virtually every show on the schedule aired at least twice a week in the afternoon and -- with TeleFrance having called it quits -- another couple of airings in the evening hours. (Many viewers may well have thought the entire network consisted of Morey's Markdown Market, Movieweek, Franchise Showcase, American Baby, and Connie Martinson Talks Books, as those shows aired the most frequently.) The lone exception to the multiple airing policy was a four-night-a-week live program called Telephone Auction in which host Chuck Huggins would take telephone bids for products and then offer his entire stock of an item at the highest bid price to subsequent callers. For some unknown reason it was a big hit and remained on the schedule until the network's demise.
And that demise was not long in coming: In 1986 the network's name was changed to Tempo Television (and the parent company to Tempo Enterprises), but with little change to the schedule other than grouping programming into blocks by general subject matter, meaning shows like Sewing With Nancy and Crafts 'n' Things aired during the same time of day rather than being scattered throughout the schedule. The rebranded Tempo began to carry more and more programs that resembled early infomercials, focusing on selling a single product per half-hour. The net effect of all of the changes was a decline in viewership despite better satellite access by cable systems.
Less than three years later, it was ready to sell out.
Tempo found a willing buyer in NBC, which in May 1988 announced it had signed a letter of intent to buy the network for $20 million, with plans to "launch cable programs offering business and sports news." A month later, NBC cancelled the network purchase in favor of a deal in which they would only acquire the satellite transponder. Tempo's programming came to an end on April 1, 1989 and the channel broadcast a promotional loop until April 17, when CNBC, the Consumer News and Business Channel (the official "translation" of the acronym was dropped in 1991) was launched. The remaining parts of Tempo Enterprises were subsequently acquired that year by John Malone's Tele-Communications, Inc. and folded into that company's vast cable empire, which is now known as Liberty Media.
Ironically, in 2008 Liberty Media acquired the controlling interest in DirecTV, which provides much the same service that SPN had envisioned with SatVue two decades prior.