WJRJ-TV/17, Atlanta GA
by K.M. Richards
This is the story of the first independent UHF station in what was at the time the 17th (yes, really) largest broadcast market. Well, the first one to manage to stay on the air longer than six months, anyway: WQXI-TV/36 had previously operated from December 18, 1954 to May 31, 1955 -- all of 165 days -- and the market was dominated by VHF network affiliates WSB-TV/2 (NBC), WAGA-TV/5 (CBS) and WAII-TV/11 (ABC). Public television station WGTV/8 had only been on the air since May 1960, and there were virtually no receivable UHF signals within the area.
Enter Jack M. Rice, who had owned the Rice Coal Co. since 1950 and also held the market franchise for wired pay-TV service International Telemeter, which was targeted to begin operation in the fall. For whatever reason, Rice decided an over-the-air television service would complement Telemeter, and with the dark channel 36 construction permit still in effect he applied for the lower of the two remaining commercial allocations for Atlanta, channel 46. His CP was issued October 20, 1965 and he was granted the call letters WJRJ-TV the following March.
[At this point, we must debunk an "urban myth" ... this one about the meaning of the WJRJ call letters. It is reported at Wikipedia and other sites that they stood for "Jack Rice, Jr." but that turns out to be purely speculative, as there are no instances in newspaper articles at the time referring to him with that suffix. Further, Mr. Rice's obituary in 1989 reported that his father was named Melvin, not Jack. We offer no explanation for the second "J" other than the probability that he chose it purely for the symmetry of the calls.]
That same year (1966), in a revision of the television allocations table, the FCC added channel 17 to Atlanta and approval of the permit's modification to the lower channel number was granted within a few weeks of the call letter assignment. Rice proceeded to construct his new station and WJRJ-TV signed on for the first time September 1, 1967 from studios (and transmitter*) at 1018 W. Peachtree St. NW, but with a somewhat less than impressive operation. The schedule consisted largely of old movies (one in the afternoon and two in the evening, including the "Sherlock Holmes" series of movies on Fridays and the "Blondie" series on Saturday evening), syndicated off-network reruns of such series as Alfred Hitchcock Presents, Thriller, Burke's Law and The Detectives which had already been aired to death on the three VHF stations, the Richard Boone anthology series from four years previous, and -- in the great tradition of UHFs carrying network programs that a market's affiliates refused -- ABC's Issues And Answers and the second game of that network's Sunday's American Football League doubleheader, both of which WAII declined to carry. WJRJ also aired CBS' The Wild Wild West when WAGA passed on it and the NBC Tuesday night movie, uncleared by WSB. Local programming consisted largely of a fifteen-minute 11:30pm newscast prior to sign-off, but by the summer of 1968 the schedule included J.R. Jamboree, a Sunday evening program featuring both local talent (Dude King and the Cherokees were the "house band") and national guest stars (according to the Atlanta Constitution, Del Reeves, Webb Pierce, Little Jimmy Dickens, Conway Twitty, Bobby Bare and Bill Anderson had all appeared in the early weeks of the program's existence). They even managed to get the Atlanta broadcast rights to The Flintstones, which had ended its prime-time run on ABC the preceding year; the animated series remained on channel 17 well into the Superstation era.
[* - Click here to see the channel 17 coverage area map. While this has a WTCG header on it, WJRJ had the same signal contours at the start; as was often the case for UHF stations in the early years, the problem was less about signal and more about there being no other non-VHF stations on the air to compel viewers to upgrade their sets and antennas.]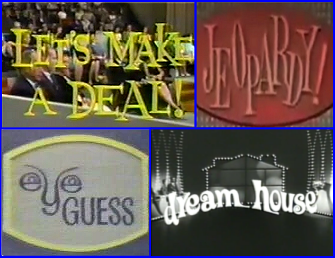 Unseen in Atlanta before WJRJ.
After only nine months, channel 17 was $305,000 in the red, and Rice put 35% of his ownership up for sale as stock. Meanwhile, WJRJ made plans for its "fall 1968 season" which they timed to take effect the week before the networks premiered their new lineups. Included in the new schedule were more network programs not cleared by the Atlanta affiliates, resulting in the then-controversial ABC soap opera One Life To Live being seen for the first time in the market, as well as game shows -- Let's Make A Deal, Jeopardy! and Eye Guess from NBC (including the five minute network news summary which followed the latter at 12:55pm) and Dream House from ABC -- which had been absent from the schedules at channels 2 and 11. Those additions, plus a rescheduling of the sign-on movie to mid-afternoons, pushed the WJRJ sign on time to noon from the previous 4:00pm and sign-off to well past midnight, at whatever time the 11:00pm movie ended. Evenings featured a new syndicated talk/variety show with Donald O'Connor as host, followed by reruns of Run For Your Life, which had just concluded its network run. A block of programs consisting of reruns of Batman, Little Rascals shorts, Yogi Bear cartoons, and reruns of McHale's Navy and The Jack Benny Program filled the gap between the new daytime schedule and the O'Connor show.
A note on the preponderance of old movies in WJRJ's early years: Unlike most UHF start-ups, channel 17 was able to air films of reasonably good quality, such as "D.O.A.", "It's A Wonderful Life", "Impact", "Forbidden Street", "I Was A Male War Bride", "Night In Paradise" and "Captain From Castile". From random checking of the published schedules in the Constitution it appears that the three VHFs were so loaded with network programming and first-run syndication that they barely ran any movies at all (and rarely in any daypart other than late night), leaving a lot available for WJRJ to choose from. It's therefore no surprise that Rice opted to spend his programming money on movie packages ... and it is likely he was able to negotiate bargain rates for them, given the lack of interest by his competitors.
Three men without whom the Superstation would never have been born:
Jack M. Rice, W. Robert McKinsey, and R.E. "Ted" Turner III.
[We should also at this point debunk another urban myth about WJRJ: Looking at the first week's schedule for channel 17 in the Constitution, one can see that several movies, The Flintstones, and the daily travelogues aired under the umbrella title "Adventure Theater" were all broadcast in color, disproving statements made elsewhere that the station was limited to black-and-white operation until the Turner years.]
It was somewhere around this time that the man most associated with Atlanta's channel 17 entered the picture. Robert Edward Turner III, better known as Ted, had been general manager at the Macon office of his father's outdoor advertising office for three years when the patriarch committed suicide in March 1963. Ted then assumed the presidency of Turner Advertising Company (at the ripe old age of 24) and quickly built it into a global enterprise, further proceeding to acquire radio stations WGOW/1150 Chattanooga TN, WTMA/1250 & 95.1 Charleston SC, and WMBR/600 Jacksonville FL. Apparently he also noticed what Rice was doing up there in the UHF band, because not long after WJRJ general manager W. Robert McKinsey -- by then a part-owner -- announced that the station's operating deficit had risen to a $363,107 loss for 1968 on revenues of $411,649 Turner approached them with a merger proposal that sounded completely and totally backwards.
The deal, announced on July 14, 1969, called for Rice Broadcasting to acquire the Turner Advertising Company in a stock swap, with Ted only owning 3.44% of the new company, but ... also holding proxies for another 48.2% of the ownership, just barely giving him the controlling interest. (Jack Rice ended up with only 6.8% of the company which still bore his name.) The deal was estimated at $3 million and required the FCC to waive the minimum three-year ownership rule to approve the merger, which was approved in relatively short order in February 1970. Two months later, the Rice name disappeared from the company name as Ted rechristened the operation Turner Communications
Above: WJRJ logo in 1969, just before the
call letter change to WTCG.
Below: The Peachtree St. studios and offices,
just after the call letter change to WTCG.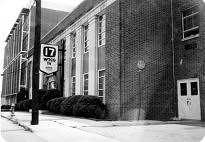 Group and then changed channel 17's call letters to WTCG three months after that. He said the new calls stood for "Watch This Channel Grow" but no one took that claim seriously. As it turned out, they should have.

Under Turner, WTCG operated from early in the morning until late at night, matching the schedules of the three VHF network affiliates but with a schedule filled with more movies, a daily 3½ hour (!) block of cartoons in the morning, the new syndicated Steve Allen daytime talk show, and off-network reruns of Lassie, Mr. Ed, The Munsters, Secret Agent, Laredo, Combat! and M Squad. An hour block of NBC game shows remained, although by that time Eye Guess had been replaced with The Who, What and Where Game and Let's Make A Deal had jumped networks to ABC. WTCG also scored the Saturday evening versions of the latter and The Newlywed Game from ABC which channel 11 (by then, WQXI-TV) pre-empted in favor of a local movie as a presumed better lead-in to Lawrence Welk. Bugs Bunny cartoons also began to appear in late afternoons, beginning another long Flintstones-like run that continued well into the Superstation years.

Click here to see a full-page newspaper ad showing programming additions Turner made in 1970, after the merger that gave him control of channel 17.

Ted also formed a subsidiary company, Turner Broadcasting of North Carolina, sold the radio stations, and used the $1.2 million in proceeds to purchase another failing UHF station out of bankruptcy. Thus WCTU/36 Charlotte became WRET-TV. (At least no one had to question what those call letters stood for.) At the same time, he fought off a challenge to channel 17's license renewal by a coalition of local black groups on programming/issues/employment concerns who claimed WJRJ "flatly refused to negotiate" with them. The challenge took a full two years to resolve, partially delayed by the NAACP insisting on being named a party to the proceedings. Meanwhile, Ted started building his television empire.

He began simply enough: Beginning in 1971, programming was acquired only if it could be licensed to air on both WTCG and WRET-TV. The following June, channel 17 negotiated the broadcasts of baseball's Atlanta Braves away from channel 2 (which had aired them since 1965) by offering to carry more than twice the number regular season games ... 48, compared to WSB's 20. He promptly put together a four state network of stations to carry games and had 26 affiliates in Georgia, Florida, South Carolina and Alabama (plus Charlotte, of course) by the beginning of the 1972-73 season. Come October, he had put together a deal for his network to carry 25 prime-time games of basketball's Atlanta Hawks. He gained four more affiliates by 1974 and the sports programming was beginning to convince viewers that there was something above channel 13 worth watching, as Nielsen was now estimating WTCG's viewership at 8% of the Atlanta market. By then it had been joined on the UHF band by WHAE-TV/46, which signed on June 6, 1971 but had virtually no audience for its mix of Christian and low-budget secular programming. Channel 36 came and went for the second time for 19 months from 1969 to 1971 -- see footnote -- but similarly had no impact on channel 17 during its brief revival despite a reasonably good program lineup that included Dennis The Menace, The Twilight Zone, Three Stooges shorts, and The Outer Limits.

Never content with thinking small, Turner took notice when Home Box Office -- which had started as a regional channel in 1972, distributed primarily to cable systems in the states of Pennsylvania and New York via microwave -- announced plans to transmit to systems nationwide via satellite. HBO had barely signed a contract with Western Union for a transponder on its Westar 1 satellite when Turner announced that he, too, was thinking on expanding his existing microwave network (which by then was carrying WTCG full-time to cable systems and translators in its four state coverage area) into a national service, using his sports programming as an incentive to the systems. He set about putting his vision into practice by amassing a family-friendly library of off-network reruns such as Lost In Space, Gomer Pyle USMC, The Beverly Hillbillies, Gilligan's Island, Star Trek, The Andy Griffith Show and Hogan's Heroes, while at the same time building up the channel 17 movie library. (If that list of reruns




Typical newspaper ad promoting cable systems' carriage of
WTCG. The "split bullet" channel 17 logo mimiced TV Guide's bullet
for the station in its early years of out-of-market distribution.

seems somewhat present-day familiar, all of them were on the broadcast retro network MeTV's schedule in summer 2021.)

"Superstation WTCG" debuted via RCA-owned Satcom 1 at 1:00pm ET on the appropriate date of December 17, 1976 -- midway through the 1948 movie "Deep Waters" which had begun airing on channel 17 a half-hour previous -- to its first four cable system affiliates, in Grand Island NE, Newport News VA, Troy AL and Newton KS, with 20 more systems adding it in the following two weeks. The on-air branding initially included the local "Super 17" logo, but by 1979 the call letters (which became WTBS in July of that year) dominated station promotional spots. It was only a year previous to that change that Turner announced the Superstation was being carried by cable providers in all 50 U.S. states, with well over two million subscribing households.
Concurrent with the second change of call letters -- for which Turner paid $25,000 to the Massachusetts Institute of Technology to relinquish them from the college's radio station, then a second $25,000 when they were granted to channel 17 -- the corporate name also changed again, to Turner Broadcasting System. By that time, Ted already had formulated the concept for what launched as Cable News Network on June 1, 1980, financed by the $20 million sale of WRET-TV (by then, a NBC affiliate) to Westinghouse/Group W. The entire operation moved to the familiar "Tara" building at 1050 Techwood Dr. NW that fall.
The story of WTBS and Ted Turner does not end there, of course, but so much has been written about the subjects in the intervening years that we feel we cannot do justice by trying to write our own view of that history. The reader is encouraged to search (on the engine of individual choice) for the many accounts of those ensuing years.
---
POSTSCRIPTS:
WQXI-TV was assigned the call letters WATL-TV in 1956 but remained dark; it then took the calls WBMO-TV in 1966 as part of the plan for the ill-fated Overmyer Network but did not return to the air until August 16, 1969, under the WATL calls. It was dark again from March 31, 1971 until July 5, 1976 and is now the MyNetwork affiliate for the market, after previous affilations with Fox and The WB.
WHAE-TV eventually shifted its focus and by 1974 was programming a conventional general entertainment format with religious offerings in the mornings and late prime-time. It changed call letters to WANX-TV in 1977 and then again to WGNX in 1984 after being sold to Tribune Broadcasting. Channel 46 has been the Atlanta CBS affiliate since 1994 and has carried the call letters WGCL-TV since Independence Day 2000. Its present owner Meredith Corporation has owned channel 17 (now WPCH-TV, and not carried on satellite since October 2007) since April 21, 2017.
WRET-TV changed call letters to WPCQ-TV after the sale to Westinghouse. It changed hands again in 1984, 1988, and 1997 then fell under Gannett ownership in a 2013 merger. Two years later, the broadcast division was split into a separate company. Now carrying the calls WCNC-TV, channel 36 has kept the NBC affiliation through all the ownership changes, for a total run that now exceeds 40 years.
Atlanta Telemeter, delayed while waiting for a court decision on the constitutionality of the infamous anti-pay TV Proposition 15 on the November 1964 California ballot, never began operation, although several other Telemeter franchises did go into service in the 1960s and 1970s as full-fledged cable systems. The Atlanta franchise corporation was dissolved around the same time as the Rice/Turner merger.
Ted Turner is now well-known as a philanthropist, after merging Turner Broadcasting System with Time Warner, Inc. in 1996 and resigning from its board of directors a decade later. In 2018, he revealed in a television interview that he suffers from Lewy body disorder, which includes Parkinson's disease dementia and dementia with Lewy bodies. In recent years, his principal residence has been Avalon Plantation in north Florida, which he acquired in the mid-1980s. He also owns 15 ranches in Kansas, Montana, Nebraska, New Mexico, Oklahoma, and South Dakota totaling 1,910,585 acres, making him one of the largest individual landowners in North America by acreage.
Jack M. Rice died February 20, 1989 of a stroke at his Atlanta home. He was 75.
EXTERNAL LINKS:
Memories of WJRJ/WTCG by former WTBS news anchor Bill Tush
Article on the history of the Techwood Dr. building by former CNN staffer Lisa Napoli
2011 lecture on television news by educator Edward Bowen at Middle Tennessee State University; Turner material begins with slide 64