WELI-TV/59, New Haven CT
by K.M. Richards
When the FCC ended the freeze on new television station grants in 1952, many local radio stations believed getting into television was the "next big thing" and filed their applications. Of those who were successful in applying, many were able to get on the air in the then-allowed eight months ... some remained in operation, others failed and went dark; some, seeing the new UHF stations going dark left and right, surrendered their construction permits and walked away. Others thought that if they could hold out for a year or two the climate might be better for UHF and did everything in their power to extend the life of their CPs (and if the FCC accepted their reasoning for delays, a grantee could manage to receive several extensions before either "putting up or shutting up") ... or transferring ownership to someone new, who might well try the same stalling tactics before deciding the time was right to build. And then there were those who filed pre-freeze, lost their VHF channel in the new allocations table, adopted the new UHF channel, and then faced a series of uphill battles trying to get on the air.
This is the story of a construction permit that took an unbelievable 41 years, 9 months, and 11 days to get on the air.
The WELI building at Radio Towers Park in Hamden CT, in the 1960s; it was built after a series of storms made
obvious the desirability of co-locating the studios at the transmitter site (they had been in downtown New Haven,
about five miles away), and designed to be big enough to also accommodate the future WELI-TV/59. The building is
still standing and houses the studios and offices of WELI and its sister stations WAVZ/1300 and WKCI-FM/101.3.
WELI/960 was successful almost from the moment it signed on in October 1935 in New Haven CT. The radio station was the frequent recipient of accolades from local government, community organizations, and area newspapers (for example, in February 1941 the Branford Review and East Haven News, reporting on the FCC's grant of a power increase to 1,000 watts for WELI, used the phrase "a popular and esteemed station" to describe the subject of their article). WELI's morning man, Bud Smith, had been reigning over the breakfast hours since his 1947 return from service in World War II and the station had received even more praise from the community for the way it had handled public service programming during the 1950 series of storms that struck throughout New England (faced with the outage of the telephone circuits feeding their transmitter, staff used a dozen employees' cars to shuttle taped programs from the studios; they subsequently built a new studio/office facility at the transmitter site, shown above).
But by the time Smith had begun his long run in mornings, WHNC/1340, having only been on the air since the end of 1944, had already received a grant for what would be WHNC-FM/99.1 in 1946 and had applied for the sole "metropolitan" channel (6) in the 1945 allocation table alloted to the New Haven area. There was a second "community" channel (12) allocated to Waterbury, only 23 miles inland, and it drew no fewer than five applicants, including existing area broadcasters Fairfield Broadcasting Co. (WFIR-FM/94.5), Harold Thomas (WATR/1320), American-Republican, Inc. (WBRY/1590), and the Danbury News-Times (which owned Berkshire Broadcasting Corp., licensee of WLAD-FM/98.3).



WELI general manager
Richard W. Davis

After a series of buyouts, dropouts and application consolidations, WBRY and WFIR formed the Nutmeg State Broadcasting Co. March 1, 1948 as the sole applicant for channel 12 ... but WELI general manager Richard W. Davis also had his eye on television and his employer, Connecticut Radio Foundation, Inc. also filed for channel 12 two months later, on May 10.

Those applications were stuck in "comparative hearings pending" status when the FCC implemented the freeze on September 30 (which is discussed in more detail in our article The Road To UHF). In the meantime, Davis became enamored of the potential for UHF telecasting, making visits to RCA's test facility KC2XAK/Bridgeport, setting up a test reception facility at WELI, testifying before the FCC as to UHF's potential, and writing no fewer than three articles in Broadcasting on the subject in the space of 19 months during 1950 and 1951. In one of those articles, focusing on the feasibility of applying for a UHF station once they became available, he opined that "other radio broadcasters in markets the size of New Haven and smaller will accept UHF television as a good investment, especially if they, like ourselves, are already sufficiently well staffed with competent, qualified personnel." Davis was going to find that it would take much more than that.
RCA's experimental UHF station KC2XAK, Bridgeport CT.
Two weeks after Davis' testimony before the FCC -- on September 24, 1951 -- WELI amended their pending application to specify channel 59 instead of 12 (based on the preliminary post-freeze allocations table proposal) and was promptly joined in early 1952 by another of its local competitors, WAVZ Broadcasting Corp. (1260/95.1). It was just as well: The 1952 allocations table replaced channel 12 with channel 53 in Waterbury and "Nutmeg State Broadcasting Co." fell apart, and American-Republican filed an amendment its application specifying channel 53 in June. Meanwhile, Connecticut Radio Foundation refiled its amendment specifying channel 59 (the September amendment having not been acted on by the FCC as premature) that same month. The competing applications were placed within a group of 71 mutually-exclusive applications which were frozen on October 15 so that uncontested applications could be processed first. It wasn't until WAVZ dropped its application on June 19, 1953, citing concerns "that heavy losses [in UHF operation] are to be expected for a considerable time" that WELI was granted its construction permit, five days later.
It would seem that Davis heard what his competitor was saying, because WELI hadn't held the CP for channel 59 three months before joining with other UHF grantees in the region (see article below; WACH Newport News VA & WOCN Atlantic City NJ joined them later) in supporting a petition by Zenith Radio Corporation to establish standards for subscription television operation. Zenith had filed the petition in February 1952, before the FCC had lifted the freeze on new stations and formalized the addition of the UHF band, so one wonders if they were prescient of what came later in television history, jumping the gun, or just trying to gain a competitive advantage; in any event, at the time Davis was quoted as saying subscription TV was the "only means of economic support to UHF stations in areas covered by big-city VHF stations." The petition remained on the back burner until the end of 1954, when the Commission finally took up the matter; it took until February of the next year for the matter to be opened for public comment, but the process -- both at the FCC and on Capitol Hill -- dragged on and it wasn't until October 1957 that widespread tests were contemplated, with restrictions on the number of cities where the total number of stations on the air was deemed sufficient to allow one to go the pay-television route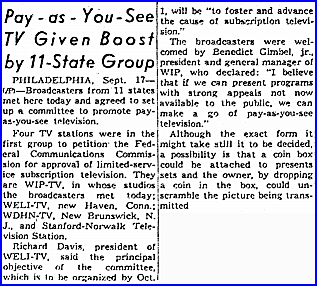 (and it took more than another three years for the FCC to actually authorize limited "real world" experimental operation). Unfortunately for WELI, New Haven and Hartford were considered one city under the "one station to a market" restriction and WHCT/18 got the nod. (The FCC's predilection for that particular restriction was a factor again in the channel 59 history, less than a decade later.)
By the time the subscription television matter was decided, WELI had already been involved in two other battles involving its still-to-be-built TV station. In the deintermixture proceedings that began in 1955, WELI filed objections to a proposal by WNET/16 Providence RI to move channel 3 from Hartford CT to Westerly RI for its use and moving in channel 61 from Easthampton MA as a replacement at Hartford, because it would have forced WELI-TV to an even higher UHF channel (75). The WNET proposal was of course supported by Senator John Pastore of WNET's home state of Rhode Island; he was immediately challenged by Senator William Purtell of Connecticut, who wanted to know "why Providence should get all the VHFs and Hartford the UHFs." Fortunately for WELI, the FCC ultimately decided that because of mileage separations and airspace requirements limiting antenna height channel 3 "would have had to be allocated so many miles south of Providence that it could not have put a city-grade signal into that Rhode Island city" and everything stayed where it was in Hartford-New Haven.
WELI was also caught up in the list of 83 non-operating UHF construction permit holders who received letters at the end of November 1956 giving them until the following February 15 to justify extensions of their permits. They survived that inquiry, only to be ordered on February 19, 1960 -- again, along with a laundry list of other CP holders -- to "begin construction forthwith" or surrender the CP. The FCC deleted 21 permits in May of that year, and another 26 in November, but extended the WELI-TV permit, saying they had "shown an intention to go on the air" by partially completing construction. Commissioner Robert T. Bartley (one of two dissenters) said he saw no distinction between WELI and the deleted CPs, ignoring that WELI had filed statements documenting $70,000 in expenses up to that point on channel 59. (One of the cancelled CPs at that time was for WNLC-TV/26 New London CT ... a fact that pops up a bit later in our story.)
Meanwhile, in the same market WNBC/30 New Britain CT was sold by NBC in 1959 to Connecticut Television, originally two-thirds owned by Plains Television (owner of WICS/20 Springfield IL and WCHU Champaign IL) and the remainder by Springfield Television (which owned WWLP/22 Springfield MA, WRLP/32 Greenfield MA and WWOR-TV/14 Worcester MA). Further complicating the ownership, Plains was 50% owned by Harry & Elmer Balaban, who had remained active in television station ownership with interests in WTVO/39 Rockford IL, WBMG/42 Birmingham AL, the CP for WMCN-TV/23 Grand Rapids MI, and radio stations in St. Louis, Dallas and Milwaukee, having sold the facilities for WBKB-TV/4 Chicago to CBS as part of the complicated merger of ABC and United Paramount Theaters in 1953. However, after WHYN-TV/40 Springfield MA complained that a possible "package" advertising rate of WNBC and WWLP would create an unfair competitive advantage, the FCC found that the channel 22 signal would overlap channel 30 and the Balabans turned to Transcontinental Properties, owners of WFTV/38 Duluth MN, as 50/50 partners (although Springfield kept the rights to a one-third ownership option "if and when the FCC permits" ... an option they never got the opportunity to execute). The channel 30 sale turned out to also be an important part of the WELI-TV story, as we will soon see.
On June 30, 1961, Davis acquired control of Connecticut Radio Foundation from Botwinik Brothers, Inc. (which had been in, of all things, the business of industrial machinery since 1899) and fifteen other minor stockholders, then found himself again asked to defend the still-unbuilt WELI-TV construction permit four years later ... this time at a formal hearing before the FCC, which then denied the latest application for an extension (the ninth such extension request, filed on April 23, 1962) on June 16, one week shy of the twelfth anniversary of the CP being granted. Davis realized he had no choice but to get out, and petitioned the FCC three weeks




Had the FCC allowed WHNB-TV
to acquire WTVU in 1966 and
operate it as a satellite, might
Connecticut viewers have seen
this logo through the 1970s,
instead of the "TV/30" one?

later to reinstate the CP to allow WELI to find a buyer for it. The call letters were changed to WTVU in November so as to remove one legal obstacle to a transfer of ownership.

One buyer popped up: Connecticut Television (by now 100% owned by Plains), which sought permission in April 1966 to operate channel 59 as a satellite of what was now WHNB-TV/30; the sale of the WTVU permit to WHNB-TV was filed less than one month after the petition for reconsideration of the CP cancellation, on August 9, with the petition itself granted one month later (September 8). After the FCC denied permission for satellite operation, saying that the Balabans' ownership interests in other stations was an obstacle to also owning WTVU -- as was the fact that both stations were in the same television market ... that restriction again -- the application was amended September 6, 1966 to substitute Impart Systems, Inc. as the transferee (which the FCC did not approve until August 18, 1967, after Plains had filed comments in the FCC ownership limits rulemaking proposal, saying it didn't think satellites should count against the cap if used to make up for coverage deficiences of an originating UHF); Impart assumed all of WELI's expenses up to then plus an additional $27,500 ... a little over $2,000 for each year they had held the permit.

Impart Systems was owned by Victor Muscat, who already held CPs for three other U's, KIKS-TV/29 Lake Charles LA, KMYO-TV/16 Little Rock AR, and KVMP/29 Tulsa -- he also owned radio stations in the first two cities -- and was 50% owner of a channel 24 permit in Memphis TN which was granted November 17, 1967. No sooner did that happen than the FCC froze all applications and permits that Muscat had any interest in, because of a lawsuit brought against him and his business partners by the stockholders of Fifth Avenue Coach Lines, Inc., which was subsequently merged with a lawsuit brought by the Securities and Exchange Commission, in which Muscat et al were charged with having conspired to use company funds for their own purposes. (It probably didn't help that Harold Thomas filed an objection to an application, one week after the ownership change was approved, for a change of transmitter site and operating power; Thomas -- who had gotten into television after all by beating out WBRY* and putting WATR-TV/53 on the air September 6, 1953 -- cited the Fifth Avenue Coach Lines suit in his objection.) Muscat had been an officer/director of Fifth Avenue Coach when its bus lines were taken over by New York City by condemnation and the SEC charged Muscat and his partners with expropriating $32.7M in payments from the City through a series of self-serving deals. The SEC also claimed Muscat was using the former bus company as an unregistered investment company, and that he had filed false and misleading statements with the SEC to cover his tracks. He was found guilty of most of the charges July 26, 1968.

[*-It should be noted that Republican-American only kept their application for channel 53 alive for three months before announcing on September 20, 1952 that they would not contest the WATR application. At the same time, they said they planned to petition for channel 83 to also be assigned to Waterbury, but apparently someone talked them out of that idea, because no request was made of the FCC.]
While appealing the decision in the SEC lawsuit, Muscat requested a rulemaking on October 25 of that year to move WTVU to channel 26 (by swapping with the allocation that had remained vacant for eight years since the deletion of WNLC-TV's CP). The FCC denied his petition the following February, citing a lack of technical need for the change.
And on December 11, 1968, having been denied a satellite station on the other side of the Metacomet Ridge, WHNB-TV put translator W79AK West Haven on the air.
As the U.S. Court of Appeals was in the process of hearing Muscat's appeal, criminal charges were filed against him on November 4, 1969; upon his pleading guilty, the FCC ordered him to show cause why his permits should not be revoked, based on the necessary character qualifications to be a licensee. After hearings the following year and an initial finding against him, Muscat won a temporary reprieve by filing a petition for reconsideration, contending that the Communications Act required an evidentiary hearing prior to the revocation of a license or permit and that the facts in the case did not warrant a revocation. The Commission terminated the proceeding based on Muscat's allegations of mitigating circumstances.
In 1973, Muscat sold his radio station in Lake Charles and relinquished the KIKS-TV CP in the process. That same year, W79AK moved to channel 59 as W59AA under a provision in FCC rules allowing translators to operate on allocated channels for a community on the condition that they went dark within ten days of being advised by the full-power licensee on the same channel that they were ready to commence operation. Thus WHNB-TV's translator and WTVU's permit co-existed on channel 59 for the next two decades.
During July 1974, Muscat relinquished both the Tulsa and Memphis permits and announced the sale of the WTVU CP to Connecticut Television. Before the FCC could act on the proposed transfer, though, he died of a heart attack in Greenwich CT a little over a year later (October 5, 1975) at age 56. The FCC subsequently approved the involuntary transfer of control of Impart Systems to Muscat's executors, who sold the Little Rock radio stations and relinquished the KMYO-TV CP the following year. It took 7½ years for the estate's trustees to dissolve Impart Systems (partially hindered by WATR-TV again, which filed an objection to the 1974 sale application) ... finally completing the task May 13, 1983 by spinning off WTVU's CP to a new entity, K-W TV, Inc., managed by Elmer Balaban of Connecticut Television but with different investors; K-W unsuccessfully continued attempts to put WTVU on the air, receiving a series of one-year CP extensions and finally succeeding after executing a local marketing agreement in August 1994 with LIN TV, who had recently acquired WTNH/8. That LMA made it possible for WTVU to use the channel 8 transmitter site and tower, which they had been denied access to by the previous owners.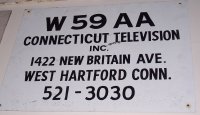 The sign that hung on the building that
housed WHNB-WVIT/30's West Haven
translator W59AA for over 20 years.
After the translator was taken dark in
1995 so WTVU could begin operations,
the sign was displayed in a hallway at
channel 30 until they moved to a newer
building in 2009.
In a quirk of FCC rules compliance W59AA had to then be transferred from Connecticut Television to K-W TV, Inc. before it could be taken dark and its license relinquished so that WTVU could finally go on the air on April 3, 1995. (It took six more months for the FCC to officially license WTVU, on October 13.) Considering the circumstances and outcome, one could surmise that WTVU would have gotten on the air in 1966 if the FCC had allowed a waiver of the "one station to a market" rule, allowing WHNB-TV to acquire it and operate it as a satellite at the site they instead operated W79AK/W59AA from for over 25 years.
WTVU changed call letters a year after going live, to WBNE (correlating to their affiliation with The WB network) and again to WCTX after Tribune Broadcasting purchased WTXX/20 and moved the affiliation there at the beginning of 2001. WCTX has been co-owned with WTNH since 2002, subject to a "failing station" waiver from the FCC (a legal determination that, absent common ownership with a stronger station in the same market, a station is not financially viable); that waiver was re-approved January 11, 2017 when the merger between Media General -- the stations' owner by then -- and Nexstar Broadcasting was approved ... perhaps proving that channel 59 would have been a "come and gone" UHF if Davis had managed to put it on the air when he held the permit.
15,259 days from CP issuance to on-air ... I'm not sure whether to call Ripley's or Guinness!
---
POSTSCRIPTS:

After Republican-American dropped out of the comparative hearings for channel 53 in Waterbury the grant went to Harold Thomas, who signed on WATR-TV September 4, 1953 and operated on that channel for close to a decade before moving to channel 20 on August 12, 1963. The station remained under his family's control -- passing to his daughter Florence after his death in 1968 -- before finally being sold in the spring of 1981, by which time it had been continuously operated by the Thomas family for more than 27 years. (An opposition to the sale was filed by the Impart Systems trustees, perhaps in the belief that it would hinder their continuing efforts to unload the channel 59 CP.)

During the transition period of television transmission from analog to digital transmission, WCTX simulcast on a digital channel 39 signal, then went dark on channel 59 on June 2, 2009. It subsequently relinquished the digital channel in the aftermath of the spectrum auction for wireless telephone use, by channel sharing on the WTNH transmitter; they went dark on channel 39 on June 27, 2018.
---
EXTERNAL LINKS

Transcript of court decision in Victor Muscat's appeal of Securities & Exchange Commission vs. Fifth Avenue Coach Lines (references key points in original decision)
Transcript of FCC decision in 1992 denying WTVU the right to force its use of the WTNH tower site