WIBF-TV/29, Philadelphia
by K.M. Richards
Channel 29 signed on as WIBF-TV on May 16, 1965. The call letters stood for owners William, Irwin and Benjamin Fox, named for the two brothers and their father who also owned WIBF-FM/103.9 in the Philadelphia suburb of Jenkintown. In fact, WIBF-TV was originally to be licensed in Jenkintown and required a waiver of the then-current rule prohibiting call letters to be shared in different communities of license in order to identify as Philadelphia.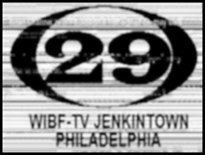 WIBF-TV received its construction permit August 14, 1962 ... only to find itself on the list of 29 CP holders the FCC sent "build or quit" letters to in July of the following year (it took the Commission until November 1964 to sort out that group of permittees, by which time the Foxes were close to going on the air, having already started running "teaser" ads as early as April in the Philadelphia Inquirer announcing "soon, a bright new picture in television"). In the meantime, the Foxes successfully applied in 1963 to change channel 29's city of license to Philadelphia proper; it is believed that the logo at right was used only during early testing during construction.
Initially, channel 29 operated from 11:00am until around midnight (depending on when the post-news movie came to an end); its schedule for the next four years consisted of syndicated reruns -- such as December Bride, The Ann Sothern Show (also known as Private Secretary and Susie), How To Marry A Millionaire, and Whirlybirds -- old movies, Canadian soap opera Scarlett Hill, and some ABC programs not cleared by WFIL-TV/6 (primarily weekend cartoons, news programs Issues And Answers and ABC Scope, and daytime programming such as Where The Action Is, Dark Shadows, Never Too Young, and the early afternoon reruns of The Donna Reed Show and Father Knows Best). Newscasts began as a half-hour at 7:00pm and 15-minutes at 11:00pm but dwindled to five-minute headline summaries at 10:30pm by the end of 1966. Local WIBG/990 disc jockey Joe "Rockin' Bird" Niagara also hosted a daily teen dance program until 1967. In the final year under their original owners, WIBF-TV added more popular (Sgt. Bilko, The Untouchables and The Honeymooners) and more recent (F Troop, Time Tunnel and The Green Hornet) off-network reruns. In 1967, the entire daytime schedule consisted of stock market coverage, a format pioneered by KWHY-TV in Los Angeles and quickly adopted by many UHF stations in major markets, such as KVVV-TV in Houston.
Not long after channel 29's sign-on, it was named the originating station for television station sales representative Vic Piano's proposed Unisphere Broadcasting System, which was to be operated -- as Piano described it -- "for the convenience of advertisers and program packagers" by carrying only fully sponsored programs, for 90 minutes per night. WIBF-TV's inclusion was due to Piano being their national sales representative; all five of his client stations were listed as future Unisphere affiliates.
Near the end of 1966, the Foxes applied for the vacant channel 53 allocation in Atlantic City NJ, intending it to be a satellite of channel 29, but later withdrew the application before the comparative hearings were to begin; the CP, ultimately issued in August 1968 as WOND-TV, expired unbuilt and channel 53 didn't get on the air until 1980. Around the same time as the filing of the Atlantic City application, WIBF-TV moved to a taller tower and increased power in Philadelphia proper -- although applied for in 1966, it took until October 1969 before the move was made final by the FCC, due to concerns about interference to the directional array of WRCP/1540 -- and promoted the move with a viewer contest in which the prize was a two-week trip to Paris, home of the "small Eiffel Tower" (the new channel 29 tower, at 1,144 feet, was 160 feet taller than France's famous structure). The tower, which later also hosted WIBF-FM's antenna, was still called the "Fox Tower" by locals into the 21st Century.
In 1968, the Foxes made a deal to sell channel 29 to Taft at what was the highest price paid for a standalone UHF to date, comprising $1.4 million to purchase all the shares of WIBF Broadcasting and the assumption of $3.1 million in obligations (the record at the time was KJEO/47 Fresno at $3.65 million earlier that year); in the transfer application, it was revealed that channel 29 had operated at a deficit of just over $2.1 million during its operating history. The FCC approved the sale May 7, 1969, waiving the duopoly ownership rules so that Taft could retain ownership of WNEP-TV/16 in nearby Scranton (there was a slight signal overlap between the two stations ... they were eventually forced to sell WNEP-TV in 1973 when the Commission tightened adjacent market ownership rules) and Taft had to make a "compelling public interest showing" because it already owned five stations in top-50 markets, all VHFs; ultimately, the fact that Taft was willing to assume the previous obligations while simultaneously improving the station's operations was the deciding factor in approving the transfer of ownership. The call letters of channel 29 were changed to WTAF-TV October 20, 1969 after the Marion station carrying those calls went dark in March of that year.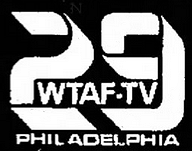 Under the ownership of Taft Broadcasting, WTAF-TV went from near-failure to a success in the Philadelphia market. The financial programming disappeared almost immediately as Taft replaced it with a live morning talk show hosted by former Today host Dave Garroway, originating from WNAC-TV/7 Boston (it was also carried in New York on WOR-TV/9 but was cancelled in the spring of 1970 when expansion to other markets failed to materialize); later in the day, channel 29 was programming such popular off-network fare as Mayberry R.F.D., Please Don't Eat The Daisies, I Dream of Jeannie, Petticoat Junction and Hogan's Heroes. One addition to the schedule, Dennis The Menace, was the basis for a "golden slingshot award" promotion in which parents were invited to send details of their children's antics and be entered in daily prize drawings. They also, as was common practice at the time, ran movies in prime-time (as did local independent competitors WPHL-TV/17 and WKBS-TV/48, both of whom had originally signed on four months after WIBF-TV).
WTAF-TV's new (in 1973) 165kW RCA transmitter, which combined with a
custom-built omnidirectional pylon antenna to transmit an effective radiated
power of five million watts, the highest non-directional ERP of any television
station in the U.S. at the time. Photo from RCA Broadcast News, November 1973.
In early 1974, channel 29 increased power six-fold, giving them a coverage area of 10,000 miles according to then-general manager Robert Weigand (reaching as far as Wilkes-Barre to the northeast, Harrisburg to the west, and Baltimore to the south). As noted in the caption to the photo at right, the new five-megawatt signal was far above that of any UHF station operating at that time.
By 1979, WTAF-TV's schedule included heavy use of Hanna-Barbera cartoons and other programming distributed by Worldvision Enterprises, which Taft acquired that year. In the next decade, they included live coverage of baseball's Phillies, basketball's 76ers, and hockey's Flyers, as well as some ABC and NBC network shows that were not cleared by KYW-TV/3 and WPVI-TV/6.
Many were surprised in 1983, when after WKBS-TV went dark Taft ran newspaper ads reminding viewers that "channel 29 is still around" ... yet failed to pick up any of their former competitor's programming.
Three years later, channel 29 became an affiliate of the then-new Fox network, in what many have called "the biggest affiliation shuffle in Philadelphia television history" in which only ABC remained on its original affiliate; after several ownership changes, it is now owned by that network under the call letters WTXF.
---
EXTERNAL LINKS