WJMR-TV/61, New Orleans LA
by K.M. Richards
In the history of UHF television, there are many stories -- some successes, others complete failures -- of stations that jockeyed for lower channel numbers. As a result, several stations' histories include switching to a different spot on the television dial at some point. But how many stations can lay claim to operating on five different channels at various points in time?
Just one: WJMR-TV in New Orleans, which in fact occupied one of its five channels twice during its history.
WJMR-TV's station ID, showing its home at the Jung Hotel.
WJMR-TV received its construction permit for channel 61 on February 26, 1953, the same date WTLO received its channel 20 CP, also licensed to New Orleans. Supreme Broadcasting Company had operated WRCM/97.1, the first FM station in the Crescent City, since September 1, 1945; WJMR/990 joined it via the AM band a few months later on January 27, 1946. As happened in so many markets, however, television began in The Big Easy on the VHF band: When WJMR-TV went on the air, WDSU-TV/6 had been on the air for nearly five years, primarily as an NBC affiliate but running CBS' daytime schedule (plus a few NBC shows) and a handful of prime-time programs from ABC, CBS and DuMont via kinescope. Channel 61's debut on November 1, 1953 thus gave CBS an excuse to pay for a separate AT&T coaxial network feed from Jackson MS rather than have a shared feed with NBC (and with DuMont for Sunday afternoon football) and enjoy live carriage in the market of its prime-time lineup; a New Orleans Times-Picayune article on WJMR-TV's carriage of CBS' Sunday night schedule spoke of "an indication that CBS doesn't like to see a top-audience show like this ... and many other CBS shows [airing] after 11pm", the "this" referring to Ed Sullivan's Toast of the Town having been run on WDSU-TV via kinescope on a one-week delay ... in that timeslot. WJMR-TV thus became one of the rare CBS affiliates on the UHF dial, made necessary by the fact that New Orleans had no unused VHF allocations at the time.
However, even having two stations, each with its own AT&T line, did not spell the end of kinescopes in N'awlins, as we will see.
---

1+1=3, according to Sears, which ran the above ad three days before
channel 61 signed on. It saluted both WJMR-TV (as it "makes its bow ...
with a fine lineup of new fall shows") and WDSU-TV (for "its enviable
record as New Orleans' pioneer television station"). How did going from
one to two stations equal "triple the enjoyment"? With a new
Silvertone television receiver ... presumably an early all-channel model.
This must be how "New Math" got its start.

---
WJMR-TV was only a partial answer to the "Eye Network's" prayers, being a primary ABC and DuMont affiliate, but it did clear many of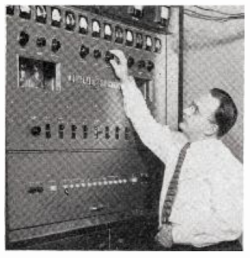 WJMR's George Mayoral inspecting the new
channel 61 transmitter at GE's
manufacturing plant in Syracuse prior to its
being shipped to New Orleans.

CBS' best shows live, replacing WDSU-TV's kinnie broadcasts: Jack Benny, I Love Lucy, My Favorite Husband, Burns & Allen, What's My Line? and Climax were suddenly being seen in prime-time -- some for the first time at all -- in New Orleans on channel 61. The few ABC shows that WJMR-TV carried tended to be the bigger hits which had previously gone unseen, such as Juke Box Jury and Dr. I.Q. (channel 6 was still clearing Ozzie & Harriet, Stu Erwin's The Trouble With Father and The Lone Ranger); the then-popular Sunday evening Walter Winchell newscast only managed to air on channel 61 because Winchell did a repeat live broadcast for the west coast at 11:00pm New Orleans time. Even DuMont got only its usual "table scraps" carriage; with the exception of the aforementioned football games channel 61 carried a mere handful of that network's programs, such as Bishop Sheen, Captain Video and Col. Humphrey Flack; even the popular Rocky King never moved over from channel 6, where it aired Tuesday nights at 11:00. CBS' Douglas Edwards With the News was also cleared live, beginning in January 1954; one wonders if perhaps there was some technical problem preventing CBS from feeding it to WJMR-TV at first (ABC's John Daly and the News wasn't initially carried either, then both aired back-to-back for a while before Daly was cut from the schedule). One live feed from ABC that 61 didn't fail to air, though, was the Wednesday night wrestling matches from Chicago.

(A map prepared by AT&T of the Bell System television network facilities for a FCC hearing in early 1953 shows that there were three, not one or two, coaxial cable feeds to New Orleans from Jackson MS, fed both from Chicago via St. Louis MO and Memphis TN and from New York via Washington DC and Atlanta GA. There should, therefore, have been no shortage of facilities to accommodate both stations, but any documents that may have explained this were likely destroyed long ago.)
Test pattern for WDSU-TV/6, with which WJMR-TV
shared all four networks in its early years.
When CBS added The Morning Show in 1954, WJMR-TV dutifully signed on to carry it live, then signed off again until their regular late afternoon start time; they were still doing so when Captain Kangaroo took over the second hour in October 1955. That schedule allowed channel 61 to take advantage of its ABC affiliation and the availability of daytime hours to have their circuit switched over to ABC to carry the Army-McCarthy hearings from April 22 to June 17, 1954 while WDSU-TV continued to run CBS' programming via their circuit.
One would think that with two stations, there would have been no shortage of network programs on either channel 6 or channel 61, but WDSU-TV aired an hour of local programs each night when the live network schedule ended at 10:00pm Central Time, followed by an hour of kinescoped programs at 11:00 ... and WJMR-TV's schedule included scattered half hours in prime-time where local or syndicated shows ran instead of any network's programming.
Ad for WJMR-TV's airing of Telephone Time on April 22, 1956.
WJMR-TV did manage to carry a couple of television firsts: On June 22, 1955 they cleared CBS' production of the Broadway musical 3 For Tonight, which is cited as being Harry Belafonte's first television appearance and less than a year later, on April 22, 1956, when Telephone Time on CBS offered the dramatic acting debut of famed clown Emmett Kelly in a production of "Captain From Kopenick" residents of The Big Easy were able to view it on WJMR-TV as well.
From a local standpoint, WJMR-TV did everything it could to make itself visible. Channel 61 hadn't celebrated its first anniversary before ambitiously originating the 10:00pm newscast from the "Do-It-Yourself Show" at the Municipal Auditorium for four days in September 1954, also doing a nightly half-hour interview program from there at 6:30 using deejays from WJMR/990. Print advertising in the Times-Picayune included the names of local sponsors for programs, and many local businesses also included mentions of their WJMR-TV ads in their newspaper advertising. The station also conducted telethons benefitting cerebral palsy, the first of which occupied 17 hours over the weekend of December 15 and 16, 1956, hosted by Edgar Bergen (the second, a year later, ran just as long and drew more "big name stars"). However, if any count was made of how many households in Orleans Parish had either purchased converters or dual-band sets in order to watch channel 61, the results were not reported for posterity, either in the Times-Picayune or any industry trade publications.
By the time of that first telethon, WJMR-TV had made the first of its moves around the television dial, to channel 20. After WTLO surrendered their construction permit in September 1954 Supreme applied to move to the still-vacant channel and did so on July 20, 1955, a mere seven weeks after receiving FCC authorization, simulcasting on both channels for about a week with reduced power on channel 61.
Above: Ad for the WJMR-TV cerebral palsy telethon in 1956.
Below: The second telethon for cerebral palsy in 1957
spotlighted the experimental channel 12 simulcast.


Supreme was also by then proposing changes as part of the FCC's deintermixture proceedings, as were so many UHF stations at the time; their contribution was to petition for a swap of channels 2 and 61 between Baton Rouge and New Orleans (making the state's capital all-UHF); they had also supported the FCC's original proposal to move channel 4 to Mobile AL, while adding UHF channels in New Orleans, suggesting the "gradual" conversion of WDSU-TV to one of the new channels. The original proposal had drawn opposition from Loyola University, which owned WWL/870 and had an application pending for channel 4; in a grandiose display of self-importance they called it "an unwarranted and unnecessary assault on the future progress of Loyola." Once granted and then "frozen" by the deintermixture hearings, though, WWL-TV filed comments in which they appeared not to be concerned with giving up channel 4 and moving to UHF, provided WDSU-TV had to give up channel 6 as well.

At the same time as the channel move, Mayoral announced that he had come to an agreement with the owners of dark WKAB-TV/48 Mobile AL to return it to the air as a satellite of WJMR-TV, and a similar agreement pending with also-dark KNUZ-TV/39 Houston. What made his announcement bizarre was that he said he would "specialize in Spanish-language and Negro programming" on all three stations, without giving any indication of what would happen to the present schedule (at that time dominated by ABC programming, with some CBS shows not cleared by channel 6). No further statements on the plan were ever made by Mayoral, even as he acquired 40% of WORA-TV/5 Mayaguez PR when it went on the air a few months later.

Ultimately, channels 4 and 6 were joined by channel 12 in the allocations table and drew three applications, from Supreme, Coastal TV Corporation, and Oklahoma TV Corporation, which operated KWTV/9 Oklahoma City. Supreme almost immediately tried to get an advantage by applying for experimental dual-channel operation on both channels 12 and 20 "for direct comparison of VHF and UHF reception"; it was authorized as KK2XFW on June 27, 1957 and the simulcast operated for close to fifteen months starting October 7 of that year. The experimental operation drew an immediate complaint from co-channel WJTV in Jackson MS that the KK2XFW transmitter was short-spaced to theirs by 28 miles and that the simulcast was "not a bona fide experiment"; the FCC found that the short-spacing "[does] not constitute an adequate basis for designating for hearing" the experimental application, instead requesting that WJTV reduce its power during the test. KWTV asked the U.S. Court of Appeals to stay the authorization, claiming its application for channel 12 was being jeopardized by the experiment, but by the time the court ruled in May 1958 that the FCC should have held hearings before issuing the Special Temporary Authorization for KK2XFW what damage could be done had been.

Meanwhile, Loyola University's WWL-TV/4 signed on September 1, 1957, taking CBS away from both WDSU-TV and WJMR-TV in the process; the loss meant little to channel 6 but caused channel 12/20 to adjust its broadcast schedule to match the ABC network's, meaning a sign-on in mid-afternoon to carry American Bandstand and continuing through a late non-network movie at 10:00pm.

As the KK2XFW experiment was being ordered to end on December 31, 1958 the FCC shifted the channel 12 allocation for that authorization to channel 13 for the month of January, and simultaneously directed the three competitors for channel 12 to file for interim operating authority on the new channel, which was assigned to Biloxi MS; however, the forced partners could not agree on the composition of the station's
governing board, and WJMR-TV went back to UHF-only operation for the first 12 days of January. Subsequently, KWTV dropped out of the process, leaving Supreme with 40% of the newly-formed New Orleans TV Corporation (the remaining 60% was divided between the nine partners in Coastal TV, each owning just under 7%) and KK2XFW was replaced on channel 13 by WVUE February 1, 1959 under a special temporary authorization, with the provision that it would have to vacate the channel once the Biloxi grant was finalized. (The owners of WVMI/570 held the Biloxi grant but were undergoing a rehearing on their financial qualifications following a remand by the appeals court to the FCC.)
New Orleans TV Corporation was granted the construction permit for channel 12 in September 1961; it was issued under the temporary call letters WVUA-TV, since WVUE was technically in use on channel 13. Although some reports indicate the channel 12 signal was on the air as early as August 31, 1962 FCC records show that the same transmitting facilities were used, with WVUE signing off channel 13 at midnight on September 5, then after conversion of the transmitting facilities returned on channel 12 at 10:00am on September 7. Reports that the station simulcast on both channels until November 30 are also not supported by the history cards at the FCC and it appears likely that date was taken from the original channel 12 construction permit (the CP was extended several times as adjustments were made to the facilities -- see second following paragraph -- and WVUE was not formally licensed until December 6, 1966).
Supreme sold its interest in WVUE to its partners not long after the channel move and -- still holding the CP for channel 20 -- made plans to put WJMR-TV back on the air; an application for an extension of time on that CP was frozen in 1962 when the license for WORA-TV's sister radio stations were proposed for revocation due to the alleged airing of Armed Forces Radio Service news programs without permission. The Biloxi matter took a strange turn of its own when the FCC hearing examiner reversed the original grant and approved the application of WLOX/1490, which had filed the original appeal; WLOX-TV began operation on channel 13 September 15, 1962.
The mileage separation problem with WJTV was resolved by the new WVUE/12 changing transmitter sites and operating with lower power at a higher elevation; this was a factor in the 1963 ruling by the U.S. Court of Appeals that WJTV would "receive
no more interference than it would have if WVUE was operating from its original site." This also settled a complaint from unbuilt KHMA/11 in Houma LA (technically part of the same television market, but about 50 miles to the southwest) about the proximity of channel 12 to its transmitter site; KHMA finally got on the air March 1, 1972 but went dark just shy of 20 months later, on October 22, 1973. WVUE made one more channel switch on June 2, 1969, when it donated its channel 12 transmitting facilities to non-commercial WYES-TV/8 and signed on new, higher power facilities for itself on channel 8.
Through it all, the original channel 20 construction permit remained "in suspended operation" -- because WVUE was actually a conversion of KK2XFW from experimental to commercial status on channel 13 and was never issued a separate construction permit (only the 1959 STA, which did not affect WJMR-TV) -- even after an FCC inquiry about same in 1963 and the sale of WVUE to Screen Gems in 1965; Mayoral reacquired the CP in 1968 after the WORA matter was resolved, but it was finally deleted in 1975 when Coastal TV Corporation filed a new application for channel 20, which was granted as WULT October 10, 1980 but never went on the air. That CP was cancelled five years later when a second change in its ownership was rejected by the FCC.
WJMR-TV/WVUE remained an ABC affiliate through all of its channel moves and switched to the Fox network January 1, 1996. WDSU-TV is still running NBC programming and WWL-TV is still a CBS affiliate, although Loyola University sold it in 1989. Supreme (and George Mayoral) ended up putting WSVI/8 on the air in the Virgin Islands October 1, 1964 and applied for two more UHFs -- channel 33 in Miami and channel 36 in Atlanta -- in 1963; he won neither, but the Atlanta denial allowed the CP for dark WATL-TV to remain in force and be obtained by one D.H. Overmyer two years later as part of his ill-fated Overmyer Network plan.
---
EXTERNAL LINKS