WQXI-TV/36, Atlanta GA
by Richard Warner
(Postscript by K.M. Richards)
For about five months in early 1955, Atlanta had its first UHF TV station, WQXI channel 36. Few alive -- even then -- remember it.
Robert W. Rounsaville.

Launched by entrepreneur Robert Rounsaville, WQXI-TV was his attempt to diversify beyond the profitable radio stations he owned in seven cities. He chose to launch first in Atlanta, where his independent AM station WQXI/790 was performing well playing pop, big bands and vocalists in the pre-Elvis era. He also applied for UHF construction permits in several of his other markets including Louisville, Miami and Cincinnati.
In the fall of 1954, Atlanta, then a mid-size city, already had three established VHF stations. WSB, the NBC affiliate on channel 2, was owned by the parent company of the two local daily newspapers and operated a pioneering 50,000-watt clear channel radio station. WAGA, CBS on channel 5, was owned by Storer, a broadcasting company with roots manufacturing gasoline additives that operated a 5,000-watt AM station. The relative newcomer on channel 11, ABC affiliate WLW-A was owned by Cincinnati-based Crosley Broadcasting and had only recently turned a profit due to the lack of a strong network service.
Rounsaville had a vision for investing in fledgling UHF technology. "The FCC was worried that UHF wasn't making any progress, so they were considering having exclusively VHFs in one city and UHFs in another. For instance, all Vs in Atlanta, all Us in Birmingham, all Vs in Nashville, and so on. This would make each city's stations competitive, and TV manufacturers would have to produce UHF sets. The commission had talked about it for quite a bit, and I felt that sooner or later they would do it."
He encountered mild resistance from Georgia Tech, Atlanta's engineering school that owned AM station WGST/920. Tech had expressed interest in Atlanta's channel 5 allocation during the late 1940s but didn't pursue it, and now a group at Tech wanted to lay claim to channel 36 "for training of students in TV techniques." In exchange for Tech giving up its application, Rounsaville agreed to reimburse the school $4,500 in expenses and give students access to his station. The FCC then granted WQXI a construction permit for channel 36 on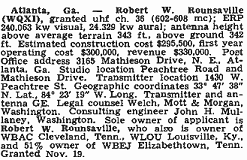 November 19, 1953.
These were exciting times for the radio staff. Bob Watson, a disc jockey fired from WSB radio after leading an effort to bring in the AFTRA union, described Rounsaville as a "little man with a big cigar." He was "the most generous, happy-go-lucky boss anybody could ever want to have ... friendly as bear. He loved to party. At all his stations, the general managers knew they had to party with him. Every year we had a Christmas party at his house. That year, everybody pitched in and bought him a new car. So, during the party, someone rushed in to the crowd and says, 'Frank Irwin collapsed in the driveway. I think it's a heart attack or something.' So, everyone rushed out including Mr. Rounsaville, and Frank jumps up and says 'Surprise, this is your new car!'"
Launching the Atlanta UHF station cost $300,000 (roughly $2.7 million in today's dollars). Chief engineer Paul Cram recalled "the day I started work at WQXI, he handed me the construction permit and told me to order a 5,000-watt transmitter." Though Cram was responsible for engineering at all seven Rounsaville radio stations, during the months that followed, he "was 100% occupied with Atlanta TV." Watson said he remembered "when they bought the equipment and just rolled it into that house on Matheson Drive [in north Atlanta's Buckhead section]. We operated the TV station in the same studios we used for the radio station. All of us did announcing." Space was tight. With two $15,000 TV cameras, a bank of lights and video switching equipment, the working conditions were hot and cramped.
WQXI-TV signed on the air December 18, 1954 with great fanfare courtesy of WQXI radio. The other Atlanta radio and TV stations didn't appear to notice or care. A week before launch, channel 36 began running ads in TV Digest, the precursor of TV Guide magazine: "WQXI goes TV in 8 days! Close your eyes and it will be as good as WQXI. Open 'em and it will be better!" The magazine also ran

an article asking if viewers had converted their sets to UHF yet, with the statement "SEE the DJs you've been listening to!"
Without network service, channel 36 had to rely on movies, a few syndicated shows passed over by the city's established stations and a concept the WQXI team thought might work: combining films of musical performances with live tv using radio talent. The 3-5 minute music clips had originally been used on video players in bowling alleys and were now to be critical time fillers on TV.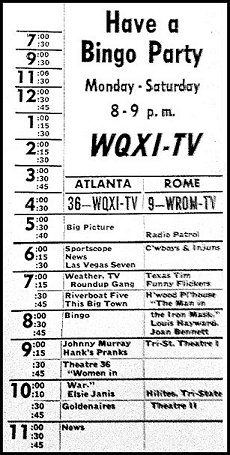 A typical channel 36 schedule, with ad
for the nightly phone-in bingo program.
Signing on at 5:30pm each evening and signing off just after 11:00pm, channel 36's schedule looked like this in January 1955:
6:00pm: SportScope and news with live disc jockeys
6:30pm: Las Vegas Seven
7:00pm: Weather Roundup (with morning drive DJ Bob McKee, "The Mad Weatherman"")
7:15pm: Johnny Murray (disc jockey who sang, played the piano and told stories)
7:45pm: Hank Morgan with Hank's Pranks, described by TV Digest as the "wackiest show on TV" featuring the DJ who entertained afternoon listeners with his "Traffic Jam" show. He appeared on camera every weeknight after his radio shift ended. He played a Hindu Swami. He blew a balloon till it popped, changed tires on a poster paper car, played badminton and fired a rubber arrow at the camera -- hitting it dead on.
8:00pm: Bingo (live game hosted by program director Bob Corley and Bob McKee where viewers called in to play)
8:30pm: Date with Debbie, an interview show with a former Columbia SC radio personality
8:45pm: This Big Town
9:00pm: Theater 36 Movie (usually crime and film noir titles from the 1940s)
10:30pm: Music programming (Sons of Calvary, Riverboat Five) or syndicated programs (The Christophers, Kit Carson)
11:00pm: News
Saturday's schedule included Barn Dance, a staple of many early television stations where hillbilly musicians performed live. Sundays were a "Parade of Movies" from sign-on to sign-off. For a while Georgia Tech got a half hour in weekend prime time, as did nearby Emory University. Every afternoon, channel 36 offered The Big Picture at 5:30pm, the documentary series provided at no charge by the U.S. Army Signal Corps which filled time on numerous television stations in those early days (and was also airing weekly on the ABC network). Competing soul formatted radio station WAOK/1380 had a nightly show for a short time, providing more free promotion of the TV station.
There wasn't a lot to the channel 36 schedule (which changed a few times over the months, as shown to the right) and viewers responded in kind. Bob Watson said, "I didn't get too much feedback."
Hank Morgan of the nightly Hank's Pranks show, who made his name doing play by play for the Atlanta Crackers baseball team, was recruited to fill time. "Robert said, 'Go in there and do fifteen minutes.' 'Fifteen minutes of what?' 'I don't know. Just do fifteen minutes.' I jumped up and down on a pogo stick. I stood on my head. I ran behind the curtains and made the camera try to find me. I got a water pistol and shot the camera lens dead on. The screen went phhhhp and scared the cameraman to death. I rode scooters. I did a sports report sitting in the parking lot. I got toys from an independent toy store owner in Broadview Plaza who let me have anything I wanted if I'd give him credit where I got them. I had elephants and ponies and rocking horses. One day I got a great big swimming pool, which held about 300 or 400 gallons of water. I put on my trunks and came running through the door. The camera caught me as I jumped in the pool with a big splash. All of a sudden, the phone rang. 'There's a naked man on television! He's in that pool and he hasn't got a stitch on!' Can you imagine? Fifteen minutes a day I did this!"
In a Master's thesis written by Gayle Stone, Rounsaville recalled, "Just before we started up, actress Mitzi Gaynor came to visit. We were going to have a test pattern and it gave me an idea. I asked Mitzi, 'Would you mind if we used your photograph for ours?' She said 'Oh, that would be wonderful!' So, she was our first test pattern. You didn't notice her face. What you saw were these big beautiful bosoms. Underneath them, we had our slogan: The Perfect 36!" WQXI-TV used other Atlanta area females as centerpieces of the test patterns, calling them "Eye-catchers."
"We went on the air with two major problems," said Rounsaville. "First, viewers needed to spend several hundred dollars to buy a special antenna and a converter so their sets could receive UHF. Second, the only syndicated programming was network, and since we didn't have a network, we had to fill it ourselves. We put on bingo games, hillbilly bands, anything we could think of. We even went so far as to have a one-hour daily chess program with two people playing chess and a third one explaining it. As you can imagine, a lot of our shows were pretty boring." He learned how dire the situation was by doing market research: "Hardly anybody saw us. I went out to the major stores and said, 'I want to buy a new TV set.' They would show me a set and it'd cost $400 to $500. I'd say, 'That's exactly what I want. This will get the new station in town, won't it?' 'Oh, you mean that UHF 36? Oh, no. It won't pick that up unless you buy a converter and a special antenna. You don't want to do that. 36 hasn't got any programming.'"
Advertisers were hard to come by, often taking TV time in addition to their radio buys. "The commercials were terrible. They were all live. I remember one time holding up a roll of toilet paper, our sponsor," said Watson.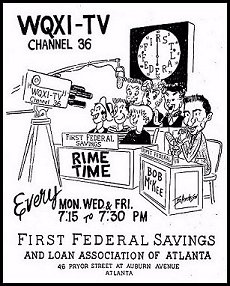 One of WQXI-TV's few advertisers, First Federal
Savings, sponsored a three-times-a-week quiz
program hosted (like all of channel 36's local
programs, by one of the radio station DJs.

For a while, it became a matter of hanging on until the FCC made a business-critical decision about whether to change channel allocations and make some cities all VHF and others all UHF. "I figured it would be a natural for the U to be changed to a V if the Commission went through with their plan," said Rounsaville. "After a while, I realized that since all the stores were telling people not to buy UHF receivers, there was no way I was going to have enough listeners to attract the advertisers I needed. We were able to sell some commercials, but not nearly enough to pay our overhead." Gradually, lack of momentum took its toll on the staff as well as what showed up on channel 36's air. By May 1955, the station stopped advertising in TV Digest and providing advance listings of which movies would be shown. The broadcast day was shortened and then weekend programming was discontinued. In its final two weeks on the air, staffers pointed a WQXI-TV camera out the front window of the station and broadcast live images of people and traffic along Peachtree Road.
Chief Engineer Paul Cram said, "(Rounsaville) was going to go broke with it. He told me, 'We're losing our shirt and I'm not going to do this anymore. We're going to return all this equipment. I want you to package it all up and ship it back to RCA. Just give it up. Take it off the air. People get everything they want from channel 5 and channel 2. What do they need this little old station for?'"
Rounsaville didn't completely give up on the station. He retained the license, filing to change the call letters to WATL-TV. A year after taking channel 36 dark on May 31, 1955, he was one of the parties lobbying the FCC to make changes to TV station allocations so more stations could prosper. His ill-advised suggestion was to allow the former channel 36 to begin operating on channel 4 in Atlanta by limiting its coverage area, protecting stations operating on channel 4 in nearby Greenville, South Carolina and Columbus, Georgia. Ultimately, the commission turned him down.
WATL-TV logo during the brief period
of operation under U.S. Communications.
They used the same "stop sign" for all
of the would-be Overmyer stations
as they went on the air elsewhere.

Channel 36 stayed dark for well over a decade. In August 1969, U.S. Communications Corporation with minority shareholder and UHF pioneer Daniel H. Overmyer invested a million dollars in programming alone to launch WATL-TV/36, competing against Atlanta's WJRJ/17 (which would soon, as WTCG and then WTBS, form the nucleus of Ted Turner's media empire). The second iteration of channel 36 lasted just a little past 18 months, until March 31, 1971. Finally, the day after the Bicentennial in 1976, a group of investors which included former WSB-TV children's show host Don Kennedy put WATL-TV on the air for a third time with a mix of low-budget talk shows, religious programming and public domain movies. All of these were based on the original 1953 construction permit.
As for Robert Rounsaville's role as a UHF pioneer (again, from the Stone thesis): "I hung on until the day the commission said, 'We've decided not to divide the cities into Us and Vs. The commission let me sit two or three years more with the three permits [Atlanta, Louisville and Cincinnati] and finally they came to me and said, 'You either have to put those stations on the air or turn your permits back in.' I said, 'I'll turn in Louisville and Cincinnati because all I've done is put up a tower and antenna in Louisville. But I think you should let me keep Atlanta because I went on the air and did the best I could.' They agreed, and I held the Atlanta UHF permit until 1965 when they came back again. 'Put it on the air or turn it in.' I had no choice. I had to give it back. That station sold for $32 million a couple of years ago. You can't win them all."
[Despite his recollection, records show that Rounsaville didn't actually give back the construction permit for channel 36. The FCC history cards for the station confirm that he kept the CP and sold it to Overmyer, who changed the call letters to WBMO-TV in honor of his daughter Barbara. U.S. Communications changed the calls back to WATL-TV before putting it back on the air in 1969.]
An article in June 11, 1955's TV Digest summed up channel 36's demise with the headline "WQXI-TV Closes." The article noted that channel 36 had begun curtailing weekend operations two weeks earlier, then ceased "indefinitely." Two lessons, said the magazine: People were just not willing to spend $20-40 unless they are offered programs they cannot get elsewhere. And radio and television programming have little to do with each other. The article concluded, "To WQXI-TV, after a noble try on a rocky road, hail and farewell."
---
POSTSCRIPT: After Briarcliff Communications Group (Kennedy's company) put WATL-TV back on the air July 5, 1976 it operated as a typical UHF independent station, including carriage of network shows that had been passed on by the Atlanta VHFs. A year later, Briarcliff applied for subscription television operation, which was approved in 1980; STV service then took over the evening hours before new owners cancelled it in 1984 (the service briefly resurfaced at WVEU/69 but was replaced with music videos by year's end), and daytime hours were filled by stock market coverage from the Financial News Network. Channel 36 became the original Atlanta affiliate of the Fox network when it began operation in 1986, eventually becoming a network O&O (owned and operated) station. It reverted to independent status at the end of 1994 when the affiliation moved to WAGA and became an affiliate of The WB network a year later. That lasted ten years, until The WB and UPN merged to form The CW network (which affiliated with WUPA, the former WVEU) and WATL became a MyNetworkTV affiliate in 2006. After additional ownership changes, WATL-TV became part of a duopoly with WXIA-TV/11 and still operates under that common ownership, with the same network affiliation. Ironically, WXIA changed to those call letters in 1973 from WQXI-TV, which had been the successor calls on channel 11 (following WLWA and WAII-TV) since 1968.