WLBR-TV/15, Lebanon PA
by K.M. Richards (original authors unknown)
Among the dozens of television station applications received in the weeks following the FCC's release of a new allocations table -- effectively ending the freeze on same which had lasted from September 30, 1948 until April 11, 1952 -- were two for channel 15 in Lebanon PA. One was filed by Lester B. Etter's Lebanon Broadcasting Company, owner of WLBR/1270 and WLBR-FM/100.1 in July 1952, following by only one week the one filed by Steitz Publications, which was wholly owned by the Lebanon News Publishing Company. Following the then-usual process for competing applications, the FCC began comparative hearings During the early fifties, but the newspaper withdrew their application in exchange for a one-third interest in the WLBR application and the FCC granted the Lebanon Television Corporation on June 26, 1953.
The transmitter site of a defunct FM station near Mt. Gretna was chosen and a new 572-foot tower was erected while renovations to the FM's transmitter building were completed and an RCA 1 kW transmitter installed. Equipment tests began on October 9, followed by full program operation two weeks later, on the 25th. The inaugural broadcast was preceded by an "open house" of the studios the Thursday and Friday evenings before, in order to show off the facilities to local residents.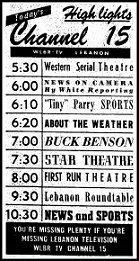 Channel 15 operated a 5:30pm to 11:00pm daily schedule with a program lineup that was fairly solid for an independent in that era. In addition to two daily newscasts at 6:00 and 10:30, a daily western serial and nightly "star theatre" movie, practically everything the Frederick Ziv syndication company had available (including I Led Three Lives, Boston Blackie. Your Favorite Story, The Unexpected and The Cisco Kid), and reruns of the 1951-52 NBC series Sky King that had somehow been procured from ABC, a number of local productions such as Lebanon Roundtable appeared on the schedule. The daily highlights (in reality, the entire schedule for the day) were optimistically advertised in the News with "you're missing plenty if you're missing Lebanon Television" as a tagline. WLBR also carried the Army-McCarthy Hearings via the DuMont network, although it is not known how they received the live feed of same.
Not surprisingly, WLBR radio staffers were also pressed into service for the television operation. News director Hy White reported the news at 6:00pm, deejay Buck Benson presented a live half-hour of local country-western music each weeknight, and fellow air personality Jack Hain did a weekly half-hour before the camera as well. By March, channel 15 was signing on at 4:00pm in order to air their local version of Romper Room and paid religious programming was beginning to appear on Sunday afternoons as well.
Like so many UHF station operators whose hopes for network affiliations were summarily squashed, WLBR-TV operated as an independent. When in May 1954 the FCC proposed restricting television stations' "exclusive rights" to network programs to the community where its channel is allocated rather than to the coverage area, WLBR filed comments in support, along with KNUZ-TV/39 Houston TX, WNAM-TV/42 Neenah WI, WAKR-TV/49 Akron OH, and the grantee for channel 5 in Green Bay WI. The channel 15 petition related that the station had contacted all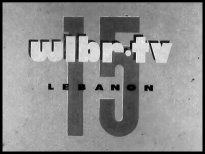 four networks "in an effort to obtain network service, even on a bonus basis," but in each case "it has been indicated that due to affiliations with stations in Harrisburg, York, Lancaster and/or Reading, it appeared that the services would be overlapping." WLBR-TV management asserted they had "established to its own satisfaction that it has a respectable viewer audience" but "finds it exceedingly difficult to sell time against the many network stations in the area." They said they believed "that unless [WLBR] is able to obtain a network affiliation, it will not be able to achieve financial success within a reasonable period." Adoption of the proposed rule, the petition said, "although not compelling networks to affiliate with stations such as WLBR-TV, will permit the networks to exercise more freedom in their selection of stations and may thus permit stations such as WLBR-TV to obtain network services and thus compete successfully with other stations." However, WLBR and the others were facing the opposition of the NBC network, which contended the proposed rule change was unworkable, would have a negative effect on stations' economics to stations and result in "lessened competition among the major networks" and the proposed rule was never enacted.
The economic conditions of that year, combined with the FCC decision on network exclusivity and the poor acceptance of UHF television by the public caused management to realize that continued operation of the station could only result in further financial losses. So



WLBR disc jockey Buck Benson with channel 15's nightly country-
western half-hour. The photo has more color than the telecast did.

WLBR-TV went off the air permanently on October 16, only about a week shy of its one year anniversary. In its letter to the Commission requesting permission to remain dark Lebanon Television said that "after almost a year's operating, the station has not been able to attract sufficient business to achieve satisfactory results nor has it been able to secure a national network affiliation." (By coincidence, Hurricane Hazel swept through the area and the station was cut off the air prematurely by the loss of electric service on the final day.)

Lebanon Broadcasting held on to the construction permit, receiving a six-month extension of same the following April as they announced they were "seriously contemplating" resuming operation if enough local advertisers pledged their support. Etter was probably reacting to Humboldt Grieg's WHUM-TV/61 Reading (less than 30 miles away) filing in February with the FCC proposing to swap its allocation with the lower one in Lebanon, in a convoluted arangement to maintain separations that would have seen channel 29 deleted in Philadelphia; in any case, neither the restart nor the petition happened and in July he announced the sale of channel 15 to Triangle Publications, owners of TV Guide and WFIL-AM/FM/TV Philadelphia for $115,000 plus the assumption of obligations totaling $125,000.

The sale was almost immediately challenged by Harrisburg stations WHP-TV/55 and WCMB-TV/27, claiming that there was overlap between the Philadelphia station and WLBR, violating the FCC's duopoly rule. They also claimed that Triangle planned to operate the Lebanon station essentially as a satellite of WFIL-TV/6, thus forestalling the establishment of a local, Lebanon station, jeopardize economic health of the UHF stations operating in the area, and duplication of ABC and DuMont network programs. Triangle called the acquisition part of a quest for a "full quota" of television stations when the sale of WFBG-TV/10 and its co-owned AM station in Altoona for $3.65 million was announced the following month. By that time, an earlier sale of WNBF-TV/12 Binghamton NY (and its AM) for $3 million had been approved by the FCC. When it joined the protest over the channel 15 sale in September, WHUM-TV suggested that the Commission look into possible concentration of ownership by Triangle in a relatively small geographic area, pointing out that the publisher-broadcaster had also applied for channel 18 in Elmira NY, intended to be a satellite of the Binghamton station and implying that WLBR-TV would be sold to advertising time buyers as a "bonus" to WFIL-TV. In its response, Triangle said "the larger public interest dictates the resumption of local service to a community presently deprived" of such service and denied all of WHUM's allegations.

By month's end, WHP-TV had requested consolidated hearings on all of the pending Triangle applications. By that time, WTPA-TV/71 (also in Harrisburg) had also filed an opposition to the WLBR acquisition. Triangle again rebutted the allegations, as they simultaneously prepared for a comparative hearing on the channel 18 Elmira application, made necessary when the owners of WSYR-TV/3 Syracuse also applied for the allocation, also as a proposed satellite. That hearing got underway January 2.

The WLBR transfer had been approved on November 2, but the challenge to same was also designated for hearing at the beginning of 1956, and several local organizations -- the Commissioners of Lebanon County, the Mayor and City Council of Lebanon, the Lebanon County Chamber of Commerce, Lebanon School District, Lebanon County Agricultural Extension Office, Lebanon County Ministerial Association and Lebanon Valley College submitted a joint petition to intervene which was denied on February 1. The WFBG and WNBF acquisitions moved forward to approval, and when an initial decision favoring the WLBR deal was announced the Harrisburg and Reading stations filed a joint petition for reconsideration and enlargement of issues which was denied on June 20. WHP-TV then filed to overturn Triangle's already-approved purchase of WHNC-TV/8 New Haven CT and its co-owned radio properties, requesting a stay until the WLBR challenge ran its course (the FCC denied that filing almost immediately but put Triangle on notice that they might still reverse themselves, depending on how an unrelated indictment charging WFIL-TV and nine other stations with price fixing was resolved). WHP's subsequent attempt to reopen the record also failed, in July.

Another initial decision upholding the November 1955 grant was announced in August, along with denial of the latest protest by the four UHFs. (WHUM-TV went silent less than one month later, after lightning damaged their antenna the day after Labor Day.) By the end of October, oral arguments had been scheduled for the appeal hearings. WLBR-TV's permit was caught up in the 1957 Purge but was then extended because of the challenge to the ownership transfer, oral arguments on which were held before the entire Commission the first week of January of that year. The sale was approved on May 1 and channel 15 returned to the air under Triangle ownership literally the next day, with a temporary schedule of filmed programming (presumably the same programs WLBR had run in 1953-54). WHP-TV attempted to stay the beginning of operation but was denied same.

Under Triangle's ownership the broadcast day was expanded to signing on at 10:00am on weekdays and continuing until the end of the 11:00pm movie. By July they were carrying the non-network portion of American Bandstand which originated at WFIL-TV, and the following month newspaper ads hyping "over $3½ billion ... of the finest films ever made" were coming to channel 15. World's Best Movies, billed as featuring "first-run" (as in never having been aired previously in the area) titles, began airing at 9:00pm by the middle of that month. Once channel 15 had gotten viewers' attention, the movies were bumped a half-hour later in the schedule as because the week of September 2 found the 9:00 slot consisting largely of reruns of original syndicated series such as Celebrity Playhouse and lesser off-network series, including DuMont's Big Town (which aired under the title Headline in syndication). Beginning in October 1958, WLBR-TV affiliated with the NTA Film Network, bringing How To Marry A Millionaire and Man Without A Gun (among other series) to the schedule, along with some ABC programs -- presumably also via WFIL-TV -- such as Voice Of Firestone and Stage 7. The call letters were changed to WLYH-TV on New Year's Day 1959; although the radio station had kept the WLBR call letters no documentation has been found explaining why channel 15 was also allowed to use them for the intervening nineteen months.

Although new general manager Frank B. Palmer said the film schedule was only supposed to last "two to three weeks" it took until
January 5, 1959 for WLYH-TV to officially become an ABC affiliate. Channel 15 carried practically the entire network schedule, right alongside WTPA-TV -- by that time having replaced WCMB on channel 27 -- which remained an ABC affiliate (and in fact still is as WHTM-TV, after all these years). A check of the listings for the last week before the 1960 fall season showed that the only network shows they did not clear were The Rebel, the Original Amateur Hour, Wyatt Earp, The Rifleman, Colt .45, Ozzie and Harriet, Steve Canyon, Jeannie Carson, and The Detectives. Channel 15 also cleared the entire daytime schedule, excepting Who Do You Trust? ... the latter in order to continue carrying the full American Bandstand telecast. (WLYH also did not carry Matty's Funday Funnies or The Lone Ranger that Sunday, September 11, but that may have been simply a pre-emption for a regional telecast of the Baltimore-Kansas City baseball game, which originated at WJZ-TV/13 and was also carried by WSBA-TV/43 York.)
After several subsequent ownership changes -- in 1972, 2006 and 2015 -- the calls were changed to WXBU on March 11, 2016. By that time, channel 15 had held affiliations with CBS, UPN and The CW. At last report the station was airing programming from Comet, which had previously been carried on a subchannel.
---
This article is based upon a station history section of the WLYH/15 website. That site had not been updated since the sale of the station in 2015, and was eventually taken offline in 2019; we retrieved as much of the content as possible from snapshots archived in 2016 at the Wayback Machine and have augmented it with additional information retrieved from Broadcasting, Television Digest, and newspaper archives.
---
EXTERNAL LINK:

Wikipedia page for WXBU, with details of post-WLBR operation.