KCHU/18, San Bernardino CA
by K.M. Richards
KCHU was the first UHF station in Southern California to begin commercial operation, with its first official telecast taking place on the evening of March 6, 1962 after a week of test pattern transmission. That also made it the fourteenth commercial UHF in the state, the rest being in the San Joaquin Valley and San Francisco ... including the first two incarnations of channel 40 in Sacramento coming and going, and the move of KFRE-TV in Fresno from channel 12 to channel 30. It beat Spanish-language pioneer KMEX/34 in Los Angeles to the air by seven months, KIIX/22 (also in Los Angeles) by a full year, and San Diego's first UHF, KAAR/39, by well over three years.
Channel 18 had the potential to have been the first UHF in the state, however: The first construction permit was issued only four months after the "freeze" to KITO/1290, on November 6, 1952, but they surrendered the CP for KITO-TV less than a year-and-a-half later without having taken any steps to construct the station. Enter Norman H. Rogers, who was part-owner and general manager of crosstown KRNO/1240, already known in the Inland Empire for his many years of radio management and engineering; he filed for channel 18 on February 15, 1961 and received the CP a quick five months later on July 26. After a subsequent application to upgrade from the original 1kW to 9.1kW, Rogers built what would become KCHU, with its transmitter in the San Bernardino mountains just below Crestline and studios in the former art building at the National Orange Show Grounds.
KCHU's inaugural telecast was appropriately titled Spectacular, described as a "live, star-studded show" emceed by Bonanza's Lorne Greene and featuring Julie London, Lawrence Welk Show's accordionist Myron Floren, Bachelor Father stars John Forsythe and Sammee Tong, Marilyn Maxwell from The Bob Hope Show and the Sportsmen from The Jack Benny Program. It was, possibly, the most ambitious program channel 18 produced during its entire time on the air.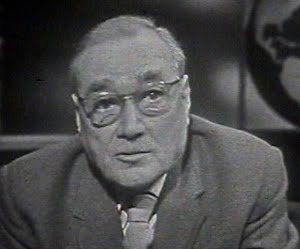 John Grierson, host of the British documentary series
This Wonderful World, which was a mainstay of the
original KCHU schedule. The series was produced by the
Encyclopaedia Brittanica, of which Grierson -- a noted
documentary producer in his own right -- was a member of
the board of directors.

KCHU's original program schedule was a mix of local programming, old movies (but not ancient; most of the titles aired were released in the 1950s), and the British documentary series This Wonderful World, which anchored the weekday schedule at 9:00pm. Two 15-minute newscasts, at 6:00 and 10:00, rounded out the schedule. Weekend programming included a one-hour program by Danny Landeros, who also did a Spanish-language program on KRNO at that time; a weekly five-minute report from United States Senator Thomas Kuchel, a two-hour local talent show called Valley Varieties and a weekly program hosted by KRNO DJ Dave Stamm titled Campus Scenes. Movies aired every night of the week at 7:00 and 10:15pm; the latter moved to 8:30pm on Sundays when religious programs The Sacred Heart and Faith For Today were added following "Night Watch News" in April. KCHU also originally signed on each day with an hour of semi-classical music accompanying a slideshow entitled Cloudland Rhapsody.
Other features on channel 18 included a weekly ten-minute program, Meet Your Mayor, which apparently was a short interview with mayors of the various cities in KCHU's coverage area; weekday children's program Mac O'Roony Roundup, hosted by magician Ken MacKenzie and which included a Monday segment titled "The Puppet Lady"; and on Thursday nights, the back-to-back Come Bowl With Me and Colton Piano Playhouse (the latter an obvious forerunner to today's paid commercial program).

J. Paul Huddleston, KCHU's first news anchor.

The nightly KCHU newscasts were anchored by KFXM newsman J. Paul Huddleston, who is best remembered for his later work in the KHJ/930 newsroom in Los Angeles during the "boss radio" years. On weekends, the anchor was John Quimby, also from KFXM and a member of the San Bernardino City Council from 1959 to 1962; Quimby went on to serve in the State Assembly for twelve years. (Huddleston died in 1993, Quimby in 2012.) A nightly "outdoor news" report was also carried weeknights at 6:15pm, with KRNO "hillbilly" DJ Cy Smith. Smith made headlines of his own when he wrestled a boa constrictor live on channel 18 in April.
Ad promoting nightly "outdoor
news" reporter Cy Smith's live
wrestling match with a boa
constrictor, which aired
April 20, 1962.

At KCHU's one-year anniversary, it was obvious that some belt-tightening had taken place. On weekdays, the news was now on at 7:00 and 9:00, with sign-off following the latter (only one of the original two nightly movie slots remained), Cy Smith was still doing his outdoor news reports, but only one night per week, and the Mac O'Roony Roundup had been replaced by the airing of a lone cartoon at the 5:50pm sign-on (moved up from the original 4:00 daily start time, with Cloudland Rhapsody having exited the schedule, apparently not being worth turning the expensive-to-operate channel 18 transmitter on early for). Danny Landeros was still around as part of a full eight-hour Saturday schedule, but the rest of the week barely managed 3½ hours of operation per day, and the Sunday schedule consisted of a lone movie at 6:00pm, with sign-off following and no newscasts. This Wonderful World had exited the KCHU film library, but reruns such as The Ray Milland Show (CBS, 1953-59) and Johnny Midnight (syndicated, 1960) were now airing to fill various half-hour slots.
One addition to the schedule proved to be very popular with the local audience, and that was a weekly interview with local businessmen, politicians, and other notable "celebrities" conducted by one Marion McCook Moodey. Best known previously for her 32-page 1947 novelette "Here Comes the Peddler!", Moodey had since become the society editor for the San Bernardino Daily Sun in the 1950s and decided to bring her interviewing talents and presence to KCHU for 15 minutes every Tuesday.
It is not known which party approached the other, but at that same time, Norman H. Rogers was negotiating with what was by then known as the San Bernardino Sun-Telegram for the newspaper to take over ownership of channel 18 (for $180,109), with Rogers staying on as station manager. A deal was agreed upon and the ownership change was approved by the FCC on January 30, 1963. The formal transfer officially took place February 19, with an article appearing in the Sun-Telegram the next day in which the newspaper announced its intent to "embark upon a wide range of television presentations" which were to include a core of local programming and "the best obtainable output of major studios".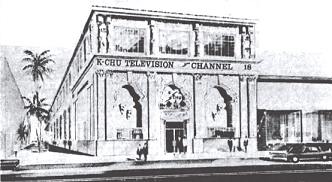 Artist rendition of the KCHU studios on Court St., after the station
was purchased by the Sun-Telegram newspaper.

KCHU moved downtown at the end of September to a three-story building at 440 Court St. formerly occupied by the Pioneer Title Insurance and Trust Company (enduring a fire on the roof earlier in the month during the remodeling), as well as the adjoining single-story Widmeyer Building. The business offices moved to the old Fox Theater building in the next block, which the Sun had been using as storage space. The program schedule improved dramatically: The new studios were launched with the premiere of a live, weekly 90-minute country music program hosted by the ubiquitous Cy Smith (who was now also the sports reporter for the nightly Newsbeat 18 telecast), and a check of the schedule for the week of January 26, 1964 showed both an early afternoon and a late night, post-news movie, and the addition of syndicated programs Bachelor Father, Dragnet, The Lone Ranger, Dick Powell Theater, Roy Rogers, Stoney Burke, The Rifleman, Cimarron City, Zane Grey Theater, Silents Please, Desilu Playhouse and The Aquanauts, among others. A daily record hop, Channel 18 Bandstand, also had a Saturday night remote edition from a local high school, and both Danny Landeros and Marion McCook Moodey remained on the new KCHU schedule.
With this influx of programming, KCHU was now signing on at 11:30am on weekdays and 8:00am on weekends, operating until midnight seven days a week. One advantage of the new ownership arrangement was that channel 18's listings now appeared in a larger typeface than the other stations in the Sun-Telegram's daily "TV-Dial-O-Logue" section, with program titles in boldface and including the names of the local businesses sponsoring each program.
It wasn't entirely about entertainment for the local UHFer: When President John F. Kennedy was assassinated on November 22, 1963, KCHU temporarily remained on the air around the clock for several days airing ABC's network feed, which had been made available to them at no charge. On April 3, 1964, channel 18 aired "The Day the Earth Was Torn," a half-hour documentary on the Alaska earthquake edited from film shot by a KCHU crew which had been dispatched to Anchorage to record comments from local residents.
The Sun-Telegram appeared committed to making channel 18 a going concern, undertaking a campaign to promote UHF-capable television sets and UHF converters to receive KCHU, offering new viewers $15.00 to have a converter installed or purchase a new set. In 1964, the Sun-Telegram began to make moves to improve KCHU's coverage, filing for a channel 75 translator in Banning and channel 81 translators in Palm Springs and Victorville.
But before any of those translators could go live, the newspaper and its associated businesses were purchased by the Times-Mirror Company, which owned the Los Angeles Times and had just sold KTTV/11 to Metromedia the previous year. Channel 18's demise was accomplished by its being left off the list of assets in the sale; upon consummation on June 25, 1964, KCHU simply went dark for lack of an owner and relinquished its license. (To his credit, general manager Walter Baker tried to make the sign off seem unrelated to the change in newspaper ownership in an article that appeared the day before; the Times waited two days before reporting the station going dark in a two paragraph article, without mentioning that they had purchased it.) The Sun-Telegram had operated channel 18 for just under 400 days, just under half of the station's history.
The following Monday, Broadcasting noted KCHU's end, calling it a "vote of no-confidence in UHF" and opining that Times-Mirror simply did not want to get back into broadcasting after selling KTTV. They also noted that KCHU had consistently lost money, but that opinion apparently conflicted with a full-page ad the Sun-Telegram had published on April 6 listing dozens of local businesses it had carried advertising for in the preceding six months on channel 18. It seems more likely that KCHU was orphaned simply to eliminate a distraction for the newspaper's ad salesmen.
A debate on that very point came in the form of a letter to the editor from all the way across the country, which itself drew rebuttals from KCHU's last general manager and a Sun Co. bureaucrat which both lauded its programming efforts ... and decried the lack of enough revenue to continue same:
Sadly, looking backwards after a half-decade, there is no way to know for certain whether KCHU would have survived and grown if it hadn't been abandoned by its would-be new corporate parent. It certainly seemed, from the more than two million dollars the Sun-Telegram had reportedly spent to acquire a building in downtown San Bernardino ($200,000 in 1963 dollars for that transaction alone), remodel it for use as television studios, purchase new studio equipment, and then significantly increase the budget for syndicated programming and movies, that they had intended to be in for the long haul. We do know that Stanley Adams was not a "new hire" brought in by the Times to "spin" the situation; he had been hired in December 1962, well before the ownership changes of both the television station and the newspaper.

Sally Baker as
"Hobo Kelly"

But, in those closing months of channel 18's operation, a local star was born. Sally Baker (Walt's wife), who signed on to the growing KCHU staff as Newsbeat 18's weather girl, also hosted a daily afternoon hour called Between Us Girls, then reappeared in clown makeup at 5:30pm as "Hobo Kelly" to host channel 18's new children's program of the same title. Post-KCHU, Hobo Kelly (and the Bakers) moved to Los Angeles, airing first on KTTV/11 and then on KCOP/13 until 1973, and fondly remembered by Southern Californians who were kids during those years. Baker also created The Froozles, which began on KHJ-TV/9 in the 1970s and later was syndicated nationwide.
Walter "Walt" Baker was general manager of KHJ-TV from 1967 until the end of 1989, when Disney bought the station from RKO and changed the calls to KCAL-TV. He retired in Boise ID after a short stint as program director of that city's KBCI-TV/2, and passed away April 17, 2015 from natural causes at age 84. He was survived by Sally, their three daughters, four grandchildren, and two great-grandchildren.
A new CP for channel 18 was issued to Marbro Broadcasting June 30, 1967 as KMBO (later KIHP-TV, when those calls were moved from a co-owned CP for channel 14 in Santa Barbara as it was surrended in 1969) but was deleted in 1970 during one of the FCC's "unbuilt CP" purges. Channel 18 returned for good on June 30, 1977 as KSCI; the man who put that station on the air, Robert Doane, tells the story briefly at his website. It is no longer licensed in San Bernardino, however, as it was "moved" on paper to Long Beach in 1998.
---
POSTSCRIPT:

J. Paul Huddleston was news director of the first incarnation of KROQ/1500 in 1970, then worked at WBCS/1340 & 102.9 in Milwaukee before moving to WOAI/1200-KAJA/97.3 San Antonio in 1984. He retired from the radio business shortly afterwards and got into the insurance business, remaining in the Alamo City. As noted above, he died in 1993 from complications of liver disease, at age 62.