KHOF-TV/30, San Bernardino CA
by K.M. Richards
KHOF-TV was supposed to be the flagship for a religious television network. Instead, it became the textbook example of how to run afoul of the Federal Communications Commission as a religious broadcaster.
Rev. Raymond Schoch, founder
of KHOF-FM & TV.

The story actually begins on FM, when the Rev. Raymond Schoch, pastor of the Maple Chapel in Glendale, California, founded KHOF-FM/99.5, which went on the air with "inspirational music and teaching" November 13, 1956. (The call letters were said to stand for "King's Herald Of Faith".) Six years later, on January 22, 1963, the Maple Chapel applied for a television station on channel 30 in San Bernardino, some 60 miles to the east. The construction permit for what was then to be called KITR was issued May 5, 1965; three months later the Maple Chapel moved to larger quarters in order to accommodate its growing broadcast ministry, changing its name to Faith Center in the process.
Channel 30 -- by then renamed KHOF-TV after a 1968 waiver of the rule requiring stations with common call letters to be licensed in the same community -- went on the air March 12, 1969. In those early days, it operated only about six hours a day and carried programming not only from Faith Center but from other television ministries, such as Paul Crouch's fledgling ministry, which later moved to KBSA/46 in Guasti (near Riverside, California) as Trinity Broadcasting Network before purchasing a station of its own. During those early years, Crouch also served as KHOF-TV's station manager.
It was only two years later that Faith Center received its first opportunity to expand, when RKO General offered to donate its failing WHCT/18 in Hartford, Connecticut. FCC approval took over a year due to community opposition; by that time, they had also acquired KIFM/96.5 in Bakersfield, which was carrying a mix of local programming and some programs from KHOF-FM.
KUDO/38



And what exactly did KUDO air before it went off the air in 1971, giving Faith Center the opportunity to expand into the San Francisco television market?

KUDO, owned by one Wilson Keene "Bud" Foster -- well-known in the Bay Area as the former radio play-by-play announcer for the Oakland Oaks baseball farm team and the San Francisco 49'ers football team in the 1940s and 1950s -- went on the air December 28, 1968, only a little over four months after receiving its construction permit. Newsweek magazine described them as "offbeat" in a report on the UHF band in its March 3 issue the following year; according to that article, KUDO's programming included a weeknight interview show moderated by Willie Mays, weekly local show-biz performances and unusual sports coverage. How unusual? The article said channel 38 had covered the annual Calaveras County frog-jumping contest and that the infamous topless performer Carol Doda had been a part of the station's premiere telecast ... fully clothed, we presume. (Foster, naturally, also hosted a nightly sports show on his new station.)

KUDO's most ambitious effort was a live 4½ hour Sunday afternoon program called On The Town, consisting entirely of live remote coverage of anything in the Bay Area that viewers called in to suggest. Foster outfitted five remote trucks, each with a microwave transmitter, to accomplish this herculean task, and at the outset the camera equipment in those trucks refused to work and "the people from the company that makes them can't get them to work," according to an interview he gave the San Mateo Times two weeks after beginning operation. Foster admitted that they were having to do the program on a delay caused by the use of film in the interim ... which he admitted was both "costly and difficult."

In fact, like the ill-fated experiment down the Pacific coast at KKOG-TV/16 in Ventura, KUDO was concentrating on live production. Two weeks into its history the Times opined that "any visitor to the station can see that it wasn't ready to go on the air" when it did and that "it isn't ready yet." They further pointed out that KUDO carried very few commercials, and by the time the Newsweek article appeared channel 38 had cancelled all of its local programs with the exception of Willie Mays' nightly effort. The remaining on-air hours were filled by "inexpensive filmed" shows (the station ultimately acquired a package of cheap, ancient movies and used those to fill airtime on both sides of Mays).

Six months later, in a complete turnaround from their original "live and local" approach, the 4:00pm to 9:30pm schedule was replaced by a 7:00am to 2:00pm schedule of financial news and stock market coverage, under the same Stock Market Observer title that KVVV-TV/16 in Galveston was using at the time, and based on the similar programming that KWHY-TV/22 had successfully aired for close to four years at that point. The change earned them a lawsuit from Mays in January 1970, in which he claimed that he was due $76,300 on his $80,000 contract with the station, adding $50,000 in general damages for good measure. By that time, KUDO was signing on at the odd hour of 2:00am to run a few old movies before the market opened; weekends were a hodge-podge of paid religious programming and public affairs shows, signing on at 1:00pm and off at 7:00pm.

The Times reported in April that KUDO was minus a general manager, promotions director, or advertising salesmen, and that crosstown KNEW-TV/32 was about to cut back to a 28-hour weekly schedule consisting entirely of syndicated programming owned by its parent company Metromedia. Even Kaiser-owned KBHK-TV/44 -- arguably the most successful UHF in the market -- had been leaving vacant positions unfilled when employees left for greener pastures.

KUDO ceased operation one year later, on April 15, 1971. (It had been preceded by KNEW-TV's demise about six months earlier.)

On the heels of the WHCT-TV acquisition, Faith Center agreed to acquire KUDO/38 in San Francisco from its bankruptcy trustee for $10,200; it resumed operation as KVOF-TV August 4, 1974. While WHCT-TV was operated by Faith Center as a family-oriented independent station, channel 38 followed the same programming schedule as KHOF-TV ("King's Voice Of Faith"), operating only during the evening hours with religious programming, notably the live prime-time Festival of Faith program.
The following year, Rev. Raymond Schoch stepped down as pastor of Faith Center. (He passed away September 26, 1977.) His replacement, former Pentecostal minister Dr. W. Eugene Scott, was then president of the Wescott Christian Center in Oroville, about a hour's drive north of Sacramento in Northern California. Scott had originally been approached to consult Faith Center's financial affairs, intending to be more of an administrator, and planned to install a local pastor in Glendale and remain in Oroville most of the time. But Faith Center's congregation elected him as pastor by unanimous vote and he ended up making his home in Glendale, where he began appearing live in prime-time on both KHOF-TV and KVOF-TV, and via tape delay in Hartford.
At the time Scott took over the running of Faith Center, a tentative deal had been filed with the FCC to give WHCT-TV to Pat Robertson's Christian Broadcasting Network for assumption of notes and settlement of claims (a total of $739,800). It was also negotiating with Paul Crouch to sell KVOF-TV and KHOF-FM to TBN, and with the International Church of the Foursquare Gospel to sell them KIFM. (Of the three, only the Bakersfield deal went through, on September 30, 1975; CBN backed out of the Hartford deal February 2, 1976 and Crouch decided to instead purchase KLXA-TV/40 Fontana, on which TBN had been renting time for the past year.)
As a television preacher, Gene Scott was unusual, to say the least. His philosophy was once described as "intertwining archeology, anthropology, the Bible, biblical languages, the solar system and the pyramids." And even if you didn't find anything of educational or religious interest in his teachings, he was decidedly entertaining ... and as the years passed his on-air appearance became, shall we say, mildly bizarre:
(The last two screens show Dr. Scott with his trusty whiteboard, which he would
cover with text, then draw arrows between points he wanted to connect, and
finally -- without ever erasing anything -- would overwrite with new points as he
made them. By the end of an hour, the whiteboard was a complete mess.)
Things went along reasonably well for Faith Center's 2½-station television network (which was now calling itself "Faith Broadcasting Network" on the air) ... until 1978. Then KHOF-TV's license came up for renewal, and Dr. Scott refused to permit the FCC to examine Faith Center financial records from September 1976 to August 1977, saying he would cooperate "only where broadcast and church activities are separate." (The FCC, trying to be accommodating of a religious organization, modified their request, asking only that answers be provided "to the best of the licensee's recollection," but maintained that just "because Faith Center chose to integrate or merge the financial operations of its broadcast stations into the financial operation of the Church" it could not claim that its decision to do so prevented the FCC from investigating financial records.) Scott continued to stonewall, and in October the Commission finally set the renewal for a hearing, saying that under the circumstances there were "serious questions as to whether Faith Center possessed the qualifications to be or remain the licensee."
Those questions were indeed serious: The FCC charged Faith Center with failure to permit them access to certain licensee books, records, and employees; failure to submit information requested in a June letter narrowing the initial requests for information, and -- most serious of all -- whether KHOF-TV's over-the-air fund-raising broadcasts violated federal wire-fraud statutes.
Dr. Scott's response was to file a multi-million dollar lawsuit against FCC staff members -- including Broadcast Bureau Chief Wallace Johnson -- as well as against the California attorney general's office (because of its own investigation of Faith Center on similar grounds), claiming "violation of constitutional guarantee against government interference in church affairs." The U.S. District Court in Los Angeles dismissed the suit in February 1980, saying FCC personnel were immune from personal liability because they were acting in "good faith judgment." (Scott persisted, eventually being ordered in 1984 by the Ninth Circuit Court of Appeals to pay double court costs and attorney's fees to the U.S. government for what the court termed a "frivolous" appeal of his lawsuit against the FCC. Scott had filed seven motions with the court and protested that decision by saying he had been "penalized for suing the government" and infringing on his First Amendment rights.)
While all that legal activity was going on, Dr. Scott tried to get out from under his collapsing television empire. He first tried to sell all three stations to Hispanic-American Communications (owned by The East Los Angeles Community Union, a community development corporation which at one point had held a 50% interest in an application to purchase KBSA-TV ... Paul Crouch's old stomping grounds) for $15 million in May 1980, only to be denied in November when the FCC upheld the initial decision of Administrative Law Judge Edward Luton on a combination of legal and procedural grounds: Luton's decision in March dismissed the renewal application and denied "distress sale" relief for KHOF-TV, also ruling that since the other two stations had not been designated for hearings, distress sale applications for them were premature and thus denied. (Scott had refused to turn over the requested records to Luton as well.)
[At that time, the FCC's distress sale relief policy permitted a licensee designated for hearing, but not yet in hearing, for renewal or revocation proceedings to assign its station to a minority-controlled purchaser at a price not exceeding 75% of the station's full market value.]
Faith Center's petition for reconsideration was denied May 7, 1981, at which time the FCC also put the renewal applications for WHCT-TV and KVOF-TV into deferred status and put both stations into hearing status as well. Faith Center's response was to file a motion to disqualify the new ALJ, Edward Kuhlmann, claiming prejudgment of issues and improper ex parte contact; that was ultimately denied on December 2, 1982 as being totally without merit.
That wasn't all that went sour for Gene Scott and Faith Center in 1982: The year began with the FCC approving a distress sale of WHCT-TV to Television Corp. of Hartford (which was 52.12% minority owned), conditioned on the sale consummating within 90 days ... it didn't. ALJ Kuhlmann dismissed the KHOF-FM renewal application later that year, and a second sale of WHCT-TV to black-owned Interstate Media, announced in September and approved in December, fell apart almost immediately afterwards.
By that time, Dr. Scott was on the air 24/7 in Los Angeles and San Francisco, with live prime-time broadcasts split between teaching and anti-FCC tirades. Sundays featured his sermons from Faith Center, which usually went on for several hours; the remaining hours were filled with repeats of previous KHOF-TV broadcasts.
KHOF-TV finally complied with an FCC order to go dark on May 24, 1983. The final images to be transmitted were of a group of wind-up toy monkeys clashing cymbals, which Scott had referred to as the "F.C.C. Monkey Band" in his on-air rantings against the Commission.
---
POSTSCRIPTS:
The KHOF-FM renewal dismissal was upheld by the FCC Review Board November 8, 1983, on the heels of a decision denying Faith Center's request for review of the action dismissing the KHOF-TV renewal application in September. (In January 1984 Faith Center filed with the U.S. Court of Appeals appealing the order on KHOF-FM; it finally went silent October 8, 1985 after the court upheld the FCC decision.) 99.5 was relicensed using the previous KHOF-FM facilities to New Inspiration Broadcasting, a merger of Salem Communications with other applicants for the frequency; it began operation as KKLA a couple of months after KHOF-FM went silent and is still on the air under those call letters.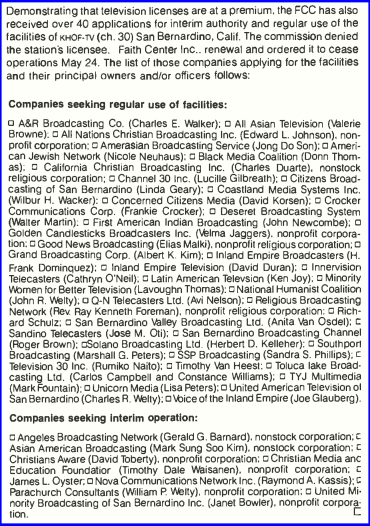 List of applicants for channel 30 in 1983, as listed in Broadcasting.
Note the inclusion of Southwest Airlines co-founder and CEO
Herbert D. Kelleher, television preacher Velma Jaggers, and radio DJ
Frankie Crocker in the list of would-be successors to KHOF-TV.

When KHOF-TV went dark, eight applications were on file for interim authority to operate channel 30 while a new licensee was decided upon, and over 30 more applications were filed by potential licensees. The FCC chose Angeles Broadcasting as interim operator on January 3, 1984, specifying that net profits be distributed to California non-commercial, educational broadcasters or to charities in which it had no interests. They resumed operation as KAGL from 1985 to 1992, then again went dark to allow the new permanent licensee, Sandino Telecasters, to construct and test its facilties. Channel 30 signed back on as KZKI January 7, 1994 and later became the Los Angeles market's PAX network (now Ion) station as KPXN-TV.
KVOF-TV's renewal application was denied by ALJ Kuhlmann in March 1983 after Faith Center's failure to answer interrogatories for a competing applicant, failure to produce documents as ordered, and failure to appear for deposition during prehearing procedures. Kuhlmann's decision was upheld in July, and in October he issued an initial decision granting the license for channel 38 to West Coast United Broadcasting Company. The full Commission upheld that decision the following February; Faith Center appealed the decision, which was upheld by the U.S. Court of Appeals July 19, 1985 and KVOF-TV went dark December 30 of that year. Channel 38 signed back on one week later as KWBB, first with an infomercial-heavy schedule, then Chinese and Filipino programming from 1991 to 1998, the Shop At Home and Jewelry Television home shopping networks until 2007, followed by RTV programming until 2012 and four years as an affiliate of Spanish-language network MundoFox/MundoMax; since 2016, it has aired religious programming from the Jimmy Swaggart ministry's SonLife network as KCNS (although after an ownership change in 2020 his programming was relegated to a subchannel in favor of another home shopping network, ShopHQ).
The FCC allowed Faith Center to sell WHCT-TV to Astroline Communications in 1984, over the objections of Shurberg Broadcasting, which had filed against the license renewal in 1983 and insisted for many years that the FCC should have held comparative hearings on the license challenge. Channel 18 went dark twice under Astroline -- for several months in 1985 "to upgrade facilities" and again from April 1991 to February 1997 under bankruptcy -- before Entravision Communications purchased the station in 1999 and paid Alan Shurberg $7.48 million to settle his legal claims. It has been Univision affiliate WUVN since that time.
In December 1985, the U.S. Supreme Court declined to hear the KVOF-TV and KHOF-FM appeals. That marked the end of Faith Center's history as a broadcast licensee, and they never attempted to apply for any further stations.
Yes, the whiteboard followed
Dr. Scott to KHJ and KDOC
after KHOF went dark.

After losing KHOF-TV, Gene Scott appeared briefly in the late-night hours on KHJ-TV/9 in Los Angeles, then cancelled his contract, claiming that KHJ "edited material out of his broadcasts and threatened to remove references to the FCC." He subsequently purchased air time on KDOC-TV/56, both in nightly prime-time and for several hours on Sunday afternoons, and remained there for two decades. (He also appeared 24-hours-a-day on his own "University Network" via the Westar 5 satellite, both live and by tapes of his KHOF-TV broadcasts; the network began operation November 1, 1983 and continues today via the Telstar 6 satellite.)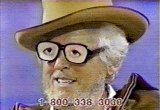 Dr. W. Eugene Scott died February 21, 2005, at age 75. His widow Melissa, who he married in 2000, is the current pastor of Faith Center and also occupies some hours on the University Network -- now renamed the "Pastor Scott Network" and also streaming online -- although old Gene Scott tapes still replay most of the day. She also kept Faith Center visible on Los Angeles' broadcast airwaves by paying for three one-hour blocks per week at 2:00am on KTTV/11 to air her sermons and lessons, although that arrangement came to a sudden end in June 2021. She is now affiliated with the satellite-only network Renew TV, which primarily airs continuous infomercials outside of the timeslots she occupies. (Perhaps they consider her to be an infomercial for God.)
Barbara Kreisman, the FCC attorney who oversaw the Faith Center revocations, is still at the agency and has been Chief of the Video Services Division since December 1989.
---
EXTERNAL LINKS