The All-News Experiment
by K.M. Richards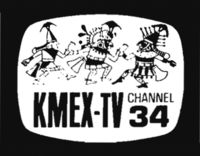 The year was 1973. KMEX/34 in Los Angeles had just celebrated a decade as a full-time Spanish language-programmed station, and under the ownership of Spanish International Network was the flagship of that fledgling network, having celebrated its ten-year anniversary by interconnecting San Joaquin Valley stations KFTV/21 Hanford and KLOC-TV/19 Modesto via microwave (the latter being its



KCOR-TV "World Movie"
ad from 1960. Technically,
it, not KMEX, was the
first SIN station.

first non-SIN-owned affiliate) on September 20 of the preceding year. SIN had gotten experience in station operation while still building KMEX, by purchasing KWEX/41 San Antonio earlier in 1962 (which had gone on the air as KCOR-TV in 1955 devoting part of its schedule to "Mexican shows" but was virtually dormant in the market by the time SIN purchased it). The network also acquired a 49% ownership interest in WXTV/41 Paterson NJ right before it went on the air in the summer of 1968, and was making plans to apply for the vacant channel 60 allocation in San Francisco. All told, SIN had a total of twelve affiliates, five of them network-owned.

In Los Angeles, KMEX had an underfunded part-time competitor in KLXA-TV/40, which had gone on the air just after New Year's Day 1967 with a curious amalgam of English language programs (including Sgt. Bilko, the adventure series Hong Kong and a weekly half-hour of edited British films) and various other languages, including Italian, German, French, and Japanese, with most of its prime-time and weekend programs in Spanish. One of its odder features was a 15-minute newscast in English at 8:00pm, followed by another quarter-hour in Spanish ... inexplicably preceded one evening a week by a local cooking program! It was notable for being the first UHF in the market to telecast in color, and also for running afoul of the FCC for beginning operation without a main studio in its city of license, Fontana (near San Bernardino); nine months after signing on, only their master control had been relocated there, running taped and filmed programming while local shows originated in Hollywood.

It was, therefore, a surprise to everyone in the local television industry when on the morning of July 9 KMEX signed on at 6:30am with "NFB" ... an 8½ hour live news program, and in English. Anchored by Alan Sloane (KABC-TV/7's former weatherman), John Harlan (late of KNXT/2 but best known for his work as a network television announcer), Dick Sinclair (at the time a talk show host at KIEV/870, but best known for his 14 years at KFI/640) and Jim Newman (who had been the original program director of business KWHY-TV/22), it was described by SIN president Rene Anselmo as a "news service that doesn't exist anywhere in the United States." Additional personnel included KNXT's former investigative reporter Bill Stout and entertainment columnist Susan Stafford (some two years before teaming with Chuck Woolery as co-host of Wheel Of Fortune on NBC). KMEX general manager Danny Villanueva handled sports reporting, as he had previously at KNBC/4. Oh, and the acronym NFB? It stood for "News, Finance, Business," according to Anselmo.
Above: NFB anchors (left to right) Alan Sloane, John Harlan, Dick Sinclair and Jim Newman.
Below: NFB anchors Jim Newman, Bill Stout and Danny Villanueva.
Newman was quoted extensively in the Los Angeles Times' coverage of the first day's broadcast, saying the service would devote considerable time to "showing the viewer how [financial news] affects him, his pocketbook, his life" and said that was more important than hard news, such as crime stories. They even duplicated the stock exchange ticker tapes at the bottom of the screen that KWHY had been displaying during their financial news programming, inaugurated in November 1966.
Anselmo was already talking about carrying NFB on the Fresno-area KFTV. (No mention was made of KLOC, which was still devoting its midday broadcast hours to paid religious programming; odds were that station owner Chester Smith was making much more from the television ministries than whatever SIN could have paid him.)
NFB almost immediately became a drain on SIN's finances. Villanueva had already told the Times in the inaugural day article that the original budget was "in the neighborhood of $50,000 a month" (which wouldn't have bought you even one anchorman at network-owned KNXT, KNBC or KABC) but that they knew costs had already exceeded that amount ... they just didn't know by how much. One area where they tried to save costs was in having a lone field reporter, that being Don Brown, who had performed that task at KCOP/13 for several years before going into independent film production (no one appeared to ask Brown what KMEX did to lure him back to his former occupation). Anselmo said more reporters would be added "if the show succeeds." The lack of same told anyone who was watching the experiment with a critical eye that it was far from successful.
One week in, the focus on financial news was replaced by two ten-minute news breaks each hour, with the remaining time filled in what was described in an Associated Press article as a "magazine-type" format with features and reports on topics ranging from business and consumer news to leisure and aerospace, plus sports, weather, and stock market reports. The name had been changed to "NewsTelevision 34" and the AP reported they had burned through $200,000 in operating funds in just the first six weeks. Despite that, Anselmo said he didn't think the experiment was a "financial bomb" nor did he think it would be. Villanueva backed up his boss by telling the AP "we've never failed yet and we don't even think about it now."
Perhaps they should have. On October 26, a mere 110 days (encompassing 70 telecasts) later, SIN pulled the plug and went back to signing on at 3:00pm on weekdays. The net loss, according to Villanueva, exceeded $300,000, not counting the $125,000 in building the facilities, which were located across the street from the KMEX studios and offices on Melrose Ave. in Hollywood. The general manager of all-news radio station KNX/1070, George Nicholaw, blamed the failure on the lack of field reporters and live remote capability; Nicholaw said the telecast "amounted to radio news on television" with no incentive for viewers to tune in ... especially on UHF.
In an article on the experiment's demise, Villanueva said that "if they had the money" they'd try again. It is a telling statement that they did not.
---
POSTSCRIPTS:

SIN successfully put KDTV/60 San Francisco on the air two years later, on August 10, 1975. It subsequently traded channel positions with non-commercial KCSM-TV/14 in 1979 (see the KQEC article for more details).

Alan Sloane went back to reporting the weather, including long stints at the Financial News Network and KVBC-TV/3 in Las Vegas. He died January 20, 2011 at age 85.

Dick Sinclair remained at KIEV until 2002, serving as its program director for most of the intervening years. He died October 14, 2016 at age 91.
John Harlan continued his career as a network television announcer before retiring in the mid-1990s. He died (also at the age of 91) February 27, 2017.

Jim Newman was the first business news reporter at the Associated Press Radio Network when it began operation in 1974 and was part of cable's ill-fated Satellite News Channel in 1982-83. He later reported on business news for KFWB/980 and KABC/790 before becoming part of the morning news program on KTLA/5. Newman left there in April 1999 to become the financial editor at KABC-TV, and passed away June 11, 2019 at age 86. He was the last of the living NFB on-air anchors (Bill Stout died December 1, 1989 at age 62).

Rene Anselmo remained president of SIN until it was sold in 1987 to Hallmark Cards, Inc. (he was said to have pocketed $80 million for his 25% ownership stake) and passed away September 9, 1995 at age 69.

Danny Villanueva remained at KMEX, becoming part owner of SIN, until his retirement from (by then) Univision in the early 1990s. He later held a minority interest in rival network Telemundo and died June 18, 2015 after suffering a stroke. He was 77.
KLXA-TV was sold to Trinity Broadcasting Network in 1976 after a year of running TBN programming via a time-buying arrangement; it changed call letters to KTBN-TV one year later.
---
EXTERNAL LINK: